First Chipsets for Socket 939 Athlon64
---
To support the new Socket 939 processors, we have competing chipsets from VIA and nVidia, the K8T800 Pro and Nforce 3 Ultra respectively.
Both of these chipsets represent the current state of the art for AMD processors. While Intel's newest offerings may have slightly more features, including support for DDR2 and PCI-Express, neither of these chipsets will leave enthusiasts wanting.
Let's take a closer look at the features that each chipset offers, beginning with Nvidia's Nforce 3 Ultra
Nforce 3 Ultra specs and features
As mentioned above, the Nforce 3 Ultra chipset for socket 939 is a retooled version of Nvidia's previous offering for the Socket 754 AMD processors, the Nforce 3 250GB. In order to manage this upgrade, Nvidia had to design a new MCP (Media Control Processor), its' terminology for the chip that handles graphics information and I/O on the new chipset.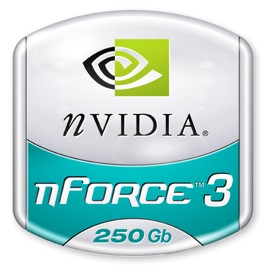 The Nforce 3 Ultra is a single-chip solution, meaning that instead of separating the chipset functions into the traditional Northbridge and Southbridge chips, both functions are combined into a single chip, the MCP we referred to above. This design is a logical reaction to the changes introduced by AMD's 64 bit processors, which build the memory controller into the processor. Traditionally, this controller was part of the Northbridge chip's duties, but now it makes much more sense to consolidate all functions of the chipset into a single IC and cut out on the potential data bottlenecks that can occur when the Northbridge and Southbridge communicate.
The most significant change made to the MCP is the Hypertransport link between the processor and the chipset. It now supports up to 8GB/s of bandwidth, to provide the headroom needed to drive the new generation of Athlon 64 processors.
Other features of the chipset include built-in Gigabit Ethernet support, built directly into the MCP chip. This is a first as far as we are aware. Other manufacturers have added Gigabit chips to their boards in connection with the existing chipset, but none have been wholly integrated into the chipset. By doing things this way, Nvidia hopes to avoid the bottleneck that gigabit Ethernet devices attached to the low bandwidth PCI bus can cause. Business customers should take note of this.
In another first, Nvidia has decided to partner this built in networking ability with a hardware firewall integrated into the chipset. The firewall is a 'personal' one, apparently similar in operation to the Windows XP firewall. It should provide the important ability to block outgoing data as well as incoming data, to provide protection against spyware and Trojan horse viruses. As it is built into the chipset, it is 'always on,' being started while the PC is booting up, provided the user has not disabled it. It should also be a fair bit easier on system resources than its purely software competitors like the WinXP firewall and Zonealarm.
Two serial ATA controllers are included, providing support for up to four serial-ATA hard drives. Unlike Intel's newest offerings for the P4, Nvidia is still firmly supporting ATA-133, and the Nforce 3 Ultra can host up to six such devices. Eight USB 2.0 connections are present. RAID support is built into the chipset. RAID 0, 1 and 0+1 are available, providing a good balance between security and performance, provided you have enough drives to go around. Both Serial-ATA and ATA-133 drives will be supported by RAID. A graphical interface will guide users though setting up their RAID configuration.
The Nforce 3 Ultra chipset will support the AGP8X standard for video cards, with PCI-Express relegated to future chipset releases, like that of the nForce 4.
Audio should be provided by the now familiar 6.1 channel AC 97 2.1 standard, though Nvidia's documents indicate that a 7.1 surround option will also be available for manufacturers.