Step One: Strip off a length of the protective blue casing. This can be done with a utility knife cutting length-ways, or with a wire stripping tool if one is available. Be careful not to nick the individual wires while cutting the outer sheath, as this may cause them to break at a later time.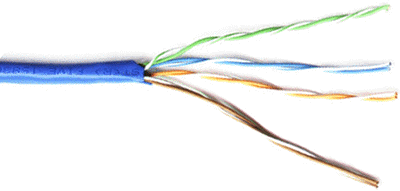 Step Two: Cut excess wire away and leave a half inch exposed. Approximately half an inch is required to properly insert the wire into the RJ-45 plug, where once it is clamped a little plastic wedge will securely grab the outside sheath. It the wedge is unable to grab the outside sheathing then the wires are likely to be pulled free from the jack at some point and the cable will have to be redone. Suffice to say that is a pain to do - so do it right the first time.

Step Three: Flatten out the wires and put them in the correct order for the type of cable being made. Then get the RJ-45 plug and prepare to insert the wires, making one last check to ensure no one wire sticks out more than any other. With the clip on the RJ-45 plug facing down push the wires firmly into the plug. Each wire should go fully towards the front of the plug, with no spaces under the gold contacts. Also ensure that the wires are in the right order. The first wire will be White-Green, and the last Brown. The sheathing should end just about where you see it in the picture - right at the end of the little space for it in the plug.