Step Four:
Once the wires are in the RJ45 jack and properly seated in the right order its time to crimp. Crimping serves two purposes, one to push up each of the gold teeth so they make contact with the individual wires and also to push up the little plastic wedge that helps to hold the whole wire in the jack.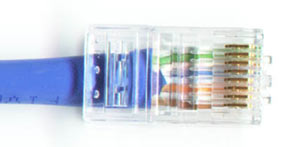 With the wires firmly seated (bottom) and in the right order (above) its time to crimp.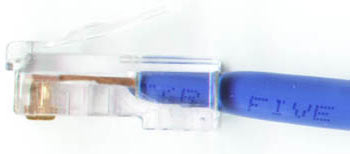 To crimp, simply inset the jack and wires into the appropriate slot in the crimp tool and squeeze hard. Remove the completed jack from the tool and pull on it to ensure it doesn't come off. With that done, it is a good idea to test it before it goes in to general use. Compare opposite ends (if possible) to make sure they are identical (for stright through) or are different (for cross over). An easy way to test them for actual data transfer is to hook up the cable and transfer some large files across it.
What to avoid:
There are a few things that should be avoided when laying down Ethernet cable to get the best possible data transfer. The easiest is of course not to bend the wire to sharply or put any kinks in it. Kinks can cause signal interference. When pulling the cable through holes, or walls or where ever it is best not stretch or deform the wires in any way (i.e. overtight cable ties). And lastly avoid running Ethernet cable near the following: Fluorescent lights, speakers, microwaves, motors, shop equipment, or high voltage power cables. All of those items can cause noise in the wire, which can affect the integrity or data moving over the wire.
That's it, just about as hard as tieing a shoelace the first time ;) If you are like me and have network cable running everywhere, the investment in a few meters of Cat 5 and a cable crimping tool pay off quite quickly. Inexpensive plastic cable crimpers can be found at just about electronics supply store for about $20, Newark has a few for sale, though they are a bit more expensive.