Using the SyncMaster 243T was a pleasure in all aspects (pun intended). While we were a little dubious of the claimed 170 degree (85 degree horizontal) viewing radius, the display was clearly legible from some distance away and at a variety of odd angles.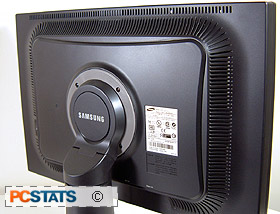 Colours did start to lose saturation after about 45 degrees though. Still, several people could crowd in front of this monitor without anyone experiencing the dreaded 'LCD fadeout' effect.
Using the digital DVI input, the picture is incredibly crisp and sharp and colours seem to leap off the screen.
The included Pivot Pro utility offers good functionality for those who want to pivot the SyncMaster 243T's screen to portrait mode. It integrates with the display properties of your Windows desktop and allows automatic resolution changes along with screen orientation changes. The portrait mode resolution does need to be set manually the first time you change it though.
Viewing this display in portrait mode was fantastic when it came to surfing the web or editing documents.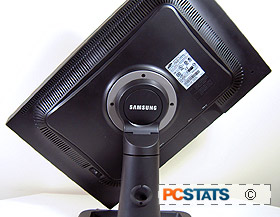 The amount of screen real-estate allocated to each web page when viewing in this aspect almost gave us vertigo; the screen seemed to just keep going down and down...
Image characteristics were excellent also. The 500:1 contrast ratio insured that black areas of the screen were really black, and colours were bright and realistic when viewed within a 45 degree arc of the centre of the screen. Luminance is pegged at 300cd/m2.
When it comes to gaming, a huge LCD screen like the SyncMaster 243T might seem like a natural object of desire, but it ain't necessarily so. Like most LCD screens, the SyncMaster 243T sports a 25ms pixel response time which is fine for most graphical applications, but can lead to perceptible visual strangeness in fast moving games. We tested this display with Half Life 2, and while the game looked utterly fantastic, it suffered from jerkiness and hazy graphics when the image was moving fast (which was most of the time). Don't get us wrong, it was still very playable, but if you are a hardcore gamer you can buy much better displays for gaming with $2700!

PCStats LCD Display Evaluation Criteria

PCstats evaluates the screen characteristics of LCD monitors with the help of a program called Monitor Test. This software application displays a range of primary colours and special monitor test patterns which enable an observer to diagnose just about any visual problem, or defect an LCD display may be hiding.

The software consists of about eleven tests which can be run in steps, as adjustments are made through the OSD to optimize the monitor. Though some tests are primarily intended for CRT monitors, Monitor Test is still a good tool for evaluating common visual problems which can indicate of the quality of LCD panel used, and its limitations.

Two critical items not covered by Monitor Test are broken LCD pixels, and pixel response times, which if too slow, can cause blurring or ghosting of fast moving objects on the screen.

Broken Pixels: What we class as a 'broken pixel' can fall under any one of the following circumstances: pixels that are always on (any colour), pixels that are always off, pixels which are unable to display a primary colour or shade (red, green, blue), or pixels which only display white or black. While many manufacturers may consider a few broken pixels acceptable, we believe the high cost of LCD displays should translate into a clear and unblemished image that does not include a single conspicuous broken pixel.

Pixel Response Time: Pixel Response Times are measured in milliseconds, and account for the rise and fall state, or the total time it takes for a pixel to respond, and return back to its original state. We look for any streaking associated with moving a full page of text up and down very quickly. Displays with slow pixel response times tend to show some degree of image streaking, or text discoloration in this simple but effective test. Response times can also cause ghosting in games where there are many fast moving objects. A response time of 25ms or less is generally considered desirable.

All of our test parameters are user reproducible, so you can try them yourself when evaluating displays. :)


Test Specs:

Videocard:
Radeon9600XT
Operating System:
Windows 2000

Display Settings:
Interface: Analog/DVI
Resolution: 1920x1200
Frequency:
60Hz
Colour:
32 bit