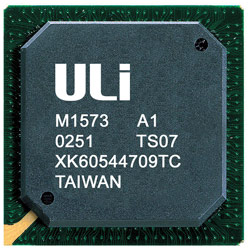 Most of the Efficeon-based notebooks and blade servers we've seen so far use the ULi 1563M Southbridge chip to partner the Transmeta chip. In terms of features, this chipset could charitably be described as dated, lacking PCI-Express and SATA support. ULi's newest desktop Transmeta chipset, the M1573 , will bring PCI Express support to the Efficeon, along integrated SATA and audio, but as yet no mobile version has been announced.
When the Efficeon was first introduced, Transmeta announced a partnership with nVidia to integrate the chip with the nForce 3 Go120 chipset that that company was producing. While this was considerably higher spec than its competitors at the time, we have yet to see any products incorporating this technology.
The future of the Efficeon...
The future of Transmeta's Efficeon line is murky, but can be summed up this way: smaller and faster 90nm-based processors. At CES this year, the company demonstrated a desktop 90nm Efficeon running at 2.0 GHz, claiming it was comparable in performance to an Intel Pentium 4 3GHz 'c' chip.
The next line of Efficeon chips expected to be launched were the TM8820 series. Based on the same 90nm design process as the TM8800, these chips, if they are released, will sport compact packaging like the TM8620 chips and should be capable of fanless operation. However, with the recent restructuring of the company towards intellectual property leasing, it is difficult to say what if any future the Efficeon processor really has.
As of April 2005, the Transmeta Crusoe processor and 130 nanomemter Efficeon processors are available on an EOL basis only. The mini-Efficeon chips based on the 90nm manufacturing process are available on an as-needed basis, to specific customers only. Rather than continue to make processors, Transmeta announced that it will leverage its interests in technologies like LongRun2, and Code Morphing, which it has already embarked upon with licence agreements to Sony, NEC, and Toshiba.
I'm still working on a Crusoe-based Fujitsu notebook everyday, which has been running cool and reliably for years, but it seems the future prospects of an Efficeon based system are unlikely. That is a shame, as compared with the Intel Pentium M, Transmeta's technology offers several distinct low-power advantages. Such is the burn-brightly, burn-fast, life of technology.