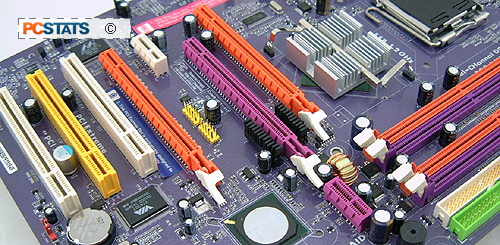 Between the two PCI Express x16 slots is what ECS calls its "Elite Bus Slot" which allows the PF88 Extreme Hybrid to essentially morph into another motherboard entirely. To enable the bus however, you must move two sets of eight jumpers. This is not difficult, but make sure you do not lose one of the small jumpers otherwise you're in trouble; they are not standard size.
I hope ECS includes spare jumpers with retail motherboards because I can see many users losing track of them.
According to ECS, the Elite Bus Slot actually runs through the PCI Express x16 interface. This makes sense since a PCI Express x16 slot has up to 8GB/s worth of bandwidth available; plenty for an Athlon64.
The individual SIMA cards will retail for approximately $50 US which is pretty reasonable compared to the price of your average motherboard. At the moment the only SIMA card that is available is the A9S model which uses the SIS 765 chipset and supports Socket 939 Athlon 64s. Others will be available soon for pretty much every other platform including Socket 478 Pentium 4, Socket 479 Pentium M and Socket 754 Athlon64/Sempron processors. The A9S SIMA card supports all current Socket 939 Athlon64 processors as well as upcoming dual core Athlon64 X2's, but the latter requires a BIOS update.
Because of the obvious space constraints, there are only two DDR RAM DIMM slots available for use on the A9S SIMA card, meaning that users will be limited to 2GB of system memory total. To the right of the DIMM slots you'll see a four pin ATX12V connector. When using the SIMA card you must direct the extra 12V connector there.
Again due to space limitations, installation of large after-market coolers will be difficult or impossible if you want to also use dual channel memory on the A9S SIMA card. We noticed that even our stock Athlon64 4000+ heatsink was too wide for the SIMA card and we had to go with a cooler that was a bit slimmer. Also, don't be surprised if Athlon64 temperatures are higher than expected. Even though the onboard Intel SiS 656 Northbridge is disabled, it still produces a lot of heat as does the system memory.
On the back of the SIMA card we find the the SiS 756 Athlon64 Northbridge along with its small passive heatsink. Traditionally SiS chipsets run quite cool but the ones found on the PF88 Extreme Hybrid and the A9S SIMA card run very hot!
As you probably noticed, the PF88 Extreme Hybrid motherboard has two PCI Express x16 slots. When using the motherboard alone (without a SIMA card) you are only able to use the first PCI Express x16 slot. The second is disabled and will not function even if a card has been inserted. With the SIMA card installed, access to the first PCI-E x16 slot is blocked, so the second slot is enabled.