Getting your components into a case is often where the flaws of one design shine through. This case fairs pretty well in that department. To install the motherboard a removable tray slides off of the partition, making it a pretty easy job to do.
| | |
| --- | --- |
| Up to (7) slots can be used (PCI, ISA, AGP, etc.), and there are punchouts for two each of SCSI, Parallel and Serial ports. | |
While the specs list (6) HDD that number is a bit skewed, with a FDD, that number is realistically (5) devices. (8) CDROMs could be installed, or with 3.5" to 5.25" adapters, (7) SCSI drives. To summarize the realistic number of drives that can be installed in this puppy is something around 12. That is potentially a lot of storage.
Installing the drives using the rail system is not difficult once the correct holes have been used to attach the rails. Curiously the rails we got were plastic with little grounding strips. We noticed that removing devices with these type of rails was a bit difficult.
There are two racks, on for FDD and a HDD, and another for just HDD, each of those must be unscrewed from the case to install the drives, but installing them is easy, as the rack hangs off a little clip so screwing it back in is simple. The HDD rack measures 5.5" high, and the CD-ROM rack 15".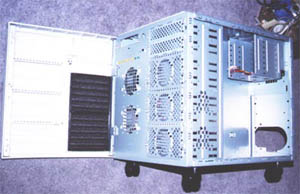 There are two cable passthroughs, each about the size of a hand hold. I would have liked to have seen these a little bit larger. With only two devices, and a the power leads they are already quite crowded.
The little things
The little things usually pass or fail a case in my book. One of the most important aspects of case design for me is rounded edges. I've been cut too many times on the edges of razor sharp metal to ignore this little quirk. The Net Server gets perfect 10's. On each side, the top and bottom edges (where hands are most likely to go) have a 0.25" bend of metal, that makes and excellent grip when rolling the case around while work is being done on it. Apart from that, all exposed edges on the case have been beveled, or the metal folded over. Except the knockout outs... Even the fan vents which standout about a 0.25" have been punched from the front, so they are smooth if you happen to brush your hand across them. From the looks of it, a lot off effort was put into this case to ensure no one will ever get their finger sliced open by a razor sharp piece of computer case.
Another thing I have come to notice about cases, it the grade of metal they use to build them. All the metal on this case is about 1mm thick, and is well supported so that nothing wobbles, or bends when you attempt to install a device.
I once had a case the felt like it was made from lead, after installing a harddrive, the case almost had to be bent back to its normal shape. That case would sway a lot with just a hand resting on top of it. I can sit on this case, and wheel it around as a chair if I want and not be concerned with wrecking it. I like that.
The power switch is located behind a panel that can be locked to prevent unauthorized use, and is easy to use, but the reset button requires a pen or something similar to use. I find that just annoying, if I need to reset the system the last thing I wan to do is go looking for a pen... I just use the switch on the powersupply.