Doom 3 is the most advanced game to date. it takes advantage of the latest videocard technology and pushes the processing power of the CPU to its absolute limit. At its highest setting, Ultra quality, texture sizes pass the 500MB mark which means even tomorrow's videocards will have a hard time running everything. The frame rates in the game itself are locked at 60 fps so anything above that point is wasted. Each test is run three times with the third run being recorded.
Doom3
LQ 640x480:
Points
Ranking
Foxconn 955X7AA-8EKRS2 (955X 200/667)
96.9
Foxconn 945P7AA-8EKRS2 (945P 200/667)
94.3
MSI P4N Diamond (NF4 SLI 200/800)
97.3
Epox 5NVA+ SLI (NF4 SLI 200/800)
96.2
Foxconn NF4SLI7AA-8EKRS2 (NF4 SLI 200/800)
95.9
Albatron PX915SLI (915PL 200/400 7800GTX Single)
93.4
Albatron PX915SLI (915PL 200/400 6600GT SLI)
N/A
Doom 3 numbers are also very impressive and the Albatron PX915SLI does very well when teamed up with a high end videocard like the Geforce 7800GTX. Unfortunately we could not get this benchmark to run with the two GeForce 6600GTs running in SLI. Every time we ran the game, a grey screen would greet us.
Great choice if you're on a budget!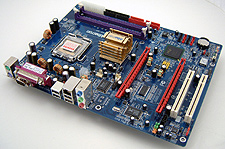 It certainly took a while for nVidia's dual videocard Scalable Link Interface (SLI) to migrate onto the Intel platform, but it's now reality. Unfortunately, adopting this technology comes at pretty steep price... nVIDIA nForce4 SLI Intel Edition based motherboards cost a pretty penny, and that doesn't even count the cost of two videocards!
Albatron has proven itself to be an innovative manufacturer, and its new PX915SLI motherboard illustrates clearly what the company is capable of creating. By default the Intel 915PL chipset does not support SLI, but with a bit of creative engineering, Albatron has made it happen with an augmented 16 and 4 PCI Express lane configuration. With the board's retail price hovering at just $105 CDN ($90 US) bucks, the Albatron PX915SLI also fulfills its objective of affordability too. Onboard extras are slim; users get integrated 10/100 LAN, four SATA channels, 7.1-channel audio and that's about it.
Please note that the PX915SLI only supports single core Pentium 4 processors running on a 533/800 MHz FSB because it is based on the Intel 915PL chipset, so if you want dual core compatibility look to a more current chipset. As we can see from the benchmarks however, dual core processors do little for workstation style applications that are not SMP compatible (which are mainly user limited) and essentially zilch for games.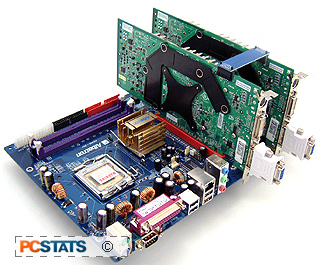 Athough the Albatron PX915SLI is pictured here with SLI Geforce 7800GTX videocards, the current Albatron supplied drivers are limited in their support of up to Geforce 6600GT level videocards only.
The motherboard itself is very easy to use and experienced users should have no problems finding their way around the board. The users manual could have been more detailed.
Obviously though, the biggest feature of the Albatron PX915SLI motherboard is its dual videocard SLI compatibility. As I mentioned earlier, it is not true SLI like with the nForce4 SLI chipsets (8 + 8 lanes). The PX915SLI gives sixteen PCI Express lanes to the first videocard and four to the second (16 + 4 lanes). Another thing to consider is that the 915PL chipset does not officially have SLI support, so in order to run two nVIDIA videocards in SLI users must rely on Albatron modified Forceware drivers. If Albatron can get drivers out quickly after release from nVIDIA, it can have a real winner with the PX915SLI!
Performance of the Albatron PX915SLI was very good, in office applications the board trailed the more expensive motherboards by a bit due to the processor differences, but in the gaming benchmarks things were generally quite close. Performance with a single 7800GTX would often match nForce4 Intel edition and 955X powered motherboards, that's pretty impressive considering boards like the MSI P4N Diamond and Foxconn 955X7AA-8EKRS2 are about twice the price.
Albatron and overclocking go well together and the PX915SLI did not disappoint. I was able to push this budget board to 255 MHz FSB and I have a feeling that the processor was holding the board back. If you wan to build a budget SLI gaming machine, the Albatron PX915SLI is certainly both an innovative and affordable choice!
Find out about this and many other reviews by joining the Weekly PCstats.com Newsletter today! Catch all of PCstats latest hardware reviews right here.
Related Articles
Here are a few other articles that you might enjoy as well...
1. MSI P4N Diamond NF4-SLI Intel Edition Motherboard Review
2. Epox 5NVA+ SLI NF4 Intel Edition Motherboard Review
3. Foxconn 945P7AA-8EKRS2 Motherboard Review
4. ECS PF88 Extreme Hybrid Intel/AMD Motherboard Review
5. Foxconn 955X7AA-8EKRS2 Intel 955X Motherboard Review