What about Presler?
Intel's newest dual core processor is the 65 nanometer Pentium Extreme Edition 955XE, based on the 'Presler' core. On paper it's a pretty big improvement; a higher clock and bus speed, two physical cores, four logical cores care of HyperThreading, and lower total power consumption due to a 90nm-to-65nm die shrink. That's all well and good, but Intel's 'Presler' core is still limited by a Front Side Bus (FSB) bottleneck between each processor core, and between the dual cores and the northbridge chipset. Since the northbridge houses the memory controller, memory related information has to fight for bandwidth in the limited 800/1066 MHz shared bus.
AMD took an alternate route with the K8 Athlon64 family long ago, and integrated the memory controller right into the processor core. The Athlon64 FX-60 carries that design choice forward, and so the memory continues to have a dedicated channel directly to the twin cores of the processor. Furthermore, each of the FX-60's independent processing cores communicates with one another through the 'System Request Interface & Crossbar Switch'. That switch operates at the processors full clock speed.
In the Athlon64 implementation, it's the HyperTransport bus that maintains a 2 GHz link between the processor and 'northbridge' (aka. I/O chipset). On the other hand, with Intel processors increasing the FSB can directly result in a large boost in overall performance. This tells us that the FSB is bottlenecking the entire system... so increasing the FSB speed decreases the impact of that restriction. Conversely, if we were to overclock the HyperTransport bus on an AMD Athlon64 system, that would do little to improve performance - the effect is minimal because there is already more than enough bandwidth to satisfy demand.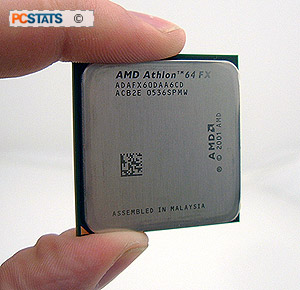 AMD Cool 'n' Quiet
AMD's Cool 'n' Quiet technology is not a new feature, but it's an interesting feature integrated into every Athlon64 processor including the AMD Athlon64 FX-60. One of AMD's biggest issues the last few years has been system noise and energy consumption, both of which are addressed with Cool 'n' Quiet. Virtually all motherboards now support Cool 'n' Quiet by default, and if manufacturers want to pass AMD certification it must be enabled.
Cool 'n' Quiet dynamically adjusts the CPU clock speed and heatsink fan RPM to meet current system demand. At idle, the motherboard will employ a lower multiplier and feed the processor less voltage. This allows the processor to generate less heat which in turn requires less cooling power so fans can spin slower and reduce the general noise level of the computer. At lower clock speeds with less voltage, the system also consumes less power which is becoming a bigger issue now with higher energy prices.
When your system is engaged in a load-heavy task, Cool 'n' Quiet will automatically clock the CPU higher to meet the demand - all the way back to stock rated speed at or near 100% system usage. Cool 'n' Quiet works in the background and is not noticeable to the end user. Users contemplating purchasing the AMD Athlon64 FX-60 must first flash their motherboard with a BIOS that recognizes the processor otherwise Cool 'n' Quiet may not function properly.
Experts Tip: Don't Forget The Patch

As I'm sure most users are aware, Microsoft WindowsXP can be very buggy and all versions available suffer from a 'dual core' bug. Essentially, Microsoft WindowsXP with Service Pack 2 can suffer from decreased performance when a dual core processor is installed. To solve this problem, Microsoft has posted a nonessential patch on its Windows Update website that should be downloaded and installed, or you can follow the instructions here . Either solution will address the dual core performance issue.

Comments and Feedback? Suggest a Tweak.
Enhanced Virus Protection
AMD has taken it upon itself to try and protect its users from possible virus and worm attacks that can exploit memory buffer overflow errors. This is accomplished with AMD's new Enhanced Virus Protection technology. EVP is a new technology, currently only supported by the latest generation processors and is designed to halt certain virus and exploit attacks as they occur. EVP works hand-in-hand with Microsoft's Data Execution Prevention code introduced in Service Pack 2 for Windows XP.
When it is enabled (by using a compatible processor like the AMD Athlon64 FX-60) the operating system watches for certain anomalies that often signify a virus or exploit attack, like code being executed in memory spaces where program code does not belong. In this way, buffer overflow attacks which overload a legitimate memory space allowing foreign code to be run in unprotected memory location, will be stopped short as soon as they occur.
Next, we'll examine the improvements towards power consumption that the FX-60 brings to the table with the aide of an Extech power analyzer dataloggler.