Abstract: The Epox 9U1697 GLI motherboard that's passing through the PCSTATS test labs today is based on ULi's last chipset the M1697, which is no sleeper.
81% Rating:
Home > Reviews > Motherboards > EPox 9U1697 GLI
Epox Motherboard Highlights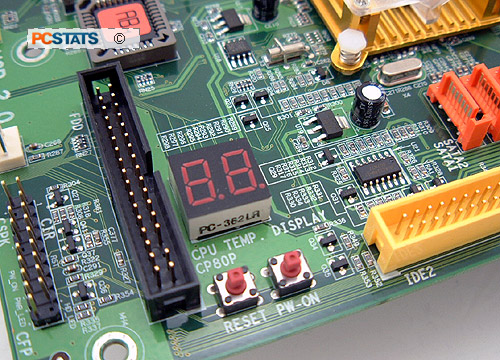 The Port 80 diagnostics card has long been a standard feature of Epox motherboards, and the alpha-numeric codes it spits out are a favourite with enthusiasts and overclockers alike. If the PC stalls, the corresponding two digit port 80 code can be looked up in a chart at the back of the user manual to discover what the problem is. For convenience, Epox have added actual Reset and Power-On buttons on the motherboard PCB.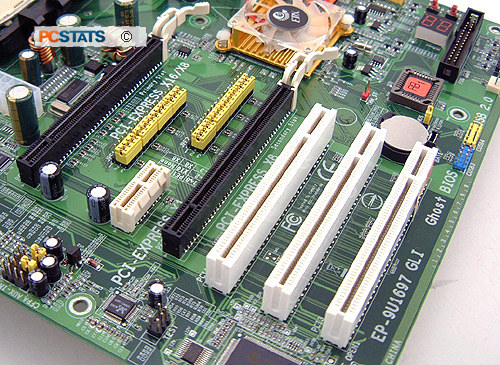 There are two PCI Express x16 slots on the Epox 9U1697 GLI motherboard, however they do not officially support nVIDIA SLI or ATi CrossFire technologies. Two PCI Express x16 videocards can be used on the motherboard at the same time for multiple 2D displays, like for workstation style applications, but they cannot be linked with SLI/Crossfire jumpers. To split the PCI Express x16 bus equally between both slots, you'll have to move six sets of the yellow jumpers first. Each videocard will then get eight PCI Express lanes.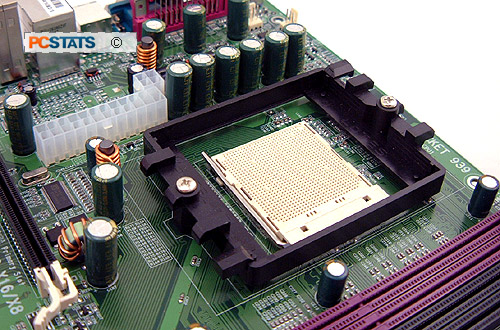 The Epox 9U1697-GLI motherboard supports all current AMD Athlon64/X2/FX processors of the 939-pin form factor. The board will support up to 4GB of DDR400 RAM, in two dual channel pairs. Power is supplied to the board with a 24-pin and 4-pin auxiliary power connector.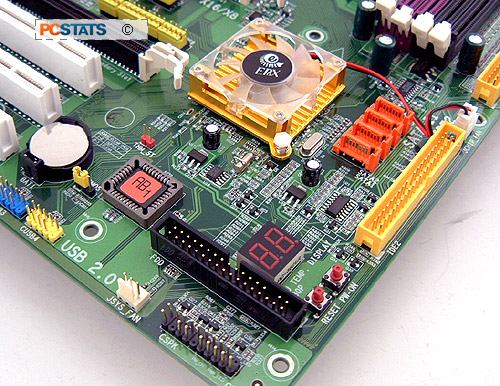 The ULI M1697 chipset is cooled with a simple low-profile aluminum heatsink and fan. The thermal solution is low enough that it will not get in the way of long PCI Express videocards. Below this we find the two yellow IDE channels, floppy drive and assorted USB headers. The motherboard features a single BIOS, and no backup. The CMOS battery and reset jumper are also located in an easy to access location.
Epox is known to have more of a wild side than most other manufacturers, and we've had quite a bit of luck overclocking so let's see how the 9U1697-GLI motherboard handles...
SEARCH PCSTATS

---

Use the power of Google to search all of PCSTATS and the PCSTATS Forums. Tell us what you think of this new feature - FEEDBACK?