Abstract: Do you know the best way to listen to MP3 files on a computer? Winamp, K-kjofol, Sonique... which one's good, which one's suck? Read on to find out!

Home > Reviews > MP3 Players > none
More players....
Music Match Jukebox is a good player. It is big, however, and not that pretty. While it shows your player, your playlist, and your library, its mock-wood paneling make it resemble a circa-1970's turntable. Just because it isn't the best-looking thing out there doesn't mean that it isn't a good program. It is easy to use, and also gives you some options not found on most players. For those of you with a CD-R drive, this program can make an audio CD of your playlist, and print labels for it. Another option, which is not that impressive but very convenient is the ability to print your music library or playlist. The full version of Music Match Jukebox enables ripping MP3s from audio CD as well as some other bonus features, but that costs $29.99.
Music Match Jukebox

www.musicmatch.com
Download size: 6.96MB
Comment: It looks big and clunky, even on the small view, but it gives you some uncommon yet useful options .
---
K-Jofol looks like something that fell off the Starship Enterprise. This player and its curvy space age design, however, are a little rough around the edges (both figuratively and in looks). The player is rather hard to figure out, and has some buttons that don't do anything and some buttons twice. It also has equalizer bars with no labels, so you have no idea what part of the sound you're adjusting. The green and black player looks okay with a black desktop, but anything light colored reveals pixelated edges. The program does have an interesting feature where it docks on the top left corner of your active window, making it accessible and not in the way of programs. K-Jofol also has a varitey of skins and plug-ins. The visuals are weak compared to those of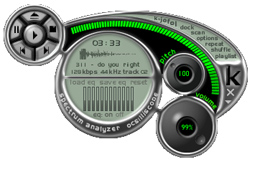 Winamp and Sonique however.
K-Jofol by aEGiS cORP.

Download size: 1.35MB
Comment: If you're looking for something a little Star-Treky, this might do...
But you could still do a lot better.
---
ROUND-UP
It all comes down to what you want. Winamp and Sonique are the two best-looking and easiest to use of the players. Each has a ton of options to play with as well. PCDJ is a neat program, but I wouldn't use it to play MP3s. MusicMatch has some perks, but it is still does not compare. K-Jofol  just looks weird. If all you want to do it listen to music, follow the crowd. Go with Winamp or Sonique and you won't be dissappointed.