I usually avoid little plastic things that attach to my computer. I really don't like to accessorize I guess. Luckily the FrontX ports are 1) useful and 2) relatively well made. In fact, looking at the cables makes me want to describe the connectors as Nintendo quality. The audio wires all appear to utilize shielded cable, and each terminates at a rather robust looking plastic shroud. My guess is that even the most handled cables will have a good life span.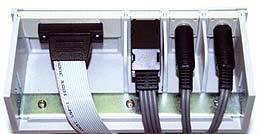 The terminating ends of the male audio jacks and game port are all colour coded to correspond with PC99 standard on today's motherboards and peripherals. All that really means is that for sound cards or motherboards with mic/speaker/headphone jacks, the same pink, blue and green coding is kept constant. In effect making it a hell of a lot easier to hook up cables because deciphering tiny stamped text is removed. Match the colours and plug in. Simple.
There is also the option of moving around each of the audio jacks on the front port. With a total of eight slots available, it will be interesting to see what what extra extension cables can be added to the FrontX port.
Nuances:
The handle for opening the port cover is a bit small for my big fingers but, after a few tries quite conquerable. Automatically you want to push down on the little tab to open up the cover, but it should actually be grabbed by the tips of the fingers. This is a trivial thing, but hey, a few bumps on the lever would have made it easier to grasp, so I will mention it.
There is only one thing that bugs me with this port extension. The holes to secure it to the case are off by a few millimeters so its hard to screw it in well. The screws had to go in at a slight angle on two cases we tested it on. That is the only slip in manufacturing quality I have noticed, and is a fairly minor on to be sure.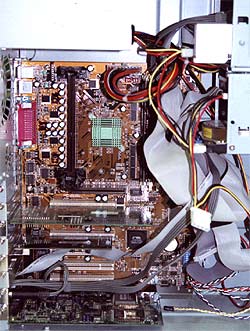 The cables of the FrontX are long enough to be placed out of the way on the inside of the computer.
Conclusion:
In conclusion, the folks over at CPX have managed to produce a simple product with good quality and at a reasonable cost. The FrontX ports may not be absolutely necessary for everyone, but, for the avid gamer with multiple joysticks, or the person with various audio requirements it's worth upgrade. The annoyance of crawling down to plug cords in with little or no light in tight spaces is a thing of the past, and not missed. The only thing I would like to see with this 'extenson cord' is support for USB and video terminals. While the CPX site lists upcoming ports to handle video, parallel, USB and serial connections, we can only wait and see if these additions will require separate bays, or allow themselves to added individually. I would definitely think it would be the latter.
With regards to the video extension, I seriously think it should have some type of interference suppression. All too much these days, video extension cords make great monitors redundant with crap-loads of high frequency interference. We'll have to wait and see... for the moment, CPX have gotten it right with the FrontX multimedia ports, and with the addition of USB and video extension modules this product will make any cord super convenient to plug in! I only wonder if they have considered creating a NIC extension...