First of all, the Netwinder can be set up to run web, mail, DNS, DHCP, print and FTP servers. It can also run file sharing for UNIX (NFS), Windows (SMB) and Apple (AppleTalk) systems, as well as a couple other features like discussion forums and searching. Versitile seems to be the word of choice.
All these services can create a pretty heavy load for any machine, and can be quite a pain to administrate. The Netwinder allows access to the appropriate Linux utilities from the same intuitive GUI used in the installation. The user isn't even aware, let alone need to know anything about, what is going on behind the GUI. Take a look: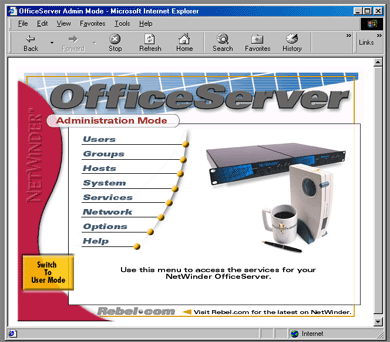 Adventures in DHCP
My first task was to switch over the Dynamic Host Configuration Protocol (DHCP) server to the Netwinder. For those who want a little clarification, DHCP provides a way to allocate network addresses on demand, rather than giving out addresses to computers to hold statically. The Netwinder uses a default stack of non-routable IP addresses. (non-routable addresses cannot be accessed from the outside world, which prevents several major security problems). This was a little bit confusing at first, due to the necessity to migrate from a Windows2000 based DHCP server that was running the 'true' addresses.
The entire process of setting up the DHCP server took about me 30 minutes--including time spent actually reading the manual (which turned out to be helpful...who would have thought ;) after I conceding that I needed help. With each of the computers on the network named, it was time to test out access to the web. I fired up a browser, and pointed it at www.pcstats.com, and to my horror, was given a 'not found' error. Grrr. Before tossing my football sized server across the room (I have a bit of a short fuse for these things at 1am), I sat back and thought about it for a second...... <click>
A light bulb lit up, and I realized that the firewall wasn't configured.