By the way, it you want to know more about what goes into making a motherboards, check out PCSTATS tour of a Gigabyte motherboard factory in Nan-ping Taiwan - it'll blow you away! Now on with the preview of Gigabyte's GA-P55-UD5 motherboard.
Unlike recent chipset launches from Intel, the P55 Express chipset will NOT support the faithful old socket 775 Core 2 Duo/Quad/Pentium D/4/Extreme processor. New architecture calls for a new CPU socket, and so we'd like to introduce you to socket LGA1156 - land grid array, 1156-pins.
This is the new socket 1156 - notice anything different in the picture below?
The LGA1156 socket is a physically different shape, so there won't be an issues with mistakenly installing an older CPU into it. It's also not going to be compatible with any socket 775 heatsink you might have. The four holes around the CPU socket are spaced a little bit differently so they will NOT line up with socket 775 mounting brackets... Arrgh. Why Intel? WHY?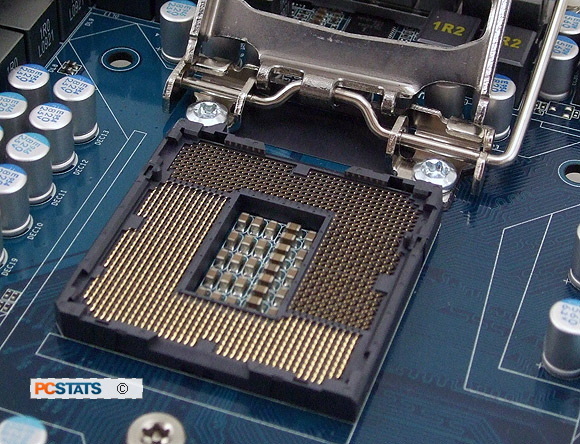 Like LGA775 processors, the LGA1156 Core i5 chips are pinless.
For whatever reasons, Intel LGA775, LGA1156 and LGA1366 heatsink mounting hole spacings are all a bit different (72mm, 75mm and 80mm on center respectively). The same injection molded plastic Intel C33389 reference fastener is used on all three thermal solution systems, so we don't understand why Intel didn't just pick a standard new size, say 80mm, and stick to that for Core i5 and Core i3 processors.
Next, the P55 Chipset naked and up close...