Only one data cable should be connected to the drive at a time, and depending on your systems capabilities that mean either the USB 3.0 cable or the eSATA cable. Don't connect both at the same time. The eSATA cable is measures 1 meter long so this is ideal for desktop systems, the USB 3.0 cable is a little short (0.5m long) so it seems better suited to notebook/desktop situations.
While you can use either USB 3.0 or eSATA cables to connect the Plextor PX-LB950UE to a computer system, some computers may experience issues with USB 3.0 delivered via third party add-on cards.
In PCSTATS tests we suffered a BD-R write failure in NeroDiscSpeed 5 Write test while the Plextor PX-LB950UE was connected via a cheap NEC-controller-based USB 3.0 add-on PCI Express x1 card. This issue was resolved upon switching to the motherboards' native eSATA port and the remainder of the BD-R disk burned satisfactorily. Another test system with onboard (native) USB 3.0 ran smoothly, so perhaps this was a one off.

USB 3.0 and eSATA data cables are included.

The USB-B 3.0 plug goes into the back of the Plextor PX-LB950UE external drive.
USB 3.0 is marginally faster, but unless your computer has native USB 3.0 this may entail going through some form of PCI Express x1 USB 3.0 add-on card which doesn't appear to be ideal. Let's take a quick look at some problems PCSTATS encountered while testing this product them move along to a full suite of optical drive benchmarks.
Problems During Testing
Before we get started we need to preface the following test observations by saying it's still quite difficult to find 12x BD-R media in our region so PCSTATS had to wait for the local office supply store to order in Verbatim 25GB 6X BD-R media (Grand & Toy). At $13 a pop to conduct a BD-R Write test, we only took one shot at it.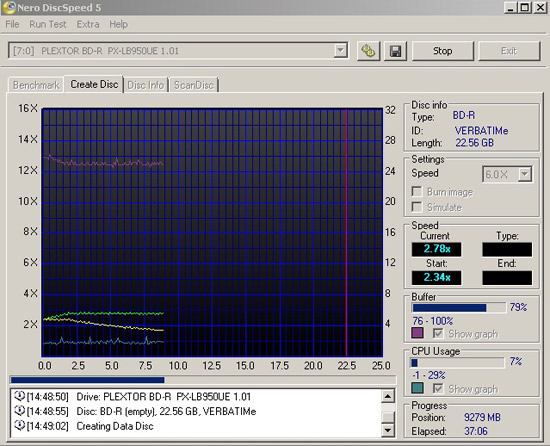 Unfortunately, the Plextor PX-LB950UE BD-R failed to complete Nero DiskSpeed 5's CreateDisk Write test when connected via USB 3.0 add-on card as we previously alluded to. Here's what happened, specifically;
After 9278MB of data being written, the PX-LB950UE stopped responding. 37 minutes later what should have taken 15 minutes to burn was stalled.... The drive's blue status LED kept blinking after Nero was closed down and did not respond when the Eject button was pressed. Nero was listed as "running" in Task Manager and the window responded to mouse commands so the Nero program didn't appear to have crashed. The only recourse was to power off the external Plextor PX-LB950UE drive and curse the heavens over the $13 BD-R coaster it spat out...
At best, we can tell you peak write speed was 2.78x before data seemed to flatline... but as only 37% of the 25GB of data space was written, this is not an accurate figure.
A quick test with PlexUtilities v1.3.0 drive diagnostic tool after the failure indicated a memory failure within the PX-LB950UE. Running the test again to confirm these results gave us a 'Pass'. Go figure. We switched over the native eSATA connection coming off the test computer and using ImgBurn, closed the unfinished BD-R session. The remainder of the BD-R was filled with approx. 13GB of data, burnt to the BD-R via an eSATA cable in 20min at a rate of 6x (26,970 KB/s).
Nero DiskSpeed's BD-R Read test ran without issue and achieved the rated speed for this BD-R media - a peak of 8x read, 6x on average.
Blu-ray Movie Playback Fail - '10,000 BC' Movie Goes Unrecognized
Keep in mind that Blu-ray Movie playback on computers can sometimes be a rather tricky affair due to excessive Copy Protect requirements. Sometimes, for no apparent reason, a Blu-ray DVD movie just won't play in certain optical drives - we've seen this a couple times at PCSTATS. Other times it's a software or firmware issue, Blu-ray movies on the PC are kind of a pain in the ass in this respect.
Such was the case with the Plextor PX-LB950UE; no matter what DVD software we used (Cyberlink Power DVD8/9), no matter what update we tried, now matter that Cyberlink BD Advisor v2.0.4017 gave the test system a pass, no matter that Plextor PlexUtilities scanned the disk and found it Defect free, PCSTATS could not get its official test Blu-ray movie ('10,000 BC') to play in the PX-LB950UE. The drive simply wouldn't recognize the BR movie disk. It had no problems plaing DVD movies or recognizing and reading from BD-R media.
A quick search of the internet to find a resolution only turned up a lot of people complaining about the inability to play certain Blu-ray movies on their PC, apparently regardless of Blu-ray drive manufacturer or DVD software. Perhaps this is a Digital Rights Management issue relating to Warner Brother movies - we honestly don't have an answer.
No firmware was available at the time of this review to update the Plextor PX-LB950UE. The supplied Cyberlink Power DVD9 software was used. No dice. Several hours trying to find a solution, on Plextor's Support Forums and elsewhere, proved fruitless.
Firmware Fix?
The Plextor PX-LB950UE PCSTATS received for testing shipped with firmware ver 1.01 according to Nero InfoTool5. In a last ditch 'hail mary' effort to fix the issues and (hopefully) give its Blu-ray playback a proper evaluation, PCSTATS stripped the internal PX-LB950SA optical drive from its external chassis and installed it in a computer via a direct SATA cable connection. Firmware ver 1.06 was downloaded from Plextor's website, but.... because the drive thinks it's a PX-LB950UE we could not proceed with the the firmware update.
An oversight on the part of Plextor... no firmware is available for the PX-LB950UE at the time of this review, in spite of the fact that both models are the same device, and thus one would assume, would require the same level of firmware updates.
Optical drive benchmarks are up next.