Performance:
I am a horrible Quake III player, so I'm not going to tell you that this mouse has raised my level of play to "l33t" status. However, this mouse does not hurt my frag total either. This mouse glides effortlessly in any direction that I want it to on my Everglide and Ratpad mousing surfaces.
Once again the MS Intellimouse Optical is not using old technology based on 'ball' designs. The "Intellieye" sensor makes this mouse very light, and the removal of the mouse ball leaves the MS Intellimouse Optical with a nearly resistance, and maintenance free design. I've never had to clean this mouse, and that's great because I don't have to worry about a dirty mouse ball to make me miss a shot, at least with this mouse, my missed shots can be blamed on myself only.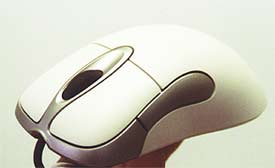 Unfortunately my day to day computer tasks do not require a lot of precision (aside from playing Quake III or Diablo II,) but from the feedback that I've received from my friends who use programs like Photoshop extensively, the MS Intellimouse Optical mouse works quite well for them. As I've previously mentioned, I can use this mouse for hours and hours without any feeling of discomfort. There is one negative about this mouse though, it's not a Logitech. This is not brand loyalty talking, but I've always found that the Logitech mouse "click" better, that is the left and right mouse buttons have a better feel when you click on them.
So what does this all add up to?