I have been impressed with Gigabyte's past offerings, they were fast, stable, and relatively tweakable, let's see if they can build upon that tradition with their latest offering. 
The Gigabyte-60MM7 is a micro-atx motherboard utilizing the new Intel 815E chipset. The Gigabyte-60MM7 is a socket 370 motherboard, therefore it can support Celeron PPGA processors starting with the the 300A all the way up to 533.  Naturally, FCPGA CPU's are also supported, Celeron 533A's and up to the 700Mhz model should function properly. 
FCPGA Pentium III's are supported, ranging from the 500E model, all the way up to the 1Ghz model.  The Intel 815E chipset calls for integrated video, manufacturers can opt to include the AGP slot for expandability.  Gigabyte has done just that, despite the cost cutting measure of having integrated video, Gigabyte has included the AGP slot as well as three bus mastering PCI slots.  The AGP port uses Gigabyte's exclusive clip that helps to stabilize your AGP video card during shipping.  They've also included an AMR and a CNR slot. 
Memory expansion is provided for via three 168pin DIMM sockets, supporting PC-66/100/133Mhz modules, in sizes varying from 32MB, 64MB, 128MB, 256MB, and 512MB.  The maximum supported memory is 512MB.
Connectors: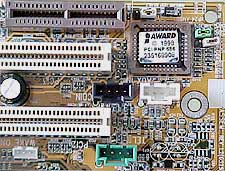 As with all motherboards, the Gigabyte-60MM7 has a few external connector's, including two PS/2 ports (one for a keyboard, the other, for a mouse).  There are two USB ports readily accessible externally, you can add two more ports via an onboard connector-bracket.  Unfortunately Gigabyte does not include this piece of hardware.
There is one serial port, but another one is available with an optional connector.  A VGA port is included to utilize the onboard video, the onboard soundcard has four ports available as well, these include the joystick/midi port, the line-in, line-out, and mic-in ports.  In this day and age, where USB has become so important, it's a shame that Gigabyte opted not to include the extra USB ports.  I myself have three USB devices, a Microsoft Intellimouse Optical, a Gravis Game pad Pro USB, and a Umax Astra 2000U Scanner.
While it's true that USB devices are supposed to be hot swappable, and easy to interchange.  It's still a big nuisance to poke your head behind your desk to unplug a scanner just so that you can plug in your gamepad for a little bit of NBA Live 2000 action. 
A close examination of the board reveals the numerous onboard connectors.  There is one Wake on LAN connector, one Wake on Ring connector, as well as one SMBUS header.  The SMBUS header seems interesting to me, because according to the Gigabyte website, you can attach a SMBUS card reader, that would enable you to insert and manipulate the card/chip that are used to store phone numbers, and other info on GSM phones.  I am using a lame FIDO phone that uses GSM technology, and it would be convenient to edit my Ericsson T18z's phonebook via my PC.
Unfortunately Gigabyte does not include the SMBUS card reader.  There is a IR/CIR header, as well as a DFP header.  There are three fan headers, which is surprising since this is a micro-atx motherboard.  The onboard sound card has three MPC style connectors, which can be used for analogue CD-audio, a modem, and another auxiliary function, such as a TV-tuner.