Motherboard layouts by name brand manufacturers are usually well thought out and give the average computer user the impression of quality.  There are a variety capacitors and resistors spread around the board, which leads to stability, as well as a good overall impression of quality. 
The ATX connector is placed between the 3rd DIMM socket and the floppy drive connector.  This placement appeals to me because it is less likely to cause problems with the CPU fan.  The IDE connectors are placed right behind the DIMM sockets.  A close examination of the CPU socket reveals that Gigabyte was smart enough to leave enough room around the socket for coolers like the Golden Orb.  I was also able to use a modified Global Win PPGA cooler with ease.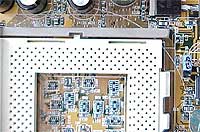 Fan happy users will be pleased to see that there are three, fan headers, one for the CPU obviously, which is placed close to the CPU socket area, to the left of the first DIMM socket.  There are two other headers for chassis/auxiliary fans.  The first being directly above the ATX connector, and the other one is placed at the bottom right portion of the motherboard (perfect for installing front chassis fans).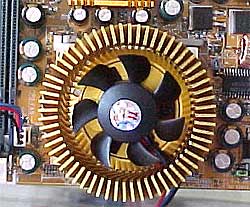 Overall, I was impressed with the layout and look of the motherboard.  Additionally, Gigabyte merely uses a golden heat sink with adhesive tape to cool down the i815E chip.

The test:
I had planned on installing my Asus V7700 video card to run a few Quake III and 3D Mark benchmarks to compare the i815E's performance versus the VIA133A.  However, the system would refuse to boot up with a card installed in the AGP port.  I tried my best, but it would just not go.  Rather than waste more of my time with it, I just simply ran the basic Sandra benchmarks, with my PIII-700E @ 700Mhz.
Sisoft Sandra: CPU Benchmark
Wow a Duron is just as fast as the PIII-700 in synthetic tests.
SiSoft Sandra: CPU Multimedia Benchmark
Ditto!
SiSoft Sandra: CPU Memory Benchmark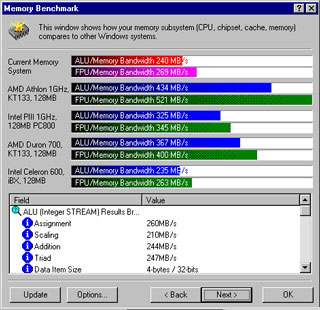 The scores seem a bit low here...
SiSoft Sandra: CPU Memory Benchmark w/ Soyo 6VCA
Egad's!  The VIA133A chipset scores better at 100Mhz FSB?