Abstract: MSI has a solid line up of motherboards for the first quarter of 2001. While boards like the MS-6332, MS-6364, and PM133M Pro have not yet been officially announced....

Home > Reviews > Motherboards > MSI
MS-6364 Motherboard
Briefly: i810E2 based socket 370 motherboard with onboard Pro/100 network connection, 4 USB ports in a FlexATX formfactor.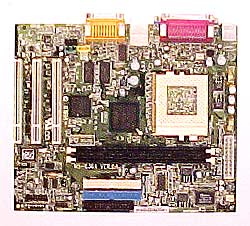 MS-6364
CPU:
Intel Pentium III / Celeron FC-PGA socket 370 processors 800Mhz or higher at 66/100/133 FSB
Features:

Intel i810E2 (ICH2) chipset
66/100/133Mhz Front Side Bus
TOP Tech III, PC Alert III, DMI, STR (optional)
Supports PCI 2.2
LAN - Intel Pro/100 VE Network Connection (82562ET)

Audio:
Video:
Memory:

Two 168-pin DIMM sockets support PC100/PC133 SDRAM module s
supports up to a maximum of 512MB SDRAM

I/O Connectors and Ports:

2 Bus master IDE channels supporting DMA 33/66/100 for up to 4 IDE devices
PS/2 keyboard and PS/2 mouse connectors
1 floppy port
1 parallel port (EPP/ECP)
2 serial ports
4 USB connectors
1 standard VGA connector
Audio connectors (line-in, line-out, mic-in)

Expansion Slots:
Miscellaneous:

flexATX formfactor
Hardware monitoring - CPU / system voltage detection. CPU, Chassis, power supply fan speed monitoring. Processor and system temperature monitoring
Wake on LAN header
Wake on ring header
SEARCH PCSTATS

---

Use the power of Google to search all of PCSTATS and the PCSTATS Forums. Tell us what you think of this new feature - FEEDBACK?