Taking pictures without film
To operate the camera you must first push down on a small button at the top of the camera. The button is encased by a dial which controls some of the DC4800's control features, and this makes it slightly difficult to activate if you have large fingers. Once powered (take a few seconds), the LCD screen will light up and you can begin taking shots. If think you need the flash, just pop it up, and the flash will be used. Else it is no more simple than point and shoot. The shutter release is on the right hand side of the camera. Oddly we first mistook the power button for the shutter release, but instead a nice shinny (and a bit stiff) button activates the camera to record an image.
USB connection and Imaging software
The software for the camera allows you to pull the images off of the flash card via USB cable to the camera. It also enables the user more detailed configuration of the camera's settings, and a chance to take some test shots to see how the various changes affect image quality. We found the software very easy to use, although it did take three attempts to install it properly. when the camera is hooked up to a computer by the USB cable it uses more power than normal so it is advisable to also plug the camera in to charge it at the same time.
With the Camera hooked up to the computer, the files can easily be copied from what is essentially another drive to more permanent storage on the computers's hard drive. The transfer of an entire 32MB worth of imagery takes only a few seconds.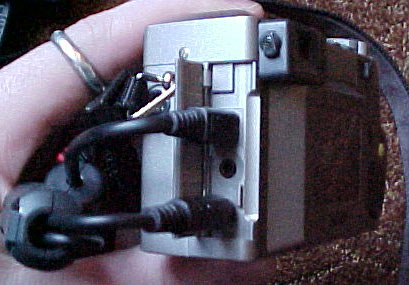 We loaded the CD-ROM into our laptop and began the installation process. However we soon hit a stumbling wall as the software wouldn't load. Eventually we were able to get it loaded on, after about three attempts, and going through Microsoft Explorer.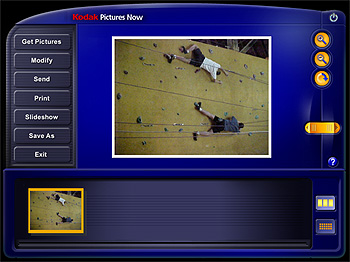 Over all the DC4800 is a good 3.3 Megapixel camera. For about $600USD you get the camera and software package which allows you to remove the photos via USB cable. We found the operation of the camera to be sufficiently easy, and although battery life was eaten up a bit faster then we may have liked by the backlit LCD display, the camera easily lasted 2-3 hours on a single charge.
The metal housing is a nice change from the cheaper plastic cameras which have been flooding the market, and the form factor remains similar to that of a traditional film-based camera meaning that it does not take long to become proficient in its' use.
If you're looking for a good digital camera then this may be a good camera for your needs.
SEARCH PCSTATS

---

Use the power of Google to search all of PCSTATS and the PCSTATS Forums. Tell us what you think of this new feature - FEEDBACK?