Test System Configuration
Test System Configuration
| | |
| --- | --- |
| CPU(s) | Intel Pentium III 800EB, Intel Pentium III 800E |
| Motherboard | ABIT VT6X4 (Via Apollo 133A) |
| Memory | 128 Megs PC-133 SDRAM |
| Hard Drive | Western Digital Expert 18.1 Gig ATA-66 |
| Video Card | LeadTek WinFast GeForce 2 GTS 32 Meg |
| Operating System | Windows 98 SE |


For comparison purposes, we pitted the Pentium III 800EB with its "little" brother, the Pentium III 800E. The only difference between the two processors is the fact that one uses 100 MHz FSB, while the other uses 133 MHz FSB.

Our system was outfitted with the latest Nvidia detonators drivers, the latest VIA 4-in-one drivers for the Apollo chipset, and we had the latest Quake III patches. Let's see what the synthetic benchmarks look like.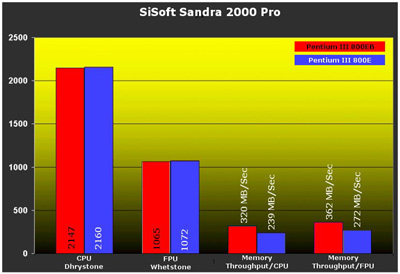 You can clearly see how the 800EB flavor of the coppermine outfitted with the 133 MHz FSB, completely spanks its "little brother" which runs at a mere 100 MHz FSB. The most obvious difference is the memory speed, which is quite a bit different between the two. The only strange thing about the above chart is the very slight speed advantage of the 800E over the 800EB in the raw CPU only benchmarks. Of course, synthetic benchmarks never tell the whole story. Heck, sometimes they don't even speak the truth. Let's take a look at some "real world" performance numbers.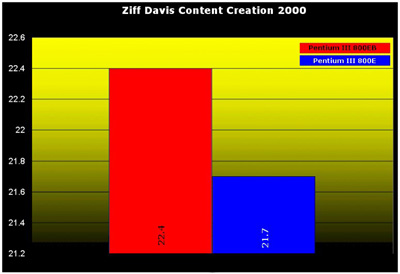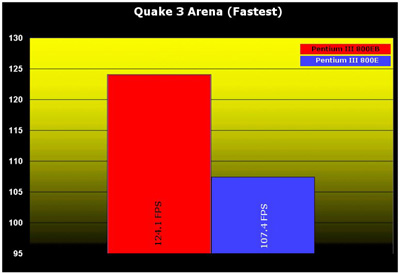 The Ziff Davis Content Creation and our Quake III arena benchmarks pretty much paint the same picture. You can see how the higher bus speed, which in turn directly translates to increased memory speed, helps the 800EB perform better overall under Windows and in gaming. As a matter of fact, our Quake III Arena performance is significant, almost by 20 frames. Keep in mind that we only used the "fastest" setting in our Quake tests because we are only trying to put the stress on the processor. If we were to increase resolution and color depth, then we would start seeing what the video card can do, vs. what the CPU can do.
SEARCH PCSTATS

---

Use the power of Google to search all of PCSTATS and the PCSTATS Forums. Tell us what you think of this new feature - FEEDBACK?