The monitor test program is often very useful at picking out points where the monitor may be less than perfect. These tests are very strenuous and are designed to stress the display in ways you might not normally see.
TFT displays typically pass all of the tests without any questions, but there are a few areas where differences begin to expose themselves. On this particular display we noticed a few things about the 170T that set it aside from the 180T we reviewed previously.
During the tests for brightness and contrast the display seemed exhibit difficulties on the lower end of the scale. The shades run from 1% to 9% white, and should be distinct, but the TFT panel seemed to group them in the following manner;1-2, 3-4, 5-6, 7-8, and 9%. Moire also seemed problematic for one particular test pattern. When either the 1pixel solid bar, alternating between black and white, or the 1pix black and white checker were displayed the display produced thin distortion lines in the horizontal plane.

Speaking from experience, every LCD display will experience this issue if it is improperly focused, but given the fact that we were unable to adjust the settings to resolve the discrepancy it may very well be an issue with the particular TFT panel.
In all other instances the 170T performed flawlessly, producing vivid and extremely sharp images that worked well in either the gaming or office environments. With a good refresh rate of 25ms per pixel there was no evident ghosting or streaking that we could detect.
Final Conclusions
With the classic Samsung control panel on the front bezel that features that nifty back-lit power/standby button and the simple but effective display controls the 170T is an uncomplicated display to work with.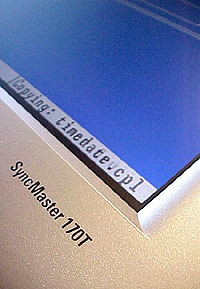 The panel used on the 170T model features an industry standard for high end viewing angle of 80/80/80/80 and a good brightness of 220 cd/m2. It's often difficult to look at one display and say that it is brighter than another one, but from what we have reviewed, 300cd/m2 is value to be comfortable with.
Contrast is top of the line at 350:1, and with a pixel pitch of 0.281 you shouldn't experience any problems with displays appearing to blocky or rigid. I know when I first started using a laptop (a now aging Acer 512T this is being written on - anybody at Acer feel like sending a notebook over for review?) it took me quite some time to get used to the ultra-sharp text that seemed too stiff.
CRT displays excel at producing clear and crisp pictures with little discernable difference from pixel to pixel. LCD display's by their nature are forced to adhere to a matrix of blocks and there is little room for the eye to blend lines into smooth flowing objects.
This is a very nice display to work with despite its one or two shortcomings where the test patterns are concerned. The size difference from 18.1" to 17" often comes with a substantial cost reduction, so do yourself a favor and consider the 170T for your next display upgrade. It's almost guaranteed that you'll like it better than those boring old beige displays the are cluttering up your co-workers desk!