To be totally honest here, I wasn't expecting much from Acorp 7KT266A. It is a very plain solution with no real overclocking options that many of the 'brand name' manufacturers throw in as standard, but still, it did manage to surprise me quite a bit!
The layout of the 7KT266A is quite decent and there is more than enough room left for expansion - there are five PCI slots after all. While it does come with a ACR, I'm glad it's been placed just below the AGP slot, this way, I don't feel so bad when I use a Blue Orb on my videocard.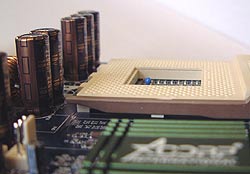 The IDE/Floppy connectors aren't in the greatest position in my opinion, but then again the need to use full length cards isn't much of a necessity for most of us, so I'm being a little picky here. With no mounting holes around the CPU socket installation of larger heatsinks like the ones from Swiftech or Zalman are impossible. Clip based socket A heatsinks should be okay as long as they are not too large.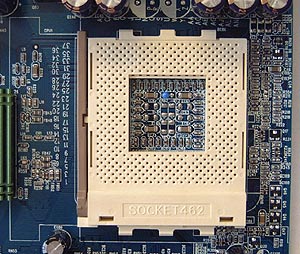 If you are unsure about a particular heatsink here are the standoff dimensions relative to the image below. From the top of the socket to the capacitors there is roughly 6mm of space, from the bottom of the socket about the same, 6mm.
To the left and right the board gives us at least 15mm worth of clearance. Basically, any heatsink under 75mm in length (in the clip direction) will be a tight fit, but fine. And hey, they even have a thermistor in the center of the socket for thermal monitoring.
ACorp has done a pretty good job with this value board, and the biggest upside for the 7KT266A of course is price. Expect to find the 7KT266A retailing for about USD$90 ($130 CDN). With that in mind, you can be a bit forgiving about the limited amount of overclocking features, because after all it is the cheapest KT266A based board out there we have yet to see!
I think if ACorp can bring the 7KT266A out en masse, they should do very well. While most of us would love to get the most feature-packed motherboard on the market with all the bells and whistles, there is still a lot of shopping by price alone, so if you have a small budget and don't intend to do a lot of overclocking or extensive tweaking this board could be a good option to consider.