Sisoft Sandra 2002 Pro
Source: Sandra
Sandra is designed to test the theoretical power of a complete system and individual components. The numbers taken though are again, purely theoretical and may not represent real world performance.
SiSoft Sandra 2002 Pro Benchmark Results
Intel Pentium 4 2 GHz
Score

Multimedia Benchmark

1.
Integer SSE - 100 MHz
7948 it/s
1a.
Integer SSE - 108 MHz
8610 it/s
2.
Floating-Point SSE - 100 MHz
9674 it/s
2a.
Floating-Point SSE - 160 MHz
10375 it/s

CPU Benchmark

3.
Dhrystone ALU - 100 MHz
3695 MIPS
3a.
Dhrystone ALU - 108 MHz
4414 MIPs
4.
Whetstone FPU - 100 MHz
1045 FPU/2433 MFLOPS
4a.
Whetstone FPU - 108 MHz
1121 FPU/2610 MFLOPS

Memory Benchmark

5.
Integer ALU - 100 MHz
2070 MB/s
5a.
Integer ALU - 108 MHz
2233 MB/s
6.
Float FPU - 100 MHz
2066 MB/s
6a.
Float FPU - 108 MHz
2217 MB/s
SiSoft Sandra 2002 Pro is good at testing pure theoretical power. Here as we can see, overclocking gives a nice boost to performance. Or at least Sandra thinks so!
3DMark2001 SE is the latest installment in the 3DMark series by MadOnion. By combining DirectX8 support with completely new graphics, it continues to provide good overall system benchmarks. 3DMark2001 SE has been created in cooperation with the major 3D accelerator and processor manufacturers to provide a reliable set of diagnostic tools. The suite demonstrates 3D gaming performance by using real-world gaming technology to test a system's true performance abilities. Tests include: DirectX8 Vertex Shaders, Pixel Shaders and Point Sprites, DOT3 and Environment Mapped Bump Mapping, support for Full Scene Anti-aliasing and Texture Compression and two game tests using Ipion real-time physics. Higher 3DMark scores denote better performance.
3DMark 2001 SE Benchmark Results
Intel Pentium 4 2 GHz
3DMarks
Ranking
1.
100 MHz FSB
7810
2.
108 MHz FSB
8128
We're starting to see the benefit of those higher clock speeds with the P4. The chip doesn't have a hard time with 3DMark2001/SE, and produces some very respectable scores of 81283DMarks when overclocked. The 2.0GHz Northwood version would probably score a bit higher.
Quake III Arena is a First Person Shooter (FPS) that revolutionized gaming as we know it. Using multiple light sources and having graphics textures that can fill videocards, even after 3 years it's still able to bring a cutting edge system to its knees.
Quake III Arena Fastest demo001
FSB
FPS
Ranking
1.
100 MHz
262.3
2.
108 MHz
286.3
Quake III Arena Fastest nv15demo
FSB
FPS
Ranking
1.
100 MHz
72.6
2.
108 MHz
77.9
Quake III Arena has always loved the high memory bandwidth of the Pentium 4. Looking at the results shown above, we can see that at low resolutions (where the videocard has the least impact) the P4 would make even the Blue Man Group proud. The nv15demo is particularly impressive since that demo is all CPU limited.
Quake III Arena MAX 1024x768 demo001
FSB
FPS
Ranking
1.
100 MHz
186.7
2.
108 MHz
192.6
Quake III Arena MAX 1024x768 nv15demo
FSB
FPS
Ranking
1.
100 MHz
49.7
2.
108 MHz
53.7
As we turn up the resolution to 1024x768, with all the eye candy on, we can see the videocard becomes the bottleneck in these benchmarks. Still, things are totally silky smooth in terms of framerates.
Conclusions:
So what can we say about the Pentium 4 2 GHz? Other then being the fastest Intel CPU at the moment that's readily available, it's actually a decent performer compared to those slower Pentium 4's. For instance, even though this CPU is only 500 MHz faster then the 1.5 GHz version, often the performance gap between the two processors would be larger then that 33% margin (based on my impressions using that chip).
While the Pentium 4 2 GHz is quite expensive compared to other alternatives, it does offer very good performance for Intel advocates. Intel loyalists should be happy now that they have a CPU that can compete with AMD's AthlonXP's on equal terms even though it's about 50% more expensive then the AMD counterpart.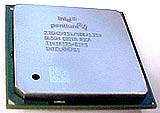 Intel has done many innovative things with their processors, and the P4 provides many safety features that even AMD could stand to take note of. The heat spreader is a great idea because it protects the core from damage during heatsink installation. Even though Intel FC-PGA chips don't really have the same problems that the AMD FC-PGA's have had, its good to see that Intel has made this protective measure standard.
Another thing that is built into the core of the P4 that was hotly contested when it was originally noticed is the Thermal Throttling. Thermal Throttling assures that the Pentium 4 never suffers the same gruesome death that many an Athlon has faced should the heatsink fall off.
Since our 2 GHz Pentium4 was based on the 0.18 Williamette core we didn't expect much in the way of overclocking. Still, we were able to squeeze out another 160 MHz from the CPU, not the best overclock, but it's better than nothing.
As good as the Pentium 4 2 GHz (Williamette) was, we still have a very hard time recommending it simply because of its price. If you're going to spend so much on a CPU, it's worth the while to wait for the Northwood Pentium 4 2.0 GHz chips to hit store shelves because they're not just built on newer technology, they also have 512KB L2 cache which will boost performance quite a bit. They should overclock higher too, which is nice for the performance freak in us all! =)