The three different power connectors the 4D845A uses are grouped together directly behind the sound and game console ports. Athlon motherboards require just the 20-pin ATX power connector, but Pentium 4 motherboards general also require an auxiliary 4-pin 12V ATX power connector and sometimes an older AT connector. That AT connector has been replaced with a more common Molex power connector.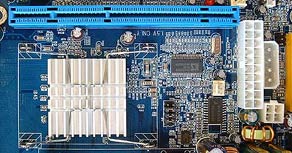 It may seem like a lot of power connects, but at least they are all grouped together in the same location, and the power cables can be draped around the processor easily enough.
Onboard audio is taken care of with the VIA's AC'97 codec. This sound source can sap CPU resources, but since Acorp targets their boards to the "value/OEM" market, sound is an after thought. Price is the main selling point.
Incidentally the 4X AGP socket, shown in blue above, will only support 1.5V video cards, and not the older 3.3V models.
The Intel i845D NorthBridge
The i845D is a FC-BGA chip which natively supports up to 2GB of PC1600/2100 DDRRAM. Intel states that i845D motherboards should only have 2 DIMM slots and the 4D845A follows their guidelines to a tee. The 82801 ICH2 (I/O Controller Hub 2) Southbridge has been used with the last few northbridge models, and it doesn't seem like it will be going out of style any time soon.
However, when the 64bit PCI slots and PCI-X formfactors begin to make their way into consumer motherboards you can expect to see the 82801 gradually fade from the scene.
Rounding out the on board features the value-oriented Acorp 4D845A supports are (4) USB 1.1 ports (two on the board, two via a not included a riser card), WOL, IrDA, TAD, CD Audio Input, , and BIOS port 80H post codes debugging (optional front panel).There are a total of three fan headers.