[>>]

[>>]

[>>]

[>>]

More>>

Search...

| | |
| --- | --- |
| General News | |

... 130 news stories awaiting approval
[LATEST]
Sapphire Radeon R9 Fury Tri-X OC Review

AMD tried something daring with the Fury X, HBM, heavily compacted PCB design and an AIO cooler. The card is pretty cutting edge and the first of a new generation of designs and technologies centred on shacking off old news such as GDDR5. The launch of the Radeon Fury X caused a lot of stir across the internet, not only because of AMDs balls to push innovation, but because the cards are also in short supply, with some review samples, including our own, having some issues."

[LATEST]
BIOSTAR Hi-Fi Z97Z7 ATX Motherboard Review

"We're happy to take a look at a board from BIOSTAR whom we haven't seen in the labs before. The board in question is the BIOSTAR Hi-Fi Z97Z7 motherboard aimed at audio and potentially gaming enthusiasts at a leg sweeping affordable price. We ran the board through extensive testing to see if it hits its mark as well as whether or not it meets our tried and true standards."

[LATEST]
Intel Celeron N3050 Braswell Linux Performance

"This week has been fun testing out the Braswell-powered NUC5CPYH. This NUC features the Celeron N3050 SoC and in this article are some of the first benchmarks of this new Intel design when testing under Linux."

[LATEST]
OCZ Vector 180 Review

Today, we're to look at OCZ's most recent release by way of the Vector 180 solid state drive. Vector 180 is designed primarily for the enthusiast; a sector which is one of the highest in the SSD portfolio. Our drive is also driven by Barefoot 3 M00 and utilises 19nm MLC NAND flash – which promises to deliver consistent performance in a range of scenarios. OCZ are also keen to press a new feature called Power Failure Management Plus – presenting a new level of reliability!

Crucial Showcasing BALLISTIX SPORT LT DDR4 WHITE Modules at Gamescon

Crucial is unveiling a complimentary white digital camo heat spreader and unique white printed circuit board (PCB) option as part of its Crucial Ballistix Sport LT DDR4 memory offering this week at gamescom. Sport LT DDR4 modules are available at Crucial.com in 4GB and 8GB densities. Additionally, 16GB densities and 64GB kits will be available starting in September 2015, as will the white Ballistix Sport LT modules.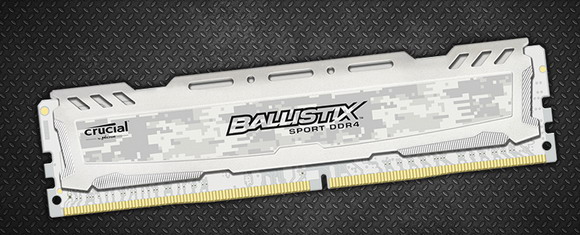 Crucial, a leading global brand of memory and storage upgrades, today announced it is unveiling a complimentary white digital camo heat spreader and unique white printed circuit board (PCB) option as part of its Crucial® Ballistix® Sport LT DDR4 memory offering. The modules, which will be showcased in conjunction with gamescom in Cologne, August 5th – 9th, offer the same DDR4 performance and proven reliability that gamers have come to expect from Crucial.
Designed for mainstream users who simply want to get more performance out of their systems, Crucial Ballistix Sport LT DDR4 memory delivers fast speeds and increased bandwidth. A new addition to the current Ballistix Sport DDR4 lineup, Sport LT modules feature a covert digital camo design, which will be available in both white and gray, and an integrated heat spreader. Whether gamers want plug-and-play installation or Intel® XMP 2.0 profiles to achieve DDR4 speeds of 2400 MT/s, Ballistix Sport LT memory delivers seamless, affordable performance.
Ballistix Sport LT DDR4 modules are available at Crucial.com and through select global partners in 4GB and 8GB densities, as well as kits up to 32GB. Additionally, 16GB densities and 64GB kits will be available starting in September 2015, as will the white Ballistix Sport LT modules. All Ballistix memory is backed by a limited lifetime warranty.

Zotac GeForce GTX 980 Ti AMP! Review

The Zotac GeForce GTX 980 Ti AMP! Graphic Card arrived Technic3D. Technic3D will check the fast Ti in the following Review with a Resolution from 2560x1600, 1920x1200, 1680x1050, the real Power Consumption, loudness, temperature, Overclocking and many more against other Graphic Cards."

Zotac GTX 980 Ti Amp! Edition 8 GB

ZOTAC's GTX 980 Ti AMP! Edition comes at GTX 980 Ti reference design pricing, which makes it the most affordable GTX 980 Ti custom-design. The card is overclocked out of the box, running faster than GTX Titan X. Zotac is introducing a new all-metal cooler which looks fantastic and reaches great temperatures, too.

ZOTAC ZBOX P1320 Mini-PC Review

Many small devices require a custom built operating system to match the diminutive size but not this one because the P1320 comes with a fully functional, Windows 8.1 operating system. Nothing has been trimmed away from this OS other than 64bit functionality. At its heart there is an Intel Z3735F quad-core processor running at 1.33GHz (upto 1.8GHz) which also provides the shared graphics. 2GB of DDR3L-1333 memory is available along with a 32GB of storage space (expandable via SD card). Not too shabby for a device that is smaller your average smart phone!

FSL AL13 Aluminum Earphones Review

"There's an old saying: 'You get what you pay for' that usually means that if something is cheap or inexpensive it isn't that good, but sometimes you can be surprised. Today for review I've got a set of earbuds or headphones from a company called FSL or Future Sound Labs that cost less than $15 and I was very pleasantly surprised by just how good they sound and how well they are made. I'll be honest, for the price, I wasn't expecting much at all, but these are very good, they sound great and they're well worth the price and then some. Read on to learn more… "

SuperMicro Gaming S5 Special Edition Mid-Tower Chassis Review

SuperMicro is better known for their enterprise solutions. They create high-end workstation motherboards, server rack mounts and other professional solutions, but now they're taking a shot at the consumer level market with the release of their Gaming S5 Mid-Tower chassis, a gaming focused tower and that is something that really caught our attention. It wouldn't be the first time a company like this has gone from industrial to consumer markets, but SuperMicro has a rock solid reputation and a lot of industry experience, so we were very excited to be able to check out their first consumer chassis product.

Lenovo LaVie Z And LaVie Z 360 Reviews

The wealth of ultra-portable laptops continues to grow, and we're seeing a more varied array of options than ever before. Be it 2-in-1s like Asus' T300 Chi or a tablet-gone-laptop like Microsoft's Surface 3, those in the market for a mobile computer have plenty of options these days. As manufacturers seek out their own differentiation, we're seeing Lenovo carve out its own special space in the sector with their new LaVie Z series of ultralight notebooks.

Complete Guide To Speeding Up Your PC's Boot Time

As you know, many people buy SSDs to not only speed up their computing experience, but also speed up the boot time of their machines. SSDs will sometimes cut minutes off boot times when compared to hard drives, however, more often than not, many people do not know how to properly configure, or even know that it is possible to configure their system in such a way to speed up their boot time even more.There are some other things you can do than just slapping an SSD in your system and setting the SATA mode to AHCI or RAID to achieve ultra-fast boot times by using the latest hardware. When we say ultra-fast, we mean powered off system to desktop in 6-10 seconds.

HIS Radeon R9 390X IceQ X2 OC 8GB Video Card Review

We are indeed dealing with a refresh of the previous Hawaii XT GPU now baptized Grenada XT, featuring GCN 1.1, 6200 million transistors, 2816 shading units, 176 TMUs, 64ROPs and 44 Compute Units. The available VRAM is now 8GB instead of 4GB GDDR5 and now runs at higher frequencies than on 290X cards by default (1500MHz, 6000MHz effective); this surely helps when running multiple cards for a CrossFireX setup and using multiple monitors. Speaking of the frequencies, the defaults of the GPU on OEM cards have been raised to 1050MHz and with its pre-overclocked card HIS has added extra 20MHz.

OCZ TRION 100 480GB Solid State Drive Review

I've had the pleasure to test all of OCZ's current SATA drive line-up and I've never been let down by any of them and I doubt that it will be any different this time. Today I'm taking a look at the brand new OCZ TRION 100 SSD with 480 GB capacity. The TRION 100 series is the new value series. You might not get the fastest drive on the market, but you will get one of the cheapest while it still maintains a strong performance. A lot of good things have come from OCZ since they became a part of Toshiba, and now you can get even more of that for you money thanks to the TRION 100.

MSI GT72 2QE Dominator Pro G

Retrofitted with a new CPU based on Intel's latest-and-greatest Broadwell micro-architecture, MSI's GT72 2QE Dominator Pro G also ships with an additional gaming-centric gem – the use of a 1920×1080 G-Sync panel that runs at 75Hz.

Tesoro Excalibur Spectrum Keyboard Review

Many enthusiasts probably haven't heard of Tesoro Technology, which is perhaps understandable, since the company is so secretive their web page doesn't even have an "About Us" section. Apparently based in Milpitas, California, Tesoro started out making mechanical keyboards a few years ago and has since branched out into mice and headsets, all aimed at gamers. Benchmark Reviews has just received their latest product, the RGB-illuminated and programmable Excalibur Spectrum mechanical gaming keyboard, so let's take a look at it!



The best Guides by the best writers on the internet; PCSTATS Beginners Guides explain computers, software, and all those other wonderful things that cause you frustration.

Learn how to use your computer better, master the internet while protecting yourself, and know what to do when your hard drive kicks the bucket.



"Get the 'Stats and Stay Informed!"