[>>]

[>>]

[>>]

[>>]

More>>

Search...

| | |
| --- | --- |
| General News | |

... 69 news stories awaiting approval
Project Build: Crush – Part 5 – Painting a GTX 1080 FE @ LanOC Reviews

For some people, you get your computer together and never mess with it again. I, on the other hand, have a problem and as they say, the first thing is to admit you have a problem. I finished up the Crush build and even posted up performance numbers last week. My problem is I keep looking and thinking how much better the build could look with this one change. Once you do that, you are done, right? Nope! Now that you did that, this other thing really needs to be changed. It's an endless battle. Well with Crush I just HAD to pull it all apart and keep messing with it. I'm actually in the middle of a few different changes, but the biggest was painting the two GTX 1080's like I had originally planned. So today I'm going to run through how to paint the new GTX 1080/1070 Founders Edition cards for a nice matching look.

KFA² GeForce GTX 1070 EXOC Sniper

HardwareOverclock.com has just posted another review. Last week we have tested the KFA² GeForce GTX 1070 EXOC Sniper video card. This card is overlocked, has a quiet cooler and a backplate with led effects..

Genius Scorpion M8-610 Mouse Review: Clicker's Delight

While it is easy to get lured by fancy colors and flashy design when looking for a gaming mouse, it always comes down to functional consistency above all else. Aside from the keyboard, the mouse allows users to communicate with the computer and to the wider world online. By the time it is ready to retire, an average mouse has …

Super Flower Platinum King 650 W

The Super Flower Platinum King is a highly efficient, very affordable mid-capacity PSU, priced at €89. This 80PLUS Platinum rated unit delivered good overall performance in our testing and features a single +12V rail and non-modular cable design.

Fnatic Gear Duel Modular Gaming Headset Review

The Fnatic Gear Duel is hands-down the most interesting headset we have tested so far in our labs in terms of modularity. Thanks to the innovative design from AIAIAI, the product can be disassembled to the last bit, in order to obtain a configuration which will better suit our current needs."

Huawei's signature 6-inch smartphone

"In most respects the Mate 9 is a true upgrade from the previous model. It offers a new SoC that boasts significantly improved graphics power, refined industrial design that makes the phone look and feel every bit as premium as a Samsung or Apple handset, and a much improved camera. It is not perfect, but it makes a compelling premium option at its $600 MSRP when compared to an iPhone 7 ($650) or Galaxy S7 (~$670). I find it very easy to recommend based on overall camera quality (especially B&W!), excellent battery life, and a very good display. Drawbacks are rather minor, and include lack of VoLTE support, and (to a lesser extent) the stereo loudspeaker design; but no current phone is "perfect", now is it?"

Western Digital WD Red Pro 5 TB Hard Drive Review

The Western Digital WD Red Pro 5 TB is a NAS (Network Attached Storage) hard disk drive. Let's test it and see if is it a good option for a desktop computer. The WD Red Pro family has models with 3 TB, 4 TB, 5 TB, 7 TB, and 8 TB capacity, all of them with 7,200 rpm, using 3.5" format, SATA-600 interface and 26.1 mm tall. The 8 TB, 6 TB, and 5 TB models have 128 MiB cache memory, while the 4 TB and 3 TB models have 64 Mib of cache RAM.

QNAP TBS-453A 4-Bay M.2 SSD NAS Review

QNAP makes a variety of NAS devices that range from smaller desktop models with two drive bays to larger rack mount units with 24 or more drive bays. At CES 2016, QNAP announced the TBS-453A M.2 SSD NAS. Along with M.2 SSDs, the TBS-453A contains a built in four port 1 gigabit switch. Initially, I was a little confused as …

Shuttle XPC Slim DX30 Barebone Review

"XPC Slim DX30 is one of the latest passively cooled Mini-PCs from Shuttle, which does sport the Intel Celeron J3355 Apollo Lake dual-core SoC. The barebone can be equipped with no less than 8GB of DDR3L SODIMM RAM, a M.2 SSD, one 2.5' HDD/SSD while the wireless connectivity is assured by the manufacturer thanks to the preinstalled M.2-2230 WLAN card with Realtek RTL8188EE Controller. The product does feature a lot of interfaces so it can be used at home, in offices but also for industrial applications; in all cases, the overall power consumption is very small thanks to the technological process of the new Intel cores."

KFA² GeForce GTX 1070 EXOC Sniper

Neu bei der EXOC Sniper ist die Backplate, die etwas dicker ist als die normalen Aluminium-Platten, da sie über eine zusätzliche durchsichtige LED Leiste verfügt. Somit muss man oben bei der Karte zusätzlich 5-7 mm dazu rechnen, was bei den meisten Boards kein Problem sein sollte. Bisher waren Grafikkarten immer nur mit LED Lüftern ausgestattet, etwas Sinnfrei, wenn sie nach unten zeigen. Die Zeiten sind nun vorbei, nun gibt es eine schicke Beleuchtung die man auch sehen kann. Und nicht nur das, die Farben lassen sich auch noch per Software steuern und zusätzliche Effekte erzeugen. Damit hebt man sich von der breiten Masse ab, denn so ein optisches Gimmick bieten nur wenige Hersteller an.

Supermicro C7Z270-CG Motherboard

Supermicro's C7Z270-CG motherboard offers a very unique green and black look, mixed with great features and server-grade components."

Creative Sound BlasterX Pro-Gaming Katana Desktop Soundbar Review

Desktop audio is something worth caring about, from being able to hear the footsteps of your enemies in multiplayer shooters, to simply rocking out to your favourite songs while working, pretty much everyone has a need for good quality sound at their desktop. Creative have long been one of the biggest names in desktop audio, with many years of experience of creating fantastic speaker setups for everything from day-to-day office use, to movie fans, to gaming. Now they're back again with one of their proudest creations, the Sound BlasterX Katana, a multi-channel gaming soundbar and subwoofer that's set to give you the enthusiast grade audio processing, drivers and bone-shaking power you desire.

AORUS GTX 1080 XTREME Edition Review

In the spotlight today is the AORUS GTX 1080 XTREME. The eagle eyed among you will see a key resemblance to the GIGABYTE's mighty GTX 1080 Xtreme Gaming – both cards are indeed very similar, though there are subtle differences which are mainly seen with the cooling configuration and of course the minor adjustments to the styling.

Anonabox FAWKES Tor Router

"As we saw with the Pro, the TOR performance is meager, but this is the design of TOR. TOR hops around the world to "wrap" your data in, hence the name The Onion Router. Because your hops and exit nodes are spread all over the world, your traffic is bouncing around all over the place and this will cause latency. TOR is not designed to stream media over or torrent your favorite files; in fact TOR recommends not using it for torrent downloading, which can be illegal anyway and we do not condone that. What TOR is good for is sending your private emails, downloading confidential documents, etc., that you do not want public eyes viewing. Take, for instance, if you want to check your bank account and send some emails at Starbucks while sipping a latte, then the Anonabox FAWKES with TOR will allow you to do so without having to worry about me in the corner with a packet sniffer and decrypting your logins."

GIGABYTE is unveiling its AORUS line of products

"The GIGABYTE Z270X-Gaming 5 motherboard is a solid product for GIGABYTE, offering a mix of familiar features with a slew of new features to give the board an edge. Further, the board is among the launch vehicles for GIGABYTE's new AORUS brand, a gamer-friendly brand looking to differentiate itself from the competition. GIGABYTE balances the board design well with a unique aesthetic and a very diverse offering of storage solutions. Its performance falls in-line with other boards of the same class and its overclocking potential leaves nothing to sneer at. Further, GIGABYTE chose wisely in the selection of its integrated GigE network controllers with both offering top level performance at minimal system impact."

Adesso Launches AKB-636 – Mechanical Keyboard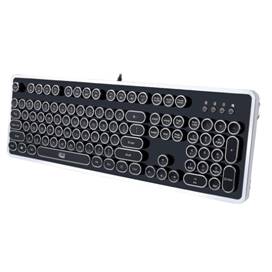 Adesso Inc., a leading manufacturer of computer input peripherals, announces the release of the AKB-636UB Mechanical® Keyboard which offers users a new style of advanced ergonomic input device with multifunctional browsing features.The MSRP for the 636 is $99.99 available for purchase at www.adesso.com.

The Adesso® AKB-636UB Desktop Mechanical Typewriter Keyboard is the perfect keyboard for users that love efficiency with a "retro" design. This sturdy keyboard features silver colored crisp mechanical keys for increased productivity, N-Key Rollover allowing up to 6 keys to be pressed at the same time, multi-functional hotkeys that give you quick access to your media player tools.

With the smooth action of the mechanical keys you can type faster than you imagined, handling up to 50 million keystrokes. The smooth and crisp tactile feedback allows you to have a faster, more accurate typing experience and contains 45-50g of actuation force. With the Adesso AKB-636UB Desktop Mechanical Typewriter Keyboard, you not only have a conversation piece with a look from yesteryear, but you also have the durability, and precision of the technology of today.

Founded in 1994, Adesso has since become a pioneer in manufacturing computer input peripherals, including Data Input Devices, Handwriting Input Devices, and iPad/PC Tablet Accessories. The company is headquartered in Walnut, California, USA, where we have become a leader in computer input device provider for industries such as Education, Government, Health Care, P.O.S., Banking, and PCs and Tablets Adesso is active in developing new and innovative products. Adesso looks towards tomorrow's pioneering designs to ensure they continue to be a leading provider in the Input Devices industry. As such, Adesso holds nine (9) Worldwide patents that include: Keyboard Integrated with Touchpad and Tablet, Keyboard Integrated with Handwriting Retrieval Function, Keyboard Integrated with USB Hub, Memory Card Reader & Fingerprint Encryption/ Decryption, Illuminated Keyboard LED Lighting Method, Wireless Keyboard Power-Saving LED Indicator, Keyboard with Audio/Video Capture, Waterproof Mouse Structure, Waterproof Keyboard Structure, Magnetic Detachable Keyboard with Case.



The best Guides by the best writers on the internet; PCSTATS Beginners Guides explain computers, software, and all those other wonderful things that cause you frustration.

Learn how to use your computer better, master the internet while protecting yourself, and know what to do when your hard drive kicks the bucket.



"Get the 'Stats and Stay Informed!"