| | |
| --- | --- |
| General News | |

... 103 news stories awaiting approval
In Win D-Frame Mini Case Review @ ThinkComputers.org

In Win has been known for creating some pretty crazy cases over the past few years. Cases that are not your typical mid tower and really stand out. Some of these cases include the Tou, X-Frame, H-Frame and 904. In Wins original D-Frame was introduced a couple of years ago and it was truly unique. With the popularity of smaller systems, especially mini-ITX systems In Win is back with the D-Frame Mini, a mini-ITX version of their iconic D-Frame case. It features the same aluminum tube framework and open-air design as the original D-Frame, has room for graphics cards up to 340mm, full-size power supplies up to 220mm and even a 240mm radiator. This is one of the most unique cases we have seen all year, lets jump in!"

MD Catalyst Omega Driver Overview

The AMD Catalyst Omega Drivers have been released! These new drivers have been in the works for the past six month and deliver many new features, a ton of bug fixes and of course the usual performance and quality improvements that gamers expect from each new driver release. AMD put so much time and effort into these new special edition drivers that they wanted to name this something different to help them stand out from the crowd. Read on to see what new features have been introduced!

ASUS X99-A LGA 2011-v3 Motherboard Review

Today we review the basic no-frills ASUS X99-A motherboard and see just what ASUS has sacrificed, if anything, in order to keep the price in the $250 range. While Haswell-E CPU systems are not exactly for the budget conscious, saving cash on the motherboard gets you a lot closer to a budget-minded system build.

400 bug fixes...

AMD has introduced what may be its biggest graphics driver release ever, with more than 20 new features, 400 bug fixes, and some miscellaneous performance improvements.

QNAP TS-653 Pro NAS Review - Six Bays

Today Chris gets in-depth with QNAP's new TS-653 Pro NAS, a six-bay network storage device with caching options. Read on for this full thoughts here."

AMD's newest Omega Drivers.

AMD and drivers have had a contentious relationship in the past but Catalyst Omega is supposed to change that in a big way. The new "Omega" drivers offer better stability, higher performance and more features all wrapped in one package.

Samsung 850 EVO 500GB SSD Review

"We've seen some very impressive SSDs from Samsung in the recent past, as they've gone to considerable lengths to indeed push those boundaries, offering consumers something very special that can't be found elsewhere with other SSDs: RAPID Mode. Sounds like marketing jingo, we agree, but you'd be wrong to dismiss this one. RAPID Mode is unlike anything you've seen before, promising astonishing performance increases. Buckle up and let's take a closer look at the Samsung EVO 500GB and see just what this SSD can do."


Aerocool DS 200 is the DS Cube's mid-tower counterpart

The Aerocool DS 200 is the DS Cube's mid-tower counterpart. With a choice from among seven different colors and a ton of features, it should be an intriguing option for those looking to buy a jam-packed chassis for around 100 bucks. Yet such does beg the question of whether it manages to impress with the way in which its features are implemented.

Samsung 850 EVO 120GB

The Samsung 840 EVO is one of the best consumer SSDs on the market. The drive delivers good performance for its price. Earlier this year, Samsung launched the 850 Pro that uses the 3D V-NAND that boosts the performance, capacity and reduces power consumption for the SSDs over the 2D planar NAND. We were hoping that Samsung would deliver a consumer drive that also uses same 3D V-NAND as what it has done in the past. Well, our prayers have been answered as Samsung has unveiled the 850 EVO as the successor to the 840 EVO.

Asustek, Gigabyte to account for 80% of China motherboard market

Asustek Computer and Gigabyte Technology are seeing their combined share in China's motherboard market surpassing 75% in 2014 and the percentage is expected to rise further to 80% in 2015, edging out several of its competitors, according to sources from the upstream supply chain.

ASRock Fatal1ty X99M Killer Micro-ATX Motherboard Reviewed

"Cost continues to influence consumer spending. This is especially true with today's X99 motherboards. Some feature rich models cost a premium while others are more affordable. Affordable boards can means fewer premium features, though reliability and performance should never be sacrificed. However, another way of offsetting costs while adding a few features back is to build one on a Micro ATX form factor. That's exactly what we're looking at today with the ASRock Fatal1ty X99M Killer, which is an attractive gamer theme motherboard, in a smaller size."

CM Storm NovaTouch TKL is tenkeyless keyboard

The CM Storm NovaTouch TKL is tenkeyless keyboard that uses unique hybrid capacitive switches from Topre that are compatible with Cherry MX keycaps. These switches found beneath the keys you press make for what Cooler Master calls the "best feeling keyboard" available. Naturally, we intend to put that claim to the teat in our review.

Guru3D.com PC Buyers Guide Winter 2014

This is the 2014 Winter Edition PC Buyers Guide and it outlines a set of recommendations of products we feel are great components to build yourself a nice gaming rig. We have several different system recommendations and something special to choose from so read all out it after the break.

COUGAR 500K Gaming Keyboard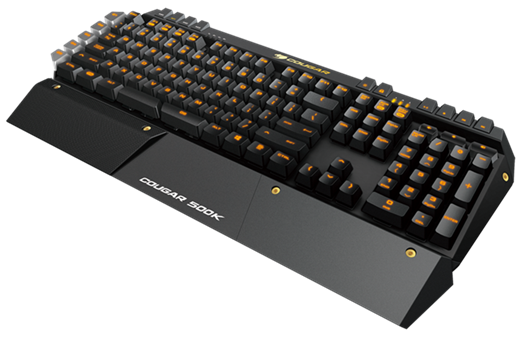 COUGAR, a leading player in the computer gaming hardware market announces today the release of a breakthrough product: the COUGAR 500K Gaming Keyboard. The 500K is the most recent addition to COUGAR's series of gaming peripherals. Its main target are gamers who either due to habit or due to a wish to minimize hardware cost prefer to use membrane keyboards and at the same time do not want to be in inferiority when playing against mechanical keyboard users. The 500K achieves this by being one of the extremely few real N-Key Rollover membrane keyboards on the market and by including all the pro gamer functions of the acclaimed COUGAR 700K.
When it comes to features and functionality, the 500K is the best membrane keyboard currently available. For a start, being an N-Key Rollover membrane keyboard it outclasses all the non-NKRO keyboards and competes directly with high end mechanical keyboards. Apart from doing away with the precision gap between membrane and mechanical keyboards, the 500K also includes a whole set of premium gaming-oriented features. It sports the same layout as the acclaimed 700K: Apart from the standard keyboard keys, it includes 6 fully customizable G-keys and dedicated keys for macro recording, configuration profile switching (both for itself and for COUGAR Fusion mice), backlight control, Windows key locking and multimedia functions. It also includes a palm rest with a detachable component to increase comfort when playing FPS.