| | |
| --- | --- |
| General News | |

... 113 news stories awaiting approval
ASUS ROG Poseidon GTX 780 video card

"I had mixed expectations going in to this review based on my own experience with water cooling CPUs and video cards. I was impressed with ASUS' design, but skeptical about the small 90mm fans and U-style cooling channel integrated into the DirectCU H2O cooler's base plate. My skepticism quickly gave way to amazement as I began to push the card performance, and turned to awe once I integrated the Poseidon in to my Koolance unit's loop. Note only was the card nearly silent under load with air cooling, but the liquid cooling temperatures rivaled those achieved with after-market full cover blocks. My awe of this revelation comes what I know about full cover blocks and their designs mimicking that of CPU coolers with micro-channels sitting atop the GPU core and optimized coolant flows over the VRM and memory components."

ASUS ROG MARS 760 Video Card Review

The ASUS ROG MARS 760 is one of the most unique custom built video cards out on the market today. ASUS has designed a video card sporting dual NVIDIA GTX 760 GPUs on a single video card and given gamers something that didn't exist before in the market place. We will find out how it compares with the fastest video cards out there.


GeForce GTX Titan vs. GTX 780 Ti

With the GeForce GTX Titan as well as the GeForce GTX 780 Ti, NVIDIA has two very powerful pixel accelerators in its portfolio. The GTX Titan has been created mainly with gamers in mind, but also professional users will benefit from the vast features set. In case of the GTX 780 Ti, the card has been optimized for gamers only and apart from that it comes with only half the amount of memory but on the other hand higher clock speeds. Meanwhile we're rather curious to find out what difference is going to be inbetween these two cards.


Ultra-Speed DDR3 Revisited: AMD APU Memory Scaling

The R7 graphics in the 7850K responded in perfect linear fashion to each memory speed bump, and the overclocked system provided some pretty good FPS averages as well. I did have to use some very high voltages to reach stability more easily, but a user with patience and a very good CPU cooler could find a power/performance sweet spot with an APU like the 7850K that would not only blow away the experience of a console, but would be a heck of a lot of fun to play around with!"



In Win 901 Mini-ITX Case Review

It's hard not to notice the trend towards smaller PC builds. Nowhere was this trend more pronounced than at CES this year. Everyone had a new chassis in the increasingly popular mini-ITX form factor.

GIGABYTE R9 290X OC and ASUS GTX 780 Ti DCUII Review

Today we look at the GIGABYTE R9 290X 4GB OC and ASUS GeForce GTX 780 Ti DirectCU II OC video cards. Each of these video cards features a custom cooling system, and a factory overclock. We will push the overclock farther and put these two video cards head-to-head for a high-end performance comparison.

Gigabyte BRIX Pro And Intel Iris Pro Graphics Review

Intel's Haswell 4th generation Core series processors with Iris Pro Graphics (formerly known by the code name Crystal Well) offered the promise of more robust integrated graphics performance, since we first laid eyes on the Gigabyte-built device we're showcasing here today, back at CES 2014 in Las Vegas earlier this year. The Gigabyte BRIX Pro is a tiny 4.5-inch square "brick" of technology, if you will, and it's powered by an Intel Core i7-4770R quad-core processor with integrated Intel Iris Pro Graphics 5200. This CPU actually boasts the fastest, most powerful Intel graphics engine we have tested to date, so this should be an interesting ride to say the least. Let's have a look...

750-850 watt power supplies reviewed

Perhaps not the most exciting conclusion but we didn't encounter any really bad units in this test. It seems that as long as you buy a power supply from a well respected brand you'll be fine. Still this doesn't mean that there aren't any differences, especially when it comes to noise.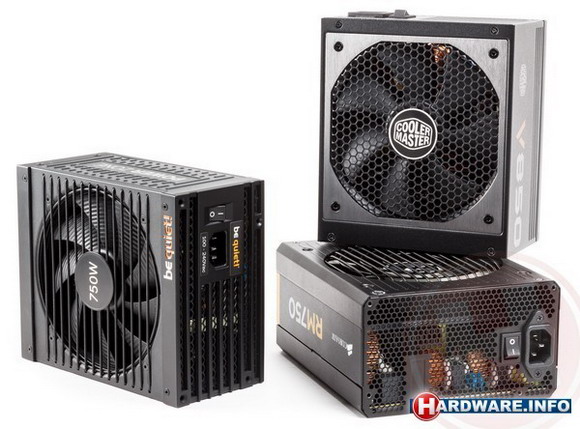 XFX Radeon R9 290 Double Dissipation Video Card Review @ Legit Reviews

Today we will be reviewing the XFX Double Dissipation Radeon R9 290 4GB graphics card that is sold for $439.99 shipped with a Limited Lifetime Warranty if you register within 30 days of purchase. It is powered by a single 28nm AMD Hawaii GPU that has 2,560 stream processors running at 947MHz and the 4GB of GDDR5 memory on a 512-bit wide bus that is clocked at 1250MHz (5000MHz effective). Read on to see how this card performs!"

Synology DS414 High Performance 4-bay NAS Server for SMB & SOHO Review @ Madshrimps

The DS414 NAS from Synology is based on a dual-core Marvell Armada XP running at 1.33Ghz and is paired with a total of 1GB DDR3, which should be enough for home use and small business. Inside the bays we can use both 2.5 (HDD/SSD) and 3.5 drives (screwless installation). The NAS operates paired with the latest DSM 5.0 version which features a consistent visual redesign for an easier use."

Xtorm LAVA CHARGER Universal Solar

Summer is almost here and so just like every other summer in the past we've all started to look around for gadgets that will make your life easier during your long awaited vacations by the beach. With the sun being the dominant feature of the summer period our eyes and minds are of course turned towards solar powered gadgets and although there aren't that many reputable manufacturers out there that offer such products still we did manage to find a few to test their products. Up until 2 years ago the popularity of portable battery packs was not really that great but with the continuous advancement of tablets and smartphones today pretty much every person i know of owns at least one. Xtorm may not be a name that many of us have heard in the past but they are a well-established manufacturer of power banks inside the EU and today we will be testing their latest offering called the LAVA CHARGER.

XFX Type 01 Bravo Case

"To conclude, XFX has done a decent job with its first chassis and the box even has a check box for an "Alpha" next to the "Bravo", which I can only assume is a white version of the same chassis since XFX website doesn't even mention it. Mysteries aside, I think the flaws in this chassis makes a dent, in what could be, a great chassis. I would advise to get this only if you know what you are getting into and really like the look. In short, to get the full amount of value, you will have to invest a bit of money into buying extra fans if you want the best temperatures."