| | |
| --- | --- |
| General News | |

... 49 news stories awaiting approval
ASUS ROG Maximus VIII Hero Alpha Review

Maximus VIII Hero Alpha looks identical to the standard Hero and an initial observation confirms the same theme has been implemented and a majority of the same features utilised. However, Alpha brings with it a number of significant improvements over its sibling with dual 32Gbps U.2 ports for NVMe storage, up to 3 PCI Express RAID devices, 802.11ac WiFi, RGB Strip headers and the Intel USB 3.1 controller.

Keys To Success: Four Mechanical Gaming Keyboard

In a broad sense, there are two types of keyboards in this world—those that use mechanical key switches and those that don't. If that sounds like something a keyboard snob would say, so be it, this editor stands guilty as charged, and happily so. We can accept that not everyone will find just cause to spend a premium on a mechanical plank, but one thing we'll never concede is that even the best membrane keyboards are on equal footing as those with mechanical key switches. Stick bamboo under our fingernails (not really) or subject us to a marathon of Matthew McConaughey movies (dear God, no!), such blasphemy will never leave our lips. Ah, but you probably know this already, hence why you're here eager to see how the contenders in our second roundup of mechanical keyboards stack up to one another. This time around we've assembled a collection of keyboards from four manufacturers. They include the AORUS Thunder K7, ASUS Strix Tactic Pro, G.Skill Ripjaws KM780 RGB, and Logitech G910 Orion Spark...

Netgear Nighthawk X8 R8500 AC5300 WiFi Router Review

Today, we take our first look at Netgear's flagship router, the Nighthawk X8 R8500 AC5300 WiFi Router. This router has hit shelves just in time for the holiday gift buying season and is priced at around $343 shipped from most major retailers. This price certainly reflects the standing of the Nighthawk X8 as the leader in the Netgear series of routers but our expectations of what this router brings to the table are high as this is one of the most expensive home networking devices we have looked at...

iFamCare Helmet 1080p Full HD Monitor Review

With security and safety being one of the biggest things people are concerned about when it comes to their homes, iFamCare has come out with a very diverse smart home system that lets you have a little more piece of mind while you're away from your home. The Helmet, as it is named by it's shape, boasts some pretty awesome features such as two-way talking and 1080p full HD picture to name a few. Let's start!

Scythe Ninja 4 SCNH-4000 Heatsink Review

" While Scythe doesn't overtly market its heatsinks as "silent", the company has typically produced CPU coolers which do meet the quiet esthetic. In this review Frostytech will be testing out the new Scythe Ninja 4 heatsink - a 156mm tall boxy looking thermal solution which is designed for lower noise cooling. The Scythe Ninja 4 CPU cooler weighs ~900grams and has a footprint of around 145x130mm."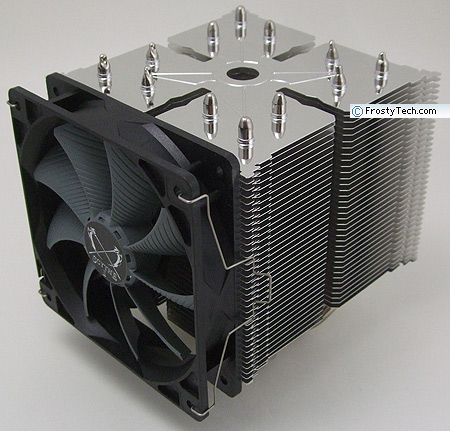 EVGA SuperNOVA 1600 T2

We have on our test bench today EVGA's flagship PSU with an enormous capacity and Titanium efficiency. We expect it to preform incredibly well because it uses Super Flower's high-end Leadex platform and comes with some formidable specs.


Trying NVIDIA's Newest Sub-$50 GPU

"At the end of January NVIDIA rolled out the GeForce GT 710. This isn't some shiny new low-end Maxwell card, but rather from the Kepler lineage and retails for under $50 USD as a discrete solution to compete with integrated Intel and AMD graphics. Here are some initial benchmarks of a passively-cooled ASUS GeForce GT 710 under Linux."

Jabra ROX Wireless In-Ear Stereo Earbuds Review

If you're really into running or exercising and you're looking for a reliable pair of wireless earbuds then you should really take a look at our thorough review of the ROX Wireless by Jabra.

ByPass Max from the BIOS Optimization Guide.

"To ensure coherency of data in a multi-core processor, the processor uses a Dependence Chain Queue (DCQ) to check for dependence chains between instructions and process them accordingly. The arbiter which controls the Dependence Chain Queue can rearrange the entries to optimize their processing. This is where the Bypass Max BIOS feature comes in."

iBuyPower Paladin Z860 Custom Gaming PC Review

Gaming computers are located at the top of the wish lists not only of our kids. Setting up a good gaming PC, some parents are certainly a little overwhelmed and/or can not deal with selecting the right hardware. These circumstances we owe it, that companies like iBUYPOWER offer complete ready-made PCs. Today we test an iBuyPower Paladin Z860 Gaming PC at OCinside.de, with Intel Core i7-6700K processor and nVidia GeForce GTX 970 graphics card. But you can customize the PC to your individual preferences.

Cyberpower Infinity Luxe 805 GT System review

Cyberpower has taken an interesting approach with its Infinity Luxe 805 GT gaming PC. On the one hand they have pushed the specification of the hardware with an overclocked 4.7GHz Core i7-6700K and GTX 980Ti graphics card while on the other they have also emphasised the look of the PC with an In-Win 805 case with Thermaltake Riing fans front and rear. (In the video I say Riing at the rear. In fact all three fans are illuminated Riing fans).


Dell XPS 13 (Late 2015) Review

The revamped Dell XPS 13 includes just a handful of improvements: a new Skylake CPU, a USB Type-C port that supports Thunderbolt 3, and the option to get the laptop in gold. But considering the Broadwell-based Dell XPS 13 was my favorite laptop of 2015, I just had to get in the new model and see if it's still a class-leading device.

Micron M600 512GB SSD Review

With the M600 and M510DC lines of solid state drives (SSDs) Micron has successfully managed to cover both demanding consumers and professionals/enterprise users.

Z170I GAMING PRO AC motherboard

The Z170I GAMING PRO AC motherboard is poised to be a tiny powerhouse for SFF builds or for those of you looking to focus on "less is more." If you are looking to make the jump to an Small Form Factor build, or you want to update an existing build you won't want to miss this feature rich Mini-ITX motherboard.