| | |
| --- | --- |
| General News | |

... 26 news stories awaiting approval
Gigabyte X99-SOC Champion @ LanOC Reviews

So what is now years ago Adam and I were at a press event for Gigabyte at CES. At that event I spent some time playing against a pro gamer and we also had the chance to see them introduce their new games series of motherboards. At the end of that speech they slipped in a quick sneak peak of a new line of overclocking motherboards with an orange theme that they called OC Orange. Now I think everyone knows just how much I love orange and OC orange to me is LanOC orange, a color that we have used on the website from nearly the start. At that time Adam wrote that he imagined that I wouldn't be able to sleep until I got my hands on one of the boards. Well it has been a long few years, but today is finally the day. Gigabyte sent over their new X99-SOC Champion flagship overclocking board and today I'm going to dig into it and see what it is all about. Oddly enough now that I can sleep, I want nothing more than to stay up and see what sets the board apart from the competition.


how the chips in PCs are made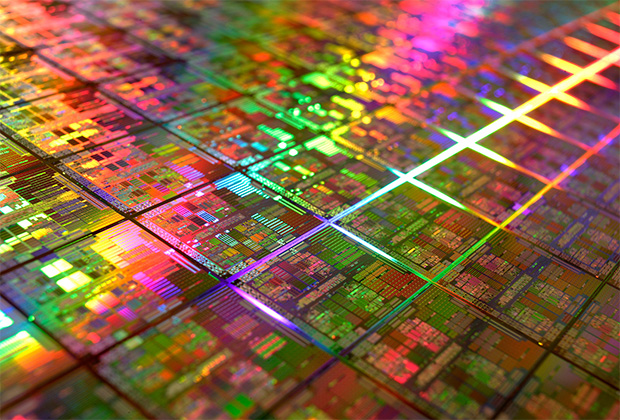 Have you ever wondered how the chips in PCs, smartphones, and other devices go from initial ideas to final products? Rys Sommefeldt walks us through the entire process, from conception through mass production.


tower case from Phanteks

We review the Enthoo Evolv micro tower case from Phanteks, featuring many of the bells and whistles from the Enthoo series in a much smaller form factor. Its design allows this case to accommodate high performance components while maintaining a trim design with a brushed aluminum exterior.


Gigabyte Z97X-SLI Motherboard Review @ OCIA.net

?The Gigabyte Z97X-SLI is an SLI-capable motherboard priced very attractively for budget gamers. Due to licensing models with Nvidia, not all chipsets and boards are available to support SLI. Additionally, the board will support CrossFire natively as all Z97 boards do. This model also features high-end ALC1150 115dB SNR audio, a high quality headphone amplifier and a dedicated audio hardware zone to protect from interference. Intel Gigabit LAN, all solid caps and a new heatsink design round out the feature list.?"


Nvidia GeForce GTX Titan X 12 GB (SLI)

If you are considering a new Ultra HD 4K monitor then it is likely you will need a new system update to drive those 8,294,400 pixels. Right now the cost of 4k capable graphics cards is prohibitive for all but the wealthiest of gamers. When we reviewed the Titan X last month we noticed performance could still drop under 60 frames per second when dealing with the most demanding engines. We slot another card into our test bed – we answer the question 'Are two Titan X's enough to drive 60fps+ at 4K?'

BenQ's XL2730Z monitor

AMD's FreeSync is here, personified in BenQ's XL2730Z monitor. We've gone deep into the display's performance and smoothness, with direct comparisons to G-Sync using 240-fps video. Here's what we found.

Andyson Titanium N 700 W

After the release of the 1200 Platinum unit, Andyson has now also put a Titanium unit with four models into their portfolio. We will take a look at the N700 today: It features a semi-modular cabling design to keep its price down and promises to perform incredibly well.

Crucial BX100 500GB SSD Review

Crucial is a subsidiary of Micron Technology and presents one successful SSD after another since the first SSD. According to our reviews of the current MX200 with 500 GB and 1 TB capacity, we are testing now the less expensive BX100 SSD with 500 GB capacity. In this review, the Crucial CT500BX100SSD1 will compete against the predecessors C300, m4, M500, M550 and MX100 and some more current SSDs. The price is excellent, but what is about the SSD durability and performance ?

Intel's Compute Stick

Despite being the size of a small candy bar, Intel's Compute Stick is an honest-to-goodness PC with a quad-core Bay Trail processor, expandable flash storage, USB connectivity, and built-in networking. The Windows 8.1 version is priced at only $150, and we've tested one to see what's what.


GIGABYTE X99-SOC Champion Motherboard Review

If there`s one word I can use to describe the GIGABYTE X99-SOC Champion board, its Fast. GIGABYTE used their design and engineering prowess, coming up with a board design meant to surpass anything currently on the marker. Corsair was so impressed with the board that they worked with GIGABYTE in developing a Dominator Platinum DDR4-2400 kit specially optimized for use with the X99-SOC Champion in overclocking endeavors. That is not to say that GIGABYTE sacrificed board features or stability for the sake of raw speed. The board maintains the stability expectations we`ve come to expect from GIGABYTE, but definitely has a cut down feature set (in comparison to other higher priced offerings). The mantra that seems to apply is it has everything you need to run, but nothing you don`t. In keeping the feature set to the minimal side, GIGABYTE was able to introduce optimizations into the board`s design enabling it to run faster yet maintain stability."

ASRock X99 Extreme4 Intel LGA 2011-3 Motherboard Review

Today, we published a new X99 motherboard review here at OCinside.de. This time we tested the ASRock X99 Extreme4 LGA2011-3 motherboard with an Intel Core-i7 5930K CPU and four Crucial Ballistix Sport DDR4-2400 memory modules and overclocked it up to the limit. The motherboard will be available shortly additionally as ASRock X99 Extreme4/3.1 with USB 3.1 interface card (see CeBIT 2015 report). The ASRock X99 Extreme4 offers like the recently tested ASRock X99 Extreme6 motherboard eight DDR4 slots, an Ultra M.2 slot with up to 32 GB/s, ten SATA3 connectors, eSATA3, the HDD saver feature, purity sound 2 with analog and digital sound output, five PCIe slots, Gigabit LAN and lots of more powerful features.