| | |
| --- | --- |
| General News | |

... 122 news stories awaiting approval
Hands On With The AMD Radeon R9 Fury X, R9

On the 1st of July, 2015, we were invited to a closed session with AMD at the Bridge Bar of the GTower Hotel for the official launch of the AMD Radeon R9 Fury X graphics card. They not only set up a wide range of sample systems to demonstrate the performance of the new Fury X graphics card, they also gave us some hands on time with samples of the upcoming Radeon R9 Fury X2 and the R9 Nano, as well as the actual Fiji GPUs that power them.


Tt eSports Shock 3D 7.1 Review

Today we take a look at the Shock 3D 7.1, filling an important role in the USB powered virtual 7.1 surround headset market. The stylised design of the earcups are quite bold in design, having a stretched pentagon come hexagon shape yet manages to be pleasing too. It features 40mm drivers, conveniently placed built-in controls for equaliser presets, enable/disable 3D sound and volume control.

Zotac CI321Nano Barebones System Review

Today we are taking a look at one of Zotac's latest ZBOX CI321 nano barebones system that is packing a dual-core 2961Y CPU. Something that makes this CI321 nano stand out of the crowd is that it carries dual Gigabit LAN and is completely silent with its passively cooled design. With the inclusion of an onboard IR receiver, this makes it an interesting option for a silent HTPC. With it being a barebones kit, you can use some memory or 2.5? drives that you have on hand to keep the final build costs down. There has been a lot of growth in the mini PC market and Zotac has been in it for a long time with its ZBOX lineup.

Gigabyte Worldwide VP Henry Kao exclusive interview

It's tempting for senior officials at every company to regurgitate the 'About Us' section of their web site. Henry Kao is different. Prior to the cameras being switched on, Henry assured us that we could ask 'Anything we want'. And so we did. Henry gave us his full, frank opinion on everything from oppressive surveillance becoming the norm with wearable technology, to AMD's chances of success with its next gen products and processes.

A list of common default router IP addresses

Here's the scenario: you are helping a relative with network issues and need to access their router's browser interface. You can typically find the information by entering 'ipconfig' into the Windows command prompt, but if for some reason you can't retrieve the router's IP address using that method, we've compiled a brief list of popular router brands and their common default addresses. The list includes most router manufacturers with more than a dozen or so models.

AMD's Fiji GPU

The air-cooled version of AMD's Fiji GPU is here in the form of the Radeon R9 Fury. We go inside the second with the Asus version of this card, the Strix R9 Fury. We also finally get a look at R9 390 and 390X cards from XFX and Asus, respectively, that round out AMD's refreshed lineup of high-end Radeons.

Netgear Nighthawk X6 R8000 AC3200 Tri-Band WiFi Router Review

This may strike some of you as a bit odd but the first thing i do whenever i go to a hotel, restaurant or cafeteria I've never been in the past i always check to see if they have WiFi available and if so what is its strength and range. To my surprise most places feature mediocre WiFi signal strength at best with average overall range so in most cases it's not easy to get access especially if there are many people already logged on. This of course is not a problem we encounter at home or at the office but that doesn't mean people are not always looking for ways to improve both signal strength and range. Lately many manufacturers have focused in bringing consumers the latest 802.11ac standard which they many times marry with the older 802.11n standard to boost available wireless signal strength and in some cases even range. However it was no other than Netgear that first took things a step further with the revolutionary Nighthawk X6 R8000 router which is here with us today.

Sapphire Radeon R9 Fury Tri-X OC Review

AMD tried something daring with the Fury X, HBM, heavily compacted PCB design and an AIO cooler. The card is pretty cutting edge and the first of a new generation of designs and technologies centred on shacking off old news such as GDDR5. The launch of the Radeon Fury X caused a lot of stir across the internet, not only because of AMDs balls to push innovation, but because the cards are also in short supply, with some review samples, including our own, having some issues."

BIOSTAR Hi-Fi Z97Z7 ATX Motherboard Review

"We're happy to take a look at a board from BIOSTAR whom we haven't seen in the labs before. The board in question is the BIOSTAR Hi-Fi Z97Z7 motherboard aimed at audio and potentially gaming enthusiasts at a leg sweeping affordable price. We ran the board through extensive testing to see if it hits its mark as well as whether or not it meets our tried and true standards."

Intel Celeron N3050 Braswell Linux Performance

"This week has been fun testing out the Braswell-powered NUC5CPYH. This NUC features the Celeron N3050 SoC and in this article are some of the first benchmarks of this new Intel design when testing under Linux."

OCZ Vector 180 Review

Today, we're to look at OCZ's most recent release by way of the Vector 180 solid state drive. Vector 180 is designed primarily for the enthusiast; a sector which is one of the highest in the SSD portfolio. Our drive is also driven by Barefoot 3 M00 and utilises 19nm MLC NAND flash – which promises to deliver consistent performance in a range of scenarios. OCZ are also keen to press a new feature called Power Failure Management Plus – presenting a new level of reliability!

Crucial Showcasing BALLISTIX SPORT LT DDR4 WHITE Modules at Gamescon

Crucial is unveiling a complimentary white digital camo heat spreader and unique white printed circuit board (PCB) option as part of its Crucial Ballistix Sport LT DDR4 memory offering this week at gamescom. Sport LT DDR4 modules are available at Crucial.com in 4GB and 8GB densities. Additionally, 16GB densities and 64GB kits will be available starting in September 2015, as will the white Ballistix Sport LT modules.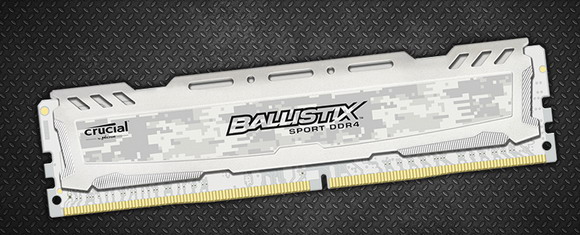 Crucial, a leading global brand of memory and storage upgrades, today announced it is unveiling a complimentary white digital camo heat spreader and unique white printed circuit board (PCB) option as part of its Crucial® Ballistix® Sport LT DDR4 memory offering. The modules, which will be showcased in conjunction with gamescom in Cologne, August 5th – 9th, offer the same DDR4 performance and proven reliability that gamers have come to expect from Crucial.
Designed for mainstream users who simply want to get more performance out of their systems, Crucial Ballistix Sport LT DDR4 memory delivers fast speeds and increased bandwidth. A new addition to the current Ballistix Sport DDR4 lineup, Sport LT modules feature a covert digital camo design, which will be available in both white and gray, and an integrated heat spreader. Whether gamers want plug-and-play installation or Intel® XMP 2.0 profiles to achieve DDR4 speeds of 2400 MT/s, Ballistix Sport LT memory delivers seamless, affordable performance.
Ballistix Sport LT DDR4 modules are available at Crucial.com and through select global partners in 4GB and 8GB densities, as well as kits up to 32GB. Additionally, 16GB densities and 64GB kits will be available starting in September 2015, as will the white Ballistix Sport LT modules. All Ballistix memory is backed by a limited lifetime warranty.

Zotac GeForce GTX 980 Ti AMP! Review

The Zotac GeForce GTX 980 Ti AMP! Graphic Card arrived Technic3D. Technic3D will check the fast Ti in the following Review with a Resolution from 2560x1600, 1920x1200, 1680x1050, the real Power Consumption, loudness, temperature, Overclocking and many more against other Graphic Cards."

Zotac GTX 980 Ti Amp! Edition 8 GB

ZOTAC's GTX 980 Ti AMP! Edition comes at GTX 980 Ti reference design pricing, which makes it the most affordable GTX 980 Ti custom-design. The card is overclocked out of the box, running faster than GTX Titan X. Zotac is introducing a new all-metal cooler which looks fantastic and reaches great temperatures, too.

ZOTAC ZBOX P1320 Mini-PC Review

Many small devices require a custom built operating system to match the diminutive size but not this one because the P1320 comes with a fully functional, Windows 8.1 operating system. Nothing has been trimmed away from this OS other than 64bit functionality. At its heart there is an Intel Z3735F quad-core processor running at 1.33GHz (upto 1.8GHz) which also provides the shared graphics. 2GB of DDR3L-1333 memory is available along with a 32GB of storage space (expandable via SD card). Not too shabby for a device that is smaller your average smart phone!