| | |
| --- | --- |
| General News | |

... 92 news stories awaiting approval
[LATEST]
Apple iPhone 6s Plus Review

Like previous "s" releases, the iPhone 6s Plus is defined by a single feature. This time around, that new feature is 3D Touch, best described as right-click for your iPhone. The new iPhone 6S Plus also features an upgraded 12-megapixel iSight camera with 4K recording and a powerful new A9 processor that's up to 70 percent faster than the A8.

[LATEST]
UltraFire 2000 Lumen Cree XML-T6 LED Flashlight Review

"I've got another LED flashlight for review today from our friends over at EveryBuying and this light is an Ultrafire XML-T6 that features an adjustable focus along with a nice carrying case included. The light can be powered by three AAA batteries or you can use the 18650 rechargeable battery that they do include for you. Read on to learn more… "

[LATEST]
SK hynix Canvas SL301 500GB SSD Review

SK Hynix have been actively targeting the SSD market in 2015 and their new models hit our labs in recent weeks. Their new SL301 Canvas Solid State Drive is built on the 16nm process and promises very high levels of overall performance. This triple level cell solid state drive will be offered in both 250GB and 500GB capacities and today we look at the larger model in the family.

[LATEST]
Lexar JumpDrive P20 USB 3.0 Flash Drive Review

Lexar has prepared the JumpDrive P20 USB 3.0 flash drive for competing with the high-end offerings from other brands and we can say that we were impressed by its performances in the both read and write departments. The unit we have tested is not the fastest since much higher write speeds are available with the 64GB and 128GB models; while the 32GB model can be found online for just about 24 Euros, the 64GB variant can be picked up for about 55 Euros while the top-of-the-line 128GB can be had for 91 Euros.

The Intel Channel Symposium 2015.

On the 7th of October 2015, we were invited to the invitation-only Intel Channel Symposium 2015. This was where and when Intel Malaysia officially launched the new Intel 6th Generation Core Processor, previously codenamed Skylake. The event started with an incredible sand art presentation, a symbolic nod to the raw material used to produce the silicon at the heart of every processor that Intel has ever made. Check it out!

MSI Z170A XPOWER GAMING TITANIUM Edition (LGA 1151) Motherboard Review

Intel's Skylake has been with us for a little over a month now and reports are coming back extremely positive, with retailers struggling to maintain stock and very few reviews having anything negative to say. We are now at the stage where motherboard manufacturers have had the chance to tweak and update drivers to ensure the best possible performance and prices have stabilised thanks to increased stock levels hitting retailers.


TechPowerUp 4K Gaming Build Guide

With 4K Ultra HD displays fast becoming essential to high-end gaming PC builds, we take a crack at building a 4K gaming desktop ready for the DirectX 12 generation of games.

Mad Catz S.T.R.I.K.E.M GameSmart Mobile Keyboard Review

Smartphones and Tablets are part of our everyday lives and that's not something to go unnoticed by all the manufacturers out there so as expected really the mobile accessories market has grown exponentially over the last 5 years. Right now there's pretty much everything people may need to "enrich" their mobile experience including cases, screen protectors, chargers, stylus pens, charging cables, stands, Bluetooth HandsFree, speakers and car kits, car and bike holders, one touch buttons, selfie sticks and even wireless keyboards. Personally I'm not much into mobile accessories since my job has me spend most of my time in a lab but from time to time i do use one of the two tablets we have here (usually to post on Instagram) and i have to admit that a small Bluetooth keyboard would come in handy. Mad Catz released one such keyboard a few months back called the S.T.R.I.K.E.M and today we're taking a closer look at it.

ASUS RT-AC87U & RT-AC3200

ASUS' newest routers represent a microcosm of today's Wireless AC market. On one hand we have the XStream-powered RT-AC3200 while on the other there's the MU-MIMO RT-AC87U. Both are awesome solutions.

Hands On With The Samsung Note5 S Pen Stylus.

One of the Samsung Galaxy Note5 phablet's key feature is its improved S Pen stylus. It's actually the main feature that differentiates it from just being a larger version of the Samsung Galaxy S6 / S6 edge smartphone. A quick survey revealed that many previous Galaxy Note users did not use their S Pen on a regular basis. Will the new, improved S Pen that ships with the Galaxy Note 5 change that?

Logitech G633 Artemis Spectrum RGB 7.1 Surround

Logitech requires little introduction and many of our readers should recognize their respectable presence in the gaming headset market which goes as far back to 2005 with the Precision PC Gaming Headset. What we're looking at today is one in a pair of new flagship Logitech gaming headsets which boast RGB lighting on top of years of experience in audio products...

Oculus Rift Virtual Reality Walkthrough

Virtual reality is easily one of the most exciting frontiers in gaming and technology right now. We stand on the cusp of entering a whole new universe which we can explore not with a mouse and keyboard, but with our eyes, ears and – when the hardware is released – hands. But while long time fans of companies like Oculus are on tenterhooks awaiting the pre-order date for the first consumer headset, there are still plenty of exciting VR developments happening day to day.

ASRock Z170 Gaming-ITX/ac Motherboard

ASRock Z170 Gaming-ITX/ac sports a HDMI 2.0 connector for 4K 60Hz video playback. Also 8 layer PCB and 8 power phase design.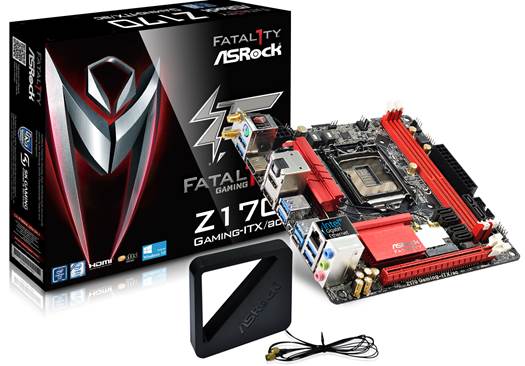 There is perhaps no other Intel 100 series mini-ITX motherboard that is able to compete with ASRock Z170 Gaming-ITX/ac, which might appear as any conventional tiny form factor board with two DDR4 DIMM slots on the side, a single PCIe 3.0 x16 slot at the bottom, and a huge fat LGA1151 CPU socket sitting in the middle. But, in truth, you may not judge a book from its cover. Because this compact gaming motherboard simply dominates the 100 series featherweight division, no matter whether it's head to head on specifications, features or performance.
To begin with, ASRock Z170 Gaming-ITX/ac is built on an eight layer PCB and adopts an eight power phase design. This ultimately leads to better performance, which is further amplified by the rest of the Super Alloy and Gaming Armor design, such as the Premium 60A Power Chokes, Dual-Stack MOSFET, Nichicon 12K Platinum Capacitors, Hi-Density Power Connector, 15µ gold contacts and Digi Power. It's stable, power efficient and most of all, powerful.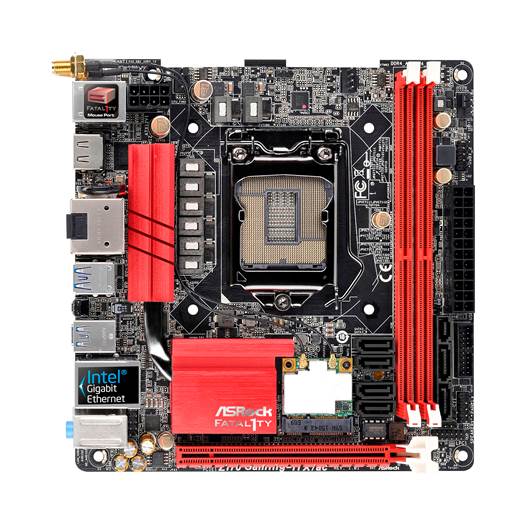 Another notable feature on this gaming motherboard is the graphics output. There are two HDMI ports and a DisplayPort built on the rear i/o, while one of the HDMI ports has an additional chip to support the latest version of HDMI and HDCP. Meaning that it has the ability to playback videos or games in 4K resolution at 60 herzt using the onboard Intel HD Graphics! So either you're planning to game with a graphics card or just settle with the onboard graphics, ASRock Z170 Gaming-ITX/ac is your best choice for a petite gaming rig.

Hands-On LG's V10 Dual Display Smartphone

We spent some time with LG today at the official unveiling of the company's brand new V10 smartphone and new LTE-equipped Urbane smartwatch. Unlike the so many flagship smartphones that have launched recently, the LG V10 retains a number of features that were popular with savvy smartphone users in previous generations, more specifically, a removable battery and expandable storage. The phone also felt good in the hand, thanks to its rigid, stainless steel construction and textured back. Even though the V10 retains the removable back and user serviceable battery of previous LG flagships, and it is relatively thin, the phone still feels solid and well put together...

Phanteks Enthoo Evolv ITX Review

Phanteks has very quickly cemented their place as one of the preferred chassis manufactures among the PC enthusiast community. In last year's Mod24, Lee Harrington of "PCjunkie Mods" and Ron Lee Christianson of "Blue Horse Studios" used the Enthoo Luxe to create a Call of Duty Zombie themed work of art. Late last year to follow up on the Enthoo …