[>>]

[>>]

[>>]

[>>]

More>>

Search...

| | |
| --- | --- |
| General News | |

... 131 news stories awaiting approval
[LATEST]
Cooler Master Elite 110 Mini-ITX Case Review

The Cooler Master Elite 110 Mini-ITX Computer Case is a compact, cube style case that can handle some full sized desktop components, while maintaining a relatively small footprint. With the ability to handle a ATX sized power supply, and desktop graphic cards up to 210mm (8.26 inches), the Elite 110 is aimed at more than just the niche market. Sporting the ability to hold 4 SSDs or 3 HDDs, storage options are not a problem."

Hard Disk Drive Performance Comparison Guide

Ever wanted a guide on hard drive performance, where you can compare the performance of a wide range of hard drives? With 48 hard disk drives for comparison, the guide is fleshing out real nicely. In this performance comparison guide, we will test and compare the performance of all the hard drives we can get our hands on. This is similar to what we are doing in the Intel Core 2 Processor Performance Comparison Guide. Here are the latest updates in Revision 5.2 : - Added the 1 TB Western Digital Black² (WD1001X06XDTL) mobile hard disk drive.

NZXT H440 Silent Mid-tower Case Review

NZXT is taking the idea of cable management even further with their new H440 case by hiding critical cable choke-points while providing plenty of cable routes as well as offering remarkable cooling and radiator support on a mid-tower frame.

AMD XFX Radeon R7 240 Core Edition Passive 2GB DDR3 Graphics Card

The R7 240 may not be the most exciting graphics card to review but I think this review will still be interesting for a number of reasons. Firstly, the R7 240 is incredibly affordable at just $69.99. Believe it or not graphics cards in the sub $100 price bracket are actually the most popular even if they are not the most glamorous – so it will be very interesting to see what $70 actually gets you. Secondly, this is the first of our reviews on our new graphics card test system. As we detail further on the test system and procedures page this is a purpose built test system for low end to mid range graphics cards, we will continue to use our high end test system from upper mid range and enthusiast grade graphics cards. With a new test system comes a revised set of games, as chosen by your votes, and some new compute and mining tests to give you a wider perspective on what additional performance graphics cards can offer outside of gaming. However, let's get back to the product in hand for today's review which is the XFX R7 240 Core Edition (R7-240A-CLH4) graphics card which features a fully passive cooling solution and 2GB of DDR3 VRAM. From the low profile, passive and compact design of this graphics card it should be quite clear that this is aimed at the HTPC market but also the light usage home PC or the budget gaming PC. This isn't going to be powering a fully fledged gaming desktop PC, however, it will still play games at lower resolutions and detail settings despite what anyone may tell you.

Premier Pro SP920 SSD Family Review

A few weeks back, we took a look at a new series of solid state drives from Crucial, the M550, which leveraged Marvell controller technology, 20nm MLC NAND flash memory, and firmware optimizations gleaned from the last couple of years of SATA SSD advancements. Ultimately, we found the M550 series of drives to be solid offerings, with well-rounded performance and competitive pricing. Well, today, another major player—ADATA—is releasing its own family of drives featuring similar technology at its core. The brand new ADATA SP920 Premiere Pro family of drives we'll be showing you here use the same controller and NAND as the M550 series, though ADATA takes a few steps to help differentiate their drives from the competition...



Linksys EA6900 AC1900 Smart Wi-Fi Wireless Router

Wireless technology never stands still so although it wasn`t until roughly just over a year ago when manufacturers released their very first AC1750 compatible routers now we already see AC1900 compatible ones offering even higher combined speeds. Of course not every single manufacturer out there has joined in on the fun as of yet but the market leaders like Linksys and Netgear can`t afford to not be on the forefront of technology so naturally their AC1900 routers are the first to see the light of day. Our routers review section is somewhat under populated compared to out other sections because we don`t do router reviews of models that we think have nothing new and innovative to offer (both in features and specifications) but the brand new EA6900 AC1900 Smart Wi-Fi Wireless Router by Linksys seems to have everything going for it from appearance and up to features and specifications so we just had to take a look."


Corsair Graphite 760T Full Tower Case Review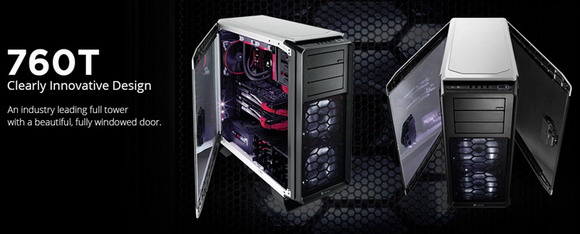 The Obsidian 760T is essentially a 750D with a lot more "oh" and "ah". Flashier on the outside, it sports a more elaborate look, a choice of two colors, a huge window, and a bit more lighting. It even comes with a fan controller right out of the box.


Powercolor AMD Radeon R7 250X 1GB GDDR5 Graphics Card Review

While Nvidia's GTX Titan Z and AMD's R9 295 X2 graphics cards may be stealing all the headlines, the real battle between Nvidia and AMD is occurring at those lower end price points where the bulk of graphics cards are sold. A quick look at the Steam Hardware Survey reveals just how popular the sub $200 price point is. For those looking for an even more affordable entry into gaming, the $100 price point is vital. What's currently on offer at the $100 price point from AMD? Well their latest addition is the R7 250X, a rebranded HD 7770 GHz Edition looking to steal the title of "best $100 gaming graphics card". Nvidia is yet to refresh their entry level range so at the $100 price point they still offer the GT 640 for $90 or the GTX 650 for $110. Yet, as we will see throughout this review, the AMD R7 250X finds itself in an incredibly competitive position because of Nvidia's unwillingness to reduce prices on their entry level product stack. Today we are taking a look at a Powercolor R7 250X, but it is as close to a reference R7 250X as you will find. This card packs a basic cooling solution, stock R7 250X speeds and is about as "cheap and cheerful" as you'll find. How do Nvidia's offerings stack up against AMD's newest budget friendly offering? Well let's proceed through this review and find out!

What Role Do SSD Components Play - Learning To Run With Flash

Although most parts are consistent in all SSDs (PCB, controller, memory, interface), we will describe that which the consumer is most likely to see, the notebook SSD. Originally available in a thickness of 9.5mm, todays notebook SSDs are typically only 7mm thick to allow for ultra book installations and may include a rubber spacer to allow it to fit notebooks that require that 9.5cm width."


PCSTATS TechTip - Windows 7 and older Integrated Graphics Drivers

Windows 7 and getting older Integrated Graphics Drivers to Run in Compatibility Mode
While setting up an old Dell computer for use as a Remote Desktop Connect (RDC) Terminal in the labs here, we encountered a bit of problem... Windows 7 drivers for Intel's 915G integrated graphics solution are nowhere to be found.
The PC was only going to be used for VNC'ing and RDC'ing into servers, so 2GB of memory and a smallish hard drive were fine, but since I reused a surplus 19" CRT, the monitor flicker from a 60Hz refresh rate was horrible to look at for more than few seconds. Microsoft's default IGP video driver wouldn't permit higher refresh rates - we needed an actual Intel 915G driver to solve this!!
The solution all came down to using Win7's 'Compatibility mode' in a unique way.
Downloading the Intel Graphics Media Accelerator Driver for WinXP (here) and simply running the program didn't work - the driver fails to load because it's expecting WinXP OS. The key is to save the old Intel 915G driver to the desktop, then right-click on the file > properties > Compatibility > check 'Run this program as Windows XP SP3' and check 'Run this program as administrator'. Then double click on the driver and install it.
Now the installation will proceed properly and the correct Intel GMA graphics driver for the i915G chipset will be installed. Restart the PC and adjust the Display Adaptor's Refresh rate from 60Hz to 75Hz. That's it. The eye-straining flicker is dealt with and an old computer is kept out of the landfill serving a useful duty a few more years.
If you have an older PC with integrated graphics that can run Win7, use this tip to get the right IGP driver installed via Compatibility mode. :) Be nice, 'Like PCSTATS' on FB.
Let us know what you think of this Tech Tip!





The best Guides by the best writers on the internet; PCstats Beginners Guides explain computers, software, and all those other wonderful things that cause you frustration.

Learn how to use your computer better, master the internet while protecting yourself, and know what to do when your hard drive kicks the bucket.



"Get the 'Stats and Stay Informed!"