[>>]

[>>]

[>>]

[>>]

More>>

Search...

| | |
| --- | --- |
| General News | |

... 61 news stories awaiting approval
Surface 2 and Surface 2 Pro

There's really no arguing the fact that Microsoft slipped with its first generation Surface strategy, but rather than wave the white flag, the Redmond outfit picked itself up, dusted off its britches and listened to user feedback. Today, in New York, Microsoft held a press event unveiling its new Surface 2 products and the usual superlatives apply -- thinner, lighter, faster, better. Microsoft says that Surface 2 and Surface 2 Pro both benefit from "significant updates." Among them are improvements to processing power, better battery life, display and camera resolution upgrades, and a niftier Kickstand that now sports dual angles, making it more comfortable to use on your lap or desk. We were on hand at Microsoft's unveiling in New York to see its new slates in action...

Microsoft Surface Pro 2 Plays 6K RAW Video Footage

Microsoft's Corporate VP of Surface, Panos Panay had his work cut out for him at the company's Surface 2 and Surface Pro 2 launch event on Monday. Microsoft needed compelling product demos to showcase their new hardware against the current backdrop of stiff competition of alternative platforms and products from Google and Apple. So, obviously the first thing they did was call upon their old friend Intel way back at the design stage, empowering their Surface Pro 2 slate with a dual-core Haswell 4th generation Core i5-4200U processor. And with Intel's latest HD 4400 series graphics engine on board the Core i5-4200U at their disposal, Microsoft was looking for ways to showcase Surface Pro 2's multimedia performance, so they then called upon some of their friends at RED Camera... As Panos notes, 6K RAW footage offers nine times the resolution of standard 1080p HD video. Now, we know Intel's Haswell HD Graphics core already supported 4K HD video playback but could it handle 6K video?

Ready For Windows 8

When Logitech revealed its new Wireless All-in-One Keyboard TK820 last month, it immediately caught my eye. After upgrading my home theater PC to Windows 8, I've often thought it would be nice to take advantage of some of the new gesture controls while browsing the web and using my HTPC from the comfort of my couch. I looked at keyboards a little bit after upgrading but hadn't found quite what I wanted so I put the idea of getting a different keyboard on hold. When I was given the chance to test the TK820 for myself, I jumped at the opportunity and hoped this could be the keyboard I had been searching for...

Radeon R9 280X Market Overview @ Ocaholic

In this article we made a list of all Radeon R9 280X around sorted by manufacturers with pics, specs and prices. At the end of the article you also find an interactive overview with filtering and sorting functions to compare all cards. If you think or see that some are missing/there are mistakes, please leave a comment and we will add/fix it as soon as possible."

ASUSTOR AS-304T 4-bay NAS Server for Home Office Review @ Madshrimps

ASUSTOR has recently released their AS-300T series represented with two NASes, one with 2 bays and the other with 4. These are powered by the latest Intel Atom CE5335 CPU at 1.6GHz, along with 1GB DDR3 of onboard memory and share the multimedia functions of their more expensive siblings, the AS-600T series. A remote can be also offered to navigate through the XBMC interface for extra cost, as an alternative to the USB mouse and keyboard."

All AMD FX CPU Models @ Hardware Secrets

The AMD FX is the mid-range and high-end CPU family from AMD, using either the Bulldozer or the Piledriver microarchitectures. Let`s take a look at the main specifications of all models released so far."



Raijintek Ereboss Heatsink Review

"Take for example the Raijintek Ereboss heatsink Frostytech is testing in this review; the Ereboss is a big boxy cooler that stands 159mm tall and looks a little bit like a 4U HP server heatsink on steroids. Hyperbole aside, the Raijintek Ereboss heatsink is built around six 6mm diameter copper heatpipes which weave their way up from a nickel-plated copper base plate to a voluminous aluminum fin stack measuring 105mm tall and 112x140mm wide."

Cooler Master HAF Stacker 935

"Today we are reviewing the Cooler Master HAF Stacker 935; however, by adding an additional 915 to the bottom (or top) of the case it transforms the Stacker 935 into the Ultra Tower (945). This means we could potentially have our main gaming rig, our server and our dedicated folding rig all in one case! The 935 is actually the combination of the 925 and the 915 cases. Factor in support for a bunch of different water cooling configurations, and we've got a very interesting "modular" case. Let's take a closer look at the Cooler Master HAF Stacker 935."

Intel reports 3Q13 revenues of US$13.5 billion

Intel has reported third-quarter 2013 revenues of US$13.5 billion, operating income of US$3.5 billion, net income of US$3 billion and EPS of US$0.58. The company generated approximately US$5.7 billion in cash from operations, paid dividends of US$1.1 billion, and used US$536 million to repurchase 24 million shares of stock.

ASUS Radeon R9 270X DirectCU II Top Review @ Ocaholic

Meanwhile the AMD Radeon R9 270X is more interesting than the R280X because its clocks are different than the Radeon HD 7870 that shares the same silicon. Yet AMD`s partners are launching custom designs only right from the beginning and in some cases didn`t even bother making a new card. The Radeon R9 270X from ASUS we are going to have a look at today, for example, is physically the same as their now one year and a half old Radeon HD 7870 DirectCU II Top V2."

AMD Radeon 7000 and Radeon R200 Series Mixed CrossFire Testing @ Legit Reviews

The new AMD Radeon R7 and R9 series video cards went on sale this morning and a number of our readers have asked if they can enable AMD CrossFireX technology with their current AMD Radeon HD 7000 series card with them. The new AMD R-200 series is essentially a product re-brand, so the hardware is the same. AMD confirmed to use earlier this week that you would be able to run mixed CrossFire, but we wanted to try it out for ourselves and see how it works in the real world. Read on to see what worked and what did not!"


MSI GTX 660 GAMING 2 GB @ techPowerUp

MSI`s new GTX 660 GAMING seeks to introduce the popular MSI GAMING brand to the GTX 600 Series. The card, which comes overclocked out of the box, was very quiet in our testing, and is available online at an affordable $210."

Coolermaster HAF Stacker Series Cases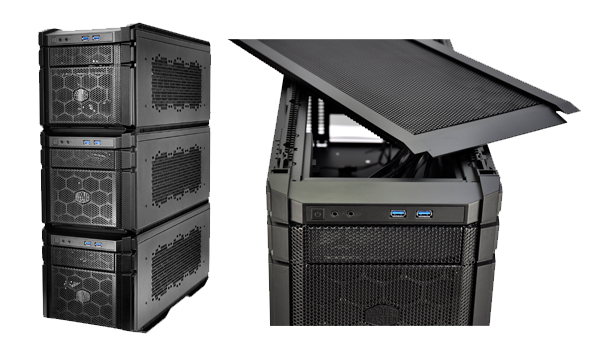 Cooler Master, a leading creator, innovator and manufacturer of desktop components and more, today officially makes available to the world the first stackable computer case series, the HAF Stacker Series. Launching with three connectable and stackable models, HAF 915F, HAF 915R, and HAF 935.
Joining together two titans among Cooler Master case series, HAF Stacker takes the essence of the widely popular High Air Flow and Stacker series and elevates them to new heights as a single, cohesive line. The large drive storage and interior space of the Stacker series meets the Water and Air cooling design of the HAF series. The result is the first modular and expandable full tower with smaller companion cases that all stack together seamlessly.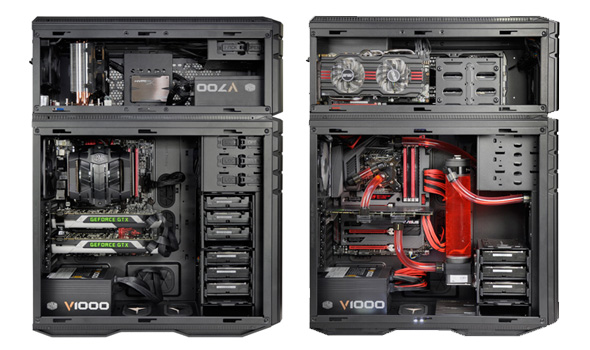 Available in three distinct models, the HAF Stacker series features a full tower HAF 935 configuration consisting of the HAF 915R and HAF 925, M-ITX HAF 915R, and M-ITX HAF 915F. Each base configuration offers unique features and benefits that stand out on their own merit while being stackable with other models in the series for expanded functionality. This is all made possible by a CM patent pending rail system that was inspired by a military picatinny rail to enable the attachment and removal of each stackable piece in 2 easy and secure steps.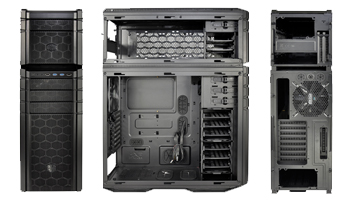 HAF 915F
MITX supporting long graphics card (310mm), standard PSU and water cooling
Front mounted power supply for better cable management
Supports larger CPU coolers including Hyper 212 plus
Supporting up to 360mm radiator in water cooling box mode
Supporting up to 6 hard drive bays with optional storage mode
HAF 915R
MITX supporting long graphics card (310mm), standard PSU and water cooling
Supporting up to 360mm radiator in water cooling box mode
Supporting up to 9 x 3.5" hard drive bays or 12 x 2.5" in optional storage mode
First expandable MITX chassis
Front 92mm fan offers direct storage cooling
HAF 935 (925 + 915R)
Stack extra 915A/B for dual system or unlimited water cooling space
Dust filtered intakes and sliding filter frames
Easy to use cable management
Flexible removable drive cages can be transferred to HAF 915




The best Guides by the best writers on the internet; PCSTATS Beginners Guides explain computers, software, and all those other wonderful things that cause you frustration.

Learn how to use your computer better, master the internet while protecting yourself, and know what to do when your hard drive kicks the bucket.



"Get the 'Stats and Stay Informed!"