| | |
| --- | --- |
| General News | |

... 104 news stories awaiting approval
[LATEST]
MyDigitalSSD Pocket Vault SSD Review Speed & Capacity In a Value Driven Ultra Small Mobile SSD

Size is everything in the world of SSDs and first hand proof of this can be seen in any number of ultrabooks, including the Apple MBA. True ultrabook size can only be accomplished through mSATA or M.2 SSDs. Much is the same with external storage where we have seen size reduced significantly, while performance has jumped exponentially with the introduction of UASP and SuperSpeed. Not so long ago, we looked at the MyDigitalSSD OTG External USB 3.0 SSD that was 256GB in size and displayed performance of 449MB/s. This external solution used a mSATA SSD to accomplish its performance with SuperSpeed."

[LATEST]
AMD Radeon: Windows 8.1 Catalyst vs. Linux Gallium3D

Summary: "Our latest Windows vs. Linux benchmarks on Ubuntu 14.04 LTS are of three different AMD Radeon graphics cards from three different generations as we test the performance of Microsoft Windows 8.1 against Ubuntu 14.04 LTS, when using both the AMD Catalyst proprietary driver and the open-source R600/RadeonSI Gallium3D drivers."

[LATEST]
AMD Mantle Performance: Thief & Battlefield 4

The biggest news for Mantle since being announced as a method of improving performance in games by allowing them to use your CPU and GPU more efficiently, has been support from DICE's Frostbite 3 engine (and by extension, Battlefield 4). Recently that support expanded to Eidos' Thief, while Crytek revealed at GDC 2014 that CryEngine will support it too. AMD says its latest update is of "tremendous benefit to a large cross-section of the gaming public" so we are keen to check it out.



Plextor M6e 256GB PCI Express SSD Review

1.html,We review the all new Plextor M6e PCI Express SSD. A M2 Express SSD on a daughter-board. basically in this article you will learn all about what will be a hip thing on the Intel Z97 chipset. See PCIe M2 breaks away from the SATA3 bottleneck, this SSD can reach performance up-to say 770 Mb/sec ! Designed and based on PCI Express 2.0 x4 slot, the newcomers are 128 GB, 256 GB ad 512 GB SSDs powered by a Marvell controller. 770 Mb/sec. Incredible numbers really, but is that performance across the board, or just here and there in certain conditions we figured ?"

Colossus Micro-ATX case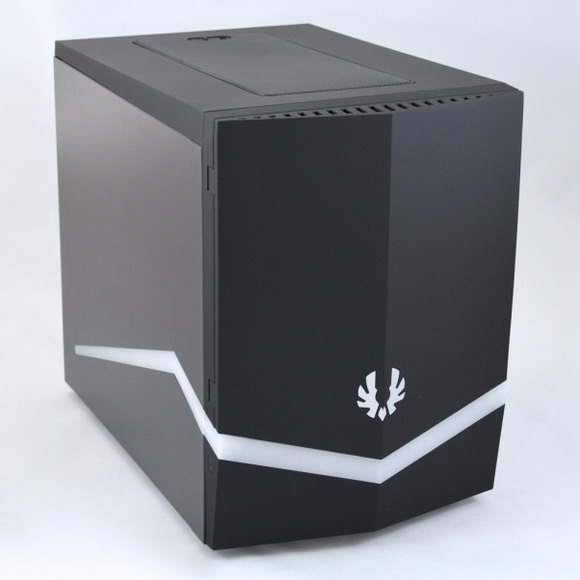 As the PC industry has evolved over the last decade, the days of high-performance rigs requiring large towers and full-size ATX and E-ATX motherboards are gone. Of course there is still a market (and need) for full tower systems, and the majority of enthusiast motherboards available are still full ATX. But the evolution in process technology and platforms has allowed for more and more to be done within a smaller footprint, and the micro-ATX form factor has emerged as a solid option for anything from budget systems to extreme multi-GPU gaming powerhouses. Regardless of the path you choose, all of those sweet components need a home, and finding the right computer case has long been a very personal odyssey.

Raidmax Cobra Power 500W Power Supply Review

We tread off the beaten PSU path today with a power supply from Raidmax that is part of the Cobra series. The RX-500AF-B unit sports 500 watts of "Haswell Ready" power, a Bronze efficiency rating, advertised stable voltages, a "strong single +12V rail for high-end system heavy load configuration," plus a paint ball stained exterior.

ASRock Fatal1ty B85 Killer Motheroard Review

"Far too often we pay attention to the biggest and best boards on the market and overlook the ones that actually make up a large portion of the sales. Entry to mid-range components are used by the majority system builders to do a specific function and to keep costs down. Today we will be looking at a board from ASRock that falls right into the Mid-Range market but does so without skimping on features. The Fatal1ty B85 Killer is directed right at system builders that are also hardcore gamers. The Fatal1ty series of products are made to address the desires of all gamers: quality audio, network lag and FPS. The B85 Killer is one of four new boards from ASRock to carry the Fatal1ty name."

Rosewill RGS-108P POE Gigabit Network Switch

The Rosewill RGS-108P Gigabit switch is an unmanaged switch that is capable of Gigabit wire speeds on each port with a bonus. The RGS-108P can also supply Power Over Ethernet.

Gigabyte GTX 750 Ti Windforce Review

"Today we're specifically looking at the Gigabyte GTX 750 Ti Windforce, a budget-oriented card that comes with a factory overclock out of the box and a cooler design that promises very low temperatures, while looking to trounce AMD's R7 260X not only in performance, but also power efficiency. Let's take a closer look and get it on the bench to see if real world tests can fulfill Nvidia's aspirations."

Func MS-3 Revision 2 Gaming Mouse Review

"We heard rumblings of a newer version of the original Func MS-3 gaming mouse, with the latest set to promise gamers a more advanced laser engine, higher DPI, and better quality internals. So we had to get one to study more closely for ourselves. Func now has the MS-3 Revision 2, a refresh of a winning formula that captures the same outstanding ergonomics while bringing new guts to a smartly designed body. And as an added bonus, we'll also be examining the Func Surface 1030² L, an update of a double-sided gaming mouse pad that now comes with a few new and interesting features. Can the MS-3 Revision 2 and Surface 1030² L improve upon the predecessors without losing its original appeal? Let's find out."

ECS KBN-I/5200 AMD A6-5200 Mini-ITX Motherboard Review

At the beginning of the year, ECS (Elitegroup Computer Systems) announced this Kabini SoC processing unit which houses an AMD A6-5200 CPU. It also includes a Radeon 8400 GPU all in a small mini-ITX form factor APU combo. Today we got our gritty hands on this tiny power house to put it to the test. We are excited to see what this Quad Core A6-5200 APU can do. Let's take a look."

Nanoxia Deep Silence 5 Mid-Tower Case Review

"Nanoxia Deep Silence cases are well known in Europe and designed for both cool and quiet performance. Today will be looking at the Deep Silence 5 Mid-Tower chassis. This innovative case is part of a new line of future products, whose objective is to offer the perfect symbiosis of ideal system cooling and sensationally low noise levels in one package. The focus was always on two requirements: minimize noise and minimize system temperatures. It is also designed especially for the use in high-end PC- and gaming systems."

Kingston 64GB SDXC Class 3 Memory Card & USB 3.0 MobileLite

"With the advancing and growing media recording industry, faster and more reliable flash memory cards are on high demand, especially those looking for high capacity to store everything on one card. Today we finally got our hands on the Kingston 64GB SDXC Class 3 UHS-I U3 flash memory card. We also have the Kingston Mobile Lite G3 SD and Micro-SD card USB 3.0 reader as an extra bonus to be able to test the memory card today."

IMFT flash memory plant at Lehi, Utah

"Going into this event, I had a rough idea of what goes into the testing and evaluation of a computer component. That said, I was literally blown away by the sheer scope and scale of Intel's testing and validation efforts. While many of these efforts are geared towards their enterprise and data center parts, those gains have repeatedly trickled down into their consumer products, as evidenced by the recent SSD 730 being a consumer product based almost exactly on their DC 3500 part. This trickle-down effect is not limited to recent products either. The SSD 710 and 320 launched as an enterprise / consumer pair and were constructed identically. You can even go back to the very start, where Intel's X25-E and X25-M were an enterprise and 'mainstream' / consumer edition launched in tandem and were physically identical save the type of flash memory used in each."