| | |
| --- | --- |
| General News | |

... 30 news stories awaiting approval

ASUS STRIX GTX 970 DirectCU II OC 4GB Review @HiTech Legion

The ASUS STRIX GTX 970 DirectCU II OC will fit into many computer user`s artillery as the component of choice. With its sleek black styling, large aftermarket DirectCU cooler and efficient design, this card packs a punch while maintaining optimal temperatures with minimal fan speeds and noise. The ASUS STRIX GTX 970 has a 10mm thick copper heatpipe that transports 40% more heat than traditional heatpipes, and a 220% larger heatsink area for more efficient heat dissipation."

Tesoro Tizona G2N Mechanical Gaming Keyboard Review @ TestFreaks

Today for review I have the Tesoro Tizona G2N mechanical Gaming Keyboard which is a tenkeyless design and it features Kailh mechanical key switches instead of the common Cherry MX type. The Tizona is a basic and very inexpensive mechanical keyboard that does have some features but not those most have come to expect from gaming keyboards. Ive been using the Tizona for about two weeks now and its a decent keyboard overall so read on to learn more "


Cooler Master NovaTouch TKL Keyboard Review

Premium mechanical keyboards have surged in popularity in the last few years as gamers and even casual users rediscover the joys of using a keyboard with the precision and feel afforded by mechanical key switches. The Cooler Master NovaTouch TKL uses a new type of mechanical switch based on capacitance detection rather than metal contacts. Benchmark Reviews checks out this minimalist typing machine to see how it compares to other mechanical keyboards."

Enermax Revolution X't 430 W

It was nigh time to test a small PSU with less than 500 W since such units are among the most popular. The smallest member of Enermax's Revolution X't line will be our test subject today. This small fellow comes with Gold-certified efficiency, a semi-modular cabling design, and, like every modern PSU, support for the sleep states Intel's Haswell CPUs introduced.



Windows 10 Operating System Demonstrated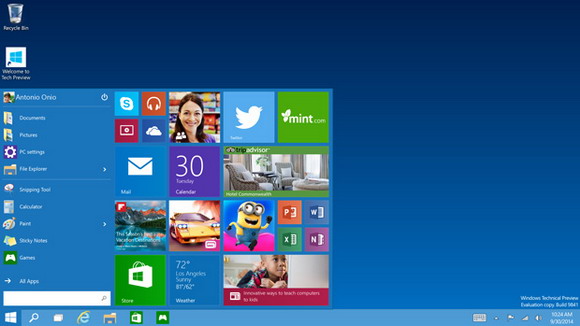 "Yes, the next version of Windows is called Windows 10—and Microsoft gave the first public demo of it at a press event this morning. The company also announced the Windows Insider Program, as part of which folks will be able to grab a Technical Preview build of the new OS starting tomorrow."

arpe Verde Pro GPU, the XFX R7 250E Core Edition.

"Built around the 28nm Cape Verde PRO GPU, the XFX R7 250E Core Edition comes with 512 Unified Shaders, 32 TMUs and 16 ROPs. In terms of memory, we got 1GB of GDDR5 clocked at 1125MHz on a 128-bit bus for a total bandwidth of 72GB/s."

XFX R7 250E

"When you look purely at the gaming performance numbers, it's hard to really think of this card as a gaming performance card with the eye candy turned up. If you are buying this card to play the latest FPS games maxed out at 60 FPS, you will be disappointed. However, when you go to play in the wheel house it fits in, you can get performance up and over the commonly recognized 30 FPS threshold for playable performance at 1920x1080, or even higher at 1680x1050. When you get down to its DNA, this card has its roots in the 2012 release of AMD's Cape Verde Pro GCN architecture and is comparable to the HD 7750 seen at that time. Where you can really beef up performance is by connecting the XFX R7 250E into an AMD APU system and running a hybrid CrossFire configuration, which would drive performance up when needed and spools down the power consumption when you do not need the 3D GPU horsepower. In that respect, the XFX R7 250E has a lot to offer for a minimal financial impact."


News: AMDs FX-8370E processor reviewed

AMD has just shaken up its FX processor series with price cuts and a trio of new models. The additions are based on the same Vishera silicon as before, but the magic of binning has yielded a faster 125W top-of-the-line part as well as two eight-core offerings with 95W thermal envelopes. We compared one of those 95W offerings, the $200 FX-8370E, against Intel`s finest."

Team Group Micro SDHC UHS-1 U3 32GB Review @ Madshrimps

Having one of the latest 3D or 4K video recorders or want to shoot RAW much faster? No problem since Team Group has you covered with their latest microSDHC UHS-1 U3 cards which come in both 16GB and 32GB variants and have rated speeds of 45MB/s writes and 90MB/s reads."


CM Storm NovaTouch TKL Keyboard Review @ Legit Reviews

The CM Storm NovaTouch TKL keyboard we are reviewing is unlike any of the keyboards we?ve typed with. We?ve reviewed mechanical keyboard which use metal springs and keyboards with more commonly used elastic plastic to reset the keys. The NovaTouch key mechanism uses both ? each key is backed by a metal spring and plastic dome that work together. The patented switch design is named after its manufacturer and is called the Topre switch. Keyboard enthusiasts rave that these switches provide the ultimate typing experience."