[>>]

[>>]

[>>]

[>>]

More>>

Search...

| | |
| --- | --- |
| General News | |

... 16 news stories awaiting approval
Asus G75VW-DH72 Review @ TechReviewSource.com

The Asus G75VW-DH72 gaming laptop may offer pricing and performance well below wha othert tricked out systems can offer, but when stacked against mid-range gaming systems like the Alienware M17x R4, it still holds its own, getting you on the gaming grid for under two grand."

Waterfield Designs Muzetto Leather Notebook Satchel Review

Waterfield Designs' leather Muzetto satchel is the ideal conveyance for the essentials of business - a notebook and/or iPad, some papers, pens, a smart phone, business cards, c'est tout. If you need sheer haulage, there are other bags in the Waterfield stables like the ubiquitous 'Cargo' for that. The Muzetto is substantial, but it is a compact.
Behind the large oiled leather flap of the Waterfield Designs Muzetto bag we find one main pocket flanked by three large but slim secondary pockets. The main pouch will comfortably carry an 11" notebook in a sleeve while an outer padded pocket can accommodate an iPad. A manilla envelope full of papers or a magazine easily slips into the rear pouch. Pens and other small items can be tucked safely away in the inner, zippered pocket. If the outer padded pocket isn't pulling iPad duty, there's a small pocket in there just the right size to hold a smart phone.

Crucial M4 256GB SATA III SSD Review

Crucial's M4 solid state drive supports RAID, SMART, NCQ, TRIM, self monitoring and self analysis. Average access times are less than 0.1ms. Peak power consumption is 0.15W, idle is a scant 65mW so this puppy can certainly help extend the battery life of any notebook by replacing a spindle'd hard drive. The 1.2 million hours MTBF rating on Crucial's M4 SSD is slightly lower than other solid state drives PCSTATS recently tested, most of which have averaged 2M hours. It's backed by a 3 year limited warranty.
Crucial's 2.5" M4 256GB SSD (CT256M4SSD2) retails for around $210 USD/CDN at Crucial.com, or about $0.82/GB. The M4 SSD family includes models ranging from 120GB all the way up to 480GB capacity. The Crucial M4 is priced per gigabyte between the 240GB SanDisk Extreme which runs about $0.91/GB and the 240GB OCZ Vertex 3 which is pegged at $0.78/GB.

OCZ Vertex 3 240GB SSD VTX3-25SAT3-240G Review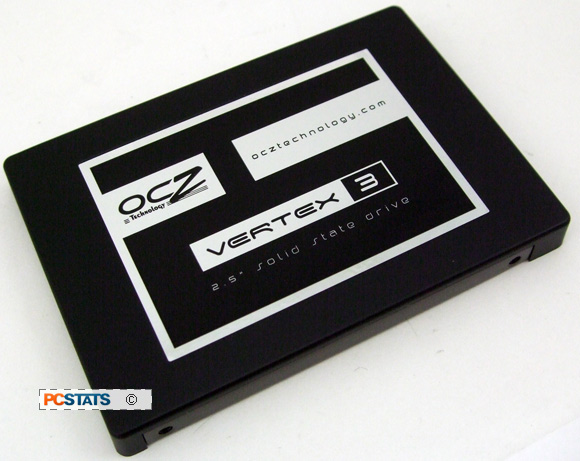 The OCZ Vertex 3 is a great little 240GB SSD and just the right capacity to install Windows 7 along with a bunch of programs onto, without worrying for drive space. Since this SSD is rated for 6Gb/s SATA III, you'll find it quicker than first generation SATA II drives and light years faster than a standard mechanical hard drive when it comes to booting up or launching programs. Hard drives are great for storing massive amounts of data, don't get me wrong there, it's just when it comes to your PCs operating system, a Solid State Drive increases responsiveness dramatically.

Optical disc prices to rise nearly 50% in 2H13

The global optical disc industry is experiencing a reshuffle which will continue into the first half of 2013 due to makers in Japan, as well as second- and third-tier Taiwan-based makers stopping production during 2012. Prices for optical discs are expected to increase by nearly 50% in the second half of 2013, according to Robert Wong, chairman of Taiwan's largest optical disc maker, CMC Magnetics.

ECS to see decreased own-brand motherboard shipments

Elitegroup Computer Systems (ECS) is expected to ship about four million motherboards for own-brand sale in 2012, decreasing from six million units shipped in 2011, but its ODM shipments of 12 million in 2012 will remain unchanged from 2011, according to supply chain makers.

Corsair Hydro H60 Watercooling System Review

"Corsair have updated the waterblock design and given the Hydro H60 a new compact profile which hides functional changes to the integrated pump and improves mounting bracket installation significantly. All of this is transparent to the end user though. Being the 'entry level' water cooler model, the H60's waterblock lacks the integrated fan controller and LINK hardware present on the Hydro H80i and H100i units. No matter, you don't need the software/USB stuff to operate a watercooler such as this. "

Acer Aspire S7-191

"The Acer Aspire S7-191 is an 11-inch Windows 8 Ultrabook laptop that features a 1080p touch screen display, a speedy solid-state drive, a very sleek design and an extended battery. The display is a little dim for our tastes and the battery life without the extended battery is sub-par."

Nouveau NVIDIA Driver Can Be Faster With Linux 3.8

Published already on Phoronix have been benchmarks of the in-development Linux 3.8 kernel when it comes to measuring the DRM graphics driver performance improvements for AMD Radeon hardware. In this article is a look at the Nouveau driver performance, the reverse-engineered open-source NVIDIA graphics driver. There`s a fair amount of changes to look forward to in the next Linux kernel release for Nouveau and it`s yielding some performance improvements."


PowerColor PCS+ HD7870 Myst Edition (Tahiti LE) Graphics Card Review @ HardwareHeaven.com

PowerColor PCS+ HD7870 Myst Edition (Tahiti LE) Graphics Card Review @ HardwareHeaven.com PowerColor are taking the Tahiti GPU, usually used in 7900 series cards, and pricing/configuring it at 7870 level. Call it Tahiti LE, 7950 Light... or 7870 Myst with PCS+ cooling. Today we take a look at how it performs in games like Far Cry 3, Assassin`s Creed 3 and Hitman Absolution."

Thermaltake eSPORTS Level 10M Gaming Mouse Review @ Custom PC Review

That said then, today we'll be reviewing the new Thermaltake eSPORTS Level 10M gaming mouse. Since the Level 10M is designed in part by one of the most well known high performance auto manufacturers in the world, it's only natural that it's got that high performance car look, but just as an amazing car, the Level 10M's got some serious stuff under the hood, too. Come embedded in its aluminum belly is...."

Sandisk Extreme SSD 120GB/240GB review

With these Extreme SSDs, SanDisk has proven it can make quality SSDs with reasonable performance. Unlike the SanDisk U100 SSDs from its OEM division that perform more like USB sticks in 2.5-inch format, the Extreme SSDs do perform well. And when an important party like SanDisk enters the consumer SSD market, that's only good news for both competition and innovation.

Samsung 840 Series TLC 250GB SSD Review

Samsung leads the way by introducing the world's first SSD equipped with TLC NAND into the market. The Samsung 250GB 840 Series SSD looks to shake up the market by providing an excellent dollar-to-performance ratio by leveraging low cost NAND and the high-powered MDX controller. Does its performance equal the value expectation?


PowerColor Radeon HD 7870 MYST Edition Review

PowerColor has released a new graphics card based on the new AMD "Tahiti" 7870 LE core. We will investigate whether it is a worthy Limited Edition or simply a Lame Edition by comparing it to a Radeon HD 7870 GHz edition and a GTX 660 Ti with comparisons also to an HD 7950. Will this card be a deal, or a dud? You may be surprised.



The best Guides by the best writers on the internet; PCstats Beginners Guides explain computers, software, and all those other wonderful things that cause you frustration.

Learn how to use your computer better, master the internet while protecting yourself, and know what to do when your hard drive kicks the bucket.



"Get the 'Stats and Stay Informed!"