| | |
| --- | --- |
| General News | |

... 76 news stories awaiting approval
AMD Radeon HD partner

HIS is a well known AMD Radeon HD partner. In this review we look at their brand new HiS Radeon R9 280X iPower IceQ X2 Turbo Boost Clock. It's equipped with the IceQ X2 cooler and is overclocked out of the box. Let us see how this monster performs.

Toshiba Electronics Launches Miniature 600V Superjunction Power MOSFETs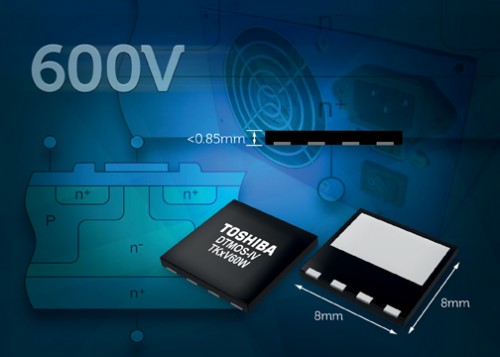 Toshiba Electronics Europe (TEE) has announced that its next-generation superjunction (SJ) DTMOS-IV power MOSFET technology is being made available for the first time in small outline, low-profile DFN packaging. New 600V DTMOS-IV MOSFETs in a DFN package will be ideal for high-speed switching in power supplies, lighting ballasts and other applications requiring a space-saving alternative to more conventional D2PAK and DPAK devices.

Offering current ratings from 9.7A to over 30A, the new devices in the TKxV60W family of 600V MOSFETs have ultra-low on resistance (RDS(ON)) ratings from 0.38? to just 0.098?. A leading RDS(ON)*Qg figure of merit ensures high-efficiency switching while a low output capacitance (Coss) supports optimised operation at light loads. Each device also incorporates an additional sense pin for direct driver connection.

Toshiba's DTMOS-IV process delivers MOSFETs that exhibit a better temperature coefficient of RDS(ON) than alternative devices. This allows efficiency benefits to be realised even during high-temperature operation. As with other devices in Toshiba's DTMOS-IV family, the new DFN MOSFETs have an optimised gate-drain capacitance (Cgd) that delivers improved dv/dt switching control. Support for lower dv/dt ratings also helps to reduce the tendency to ringing in high-speed switching circuitry.

At 8mm x 8mm the DFN package has an outline that is 20% smaller than a D2PAK package. A profile of only 0.85mm is almost three times lower than a traditional DPAK and over five times lower than a D2PAK.

Toshiba uses the deep trench process in its DTMOS-IV fourth generation single-epitaxial superjunction MOSFET. This allows closer trench pitch compared to the third-generation (multi-epitaxial) process, leading to a 30% better on-state resistance for a given die area.

Thermaltake Urban S31 Mid-Tower Case Review

Thermaltake sets its sights on a part of the market that is looking for an excellent enthusiast case with a look that is not over the top, but rather more refined and sleek. Along with that Thermaltake promises "extreme silent performance" and "advanced ventilation" along with a helping of space for those water cooling users.

Kingston's Fastest Ever SSD? SSDNow V300 240GB Benchmarked

"Looking at the numbers, Kingston's SSDnow V300 SSD is spec'd for 4KB random reads at 85,000 IOPS and 4KB random writes at 43,000 IOPS. The SSDNow V300 drive supports SMART, NCQ, and TRIM. Peak power consumption is rated at 2.052W, idle is a scant 64mW; this puppy can certainly help extend notebook battery life if you're considering an SSD to replace a 2.5" HDD. The 1.0 million hours MTBF rating Kingston assign to the SSDnow V300 is lower than other SSDs PCSTATS have tested (average is 1.2M - 2M hrs MTBF). The drive is backed by a 3 year limited warranty."

AMD's Radeon R9 280X, R9 270X

AMD's Radeon R9 280X, R9 270X, R7 260X, R7 250 and R7 240 video cards are announced and already extensively tested. Here's a summary of the AMD R9 280X, R9 270X, R7 260X, R7 250 and R7 240 news around the web:


Cooler Master CM 690 III review

The CM 690 III is one of the best at cooling components, while the price is excellent. At this price point, the CM 690 III is a uniquely complete chassis of outstanding quality. The improvements may be incremental over the previous version, but it's the perfect evolution and sets a new standard for mid-range desktop chassis.

October 2013 Rumours

"Before you scoff at us for being so outdated, Western Digital is looking into a hybrid drive that uses RAM, not flash memory. This would most likely be a DDR3 SDRAM solution, possibly LP-DDR3 with backup power from built-in capacitors. Such a hybrid drive would offer a tremendous boost in performance for HDDs, because RAM is many, many times faster than the fastest flash memory. Of course, its performance would be restricted by..."

A Closer Look at AMDs Mantle API @ Hardware Canucks

Is it possible to make developing for the PC easier?  That`s the question AMD`s Mantle hopes to answer.  In this article we take a quick look at the technology and its possible far-reaching implications."

Raijintek Aidos Heatsink Reviewed by Frostytech

The 325gram Raijintek Aidos is built around four 6mm diameter copper heatpipes which are exposed at the base. The heatpipes rise up through a 90mm tall aluminum fin stack. Each aluminum fin to heatpipe joint is made with a novel crimped connection. Driving air through the heatsinks' aluminum fins is a 92x25mm PWM fan which is held in place with rubber fan mounts. This is not a method we're not particularly fond of, wire fan clips stand the test of time. The fan spins at 2400-1000RPM and draws power from a standard 4-pin PWM connection. At full speed it pushes upwards of 53CFM air through the 55mm deep fin stack according to the manufacturer specs.
Raijintek's Aidos heatsink installs onto Intel socket LGA2011/1366/1150/1155/1156/775 processors and the complete line up of AMD CPUs, including socket AM2/AM3 and socket FM1/FM2. Retail price is pegged at $22 USD.

Seagate Constellation ES 1TB Enterprise Hard Drive Review

Let's take a look at Seagate's 1TB Constellation ES drive and find out how it stacks up against Western Digital's enterprise disks. Let the hard drive smack down commence! Seagate Constellation ES hard drive family ranges in capacity from 500GB to 2TB and is offered in both SATA and SAS variants. Select models also support SED or FIPS based self-encryption for government mandated information security compliance. All Constellation ES drives are rated to 6Gb/s SATA III speeds, incorporate 64MB of cache, utilize 7200RPM spindle speeds and offer Native Command Queing. The drives are covered by an impressive 5 year warranty and rated to1.2 million hours MTBF; both of which speak well to their presumed reliability.

Gelid Black Edition Heatsink Review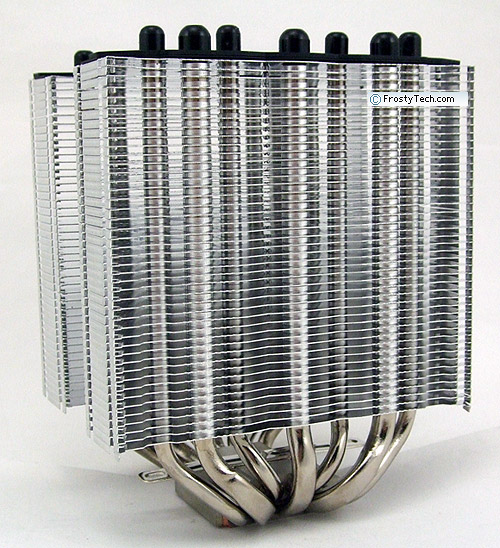 Gelid continue the asymmetrical design approach on the heatpipe front as well; 'the Black Edition' heatsink makes use of three 8mm diameter and four 6mm diameter heatpipes to conduct heat energy from the heatsinks' chunky copper base plate. Furthermore, two of the 6mm diameter heatpipes are stacked above the rest. The seven heatpipes intersect the aluminum fins in a long line, which explains why two fans are required to drive cool air through 'the Black Edition's' cooling fins.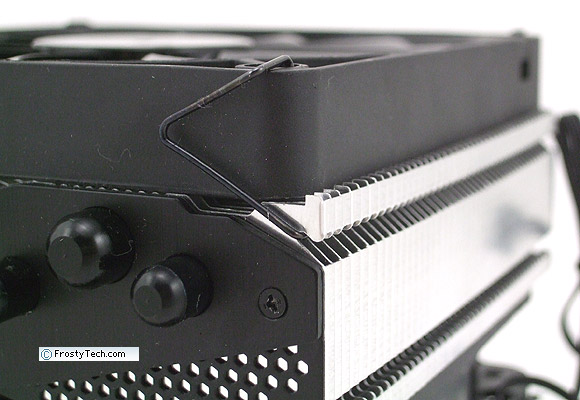 For adventurous computer enthusiasts seeking new and innovative heatsinks, Gelid's 'the Black Edition' heatsink offers pretty good cooling performance with a modest noise output at stock fan speeds. Gelid's 'the Black Edition' heatsink is compatible with Intel socket LGA2011/1366/1155/1156/775 processors and AMD socket AM2/AM3/FM1/FM2 CPUs/APUs. Retail price is pegged at around $75 bucks.

DeepCool Neptwin Heatsink Review

The twin full-size cooling towers and doubled up fans are only part of the story however, the real coup d'etat is how DeepCool configured its fan speeds. The front 120mm PWM fan operates at 1500-900RPM to drive air through the first 40mm thick aluminum fin stack based on moment to moment CPU thermal requirements while the center 120mm fan operates at a fixed speed of 1300RPM; essentially ensuring a steady volume of airflow is always pulled through the two fin stacks. Consequently, DeepCool's Neptwin sees very little thermal performance fluctuation between its high and low fan speed settings. In short, it's a heatsink ideally sized for Intel LGA2011 platforms and AMD FX-series chips.
For the adventurous out there, the DeepCool Neptwin heatsink even ships with an extra set of springy wire fan clips so a third fan (not supplied) can be tacked onto the rear of the cooler.DeepCool's Neptwin heatsink installs onto Intel socket LGA2011/1366/1155/1156/775 processors and the complete line up of AMD socket AM2/AM3/FM1/FM2 processors.

Raijintek Themis Heatsink Reviewed on Frostyech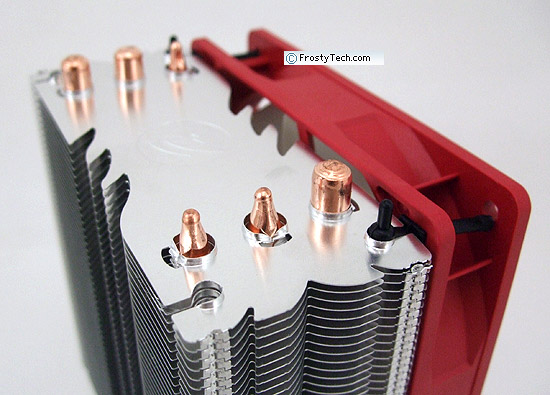 Raijintek's Themis heatsink stands 158mm tall and weighs 448 grams. It's designed for Intel socket LGA2011/1366/115x/775 processors and AMD socket AM2/AM3/FM1/FM2 CPUs - should any still be in existance. The heatsink design is your bog-standard, three-8mm-heatpipe-exposed-base-tower-cooler we've all seen countless times before. The 120mm PWM fan operates at 1800-1250RPM and moves upwards of 78CFM according to the manufacturers specs. Noise output is modest to audible. Rubber fan mounts make mounting the fan relatively easy during the installation process, but for some reason Raijintek are counting their pennies and include just enough fan mounts for ONE fan, one fan only. Expect to find the Raijintek Themis heatsink selling for around $34 USD.

DeepCool Frostwin Heatsink Review

Today's focus is the DeepCool Frostwin heatsink which stands a modest 150mm tall. At the heart of this 712 gram tower heatsink are four 6mm diameter copper heatpipes which are exposed at the base and twin 120mm fans. The remainder of the Frostwin heatsink is built around a pretty standard mix of aluminum fins with turbulent flow inducing edge darts and notches. The DeepCool Frostwin heatsink ships with two 120mm PWM fans that rotate at 1500-900RPM and move upwards of 55CFM each. According to Frostytech's real world sound measurements, the heatsink produces between 37-50dBA noise. DeepCool's Frostwin heatsink installs onto Intel socket LGA2011/1366/1155/1156/775 processors and the complete line up of AMD chips (socket AM2/AM3/FM1/FM2).