[>>]

[>>]

[>>]

[>>]

More>>

Search...

| | |
| --- | --- |
| General News | |

... 102 news stories awaiting approval
Cooler Master HAF Stacker 935

"Today we are reviewing the Cooler Master HAF Stacker 935; however, by adding an additional 915 to the bottom (or top) of the case it transforms the Stacker 935 into the Ultra Tower (945). This means we could potentially have our main gaming rig, our server and our dedicated folding rig all in one case! The 935 is actually the combination of the 925 and the 915 cases. Factor in support for a bunch of different water cooling configurations, and we've got a very interesting "modular" case. Let's take a closer look at the Cooler Master HAF Stacker 935."

Intel reports 3Q13 revenues of US$13.5 billion

Intel has reported third-quarter 2013 revenues of US$13.5 billion, operating income of US$3.5 billion, net income of US$3 billion and EPS of US$0.58. The company generated approximately US$5.7 billion in cash from operations, paid dividends of US$1.1 billion, and used US$536 million to repurchase 24 million shares of stock.

ASUS Radeon R9 270X DirectCU II Top Review @ Ocaholic

Meanwhile the AMD Radeon R9 270X is more interesting than the R280X because its clocks are different than the Radeon HD 7870 that shares the same silicon. Yet AMD`s partners are launching custom designs only right from the beginning and in some cases didn`t even bother making a new card. The Radeon R9 270X from ASUS we are going to have a look at today, for example, is physically the same as their now one year and a half old Radeon HD 7870 DirectCU II Top V2."

AMD Radeon 7000 and Radeon R200 Series Mixed CrossFire Testing @ Legit Reviews

The new AMD Radeon R7 and R9 series video cards went on sale this morning and a number of our readers have asked if they can enable AMD CrossFireX technology with their current AMD Radeon HD 7000 series card with them. The new AMD R-200 series is essentially a product re-brand, so the hardware is the same. AMD confirmed to use earlier this week that you would be able to run mixed CrossFire, but we wanted to try it out for ourselves and see how it works in the real world. Read on to see what worked and what did not!"


MSI GTX 660 GAMING 2 GB @ techPowerUp

MSI`s new GTX 660 GAMING seeks to introduce the popular MSI GAMING brand to the GTX 600 Series. The card, which comes overclocked out of the box, was very quiet in our testing, and is available online at an affordable $210."

Coolermaster HAF Stacker Series Cases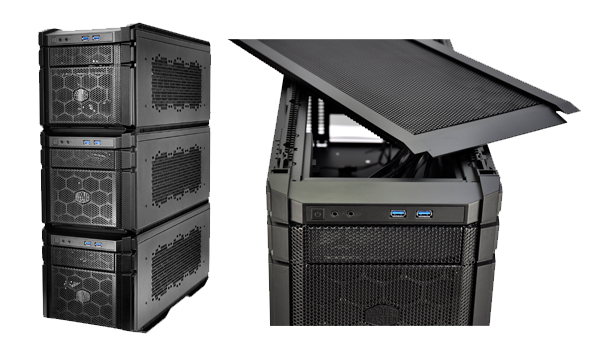 Cooler Master, a leading creator, innovator and manufacturer of desktop components and more, today officially makes available to the world the first stackable computer case series, the HAF Stacker Series. Launching with three connectable and stackable models, HAF 915F, HAF 915R, and HAF 935.
Joining together two titans among Cooler Master case series, HAF Stacker takes the essence of the widely popular High Air Flow and Stacker series and elevates them to new heights as a single, cohesive line. The large drive storage and interior space of the Stacker series meets the Water and Air cooling design of the HAF series. The result is the first modular and expandable full tower with smaller companion cases that all stack together seamlessly.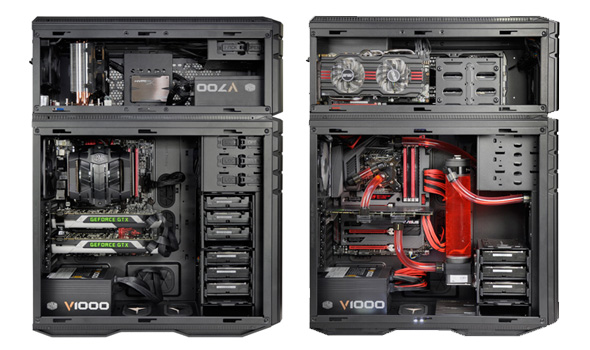 Available in three distinct models, the HAF Stacker series features a full tower HAF 935 configuration consisting of the HAF 915R and HAF 925, M-ITX HAF 915R, and M-ITX HAF 915F. Each base configuration offers unique features and benefits that stand out on their own merit while being stackable with other models in the series for expanded functionality. This is all made possible by a CM patent pending rail system that was inspired by a military picatinny rail to enable the attachment and removal of each stackable piece in 2 easy and secure steps.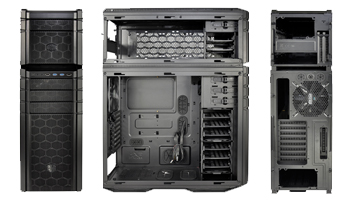 HAF 915F
MITX supporting long graphics card (310mm), standard PSU and water cooling
Front mounted power supply for better cable management
Supports larger CPU coolers including Hyper 212 plus
Supporting up to 360mm radiator in water cooling box mode
Supporting up to 6 hard drive bays with optional storage mode
HAF 915R
MITX supporting long graphics card (310mm), standard PSU and water cooling
Supporting up to 360mm radiator in water cooling box mode
Supporting up to 9 x 3.5" hard drive bays or 12 x 2.5" in optional storage mode
First expandable MITX chassis
Front 92mm fan offers direct storage cooling
HAF 935 (925 + 915R)
Stack extra 915A/B for dual system or unlimited water cooling space
Dust filtered intakes and sliding filter frames
Easy to use cable management
Flexible removable drive cages can be transferred to HAF 915


MSI N660 Gaming Review: affordable and silent GeForce

We reviewed the MSI N660 Gaming. We've tested GeForce GTX 660 cards before from MSI, and we especially liked the standard N660. It was affordable and had a very silent cooler, and it earned the Hardware.Info Silver Award at the time. We also tested the TwinFrozr version of the N660, which had a more deluxe cooler and better cooler performance. That one will now be replaced by the N660 Gaming.

Cooler Master HAF Stacker 935

I think we have all thought at one time or another that if we could just build a case that we wanted it would bee so cool. Or not having to cram in all your hardware, water cooling setup, hard drives and all the wires and cables that go with it. Cooler Master must have been thinking the same thing and came up with a totally new idea for the computer case market. The Cooler Master HAF Stacker 935 is like nothing you have every seen before.

Cooler Master N-200 Mini Gaming Tower

"The Cooler Master N-200 is the latest addition to the brand new N Series compact ITX / Micro ATX mainstream cases. The N-200 comes with water cooling support and improved air cooling performance, wrapped in a subtle and simplistic design. It could be the case that may really meets your needs and leaves your wallet happier too. Read on as we take an up close and personal look at the Cooler Master N-200 Mini Tower to see if it is the affordable answer you are looking for."

AMD Radeon HD partner

HIS is a well known AMD Radeon HD partner. In this review we look at their brand new HiS Radeon R9 280X iPower IceQ X2 Turbo Boost Clock. It's equipped with the IceQ X2 cooler and is overclocked out of the box. Let us see how this monster performs.

Toshiba Electronics Launches Miniature 600V Superjunction Power MOSFETs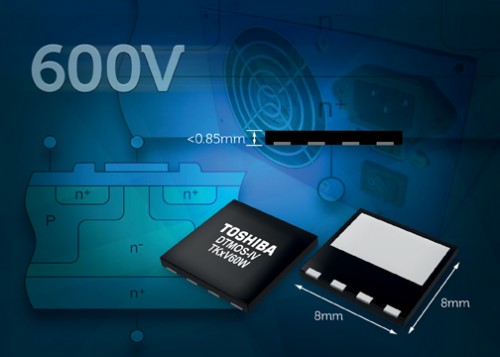 Toshiba Electronics Europe (TEE) has announced that its next-generation superjunction (SJ) DTMOS-IV power MOSFET technology is being made available for the first time in small outline, low-profile DFN packaging. New 600V DTMOS-IV MOSFETs in a DFN package will be ideal for high-speed switching in power supplies, lighting ballasts and other applications requiring a space-saving alternative to more conventional D2PAK and DPAK devices.

Offering current ratings from 9.7A to over 30A, the new devices in the TKxV60W family of 600V MOSFETs have ultra-low on resistance (RDS(ON)) ratings from 0.38? to just 0.098?. A leading RDS(ON)*Qg figure of merit ensures high-efficiency switching while a low output capacitance (Coss) supports optimised operation at light loads. Each device also incorporates an additional sense pin for direct driver connection.

Toshiba's DTMOS-IV process delivers MOSFETs that exhibit a better temperature coefficient of RDS(ON) than alternative devices. This allows efficiency benefits to be realised even during high-temperature operation. As with other devices in Toshiba's DTMOS-IV family, the new DFN MOSFETs have an optimised gate-drain capacitance (Cgd) that delivers improved dv/dt switching control. Support for lower dv/dt ratings also helps to reduce the tendency to ringing in high-speed switching circuitry.

At 8mm x 8mm the DFN package has an outline that is 20% smaller than a D2PAK package. A profile of only 0.85mm is almost three times lower than a traditional DPAK and over five times lower than a D2PAK.

Toshiba uses the deep trench process in its DTMOS-IV fourth generation single-epitaxial superjunction MOSFET. This allows closer trench pitch compared to the third-generation (multi-epitaxial) process, leading to a 30% better on-state resistance for a given die area.

Thermaltake Urban S31 Mid-Tower Case Review

Thermaltake sets its sights on a part of the market that is looking for an excellent enthusiast case with a look that is not over the top, but rather more refined and sleek. Along with that Thermaltake promises "extreme silent performance" and "advanced ventilation" along with a helping of space for those water cooling users.

Kingston's Fastest Ever SSD? SSDNow V300 240GB Benchmarked

"Looking at the numbers, Kingston's SSDnow V300 SSD is spec'd for 4KB random reads at 85,000 IOPS and 4KB random writes at 43,000 IOPS. The SSDNow V300 drive supports SMART, NCQ, and TRIM. Peak power consumption is rated at 2.052W, idle is a scant 64mW; this puppy can certainly help extend notebook battery life if you're considering an SSD to replace a 2.5" HDD. The 1.0 million hours MTBF rating Kingston assign to the SSDnow V300 is lower than other SSDs PCSTATS have tested (average is 1.2M - 2M hrs MTBF). The drive is backed by a 3 year limited warranty."

AMD's Radeon R9 280X, R9 270X

AMD's Radeon R9 280X, R9 270X, R7 260X, R7 250 and R7 240 video cards are announced and already extensively tested. Here's a summary of the AMD R9 280X, R9 270X, R7 260X, R7 250 and R7 240 news around the web:




The best Guides by the best writers on the internet; PCSTATS Beginners Guides explain computers, software, and all those other wonderful things that cause you frustration.

Learn how to use your computer better, master the internet while protecting yourself, and know what to do when your hard drive kicks the bucket.



"Get the 'Stats and Stay Informed!"