| | |
| --- | --- |
| General News | |

... 70 news stories awaiting approval


QNAP TS-451 Turbo NAS Server Review

The QNAP TS-451 Turbo NAS is part of a new hardware platform for QNAP that brings a high level of performance to the small tower-based format, at a lower cost than was possible before. The four new TS-x51 towers are being promoted as home-based NAS servers, based on their high performance, low cost, and a bunch of new software functionality that is ideal for the modern home. While recent QNAP launches have leveraged the tremendous potential of 10GbE networking for the business user, the home and the SOHO market aren?t there yet. The home market is very sensitive to pricing, so the best thing to do is to re-engineer the daylights out of the surrounding infrastructure and pump a little more juice into the system controller. More power, new features ? lower price?"

Corsair HXi Series Fully Modular 1000W Power Supply Review

The Corsair HX1000i power supply exhibited good voltage regulation with excellent AC ripple suppression, even at full load. The power supply features a good assortment of all modular cables and delivers excellent efficiency, meeting the 80Plus Platinum criteria. The HX1000i PSU incorporates a zero RPM silent cooling mode (up to ~40% load) and continues to operate quietly even as the load increases,"

ASUS X99 Deluxe LGA2011-3 ATX Motherboard Review

Intels new Haswell-E CPU series (reviewed here) and its accompanying X99 chipset launch has had its challenges. Originally, Haswell-E was going to get a completely new socket. Although the new LGA2011-3 is not backwards compatible with previous CPUs, it does work with all coolers that worked with standard LGA2011 sockets from the X79 platform. Those late in the quarter changes made it very difficult for Intel partners to validate their X99 platforms and solidify their products lines. In fact, only partners with enough resources were able to launch on time with the August 29th embargo lift. That means, ASUS came through first, with GIGABYTE right on their heels. The rest are still catching up. "



15 Intel X99 motherboards review: new boards for Haswell-E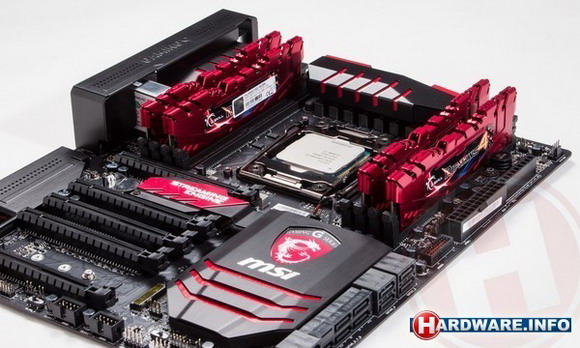 We tested no less than 15 Intel X99 chipset / Socket 2011 v3 motherboards for Intel's new Haswell-E CPUs. Our extensive roundup features a lot of benchmark and power usage tests. We also pay a lot of attention to the PCI-Express configurations and USB implementations of the boards, two of the major differences in this generation. An interesting fact is that there are some big performance differences between the X99 boards: usually when we compare boards with the same chipset they all perform roughly the same, this time around the opposite is true.

EVGA TORQ X10 Carbon Gaming Mouse Review

There is no doubt that EVGA built the Torq X10 Carbon gaming mouse with the highest quality materials and given that this is their first mouse that is quite surprising.

Luxa2 GroovyW Bluetooth Speaker w/ Wireless Charging

We have just posted up our review of the GroovyW Bluetooth and NFC speaker from Luxa2. What makes product stand out even more is that it charges by way of a Qi charger that is included - and that charger just happens to be a portable battery as well. That's right, this is pretty much three products in one and it is all awesome. If you want to see if this unit is right for you, please check our review for all the details.

GeForce GTX 970 SLI review

1.html,We review Nvidias little money maker, the GeForce GTX 970 but this time in a 2-way SLI. As such we`ll be going from fast to faaaaast. In this review we`ll run the standard benchmarks, but we will also have a good look at Ultra HD gaming performance as well as a micro stuttering analysis with the help of FCAT. Join us in this review where we`ll once again look at everything."

AMD FX-8370 & FX-8370E Processors Review

"With the release of the AMD FX-8370 and 8370E processors, there have been no grand design changes that will suddenly put AMD on top of the performance heap. Instead, these are products to cover those that have yet to make the switch from an older AM3 or AM3+ CPU or even a lesser CPU in the current AM3+ product stack. There is also a shift in how the FX series chips line up to the competition. Let's have a closer look at the new FX-8370 and FX-8370E 8 core CPUs."

Cutting the Cord: Part 1 Alternatives Boxes @ ThinkComputers.org

Well a few months ago I finally did the unbelievable and canceled my cable subscription. The main reason behind this is was that I rarely watched TV at all and honestly most of the stations I did watch showed the same shows over and over again. It was weird not having cable after having it for the past 29 years of my life it seems like, but I have really got used to it and with the money it has saved me I have been able to do other things and buy some other gadgets. In this article series I will be going through my journey of canceling my cable and finding alternatives. Today I will be focusing on hardware to watch media on your TV."

Guru3D Rig of the Month - September 2014

1.html,The winner of the Guru3D Rig of the Month September 2014 is announced today, and we got a woody ! Ehm, no lame puns intended as Savell, who works in trade-show support made a gorgeous desk PC, yes Desk PC not Desktop PC. So join the article and read up on Savell Martin aka N0_Klu3 and his The Baby Grand, a very nice PC .. or desk, dang what should we call it ?"

GeForce GTX 980 2 and 3-way SLI review

1.html,In today`s review we test GeForce GTX 980 in a 2-way and 3-way SLI. We`ll FLIR them, Overclock them, look at Ultra HD performance as well as a micro stuttering analysis with the help of FCAT. Will two GeForce GTX 980 cards make a lot more sense over the GeForce GTX 970 in SLI ? Join us in this review where we`ll once again look at everything"

Super Flower Leadex Gold 650W Review @ Vortez

In our hands today is the Leadex Gold which is an 80 Plus Gold efficient PSU series. Leadex Gold is available in a selection of different wattages - today we`ll be taking a look at the 650W variant. This PSU features a 140mm cooling fan and all the expected trimming such as Over Voltage Protection, Short Circuit Protection etc."