[>>]

[>>]

[>>]

[>>]

More>>

Search...

| | |
| --- | --- |
| General News | |

... 13 news stories awaiting approval

OCZ Vector 150 (240GB) SSD Review @ HardwareHeaven.com

Over the past few months some of the major players in the SSD marketplace have been refreshing their product ranges, such as Samsung and their EVO release and Crucial moving into 1TB storage with the M500. Now it is OCZ turn with a refresh of their Vector range."

A Futurelooks News Flash - The NVIDIA GeForce GTX 780 Ti Reviewed

Both 2012 and 2013 have turned out to be great years for NVIDIA. Both from an engineering and a gamer stand point. The Kepler architecture has proven to be the most scalable GPU architecture to date. First, Titan crashed through the Quadro barrier delivering unprecedented CUDA processing for pro desktop users as well as epic frame rates. Next, the GTX 780 answered the call for enthusiasts demanding Titan-like frame rates without the Titan price. It appears NVIDIA has stepped up again with another powerful remix dubbed the GTX 780 Ti. This graphics processor may look like the GTX 780 and Titan, but it`s faster than both and sits right between in pricing. Interesting. *"

GIGABYTE P25W Gaming Laptop Review

We take a look GIGABYTE`s newly refreshed P25W gaming notebook. This system features a similar design to the P2542G, but features new hardware."

Celluon Epic Keyboard

In summary, we certainly recommend the Epic Keyboard as a great alternative to another wireless keyboard, especially if you prefer not to type on the screen you are trying to read or edit word documents on. For phones and tablets, it provides the perfect solution for this, if you can afford the $150 USD price tag that is. Obviously for any gadget tech-head who loves to impress colleagues, family & friends this is hard to pass up – it is a well packaged and polished piece of tech that is welcome along on our next business trip.

AMD Radeon R9 290

This makes the Radeon R9 290 our new favorite high-end GPU as it offers by far the best price vs. performance ratio of any $300 - $500+ product right now. The great news for Battlefield 4 fans is that the R9 290 was just 6% slower than the R9 290X in this title allowing for playable performance at 2560x1600 using the ultra-quality settings.

Logitech G430 Surround Sound Gaming Headset

What happens when you have a large number of products to be reviewed around and you suddenly receive a large box containing two of the most anticipated PC game titles of 2013? Now as expected we usually place all products in a line based on the when we received each one so we can be fair to every manufacturer out there. However we do make some exceptions due to certain events and so since we recently received Batman Arkham Origins and Battlefield 4 naturally we wanted to enjoy them as much as possible and the only possible way to do that was to place priority on certain gaming peripherals which is exactly what we did in the end. Of course combining business with pleasure is not the easiest thing but it`s better than just business so for the past 7 days we`ve been focusing in testing gaming peripherals. So since we all know how important it is for game immersion to have good and clear audio today we will be taking a closer look at the latest 7.1 Virtual Surround Sound Headset by Logitech the G430."

GameWorks, GameStream and ShadowPlay

"It seems that NVIDIA is set to redefine 'The Way It's Meant to Be Played' once again. This value proposition was backed by some impressive announcements and unveilings last week during 'The Way It's Meant to Be Played' 2013 Montréal Press Event. The two-day event was held in the heart of picturesque Montréal city in Canada."

Motorola S10-HD Bluetooth Headset Review

There's nothing worse than yanking your laptop off the table as you stand up or pulling the headphones right out of your ears when they get caught on something. Mobility has become a major focus for everyone, and bluetooth technology has been at the center of it, many devices and products having some sort of wireless alternative. The Motorola S10-HD is one such product, an "entry level" bluetooth headset for any consumer interested in wireless technology. The S10-HD is an in ear, bluetooth headset designed for mobility and being on the go. They are designed to be sweat proof, which is more than useful to anyone who runs consistently. And if you just so happen to run long distance and need headphones with a good amount of battery life, the S10-HD's have a listed, and verified, 8 hours of continuous play time. I've gone entire days, using these headphones on and off, without having to plug them in for a recharge (which is great for lazy student me.)


AMD Radeon R9 290 4GB Video Card Review @ Legit Reviews

What happens when you take an AMD Radeon R9 290X video card and disable four compute units, lower the core clock speed just a smidge and slash the price by $150 dollars? You end up with the lower cost AMD Radeon R9 290 graphics card. The new Radeon R9 290 features same exact Hawaii GPU that is found on the Radeon R9 290X and supports all the new stuff like AMD TrueAudio, Mantle, DirectX 11 and OpenGL 4.3. Read on to see how it performs! "

Intel Performance With Ubuntu Linux vs. Windows 8.1 Is A Mixed Bag

Earlier this week I published an extensive set of results from thirteen discrete AMD Radeon and NVIDIA GeForce graphics cards benchmarking various OpenGL games and comparing the Ubuntu Linux and Windows 8.1 performance when using the official AMD and NVIDIA drivers for each operating system. Those results were very interesting for both the AMD and NVIDIA GPUs, but now it`s time to see how the Intel graphics are performing under Ubuntu and Windows 8.1 Pro x64. Making things even more interesting here is that Intel has only an open-source Linux driver and no closed-source solution."

Gigabyte Radeon R9 280X

The Gigabyte version had no problem matching the thermal performance of the IceQ X² and was in fact a degree cooler under load. Another fact to consider is that the Gigabyte R9 280X is around 4cm shorter which should help it fit into smaller cases. Last but not least the Gigabyte version is the most heavily factory overclocked R9 280X we have come across, with a boost clock of 1.1GHz.

ASRock M8 review: sleek portable gaming barebones

The ASRock M8 is a beautiful piece of design, both in terms of style and what it offers as hardware. It's a great foundation for a fairly portable and powerful gaming system. Gamers are probably the main target audience for this rig, but anyone interested in a portable system with style should give this one a closer look.

COUGAR Presents MX500 – A Midtower Case with Superior Capacity and Cooling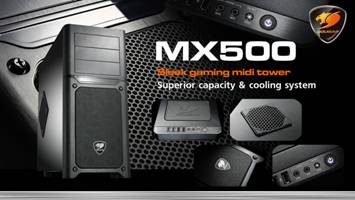 COUGAR, leading PC case and power supply maker has introduced a PC case with great cooling potential and superior capacity, the MX500. With a European style panel design, the MX500 exudes a classic and minimalistic presence. The sleek modernistic look with a hair-lined surfaced front panel design especially makes for a more detailed and delicate elegance. The MX500 mid-tower case is perfect for users demanding a large upgradeability capacity, with optimal airflow and ventilation characteristics.
The COUGAR MX500 offers ample space for powerful graphics cards of up to 410mm in length. This is achieved by a unique 3-Mode drive cage concept. In standard mode there is 300mm of space, by using a special HDD track mechanism you can relocate the drive cage to gain another 30mm for a space of 330mm, and when removing it entirely you get the maximum clearance of 410mm.
Innovative air filters on the bottom PSU cover and the side panel prevents dust from entering the inside and accumulating there. Additionally, these filters are now attached on the outside with a magnetic mechanism, allowing for easiest assembly and disassembly. It is very easy to take the dust filters off at any given time, without the need to open the case. A large 20 cm intake fan in the front (with LED lights), and a 12 cm rear Turbine exhaust fan, come pre-installed and therefore provide excellent ventilation characteristics, right out of the box.
To always have easy and clean access to the entire system, the COUGAR MX500 comes with a huge cutout on the motherboard backplate, allowing for spacious room to install or exchange CPU coolers. Additionally, the newly designed cable management system keeps cables away from the setup and tunnels them in a way so users can easily keep track of their hardware lifelines and change them conveniently. This is also a precondition for optimized ventilation characteristics of the overall setup.
The cooling fans of the MX 500 that come pre-installed are two 120mm COUGAR Ultra fans, one in the front and the other in the rear. Not only that, on the top cover, which is the most preferable cooling location that gamers choose, the MX 500 also have a maximum fan size of 200mm as an optional installation.


AMD Radeon R9 290 Review: Hawaii Just Got Cheaper

This has been an exciting few weeks in the GPU space, to say the least. AMD has released a new line-up of cards that cover the entire spectrum, from entry-level, affordable products, to ultra-powerful, high-end solutions, targeted at hardcore gamers. We've also seen NVIDIA react to AMD's recent releases with significant price cuts on the GeForce GTX 770 and GTX 780, new game bundles, and the announcement of the GeForce GTX 780 Ti, which will be available very soon. In less than a month, the entire GPU landscape has changed, and the metamorphosis isn't quite complete just yet. Today AMD is officially releasing the Radeon R9 290. This card was originally slated to do battle with the GeForce GTX 770, but due to NVIDIA's price cuts, AMD decided to move the R9 290 upmarket at the 11th hour. Instead, thanks to a few tweaks that came via a last minute driver drop that improves performance, the Radeon R9 290 is poised to take on the $499 GeForce GTX 780...



The best Guides by the best writers on the internet; PCSTATS Beginners Guides explain computers, software, and all those other wonderful things that cause you frustration.

Learn how to use your computer better, master the internet while protecting yourself, and know what to do when your hard drive kicks the bucket.



"Get the 'Stats and Stay Informed!"