| | |
| --- | --- |
| General News | |

... 21 news stories awaiting approval
Origin EON 11-S Review: Successor To The Mobile Gaming Throne

Games and portability have never mixed. I suspect I dont have to lecture our readers about that. The Origin EON11-S is small, so it makes compromises. It does not match the performance of the ASUS G75V. But it does game well, and it can handle just about anything at its native resolution and high settings. Games that were never the most demanding, or are more than a few years old, should be playable at maximum detail."

OCZ Fatal1ty 1000W Power Supply Review @ Legit Reviews

The OCZ Fatal1ty 1000W is a well-balanced power supply of high quality, offering great performance and a unique appearance. Considering its target group, it may not be cheap but it is not excessively expensive either. We are certain that hardcore users will enjoy the Fatal1ty 1000W unit, particularly those who would like to have a unit with individually sleeved cables but do not have the skills or the time to perform such an extensive modification..."

Why Windows 8 Start Menu's Absence is Irrelevant

Although every product deserves healthy criticism, many opinions of Windows 8 seem to be based on misconceptions, especially when it comes to the viability of Metro as a Start menu replacement. For the record, I don't care if you skip the update -- hell, I might pass on it too -- nor do I care if it's the most failtastic operating system in Windows' 26-year history. However, I believe your opinion should be formed by facts, not irrational rhetoric parroted online by so-called power users and companies that want to sell you third-party programs. The truth is, functionally speaking, Metro is basically identical to the Start menu.

Kingmax SMP35 Client 240 Gigabyte @ Ocaholic

Meanwhile Kingmax also belongs to the manufacturers that offer consumer SSDs which are based on a SandForce SF-2281 controller. Despite the fact that this particular drive uses asynchronous NAND flash the manufacturer promises read speeds of up to 550 Megabyte per second. We`re really curious to see wether the drive can really achieve this performance level or if the product description should be changed."

AMD Llano APU System Build: Mini-ITX for HTPC and Gaming

Putting it all together is pretty simple and if you have any experience building PCs you shouldnt have any problem getting our mini-ITX rig assembled. The only issue is that sometimes installing hardware in a small form factor case can cause some spacing issues (and possible some cuts on the hands), the Lian-Li case is built well enough (and spacious enough) to avoid that for the most part."

CM Storm Trigger review: mechanical keyboard

Keyboards come in all shapes and sizes - from simple to advanced, basic or with display, or with a sound card or extra keys. Some people swear by mechanical keyboards and refuse to use anything less. Usually they are built with quality materials, have a solid feel and provide tactile feedback when typing. CM Storm's Trigger mechanical keyboard recently saw a Europe-wide release, which is reason enough for Hardware.Info to take closer look at this robust-looking keyboard.

High-end Android: HTC One S and X, LG 4X HD and Samsung Galaxy S3 round-up

After HTC and Samsung launched their new high-end phones for 2012 earlier this year, LG is now the last of the big brands to release a new powerhouse model. With the 4X HD the Korean manufacturer again has a phone that can compete in the highest segment of the smartphone market. High time for Hardware.Info to take a closer look at the new LG device, and to see how it stacks up against the others that have been out for a while now.

Beginners Guides: Virtualized Windows 8 CP Installation with Oracle VirtualBox


Before blindly upgrading an entire office of existing PCs into the unknown, most IT departments will roll out one trial system to test the new OS. This preemptive step allows IT staff to check the OS in the existing hardware environment with the already bought-and-paid-for software. With Microsoft Windows 8, testing before a mass roll out is a particularly important step to ensure software compatibility. It's also a pretty crucial step to give yourself time to get acquainted with the drastic user interfaces Microsoft has imposed.
There are two ways to go about testing a new OS like Windows 8; 1) install the OS to a spare computer system and test away, or 2) install the OS to a virtualized PC. In this Beginners Guide, PCSTATS will show you how to create a virtual PC with Oracle VirtualBox v4.1.18 (it's free and very capable virtualization softare) and then install Windows 8 Consumer Preview to that virtual machine.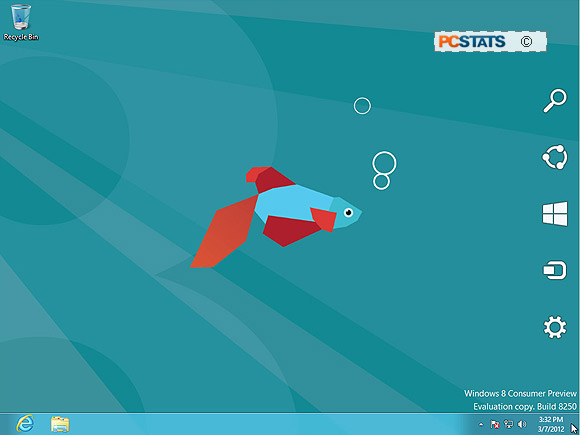 Corsair Vengeance 2000 Review

CONTENT: One of the biggest drawbacks of wireless headsets is the USB connectivity. Couple this with the hissing and dropping of wireless connectivity mid-game and poor battery life has meant that wireless headsets are not normally held in very high regard among the gaming fraternity. Corsair however have thrown caution to the wind and released their own wireless headset which includes 7.1 surround capabilities!

Enermax Triathlor 550W Power Supply Review

"In the next few months Enermax will be refreshing their offering in the mainstream / low end areas bringing the Triathlor to market. Today we have the 550w model on our test bench to find out what it offers for those on a limited budget."

Cooler Master Silent Pro M2 1500W PSU

Now that more powerful power supplies are becoming the thing to have to support all your power hungry hardware, Cooler Master has released the Silent Pro M2 1500w. It sports an 80 plus silver efficiency rating with dual 12v rails. Cooler Master has implemented a 135 mm Hydraulic Dynamic Bearing Fan for quieter operation. Eco-friendly design, Erp Lot6 Ready, with a maximum 5Vsb current draw target in S5 off-mode of 0.1A for its motherboards and needed to ensure the system will consume < 1W in its off-mode. It comes with a five-year warranty and high reliability with an MBTF of at least 100,000 hours of use. Now lets' get going with this overview … so read on!

ASRock Z77 Extreme9 Intel LGA 1155

ASRock's Z77 Extreme9 is equipped with a PLX PCI-Express bridge chip, which adds additional PCIe slots to the board, for a total of six x16 slots. This will be a godsend for all users who want to run CrossFire or SLI with more than two cards. ASRock has also delivered a very usable BIOS implementation to maximize overclocking potential.

Mushkin Atlas 240GB mSATA SSD Review

It seems that the LSI SandForce Flash Storage Processor (FSP) combined with Toshiba Toggle Mode NAND is the perfect mix for solid state drives if we follow recent trends. Some manufacturers are even re-releasing SSDs with premium Toggle Mode NAND as the upgrade for that IOPS boost. The Mushkin Atlas 240GB mSATA SSD contains both ingredients and our analysis will put the theory to the test.

Kingston MobileLite G3 USB 3.0 Card Reader Review.

For those who prefer the convenience and speed of a separate card reader, Kingston Technology offers a variety of USB-based card readers. They are generally divided into two types - full-fledged media readers that support a wide variety of card types, and a more compact card reader that supports a limited number of card formats. Today, we are going to take a look at their latest USB 3.0 card reader - the Kingston MobileLite G3. Unlike full-sized media readers, the MobileLite G3 is an ultra-portable card reader that's not only fast, but can also fit tight pockets. Let's check it out!

Phantom 410 Case Review @ Ninjalane

The Phantom 410 leads the charge by offering color combinations from Black, Red, Gun Metal, Pink and White. Several of these colors are only offered in limited edition runs allowing for even more variety in color and accent trims. Today we will be looking at a white Phantom 410 with blue accent coloring.

Game-Changer: TSMC May Build Dedicated Apple Fab

Trusted sources we've spoken to in the semiconductor industry have implied that TSMC is considering a partnership with Apple that would realign the manufacturer's technology roadmap and fundamentally alter the balance of power between the foundry and its other customers. Morris Chang, TSMC's CEO, spoke about the possibility of closer collaboration with its customers in general terms last Friday, but at the time we thought the likelihood of an Apple alliance was unlikely. We've since been given reason to think otherwise. A dedicated alliance with Apple that gives the company first access to 20nm production and/or a dedicated fab could fundamentally redefine the foundry-customer relationship and have serious impact on both TSMC's other customers and its competitors...