| | |
| --- | --- |
| General News | |

... 17 news stories awaiting approval
Tablet: A Wish List For Better Devices

As 2013 rings in, we all get a chance to look back, reflect and take inventory on where were are. Here at HotHardware, it also gives us a chance to think about our wish list for the year ahead, and how we hope our favorite gadgets and platforms evolve. Evolution is a natural part of growth in consumer electronics, and with companies like Microsoft, Amazon, Google and Apple gaining more and more brand recognition across mainstream devices and markets, the stakes have never been higher. In turn, there has never been a better time for these companies to push the envelope in an effort to stay one step ahead and more than just "current," when it comes to cutting-edge technology and features. Below, you'll find our top wishes for some of our favorite tablet and smartphone devices as well as their respective platforms.

Western Digital Black 4TB

Even at $400 the Western Digital WD Black 4TB comes at a cost of just 10c per gigabyte, whereas the Samsung SSD 840 Pro 512GB costs $1.17 per gigabyte, making it almost 12x more expensive. Therefore when it comes to capacity hard drives still have a significant advantage over SSDs and the recent arrival of 4TB models such as the WD Black only solidifies this.

Kingston HyperX Beast 64GB 2133MHz DDR3 Memory Kit Review @ Legit Reviews

If you are looking for the largest capacity memory kits possible in order to maximize your systems performance, the Kingston HyperX Beast series is what you need. Only a few memory companies offer memory kits in capacities all the way up to 64GB. These 64GB memory kits are perfect for content creators that need gobs of memory and knowing that it is all backed by a lifetime warranty with free 24/7 tech support if anything happens down the line..."

News - Samsung UN55ES8000 55 inch LED HDTV Review @ Overclockers Online

The UN55ES8000 is definitely a stunning TV when you see it in any living room. The new stand matches the almost invisible bezel making the TV a work of art even when not powered up. With a price point of under $2500, it is actually priced almost five hundred less than the Panasonic and a full grand less than Sonys on Futureshop. This may seem shocking for a TV of such caliber and high caliber it is"

Mushkin Chronos DX 480GB SSD Review

"Mushkin has quietly held a price lead throughout 2012 on the 480 / 512GB capacity size. The Mushkin Chronos Deluxe 480GB isn't always the absolute lowest priced SSD in this size, but it's the lowest priced SSD with synchronous / toggle mode flash."

TTesports Level 10M Gaming Mouse

TTesports and BMW design; something that goes together? Can't it be anything less than a success? Well we are going to answer that question today as we review the Level10M gaming mouse from TTesports. This mouse has a new innovative design but does it really work? Lets find out!

[DreamWare Computers] OCZ Agility 4 256gb SSD

Since their 2011 acquisition of SSD controller manufacturer Indilinx, OCZ has come to market with a variety of new drives over the last year that are all based on the latest Indilinx controller. One of the drive lineups that`s seen some new models was the mid-end Agility series, with the release of the Indilinx Infused powered Agility 4. Having an Agility 3 drive that`s still in regular use, I couldn`t wait to see what the latest Agility 4 had to offer."

[Tech ARP] BIOS Option Of The Week - DRAM Data Integrity Mode

Since 1999, we have been developing the BIOS Optimization Guide, affectionately known as the BOG. From a meager beginning of a single page, it now covers over 440 BIOS options. As old BOG readers will know, we started offering two editions of the BOG since Revision 8.0 - a simplified edition and the complete edition. Normally, the complete edition is only available to subscribers who help sponsor the development of the guide through a small fee. However, that changes today! From now on, we will post a BIOS option from the complete edition of the BIOS Optimization Guide every weekend. This week, we will be taking a look at the *DRAM Data Integrity Mode* setting."

BlueAnt Commute Handsfree Car Kit @ Benchmark Reviews

BlueAnt Wireless is well known for their Bluetooth-connected headsets, such as the high-quality BlueAnt Q2 and the durable BlueAnt T1 series. Bluetooth headsets are great solutions for cellular telephone calls, but can become uncomfortable to wear and lack voice-activated control over calls and text messaging. The BlueAnt Commute CMT-USEN voice-activated handsfree car kit delivers complete voice command interaction with your SmartPhone, and includes all the great technology that delivers clear communication in their premium headsets. In this article, Benchmark Reviews tests the BlueAnt Commute under several conditions, comparing the features and benefits over other handsfree options."

Small Form Factor (SFX) PSU review: power supplies

your Mini-ITX system won't contain a dedicated graphics card, then all you need is a 300W power supply. Out of the FSP and Seasonic PSUs, the latter is our favourite because it's more silent. In terms of efficiency they're both about the same. If you intend to use a separate graphics card, you should go for a 450W model. The non-Gold version of Silverstone is more affordable, more silent, and only slightly less efficient, and that's our choice for that category.

LaCie 5big NAS Pro Preview: User-friendly hybrid

The Wuala software that's available for all the main platforms makes it a breeze to access your home entertainment collection or other data stored on your LaCie 5big Pro from any location. It's a strong selling point for this NAS. You can connect multiple of these NAS devices to your account, and it's also easy to add access for other users and manage their privileges.

Phanteks PH-TC14PE White Heatsink Review

The Phanteks PH-TC14PE (white) itself is a pretty standard dual tower, five-8mm-heatpipe-packing heatsink that retails for about $90 bucks. It stands 168mm tall and has a wide 144x161mm footprint that may have clearance issues on some motherboards where RAM slots and VRM heatsinks are too tall, too near the CPU socket. The cooler weighs upwards of 1250 grams and ships with two 140mm PWM fans arranged in a push-pull configuration. The fans spin at 1200-900RPM and are anywhere from moderately audible to pretty quiet. On the plus side, the dual-fan set up does make this heatsink a good lower noise thermal solution, as you'll shortly see.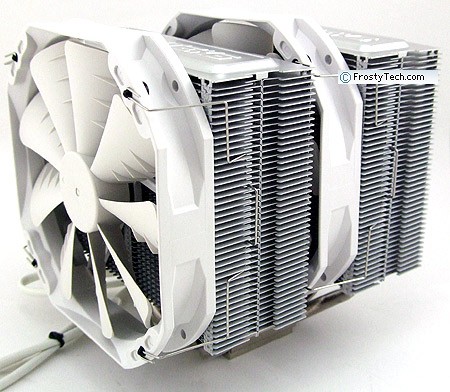 The Phanteks PH-TC14PE's five, 8mm diameter copper heatpipes fan out from a thick nickel-plated copper base plate into two 115mm tall anodized aluminum cooling towers. Both fans are held in place with easy to engage/disengage wire fan clips that lock into the sides of the fin stack. The fans rest against clear elastomer strips to isolate the rest of the heatsink from minor vibrations and such.

Guru3D Christmas Contest 2012

1.html,Wanna win some cool stuff ? It`s Christmas 2012 and that traditionally means we start-up contests here at Guru3D.com, join us in a quest to win one of the many prizes sponsored by Corsair, G.Skill, Enermax, Lepa and Gigabyte. We have some great stuff for you to win ranging from 32GB memory kits to Liquid Cooling, 5.1 kits, Headsets, and Mechanical keyboards towards a GeForce GTX 660 TI OC ! Merry Christmas everybody."

Swiftech H20-320 Elite Custom Liquid Cooling

Swiftech H20-320 Elite kit is designed with many new improvements that should help functionality and even fitment. Now lets take a closer look and see if Swiftech has taken another step in the custom liquid cooler arena."