| | |
| --- | --- |
| Monitors | |

... 1 news stories awaiting approval
SilverStone ARM11SC Arm One Monitor Mount

"While we commonly associate SilverStone with manufacturing high-end computer enclosures and power supplies, recently they began venturing into the production of monitor arms/stands. The SilverStone ARM11SC is a single-monitor aluminum alloy and steel monitor arm that offers plenty of functionality and is the subject of today's Phoronix review."


AOC Q29630 29" UltraWide IPS LED Monitor Review

Ask any person who owns a dual-monitor setup and they'll all tell you they couldn't fathom going back to a single display. Maybe you're one of those people, and if so, you know exactly the feeling we're talking about. But what if you could enjoy all the benefits of a dual-monitor configuration from a single monitor? Would you be game to reclaiming some desk space by trading in two panels for a single display? AOC aims to answer that question with its new 29-inch Q2963PM display. Armed with an UltraWide In-Plane Switching (IPS) panel, this LED-backlit monitor boasts a 2560x1080 resolution with 21:9 aspect ratio, providing viewers with an extra-long panoramic view...

ASUS PQ321 Ultra HD 4K 31.5-inch Monitor Review

We have a confession to make (well, several actually, but all the rest date back to our college days, and some secrets are best left untold). Reviewing monitors isn't as fun as it once was. It's not that we've grown jaded over the years, but plain and simple, the monitor market has become stale, lacking the kind of 'gee-whiz' innovations that tend to excite us. Panel makers seemed to stopped pushing the envelope once they developed 30-inch In-Plane Switching (IPS) screens, and for the longest time, that's where the high-end has sector been stuck, as if caught in quicksand with no rope in sight, or so we thought.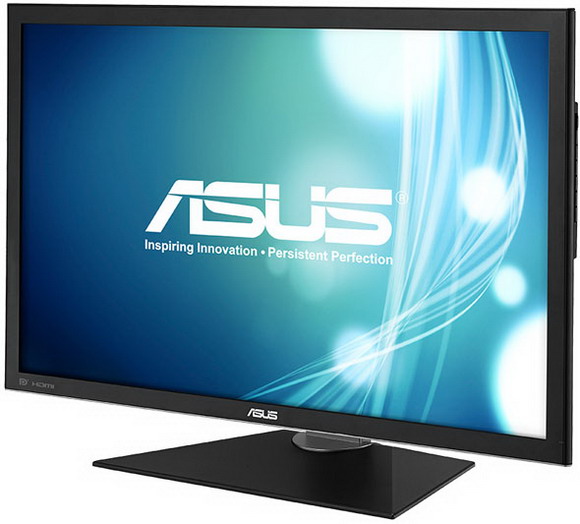 Out of all the monitor manufacturers out there, it was ASUS that showed up to the panel party with rope in hand, marching through the muck and mire tugging the first consumer 4K display ahead of the competition. And for adding bragging rights, the ASUS PQ321 True 4K Ultra HD measures a just a little bit bigger than current flagship models with a 31.5-inch LED backlit panel, giving monitor enthusiasts yet another reason to upgrade. ...Boasting a 3840x2160 display resolution, this 4K display floods your eyeballs without four times as many pixels as that of a standard Full HD 1080p (1920x1080) display. To squeeze that many pixels into a 31.5-inch form factor, the PQ321 uses what's called Indium Gallium Zinc Oxide (IGZO) rather than traditional amorphous silicon for the active layer of its LCD panel.



SilverStone ARM22SC ARM Two Dual LCD Monitor Mount Review @ ThinkComputers.org

We mainly know SilverStone for their cases and for good reason, they are high quality and look great. What if SilverStone took that same quality and put it into a LCD monitor mount? Then you would have what we are reviewing today which is the ARM Two ARM22SC dual LCD Monitor Mount from SilverStone. LCD arms are a great addition to any computer setup, especially if you are using a multi-monitor system. The ARM22SC is constructed with robust aluminum alloy and steel so this is a heavy duty piece of hardware. It will support two displays with VESA mounts. Read on as we get this installed and see how it transforms our desk."

Asus VG248QE Review @ TechReviewSource.com

The Asus VG248QE is a 24-inch gaming monitor featuring a 144Hz refresh rate, a speedy pixel response, and a highly adjustable stand. It`s a good performer but could use a few more gamer-centric features."

Samsung LS24C750 review: affordable MVA monitor

We can recommend the Samsung LS24C750 without any reservations for practically anything. Especially for photo and video editing it's a great monitor, and the high color fidelity and deep contrast make just looking at photos and videos a joy.

Dyconn Condor DE743A-S Triple LCD Monitor Stand

"With the popularity of multi-monitor gaming and workstations in recent years, sometimes looking for the right solution to mount your display(s) can become a daunting task. While 3 monitors on your desk can work, it still takes up a lot of real estate; however, the purpose of multi-monitor stands is to eliminate this problem. It's a solution which offers one mount to hold all three displays and free up valuable desktop space for your other accessories. When it comes to shopping for triple LCD mounts their are very few options available and most of them come with high cost. Today we are going to be looking at a Dyconn Condor DE743A-S Triple LCD Monitor Stand that doesn't break the bank, but offers some great versatility."

Dell UltraSharp U2913WM review: 21:9 super widescreen

At the end of last year we reviewed LG's 21:9 monitor, the 29EA93-P. It was the first super widescreen monitor using a panel from LG Display from LG Electronics, and it was only a matter of time before more manufacturers would introduce their first 21:9 monitors. We've seen announcements from AOC and Philips, but it was Dell that was able to deliver theirs next. Today we take a closer look at the Dell UltraSharp U2913WM.

Panasonic TC-L55DT60 Review @ TechReviewSource.com

Joining the ET60 and E60 series of recently announced Panasonic LED-backlit Viera HDTVs, the DT60 series offers good performance, stylish looks, and lots of features, including four sets of 3D glasses, Wi-Fi, and a 120Hz refresh rate. The TC-L55DT60 features a 55-inch IPS panel that delivers good color quality and dark blacks along with great viewing angles."

Ultimate Ears Personal Reference Monitors @ techPowerUp

The flagship custom in-ear solution by Ultimate Ears gets put to the test against the best customs around. The Personal Reference Monitors target audiophiles who want a go at tuning their own custom in-ears. Almost everything is customizable, from the sound signature to the bundle."

Dell UltraSharp U3014 Review @ TechReviewSource.com

The Dell UltraSharp U3014 is a 30-inch IPS display with LED backlighting, a 2560 x 1600-pixel resolution and excellent viewing angles. The overall image quality is extremely good and USB 3.0 connectivity makes this monitor even more impressive."

Datacolor Spyder4Elite monitor calibration tool Review - XSReviews

Today we`re going to be looking at the Datacolor Spyder4Elite, a display calibration tool that uses a sensor suite to correctly adjust your display to your surroundings. The Spyder4Elite works on a wide range of displays too -- monitors, laptops, HDTVs, projectors, iPhones and iPads are all supported. We`ll be judging the Spyder on its ease of use, its calibration results and its uncanny resemblance to a Facehugger. Let`s get started. A link to the article would be much appreciated."

LG 23ET83V-W Review @ TechReviewSource.com

LG monitors have always blended style and functionality, and the new LG 23ET83V-W is no different. This sleek 23-inch monitor sports an IPS panel and 10-point projected capacitive touch technology to deliver a colorful and responsive touch-screen experience."