| | |
| --- | --- |
| CPU / Processors | |

... 0 news stories awaiting approval
AWD-IT Wraith System review (AMD FX-6350)

AWD-IT has delivered a budget gaming PC called Wraith that gets its name from an unlikely source, the cooler on the AMD processor. That's right, an AMD processor. We have become so used to seeing laptops and PCs with Intel processors that it seems worthwhile emphasising the combination of AMD FX-6350 six-core CPU with 990FX chipset motherboard that runs on DDR3 memory. It seems a little strange that AWD-IT combined this AMD hardware with a GTX 1050 Ti graphics card instead of going for an AMD RX 470.

Intel, Nvidia ready to unveil new platforms for CES 2017

Following the launches of its Y and U series 14nm Kaby Lake processors at the end of August, targeting ultra-thin notebooks and 2-in-1 devices, Intel is ready to unveil its H series Kaby Lake CPUs for high-performance and gaming notebooks as well as several desktop processors and 200 series chipsets for CES 2017 in January. Meanwhile, Nvidia is also ready to announce its entry-level GeForce GTX 1050 GPU for notebooks, according to sources from the upstream supply chain.

Comparison List Update: All Kaby Lake Models

Over time CPU manufacturers like Intel and AMD release numerous processors and it is very likely to lose track of all the models out there. Furthermore it is difficult to find complete comparison tables where you find all CPUs and their features listed. Following you find such a list regarding Intel's upcoming Kaby Lake processors.

Core i5-6400 CPU Review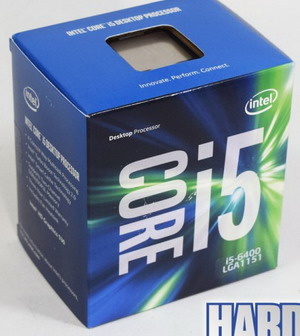 We tested the Core i5-6400, which is the entry model of the Intel sixth-generation (Skylake) Core i5 family. Let's check how it performs!

FX-6350 Vishera 6-Core CPU

"Team Red designed this system around their very capable Radeon RX 480 8GB video card and the popular FX-6350 Vishera 6-Core CPU. The RX 480 is obviously the main component that will not only be leading the dance, but also help drive the total build cost down thanks to its MSRP of $239. At the currently listed online prices, the components for system will cost around $660 USD in total after applicable rebates. It serves as a perfect example of a build that should be more than capable of driving the VR experience, while costing less than the $799 HTC Vive VR headset I will be testing it with!"

new processors from AMD and Intel

PC brand vendors expect demand for PCs to enjoy strong growth in the first quarter of 2017 as Intel will begin mass shipping its Kaby Lake processors, while AMD will also launch its next-generation Zen-based processors.

AMD pushing new projects for VR applications

AMD has launched several new projects for its virtual reality (VR) business including GPU certification. It has enhanced its software/hardware platform and established a VR supply chain, hoping to expand its presence in the VR market, and to regain share in the graphics card market with its new Polaris GPUs.

AMD prepares Zen for CES 2017 launch

Following the releases of its Bristol Ridge-based desktop processors in September 2016, AMD's Zen-based CPUs and its corresponding high-end X370 chipsets will make their arrivals at CES 2017 in January. To achieve a smooth transition, AMD has begun adjusting product prices in order to accelerate inventory digestion. However, since Zen-based products are unlikely to start mass shipments until after February, they are unlikely to start contributing profits until the second quarter 2017, according to sources from the upstream supply chain.


Mobile CPU Comparison Guide Rev. 12.8

Currently covering 1,098 mobile CPUs, this comprehensive comparison will allow you to easily compare 19 different specifications for each and every CPU. We hope it will prove to be a useful reference. We will keep this guide updated regularly so do check back for the latest updates!

Intel begins shipping Kaby Lake notebook CPUs

Intel has begun delivering its next-generation notebook-use Kaby Lake processors and will start shipping comparable desktop-use CPUs by year-end 2016, according to sources from Taiwan PC makers.

AMD's seventh-generation APUs

AMD's seventh-generation APUs, code-named Bristol Ridge, have been available for a couple months in mobile systems already. The company is now bringing Bristol to the desktop, along with the Socket AM4 platform that will eventually underpin Zen CPUs. We take an early look at Bristol on the desktop and what it might mean for the Zen CPUs to come.

Intel 7th Gen Kaby Lake Processor Architecture Details Released

Intel believes that we are on the cusp of a new era for the PC and that the PC continually evolves and adapts to the trends around us. The new PCs coming to market now are the most innovative ever with not only touch interfaces, but IR cameras, pens, bio-metric inputs and so on. The PC is still on the leading edge for the immersive industry and the new Intel 7th Generation Core processors will help keep it that way. Read on to find out why!

Intel Kaby Lake Revealed

Intel is readying a new family of processors based on its next-gen Kaby Lake microarchitecture. We've heard quite a bit about Kaby Lake over the last few months, and were even able to show you it in action last week while covering IDF, but today we've got many more details to share on the microarchitecture that will be foundation of Intel's upcoming 7th Generation Core processors. If you're unfamiliar with Kaby Lake, it is the follow-up product to last year's Skylake. Kaby Lake borrows heavily from Skylake; its CPU cores, cache structure, and graphics engine are similar, and Kaby Lake is still manufactured using a 14nm process. There have been a number of enhancement made to Kaby Lake, however, that not only improve overall performance and efficiency, but enhance its multimedia capabilities and responsiveness as well...


7th Generation Core processor family

While spending time learning about upcoming products and technologies at the Intel Developer Forum earlier this month, I sat down with the company to learn about the release of Kaby Lake, now known as the 7th Generation Core processor family. We have been seeing and reporting on the details of Kaby Lake for quite some time here on PC Perspective – it became a more important topic when we realized that this would be the product that officially killed off the 'tick-tock' design philosophy that Intel had implemented years ago and that was responsible for much of the innovation in the CPU space over the last decade. Today Intel released new information about the 7th Gen CPU family and Kaby Lake. Let's dive into this topic with a simple and straight forward mindset in how it compares to Skylake.