[>>]

[>>]

[>>]

[>>]

More>>

Search...

| | |
| --- | --- |
| CPU / Processors | |

... 22 news stories awaiting approval
Pentium G4560 CPU by Intel Review

We tested the Pentium G4560, a low cost dual-core CPU with Hyper-Threading technology, from the new Intel Kaby Lake family. Check it out!

AMD Ryzen 5 1600X Overclocked Benchmark Results At 4.1GHz

A recent trip to the local Micro Center location in St. Louis, Missouri showed that all the AMD Ryzen 5 6-core processors were sold out and rightly so as the Ryzen 5 1600X and Ryzen 5 1600 are both exceptional values. The AMD Ryzen 5 1600X is the flagship processor of the Ryzen 5 series and boasts 6-cores and 12-threads of processing goodness at over 4GHz clock speeds for just $249.99. AMD released the first quad-core processor (Phenom II X4) in January 2009, so many enthusiasts are ready to add more cores to their system here in 2017. No wonder they are sold out locally!

Intel i7-7700K vs. AMD Ryzen R7 1700 in Gaming

So at the Ryzen launch I took a look at the 1800X and the 1700X and compared them to the Intel i7-6900K and the i7-7700K and I followed that up with the Ryzen R7 1700. Well around that time Intel sent over the i7-7700K, the one I did my previous testing on was a loaner. So rather than cover everything everyone has already seen with the 7700K I wanted to change things up. I posted up on our Facebook asking people what they would like to see compared between the 7700K and the R7 1700 and I ended up with a list of games and someone also mentioned streaming performance. I decided to combine that list with all of the games we already test our video cards with and I put together a big list of games to check out. After a LOT of testing, I'm ready to finally sit down and check out the results. Are you guys ready? I know I am!

Razer Blade (Kaby Lake Core i7) with Razer Core / GTX 1080

We began our recent review of the 2017 Razer Blade by telling you that Razer had updated the graphics chip from GTX 970M to GTX 1060. The laptop has continued to evolve and now it's the turn of the CPU which has been changed from Intel Core i7-6700HQ Skylake to Core i7-7700HQ Kaby Lake. The only other change we found in the specification was a minor update from DDR4-2133MHz RAM to DDR4-2400MHz. As you will see in our video this means the revised Razer Blade is effectively unchanged.

AMD Ryzen R5 1500X Quad-Core AM4 Processor Review

Following on from our coverage of the Ryzen R7 series of 8-core, 16-thread processors, the Ryzen R7 1700, Ryzen R7 1700X, and the Ryzen R7 1800X, we kick things off today with a look at the more affordable Ryzen R5 series! The R7's have been a huge hit for AMD, with many of our readers reporting their new AM4 system builds, and I myself invested in the 1700X for my own system. The R5 are designed to be a bit more mainstream than the R7 series, offering 4 and 6 core variants, with 8 and 12 threads respectively, while also offering a much lower price point.

AMD Ryzen R5 1600X 6-Core AM4 Processor Review

With our reviews of the Ryzen R7 1700, Ryzen R7 1700X, and the Ryzen R7 1800X already under our belt, today we celebrate the launch of the R5 series of AMD processors! If you haven't seen it already, we've got our review of the R5 1500X here too, as well as one of the latest B350 motherboards from ASRock here!

Intel Core i7-7700k versus AMD Ryzen 1700X 14 Game CPU Showdown @ Legit Reviews

Legit Reviews took a quick look at the new AMD Ryzen Balanced plan a couple weeks ago, and we did see a performance increase in a couple of games. We decided to expand the testing to fourteen games and 3DMark Fire Strike Extreme putting the AMD Ryzen 7 1700X against the Intel Core i7-7700k. Read on to see how it turned out!

The performance of the new Ryzen 7 CPU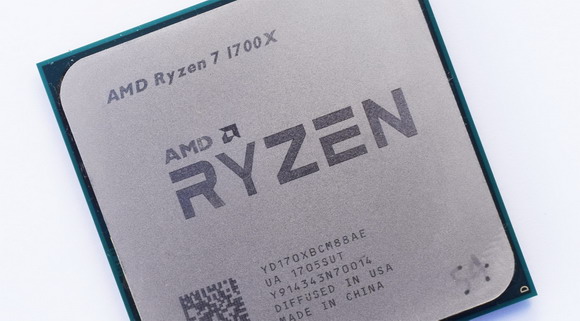 The performance of the new Ryzen 7 CPU from AMD has beed causing a lot of controversy: it is faster than its competitor in some tests, but it is slower in other ones, and several theories have been raised about the reason why. A popular theory says that disabling the SMT feature, the performance actually improves. Let's test if is it true. We published recently the Ryzen 7 1700X Review. It is a new CPU from AMD, based on a brand new architecture. We concluded that the Ryzen 7 1700X is faster that the Core i7-7700K in some tasks, but slower on other ones, including most games we tested.

AMD Ryzen Performance Update Released For Ashes of the Singularity

When the AMD Ryzen 7 platform was released many of the reviews were critical of the 1080P gaming performance on the Ryzen 7 processor series. AMD promised that we would see a series of game and engine updates for the new Ryzen architecture fairly quickly and the first game title to become optimized for Ryzen is Ashes of the Singularity: Escalation! We tested the 'old' build (version 2.10.25624) versus the build that came out tonight (version 2.10.26118) and the differences are huge. Read on to see just how big they are!


AMD Ryzen 7 1700X Processor Review

Ryzen 7 1700X is meant to fill in the gap between the 1800X flagship and the 65W-rated Ryzen 7 1700, at an affordable price point of just $399. This SKU borrows all the features from the more expensive variant, including the 100MHz XFR, but is clocked lower by default at about 3.4GHz (3.5GHz with XFR) with a Precision Boost up to 3.8GHz (3.9GHz with XFR). With this CPU, we were also finally able to hit the all-core "magical" 4GHz mark, a result that did increase the performance even more at only 1.393V, right from Ryzen Master!"

Ryzen 5 1600X vs. 1600: Which should you buy?

The Ryzen 5 1600 is an exceptional value. Even compared to more affordable CPUs such as the Core i5-7600K, the new six-core Ryzen chips are a much better buy, regardless of what it is you plan to do with them. Thus let's discuss R5 1600X vs 1600.

AMD's Ryzen 7 CPUs and Nvidia's GeForce GTX 1080

AMD's Ryzen 7 CPUs and Nvidia's GeForce GTX 1080 Ti graphics card have arrived, and that means it's time for a new edition of The Tech Report's System Guide. Join us as we explore how to build the best PCs with these shiny new components.

Chillblast Fusion Hex (Ryzen R5 1600) System Review

Today marks the launch of the new Ryzen 5 line of processors from AMD. If you've been living under a rock for the past month, these are the cheaper hex-core and quad-core chips that slot in under Ryzen 7 in the family hierarchy. Chillblast were very quick to send us a system based on the Ryzen 5 1600, and when coupled with a GTX 1070, could this be a real winner?

MD Ryzen 5 1600X, 1600, 1500X and 1400 reviews

The new AMD Ryzen 5 1600X, AMD Ryzen 5 1600, AMD Ryzen 5 1500X and AMD Ryzen 5 1400 processors are now available and we have published a summary of dozens of AMD Ryzen 5 reviews on Hardwarespot.

AMD RYZEN 7 Trifecta

The new AMD RYZEN chip is AMD's first CPU going back what is ages in the industry that is able to go toe to toe with what Intel has fielded. Up until now, AMD focused more on the budget minded consumers, however that has all changed with RYZEN! The RYZEN 7 Series are the first of the new RYZEN chips to come out and RYZEN 5 will be coming out next month. So what makes the 7 series chips so special? Well, for starters it is the first AMD chip to utilize DDR4 memory, because of this the RYZEN uses the new AM4 chipset and runs on the latest X370 boards. All RYZEN 7 CPUs feature an unlocked more multiple and is enabled through the motherboard. The chips are able to overclock themselves using Extended Frequency Range (XFR). This allows the CPU to overclock itself considerably higher than stock speeds providing it stays within thermal parameters, so look into an upgraded cooler. The 8 core and 16 threads that all RYZEN 7 CPUs offer gives the new CPU a leg up on its Intel counterparts as more and more programs utilize multiple threads for multitasking, video and photo editing, gaming and programs like CAD.



The best Guides by the best writers on the internet; PCSTATS Beginners Guides explain computers, software, and all those other wonderful things that cause you frustration.

Learn how to use your computer better, master the internet while protecting yourself, and know what to do when your hard drive kicks the bucket.



"Get the 'Stats and Stay Informed!"