| | |
| --- | --- |
| CPU / Processors | |

... 3 news stories awaiting approval
Desktop Kaby Lake Processor Launch Details Leaked!

As AMD gears up to launch the AMD Ryzen desktop processor in early Q1 2017, Intel has finalised the launch plans for their desktop Kaby Lake processors, and the accompanying 200 Series chipsets. Although Intel has been extremely secretive, we managed to obtain the specifications and launch details of the desktop Kaby Lake processors, and the 200 Series chipsets. Check it out!


Acer Swift 7 Review: A Thin, Sleek, Kaby Lake Powered Ultrabook

Acer has consistently expanded and refined its mobile product offerings, to include everything from affordable mainstream notebooks, to sleek ultrabooks that use premium materials. The veteran PC maker has developed a sense of style and is putting real effort into creating thin, functional laptops, that also happen to look good. The Swift 7 is one of the thinnest laptops on the market, and it has some interesting hardware squeezed inside, too. But going ultra-thin often results with performance or functionality compromises, so we were taken aback that Acer dubbed its thinnest laptop "Swift." We brought one in to see just how fast (and how fun) this Kaby Lake-powered laptop really is...

During its IDF keynote this morning

During its IDF keynote this morning, Intel demoed a notebook based on its next-gen Skylake architecture. Intel says the new CPU design will bring "significant" performance and power efficiency improvements over Broadwell. Skylake will blanket multiple markets, including high-end desktop PCs, and the first examples are scheduled for mass production next year.

AMD talk to KitGuru about Crimson ReLive

KitGuru despatched Leo Waldock for an exclusive interview with Andrej Zdravkovic, Corporate Vice President or Software and Platform Engineering at AMD and Terry Makedon, Director – Product Management at AMD about the latest release of their latest graphics software.

Intel next-generation top-end CPU platforms ready for 3Q17

Intel is planning to unveil its next-generation top-end Skylake-X and Kaby Lake-X series CPUs in the third quarter of 2017, succeeding the existing Broadwell-E series with a price range between NT$15,000-57,000 (US$468-1,780). Intel may debut the two series at Gamescom 2017 in Germany in August.


AMD's Zen CPUs for the desktop

AMD's Zen CPUs for the desktop, formerly code-named Summit Ridge, now have an official name: Ryzen. Along with the new name, AMD demonstrated the performance of some fresh Ryzen silicon and shared some new details of these chips last week at a summit in Sonoma, California. Here's what we learned.


AWD-IT Wraith System review (AMD FX-6350)

AWD-IT has delivered a budget gaming PC called Wraith that gets its name from an unlikely source, the cooler on the AMD processor. That's right, an AMD processor. We have become so used to seeing laptops and PCs with Intel processors that it seems worthwhile emphasising the combination of AMD FX-6350 six-core CPU with 990FX chipset motherboard that runs on DDR3 memory. It seems a little strange that AWD-IT combined this AMD hardware with a GTX 1050 Ti graphics card instead of going for an AMD RX 470.

Intel, Nvidia ready to unveil new platforms for CES 2017

Following the launches of its Y and U series 14nm Kaby Lake processors at the end of August, targeting ultra-thin notebooks and 2-in-1 devices, Intel is ready to unveil its H series Kaby Lake CPUs for high-performance and gaming notebooks as well as several desktop processors and 200 series chipsets for CES 2017 in January. Meanwhile, Nvidia is also ready to announce its entry-level GeForce GTX 1050 GPU for notebooks, according to sources from the upstream supply chain.

Comparison List Update: All Kaby Lake Models

Over time CPU manufacturers like Intel and AMD release numerous processors and it is very likely to lose track of all the models out there. Furthermore it is difficult to find complete comparison tables where you find all CPUs and their features listed. Following you find such a list regarding Intel's upcoming Kaby Lake processors.

Core i5-6400 CPU Review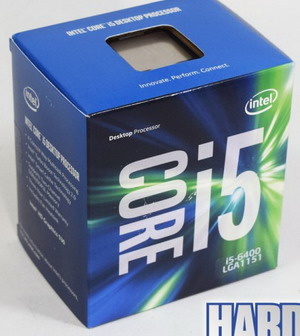 We tested the Core i5-6400, which is the entry model of the Intel sixth-generation (Skylake) Core i5 family. Let's check how it performs!

FX-6350 Vishera 6-Core CPU

"Team Red designed this system around their very capable Radeon RX 480 8GB video card and the popular FX-6350 Vishera 6-Core CPU. The RX 480 is obviously the main component that will not only be leading the dance, but also help drive the total build cost down thanks to its MSRP of $239. At the currently listed online prices, the components for system will cost around $660 USD in total after applicable rebates. It serves as a perfect example of a build that should be more than capable of driving the VR experience, while costing less than the $799 HTC Vive VR headset I will be testing it with!"

new processors from AMD and Intel

PC brand vendors expect demand for PCs to enjoy strong growth in the first quarter of 2017 as Intel will begin mass shipping its Kaby Lake processors, while AMD will also launch its next-generation Zen-based processors.

AMD pushing new projects for VR applications

AMD has launched several new projects for its virtual reality (VR) business including GPU certification. It has enhanced its software/hardware platform and established a VR supply chain, hoping to expand its presence in the VR market, and to regain share in the graphics card market with its new Polaris GPUs.