| | |
| --- | --- |
| Video Cards | |

... 5 news stories awaiting approval
AMD's Vega Frontier Edition

AMD's Vega Frontier Edition reveal yesterday provided us with some important pieces of the performance puzzle for one of the most hotly-anticipated graphics chips of 2017. Crucially, AMD disclosed the Frontier Edition card's pixel fill rate and some rough expectations for floating-point throughput—figures that allow us to make some educated guesses about Vega's final clock speeds and how it might stack up to Nvidia's latest and greatest for both gaming and compute performance.

ASUS RoG STRIX GTX 1080 Ti 11GB Graphics Card Review

ASUS are one of the biggest and most popular brands in the world when it comes to high-end gaming hardware, and their RoG product ranges have won many awards for being some of the best on the market. With that in mind, I'm very excited today to be testing their latest RoG STRIX GeForce GTX 1080 Ti OC Edition Graphics Card. It comes with powerful factory overclocks, a massive cooler, and promises to deliver blazing fast performance vs the standard GTX 1080 Ti.

AMD Radeon RX 580 Linux OpenGL/Vulkan Benchmarks

"For those curious if the Radeon RX 580 "Polaris Evolved" graphics card is worthwhile as a Linux gamer, here are the initial Phoronix figures for the RX 580 8GB graphics card that launched yesterday. These initial tests were done with AMDGPU+RadeonSI/RADV under a variety of OpenGL and Vulkan workloads."

XFX RX580 8GB GTS @ LanOC Reviews

With the official RX 500 series launch, we learned that the new 500 series cards are hopped up versions of the 400 series of cards. With that in mind, all of the aftermarket cards have to up their game to keep things cool. So today I'm going to check out a second card and see how much they ended squeezing out of the card and what they had to do to keep things cool and quiet. That card is the RX580 8GB GTS from XFX. XFX kept their old cooler design on some of their cards, but for their flagship the GTS they went a completely new design. I'm excited to see how that looks and how it performs. Let's dive into it.

ASUS launches Radeon RX 580 Dual Series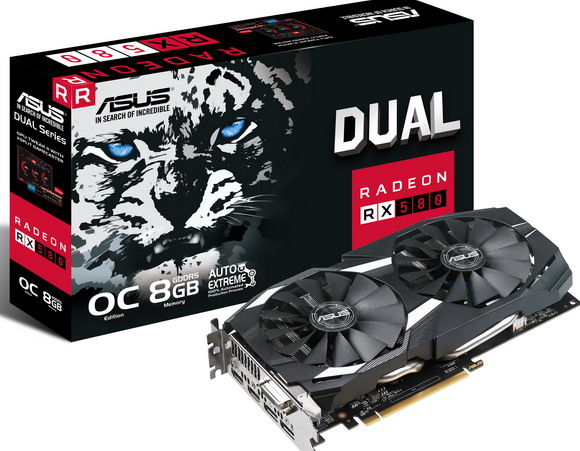 ASUS is excited to launch the RX 580 Dual series, an all-new line-up of gaming graphics cards powered by the latest AMD® Radeon® RX 580 GPU. These new graphics cards are capable of delivering HD resolution gaming with ultra-settings, bringing new levels of performance to the market at an affordable cost¹. The ASUS RX 580 Dual series are engineered with advanced cooling and reliability features to deliver outstanding gaming performance.
The ASUS Dual RX 580 Series provides the perfect blend of graphics performance and design that is ideal for both VR and esports gaming. Both RX 580 series cards feature 0dB wing-blade fans that spin down completely when the cards are idling or under lighter loads for blissful silence when you're surfing the web, watching movies, and even playing less-demanding games. You also get dual HDMI 2.0 ports, which is perfect for connecting a VR headset and monitor simultaneously.
All models are built using ASUS Auto-Extreme technology, a fully automated manufacturing process that ensures consistent quality. The ROG Strix and ASUS Dual series cards are populated with premium components, and their fans are IP5X-certified for dust resistance. You can rest assured knowing that your investment is reliable enough for the long haul.
Each RX 580 Dual series graphics card includes GPU Tweak II for intuitive performance tweaking. With one click, the Advanced mode offers extensive tuning options that allows users to maximize their graphics card performance for an improved gaming experience. The ASUS RX 580 cards also include a 1-year² XSplit Gamecaster license that lets gamers easily stream or record gameplay via a convenient, in-game overlay.
ASUS Radeon RX 580 Dual Series gaming graphics cards are available now at leading resellers in North America with suggested MSRP pricing ranging from $209.99 for the ASUS Radeon RX 580 O4G model to $234.99 for the ASUS Radeon RX 580 O8G model. For additional information on the complete line up of ASUS RX Dual series graphics cards, please visit - ASUS USA.

Desktop Graphics Card Comparison Guide Rev. 35.2.

Covering almost 800 desktop graphics cards, this comprehensive comparison allows you to easily compare 24 different specifications for each and every card. If you need to find out about the specification of any card, just come over and check out our Desktop Graphics Comparison Guide.

Palit GTX 1050 Ti KalmX 4 GB

Palit's GeForce GTX 1050 Ti KalmX is the fastest passively cooled graphics card on the market. It also runs on PCI-Express slot power only, no additional power connector is needed, which makes the card an excellent candidate for a media PC or quiet small-form-factor system.

Sapphire Nitro+ Radeon RX 570 4GB Graphics Card Review

Sapphire are one of the best when it comes to making award winning 3rd part AMD graphics cards, and with this week's release of the Radeon Rx5xx series of graphics cards, we are eager to see what they have to offer. We kick things off today with a look at the latest Sapphire Nitro+ RX570. While it's already well known that this is a refresh for the RX4xx series of cards, we've already seen some significant improvements, and I'm looking forward to seeing which new technologies and performance improvements Sapphire have to show today.

XFX's factory overclocked Radeon RX 570

"This factory overclocked card runs at 1264 MHz right out of the box, which XFX refers to as "True Clock", while the 4GB of memory run at 7000MHz. But don't let these seemingly conservative numbers discourage you, this card is XFX OC+ capable. What is that exactly you might ask? In a nut shell, it means that the good folks at XFX spent sleepless nights making sure that every one of these cards is rigorously tested at the factory level to go beyond the True Clock speeds. And I can confirm this fact right here and now!"

PowerColor Red Devil Radeon RX 570 4GB Video Card Review

Last month AMD released their new Polaris based graphics card series that consists of the Radeon RX 580, RX 570, RX 560 and RX 550. AMD's board partners are slowly making it to market with cards based on these designs and today we'll be taking a look at the PowerColor Red Devil Radeon RX 570 4GB GDDR5 graphics card. This devilish card can be yours if....

PowerColor Radeon RX 580 Red Devil review

In this review we check out the PowerColor Radeon RX 580 Red Devil with 8GB graphics memory. The three slot cooled mainstream graphics card series will allow you to play your games in both the Full HD 1080P range as well as gaming in WQHD (2560x1440) range. It also comes with dual-bios and some interesting looks.


Sapphire RX 580 and RX 570 Review

Today we look at the Sapphire RX580 and RX570 Pulse Edition cards - aimed as a cheaper 'no frills' option for people on a tighter budget - are they any good?

NVIDIA GeForce GTX 1080 Ti Founders Edition Review

The NVIDIA GeForce GTX 1080 Ti is designed to blunt that threat of AMD Radeon Vega, by delivering better performance than the TITAN X at almost half the price! Read our review, and find out why we think it deserves our Editor's Choice Award!

MSI GeForce GTX 1060 GAMING X PLUS Review

In the GPU market the players are always moving, updating, and changing their products. This is a must in order to entice buyers to go out and purchase their products. Some of the updates are met with great success while others, not so much. Recently, Nvidia and it's partners released their updated versions of the GeForce GTX 1080 and GeForce …

Custom variants of NVIDIA's mighty GeForce GTX 1080 Ti are finally available --

Custom variants of NVIDIA's mighty GeForce GTX 1080 Ti are finally available -- more so than the initial run of the stock clocked Founders Editions. As always, however, fortune favors the prudent buyer or simply those more recently flush with cash. In this custom 1080 Ti offering, MSI marries old form with new function. The MSI GeForce GTX 1080 Ti Gaming X 11G has just emerged from our gauntlet of a dozen benches with style and grace, but we have to admit, she looks darn familiar. While other company's are gambling with fancy new fan configurations, RGB lighting and complicated cooling systems, MSI is kicking it old school...