| | |
| --- | --- |
| Operating System | |

... 0 news stories awaiting approval
NVIDIAs Linux Driver Can Deliver Better OpenGL Performance Than Windows 8.1

Yesterday we looked at the Windows vs. Ubuntu 14.10 Intel OpenGL performance using Haswell HD Graphics to kick off our latest round of Windows vs. Linux OpenGL driver benchmarking. Out today is now our NVIDIA GeForce graphics card comparison on Windows 8.1 and Ubuntu 14.10 using the latest NVIDIA binary drivers. NVIDIA`s new GeForce GTX 970 and GTX 980 Maxwell graphics cards were tested as well as the mature GTX 780 Ti."

Windows 10 Hands-On: What You Need To Know

It has been a few weeks since Microsoft released its Technical Preview of Windows 10 -- which means we've had enough time to walk around the vehicle, kick the tires, and investigate the product in its current form. After the drubbing that Windows 8 took in the tech press and from angry users, Microsoft badly needs this new operating system to be a success, but simply cramming the Start menu back into the OS isn't going to cut it.

News: A first look at the Windows 10 Technical Preview

TR`s Cyril Kowaliski has spent some time with the Windows 10 Technical Preview, and he`s jotted down his thoughts about each of the major new features and changes. His conclusion? This has the potential to be the best Windows release since Windows 7."

Windows 7 & 8.1 & 10 - Gaming Performance

Today we're having a look at the three latest Windows versions and we're doing so with our gaming goggles on. We will basically be showing you which operating system is giving you the highest frame rates when playing recent games. To do so we've used the same set of benchmarks we're testing graphics cards with. What you should be aware of is that the version of Windows 10 we've been testing is a technical preview. As soon as the final version is available we will write up another article like this and walk you through possible improvements

News: Microsoft shows Windows 10 preps public preview build for tomorrow

Yes, the next version of Windows is called Windows 10and Microsoft gave the first public demo of it at a press event this morning. The company also announced the Windows Insider Program, as part of which folks will be able to grab a Technical Preview build of the new OS starting tomorrow."

Windows 10 Operating System Demonstrated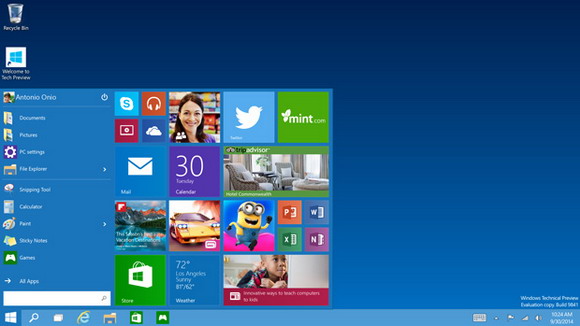 "Yes, the next version of Windows is called Windows 10—and Microsoft gave the first public demo of it at a press event this morning. The company also announced the Windows Insider Program, as part of which folks will be able to grab a Technical Preview build of the new OS starting tomorrow."

A Tour Of The New Phoronix Office For Linux Benchmarking

As most Phoronix readers know, earlier this summer I relocated from the high-tax, corrupted, crime-ridden Chicago to Indiana and with that Phoronix Media migrated. While my office configuration is slowly coming along and evolving, here`s a look at things with most of the day-to-day setup now established. It`s quite a different setup from the last Phoronix office tour two years ago. Like the last tour, this article is also to serve as some other recommendations I have about various products that otherwise wouldn`t get (any or much) coverage on Phoronix but are worthy of a shout-out to Linux users and computer enthusiasts."


Testing 60+ Intel/AMD/NVIDIA GPUs On Linux With Open-Source Drivers

With Thursday marking the ten year anniversary of launching Phoronix.com and also the six-year anniversary since the public 1.0 debut of the Phoronix Test Suite, there`s a lot of interesting articles that I`ve been working on to celebrate these two milestones. For your viewing pleasure today is easily the largest graphics processor comparison that`s ever happened at Phoronix... I`ve tested over 60 GPUs from the Intel HD Graphics, AMD Radeon, AMD FirePro, and NVIDIA GeForce series to see how their performance is when using the very latest open-source Linux graphics drivers on Ubuntu."

Microsoft DirectX 12 and Windows 7 Support

At the 2014 Game Developers Conference (GDC14) this morning Microsoft revealed DirectX 12, built upon Direct3D 12. For those who ride the cutting edge of game development, the latest features announced in Direct3D 12 are strikingly similar to those already present from one of their partners: AMD's Mandle API. Benchmark Reviews will deliver a preview of DirectX 12 features and improvements in a parallel article, and focus on one very important question in this piece: will DirectX 12 support the Microsoft Windows 7 operating system?

NVIDIA On Ubuntu 14.04 Has Some New Advantages Over Windows 8.1

At the request of many Phoronix readers here are the updated benchmarks comparing the performance of several NVIDIA GeForce graphics cards under Ubuntu 14.04 Linux to Windows 8.1 with all of the latest updates for each operating system. While the NVIDIA graphics driver code-base is largely shared between platforms, many Linux gamers will be pleased to note that the Linux performance has begun advancing beyond the frame-rates offered under Microsoft Windows."

NVIDIA's GeForce Driver On Ubuntu 14.04

After in the past few days delivering fresh results looking at the Intel Haswell graphics performance between Windows 8.1 and Ubuntu 14.04 LTS and then looking at the AMD Radeon performance between Windows 8.1 and Ubuntu 14.04 while also testing the open-source Radeon Gallium3D drivers, in this article our attention has turned to the NVIDIA Windows vs. Linux performance with GeForce 600/700 series graphics cards."

NVIDIA Fermi/Kepler GPUs Are The Best Bet For Ubuntu 14.04 Nouveau

In my testing of Ubuntu 14.04 LTS with the Linux 3.13 kernel and Mesa 10.1 for the open-source graphics driver stack provided by Nouveau for NVIDIA GeForce graphics hardware, only the Fermi and Kepler GPUs are running reliably. While these newer NVIDIA GPUs are running stable with Ubuntu 14.04, the performance is still a wreck due to lack of reclocking."

iOS And OS X Have A Critical Security Hole And The Fix Is...;

On Friday, the 21st of February, Apple acknowledged that they had a critical security hole in their iOS operating system. It was specifically an SSL (Secure Socket Layer) vulnerability in iOS and OS X that exposes iOS and OS X devices to a "man in the middle" attack. Apparently, Apple used "raw OpenSSL for HTTPS, but didn't include hostname verification". This is a glaring flaw because it would allow anyone with a valid SSL certificate to masquerade as a trusted website to harvest your communications or login information.


WildStar: DevSpeak and Customisations with Kaeyi Dream @ HardwareHeaven.com

As an MMO veteran I feel customisation is everything. Whether its character, gear, class or housing; I just love it! I can`t get enough. I like the idea that I as a player can put my personal touch on something I potentially will invest hundreds of hours on. MMO`s (especially RPG`s) count on the player having a very close relationship with their playable character, a bond that keeps them coming back for more and more. That bond wouldn`t be as prevalent if we all were forced to use the same character, look the same, play the same class and live in the same house."