| | |
| --- | --- |
| Operating System | |

... 2 news stories awaiting approval
Windows Storage Server 2012 R2 Overview

Windows Storage Server is an exciting development in the storage platform. It can run on nearly any spec'd hardware and allows for simple management of storage appliances across a wide variety of manufacturers. Unlike customized NAS OS from other platforms, you get similar features and functions across an array of manufacturers. It is offered in two flavors, provides simple management, and runs like a champ. Additionally, having familiarity with Windows Server operating systems allows administrators to dive right in.

Linux Benchmarks Of NVIDIAs Early 2015 GeForce Line-Up

Following yesterday`s NVIDIA GeForce GTX 960 launch, here`s an 11-way comparison looking at all of NVIDIA`s Maxwell GPUs as well as many Kepler and Fermi GeForce graphics cards under Linux. Beyond the raw OpenGL performance, the thermal and power efficiency data is also available for the tested range of GeForce 900/700/600/500/400 series graphics cards."


AMD Publishes Open-Source Linux HSA Kernel Driver

Summary: "AMD has just published a massive patch-set for the Linux kernel that finally implements a HSA (Heterogeneous System Architecture) in open-source. The set of 83 patches implement a Linux HSA driver for Radeon family GPUs and serves too as a sample driver for other HSA-compatible devices. This big driver in part is what well known Phoronix contributor John Bridgman has been working on at AMD."

NVIDIA GeForce GTX 970/980: Windows vs. Ubuntu Linux Performance

Earlier this week I posted some benchmarks showing NVIDIA`s Linux Driver Continues Running Strong Against The Windows Driver that also included the open-source Nouveau driver results in the mix too. However, due to using the Nouveau driver, the newest GeForce GTX 970/980 graphics cards were left out of testing as the open-source driver doesn`t yet fully support these newer Maxwell GPUs. In this article though we`re going back to compare the Windows vs. Linux performance of these two high-end NVIDIA GPUs at a UHD 4K resolution too."

NVIDIA GeForce GTX 970 Offers Great Linux Performance

Since last month`s Linux review of the GeForce GTX 980 as NVIDIA`s newest high-end GPU powered by their Maxwell architecture, many Phoronix readers have been requesting Ubuntu Linux tests of the GTX 970 too. I`ve now got my hands on an EVGA GeForce GTX 970 and am putting it through its paces today."

Skylake processor delay to weaken Windows 10 notebook demand

Intel's Skylake-based processors, originally expected to launch in early third-quarter 2015 to support the release of Windows 10-based notebooks, may not become available until the end of the third quarter or early fourth-quarter 2015. The delay is expected to hurt demand for Windows 10 notebooks.


Apple OS X 10.10 vs. Ubuntu 14.10 Performance

While I delivered some OS X 10.10 Yosemite preview benchmarks back in August, here`s my first tests of the official release of Apple OS X 10.10.1 compared to Ubuntu 14.10 Linux. Tests were done of OS X 10.9.5 and OS X 10.10.1 against Ubuntu 14.10 Utopic Unicorn when running the benchmarks under both GCC and LLVM Clang compilers."

NVIDIAs Linux Driver Can Deliver Better OpenGL Performance Than Windows 8.1

Yesterday we looked at the Windows vs. Ubuntu 14.10 Intel OpenGL performance using Haswell HD Graphics to kick off our latest round of Windows vs. Linux OpenGL driver benchmarking. Out today is now our NVIDIA GeForce graphics card comparison on Windows 8.1 and Ubuntu 14.10 using the latest NVIDIA binary drivers. NVIDIA`s new GeForce GTX 970 and GTX 980 Maxwell graphics cards were tested as well as the mature GTX 780 Ti."

Windows 10 Hands-On: What You Need To Know

It has been a few weeks since Microsoft released its Technical Preview of Windows 10 -- which means we've had enough time to walk around the vehicle, kick the tires, and investigate the product in its current form. After the drubbing that Windows 8 took in the tech press and from angry users, Microsoft badly needs this new operating system to be a success, but simply cramming the Start menu back into the OS isn't going to cut it.

News: A first look at the Windows 10 Technical Preview

TR`s Cyril Kowaliski has spent some time with the Windows 10 Technical Preview, and he`s jotted down his thoughts about each of the major new features and changes. His conclusion? This has the potential to be the best Windows release since Windows 7."

Windows 7 & 8.1 & 10 - Gaming Performance

Today we're having a look at the three latest Windows versions and we're doing so with our gaming goggles on. We will basically be showing you which operating system is giving you the highest frame rates when playing recent games. To do so we've used the same set of benchmarks we're testing graphics cards with. What you should be aware of is that the version of Windows 10 we've been testing is a technical preview. As soon as the final version is available we will write up another article like this and walk you through possible improvements

News: Microsoft shows Windows 10 preps public preview build for tomorrow

Yes, the next version of Windows is called Windows 10and Microsoft gave the first public demo of it at a press event this morning. The company also announced the Windows Insider Program, as part of which folks will be able to grab a Technical Preview build of the new OS starting tomorrow."

Windows 10 Operating System Demonstrated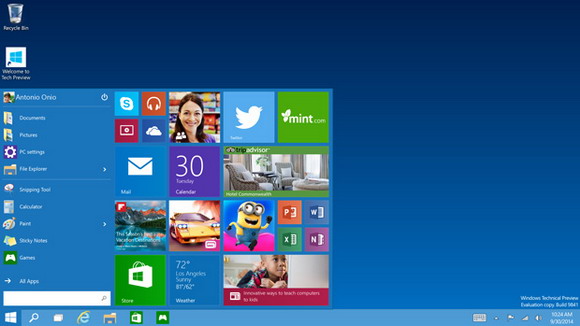 "Yes, the next version of Windows is called Windows 10—and Microsoft gave the first public demo of it at a press event this morning. The company also announced the Windows Insider Program, as part of which folks will be able to grab a Technical Preview build of the new OS starting tomorrow."

A Tour Of The New Phoronix Office For Linux Benchmarking

As most Phoronix readers know, earlier this summer I relocated from the high-tax, corrupted, crime-ridden Chicago to Indiana and with that Phoronix Media migrated. While my office configuration is slowly coming along and evolving, here`s a look at things with most of the day-to-day setup now established. It`s quite a different setup from the last Phoronix office tour two years ago. Like the last tour, this article is also to serve as some other recommendations I have about various products that otherwise wouldn`t get (any or much) coverage on Phoronix but are worthy of a shout-out to Linux users and computer enthusiasts."