| | |
| --- | --- |
| Overclocking | |

... 1 news stories awaiting approval
eDRAM Overclocking on the Intel Core i7-5775C Broadwell CPU

When we reviewed the Intel Core i7-5775C 'Broadwell' processor with Intel Iris Pro 6200 graphics we completed the review with the 128MB of eDRAM locked at 1800MHz. After the review was posted our friends at ASUS gave us the opportunity to try out a new beta UEFI revision that has the option of changing the eDRAM ratio! Intel allowed the eDRAM ratio to be unlocked on the Intel Core i7-5775C and Core i5-5675C processors for...

Demand for overclocking surges in the face of declining desktop market

Demand for enthusiast class PC hardware which offers high-performance, reliability, and above all gives the end-user the ability to tweak, fine-tune and tinker, has seen a rapid increase over the past few years. While the overall desktop market has reached stagnation and begun to decline, annual growth in the number of overclockers between the period first-quarter 2013 and first-quarter 2014 was around 50%, and growth between first-quarter 2014 and first-quarter 2015 increased even further at around 100%, according to data compiled in the latest HWinsights Quarterly Report.

G.Skill Ripjaws 4 16GB 2666MHz Overclocking Ambrosia!

G.Skill has been churning out enthusiast memory that overclocks like nothing else we've ever seen. Pop a set of Ripjaws 4 into your dream machine and settle into the BIOS for an overclocking experience like you've never had!

RTGS Micro LED Light Kits Review

Up for review today I have something a bit different, two sets of micro LED lights. Yes they are LEDs meaning they use less power and put out virtually no heat at all, but since they're micro they're just smaller. These have no real official name, just Micro Leds and they're from a company called RTGS that seems to specialize in lighting as they have numerous products on their website. In the pack I have today are two sets of micro LEDs with fifteen per string and they're about six feet long. The LEDs are battery operated with two CR2032 batteries that should last about 24 hours with continuous use. Read on to learn more.. "


Gigabyte X99 SOC Champion, Budget Overclocker

When you're looking at the 2011v3 Haswell E CPU family, nothing about it is inexpensive. The entry-level CPU is about $390 and it doesn't even feature 40 full PCI-E lanes. The lowest tier CPU has 28 PCI-E lanes and you have to go to the second tray CPU, the Intel Core i7-5930K Haswell-E 6-Core 3.5GHz, to get full PCI-E lanes. So for a fully functional 40 PCI-E lane CPU, we are looking at $560 smackers. Decent air cooling will set you back around hundred bucks if you want to overclock. Sixteen gigabytes of quality, high-speed DDR4 memory runs in the $300 dollar range. Just the CPU, CPU cooler and memory means that we are just short of $1,000. If you are looking for a Champion Overclocker but don't want to break the bank the Gigabyte X99 SOC come in at $300 when you can find it on the shelves.

Intel Core i5 4690K – the 5GHz project

HardwareOverclock.com has just posted another review. Last week we have taken a look at the Intel Core i5 4690K, but not the simple version, therefore a selected edition with 5 GHz overclocking performance.


G.SKILL Breaks Fastest DDR4 Memory Frequency Overclock at 4255MHz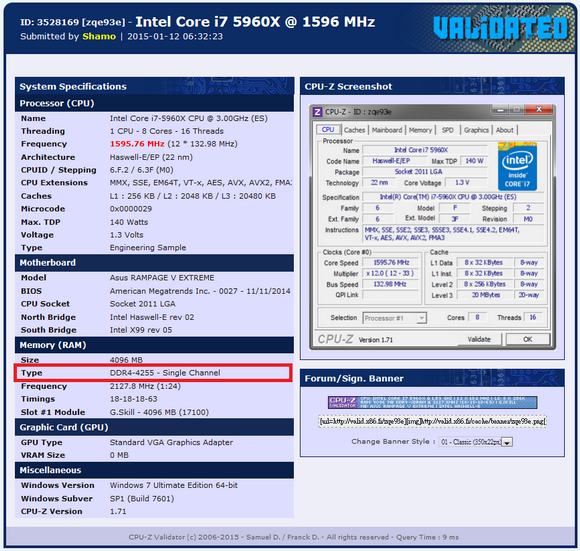 G.SKILL International Co. Ltd., the world's leading manufacturer of extreme performance memory and solid-state storage, is extremely excited to announce a new memory record for fastest DDR4 memory frequency, set at 4255MHz CL18-18-18!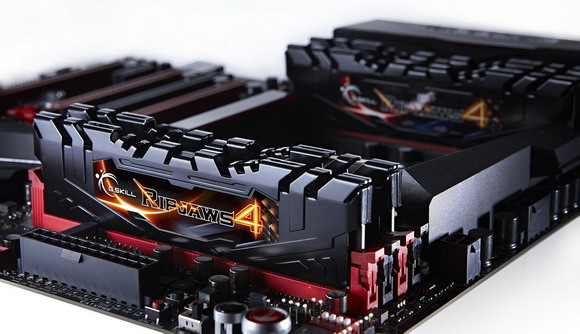 This amazing achievement was attained on the Asus Rampage V Extreme motherboard (X99 chipset) and with the Intel i7-5960X processor, all under sub-zero liquid nitrogen cooling. Below is a screenshot of the record validation by CPU-Z. (Source: http://valid.canardpc.com/zqe93e)

How to Overclock an Intel Pentium G3258

"To reach 4.7GHz was a cinch once I adjusted all the smaller voltage settings. Like all overclockers, it was a journey with many failures along the way. One day it would boot and run Prime95, and the next time Windows would not load. It took a while to sort it out by backing down to 4.5GHz and raising each setting until I settled on the below settings. Then I raised it until it would not go any higher with the set voltage I felt safe with. Even so, the CPU with 1.4v would not pass 4.7GHz.. I consider this the chip's hard limit, which is a staggering 1.5GHz overclock! Since 1.3v is a little high for my tastes, I can lower the voltage slightly and settle with 4.6GHz just fine."






Gigabyte Extreme Overclocking Competition 2014

Each year Gigabyte Germany organizes the Extreme Overclocking Competition. At the EOC the best overclocking teams of Germany have a chance to prove who is still king. The main organizer behind each event is Germany's finest Roman Hartung also known as der8auer at HWBot.org. This year besides Gigabyte also G.Skill, Intel, Seasonic and Gelid solutions provided the required hardware and funds to allow this clash of the titans to take place at the Know Cube at the Heilbronn Tech University.