| | |
| --- | --- |
| Motherboards | |

... 8 news stories awaiting approval
ASRock X399 Taichi Motherboard Unboxing Video

Today, on OCinside.de we have published an unboxing video in German with English subtitles of ASRock's latest X399 Taichi motherboard, which supports AMD Ryzen Threadripper Socket TR4 processors and has an amazing fast performance. The full written review of this ASRock X399 Taichi ATX motherboard is coming soon as well.

EVGA X299 Micro Motherboard Review

The EVGA X299 Micro is a very unique motherboard in that it follows many of the EVGA principals of supporting multi GPU configurations and overclocking while also catering to the gaming crowd with a compact form factor.



ASRock X299 Gaming i9

Like any other platform, ASRock has given Intel's X299 the Fatal1ty treatment, in the form of the X299 Gaming i9. This isn't a value-oriented board product; this one comes straight out of ASRock's Professional Series and has a much higher price tag than the Taichi we looked at earlier.





MSI X399 Gaming Pro Carbon AC review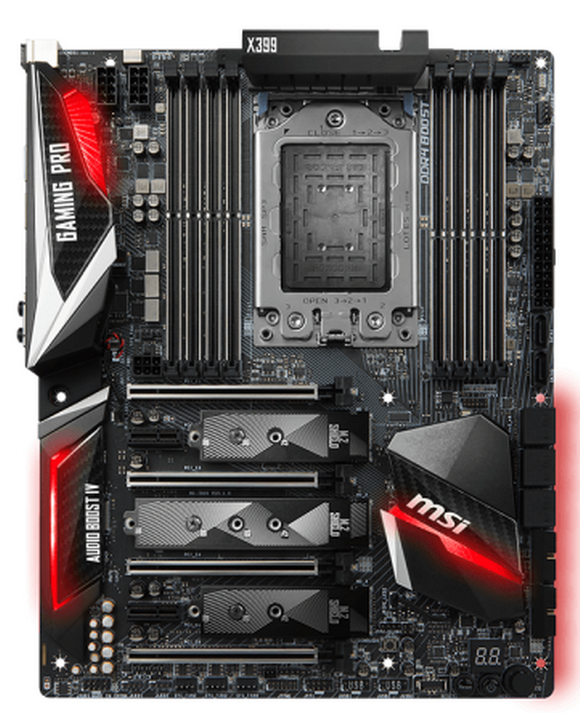 Let's check out another Ryzen Threadripper motherboard. We review the one from MSI as they have released their X399 Gaming Pro Carbon AC. The board is stylish, comes with very subtle LED effects and obviously offers everything you need from quadruple x16 PCI-Express slots, triple M2 SSD slots, quad-channel memory and some really supreme AC WIFI.

MSI X299 Gaming M7 ACK Motherboard Review

For the first time in a long while there is serious competition in the high-end consumer desktop space. Consumers are spoilt for choice between Intel's HEDT X299 platform and "up to eighteen core" i9/i7 CPUs or AMD's X399 platform with "up to 16 core" Threadripper CPUs. Even with AMD's more competitive pricing Intel's hard-earned reputation for high-end desktop prowess and a higher maximum core count will make X299 motherboards, like the MSI X299 Gaming M7 ACK, a safe choice for enthusiasts and prosumers alike.


Gigabyte X299 AORUS Ultra Gaming Motherboard Review

When you are paying top dollar for parts in building a high-end desktop, the last thing you should be worrying about is whether you are compromising on some features. That is understandable when building a mainstream desktop, but on a high-end system, wanting to have everything is perfectly acceptable. Most motherboards these days look pretty good so you won't have …

Gigabyte AB350-Gaming 3 Motherboard Review

"When AMD's Ryzen processors launched many people thought the X370 chipset was the way to go. It definitely offers the most features and the motherboards in that range are pretty awesome, but one should not look over the B350 chipset. If you are building a new Ryzen-based PC and are using a single graphics card a B350 motherboard could help you save some money to put towards that graphics card or other components. B350 motherboards could actually be the sweet spot for Ryzen gamers as you still get overclocking capabilities, two more PCIe lanes as well as 1 more USB 3.1 port than the lower-end A320 motherboards. The B350 board we are checking out today is the Gigabyte AB350-Gaming 3 which features a sleek design, a single M.2 NVMe slot, USB 3.1 supoort, multi-zone RGB lighting and more! Let's jump in and see what this board is all about!"

Intel's Z270 chipset ECS

"I was impressed with the looks, build quality, and layout of both ECS Z270 motherboards. The Z270-LIGHSABER provided painless overclocking, with solid results from the auto OC function and granular control for custom overclocking if desired. However there were a couple of minor issues, described above, that seem to be BIOS or driver related. Future updates could make this a compelling choice - depending on price."