[>>]

[>>]

[>>]

[>>]

More>>

Search...

| | |
| --- | --- |
| Motherboards | |

... 1 news stories awaiting approval
ASUS Z170-DELUXE (Intel LGA-1151)

We've seen a GAMING board, but what about those of us who want the best while making use of all the features provided by a platform? With support for NMVe devices right in the box, the ASUS Z170-DELUXE hits the ground running. Mixed with great audio and one of the most extensive BIOSes ever, the ASUS Z170-DELUXE is exactly that - deluxe.

Gigabyte Z170XP-SLI Motherboard Review

Gigabyte's Z170XP-SLI is aiming to tempt users looking for a motherboard that offers the Z170 platform's core features, but without requiring a significant cash outlay. In the Z170XP-SLI, Gigabyte offers one of the lowest cost boards to support SLI, while also retaining features such as USB 3.1, USB Type-C, and a 32Gbps M.2 connector.

Gigabyte Z97MX-Gaming 5 (LGA 1150) Motherboard Review

While mini-ITX is the "fashionable" small form factor of choice for most compact system builders, the micro-ATX form factor is still popular as it offers a better compromise between size, features and cost. Unlike mini-ITX motherboards micro-ATX motherboards require less R&D, encounter less technical challenges and are much cheaper to execute as a result. Enter Gigabyte's latest Intel 9 Series based motherboard, the GA-Z97MX-Gaming 5. At just $130 this motherboard offers a great balance between size, performance and features – at least on paper. Today we will be putting this micro-ATX offering from Gigabyte through its paces to see how it shapes up in practice. As a Gaming series motherboard it comes with the usual beefed up audio implementation and Killer networking as well as support for multiple GPUs meaning it has most things a gamer could want in a motherboard. Being an Intel 9 Series motherboard there's also support for the new storage options like M.2 and SATA Express. Below you can find detailed specifications on exactly what this motherboard offers:

Gigabyte Z170X-UD5 ATX Motherboard Review

Intel recently began releasing their latest CPU, which includes a change in the socket to 1151, while there isn't a huge performance boost over the previous generation of Intel processors, the new Skylake processor does bring some new features. Gigabyte recently sent us one of their new motherboards based on the Z170 chipset; the Z170X-UD5. This is just one of Gigabyte's twelve motherboards featuring the socket 1151; and their highest end motherboard in their Ultra Durable line. The Gigabyte Z170X-UD5 motherboard is available today for $189.99 with free shipping.

Gigabyte Z170X-Gaming G1

It seldom happens that you come across a motherboard that covers every feature on your Motherboard Bucket list but Gigabyte has successfully fielded the GIGABYTE Z170X-Gaming G1 their flagship Z170 Skylake LGA 1151 board which comes close. Opening the box and just glancing at the board sent a surge of blood through our gaming veins. Starting with a glance at the Creative® Sound Core 3D chip and it's 2 x JRC NJM2114 and 1 x TI Burr Brown® OPA2134 operational amplifiers we knew we were looking at a special board. Sound Core 3D is a multi-processor Audio and voice system that accelerates SBX Pro Studio and CrystalVoice processing effects improving your gaming experience with crystal clear sound and voice .......

ASUS Z97I-PLUS (LGA 1150) Motherboard Review

Since the popularisation of mini-ITX motherboards a few years ago (if I remember correctly they took off with the Intel 6 series chipset) the price of mini-ITX motherboards has been falling sharply. However, combined with that falling price has also been rising quality, increasing innovation and more features – particularly with ASUS mini-ITX motherboards. Irrespective of which motherboard vendor you prefer it would be fair to say ASUS have driven a lot of the mini-ITX innovation over the past few years. Today we're looking at the culmination of some of this innovation, but for a respectably low price of just $160. Enter the ASUS Z97I-PLUS which is one of the new ASUS Z97 motherboards that has ingenious ways of taking advantage of all the great features we've come to expect from a fully fledged PC. ASUS have managed to cram M.2 on the board by moving it underneath, they've added a WiFi AC and Bluetooth 4.0 module, equipped four SATA III ports, included fairly high quality ALC 892 audio and offered up the latest Intel Gigabit LAN. Despite the motherboard's size you still get a fully fleshed out rear I/O and an impressive 6 phase VRM. On paper the ASUS Z97I-PLUS looks like a very impressive Z97 mini-ITX motherboard so let's proceed on with our review to see what the product and its performance has in store for us!

EVGA Z170 FTW Motherboard Review: An Overclocking Gambit

It is called a motherboard for its encompassing domesticity as a hub of function and like its biological counterpart, a motherboard is judged by her matronly efforts to maintain a stable environment and realize the potential of those she houses. This applies to motherboard expandability and is especially true now when it comes to overclocking that voltage regulation is handled …

ASUS Maximus VIII Hero Preview

With the Maximus VIII Gene, ASUS shows their next generation ATX gaming and overclocking motherboard, which is based on Intel's latest Z170 chipset. Like it's predecessor this board wants to convince with a balanced feature mix, which pleases overclockers as well as gamers. At this point we're very curious to find out what ASUS has come up with regarding layout, design and obviously features.

Gigabyte X99-SOC Champion & X99 Gaming 5P Haswell E Motherboards

When it launched its initial line-up of Haswell-E based processors and the companion X99 chipset, Intel's motherboard partners hit the ground running with some fairly exciting products. At the time of the launch, we featured a few offerings in our review—you can check them out right here. But, as is sometimes the case, the second wave of products based on a particular technology are sometimes more exotic and may offer features not found on the first release. Such is the case with the motherboards we're going to show you here from Gigabyte. Although they're based on the same chipset, the Gigabyte X99-SOC Champion and X99-Gaming 5P are actually quite different. One of the boards is a non-nonsense hot-rod of sorts, targeted at hardcore overclockers, while the other is loaded to the gills with features galore...

ASRock Fatal1ty Z170 Gaming K6+ Motherboard Review

Exploiting the Skylake CPUs for their allure to gamers, ASRock's Fatal1ty Z170 Gaming K6+ is a motherboard that targets the enthusiast gaming audience by offering a wide range of the bells and whistles they may desire. Can pumped-up audio, a Killer NIC, strong multi-GPU support, and high-speed storage interfaces persuade gamers who are willing to invest in the Skylake platform?

MSI Z170A GAMING M7 (Intel LGA-1151)

"Using the Game Boost option to overclock allows the enthusiast to use a dial an overclock feature in both hardware and software modes from the EZ Mode in the Click BIOS 5. There are options from 4.3GHz to 5GHz all by spinning the knob through seven different positions. We can officially say good bye to OC Genie and its limited scope, although it was solid and repeatable. If you would rather tweak in the OS to find your limits, MSI's Command Center lets you tweak away on the CPU with voltage, clock speed, and ratio adjustments. For the memory, you get a much more limited set of options, but you can tweak the timings and voltage for improved performance."

ASRock USB 3.1: A Quick Hands-on Test

We had a chance to take a look at ASRock's USB 3.1 implementation with the company's excellent X99E-ITX/ac motherboard and a custom USB 3.1 RAID testing card. How does ASRock's 10Gbps USB 3.1 solution fare?

BIOSTAR N3150NH ITX Motherboard Review

By including the Celeron N3150 Braswell SoC from Intel, the BIOSTAR N3150NH board takes part of the low-end segment and we can clearly see that from the benchmarks we have ran, since the performance per core is quite low, the Celeron 3205U we have found with the Shuttle DS57U surpassing it with flying colors. The power consumption though is like one third of the mentioned Celeron and the temperatures are much lower too, the included passive heatsink remaining cool during even most stressful conditions.

GIGABYTE Launches New 100 Series Motherboards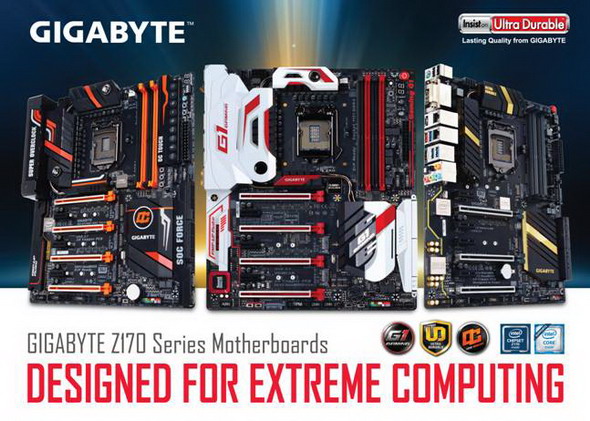 GIGABYTE TECHNOLOGY Co. Ltd., a leading manufacturer of motherboards and graphics cards is proud to announce today its new 100 series motherboards based on the Intel® Z170 chipset with support for Intel's new 6th Gen. Core™ processor. This updated platform marks a new era for the desktop PC with the continued support of DDR4, introduction of USB 3.1 over the new Type-C™ connector, as well as an array of onboard features and technologies that lets the user unleash the full power of their PC. "We are very excited to launch our new 100 series motherboards based on Intel's new Z170 chipset here at Gamescom in Germany, " commented Henry Kao, Vice President of GIGABYTE Motherboard Business Unit. "We know everyone has been eagerly waiting for this, so we made sure our 100 series motherboards are packed with features which will make them stand out and provide the best possible experience from the latest 6th Gen. Core™ CPU from Intel."
With the 100 series, GIGABYTE offers three motherboard segments to satisfy everyone's specific needs. The Ultra Durable caters to users looking for a board that has long lasting, high quality components while the G1 Gaming™ targets gamers that demand cutting edge audio and graphics performance, and with the SOC Force GIGABYTE is bringing a solution for those who are looking to push their hardware performance off the charts. GIGABYTE brings a series of features that won't let anyone down.
With its new 6th Gen. Core™ CPUs and Z170 chipset, Intel provides notable improvements over the previous generation and revolutionary new features such as support for Windows 10™ and DirectX™ 12, the latest and greatest operating system and API from Microsoft® which are both supported natively on GIGABYTE motherboards. Additionally, the new LGA 1151 socketed 14nm CPU from Intel brings both DDR4 and DDR3 support as well as enough power to support up to 3 independent digital displays and enhanced full range BCLK overclocking!
The Intel USB 3.1 controller, the industry's fastest USB controller, utilizes 4 PCIe Gen.3 lanes to offer a total bandwidth of 32 Gb/s, for uncompromised transfer speed of up to 10 Gb/s.With twice the bandwidth compared to its previous generation and backwards compatibility with USB 2.0 as well as 3.0, selected 100 series boards provide dual connectivity via USB Standard-A™ and the innovative USB Type-C™ making GIGABYTE the best USB 3.1 solution on the market with better compatibility over a wider range of devices.
GIGABYTE's Z170-Gaming G1 motherboards feature a quad-core Creative® Sound Core3D™ audio processor with Burr-Brown High-End 127 dB DAC. The discrete card level audio design featured onboard is certified for headphone jack output exceeding 120 dB+ SNR lifelike sound.
"Our ongoing close partnership with GIGABYTE Technology has been something that we've always been extremely proud of, and with the launch of the all new G1 Gaming Motherboard, you can see why," said Low Long Chye, General Manager of Audio at Creative Technology Pte. Ltd, creators of the Sound Blaster™. "The groundbreaking G1 Gaming Motherboard, together with the Sound Blaster ZxRi onboard sound card, and its Sound Core3D multi-core sound and voice processor, is a masterstroke of audio engineering technology."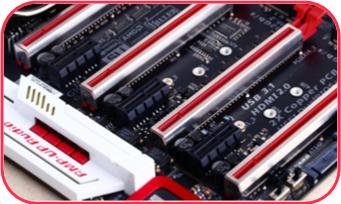 P<>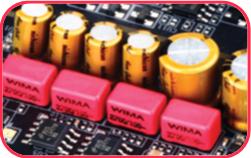 Combined with the SBX Pro Studio™ suite of audio playback technologies, the onboard sound solution delivers a new level of audio immersion with realistic surround sound and the ability to clearly hear specific sounds in a gaming environment.
With the Z170X-Gaming G1 motherboard, GIGABYTE introduces a combination of Hi-Fi grade WIMA™ Capacitors, and Nichicon™ audio grade Fine Gold capacitors. The Nichicon Fine Gold capacitors and WIMA FKP2 capacitors are used widely in premium-grade Hi-Fi systems. Users will experience a richer bass and clearer high frequencies.
GIGABYTE'S Killer network solution is featured on selected GIGABYTE Z170 high-end motherboards. Combining the Dual Gigabit LAN Killer E2400 with the Killer 1535 Wi-Fi card offering the latest 802.11ac+Bluetooth 4.1, the Killer DoubleShot-X3™ Pro application can prioritize and redirect the most important traffic over the fastest connection available, making sure that your game is never affected by a congested network due to multitasking. By working together, the triple LAN solution offers better traffic management, faster transfer speed, and less lag to multitasking users.
Seen first on its 100 series motherboards, GIGABYTE presents a new innovation in its Ultra Durable technologies lineup with the PCIe One Piece Metal Shield. Add-in cards can be extremely heavy, especially long graphics cards, and removing them can put a lot of stress on the connector. The innovative one-piece stainless steel shielding design from GIGABYTE reinforces the PCIe connectors to provide the extra strength required to support heavy graphics cards.
For more details regarding GIGABYTE 100 series gaming motherboards.
For more details regarding GIGABYTE 100 series motherboards.

MSI Z170A GAMING M7 (LGA 1151) Motherboard Review

The Intel Z170 chipset has landed, and with it comes the launch of the Intel Skylake processors in the form of the i5-6600K and i7-6700K. The Z170 chipset has been upgraded in almost every way. The RAM has been changed from DDR3(L) to DDR4, which brings with it exceptionally high speeds and transfer rates compared to DDR3. Along with this, the chipset can handle up to 20 PCIe 3.0 lanes (up to 8Gb/s) compared to the mere 8 PCIe 2.0 (up to 5Gb/s) of Z97 and up to 10x USB 3.0 ports compared to 6x on Z97. It seems that the start of workstation connectivity and expansion has finally trickled its way down to the mainstream consumer level.

MSI X99A Gaming 7 Motherboard Review

"The X99 Chipset has been around for a while now and it's about time we had a look at another offering from Intel's premium desktop chipset. There are not many PC enthusiast motherboard manufacturers these days, with a few of the major players disappearing over the last decade. MSI have been around from the early days, and have endured a lot of change in the PC builder's world, and the latest ranges have very strong branding and marketing so you have a good idea what you are getting into."



The best Guides by the best writers on the internet; PCSTATS Beginners Guides explain computers, software, and all those other wonderful things that cause you frustration.

Learn how to use your computer better, master the internet while protecting yourself, and know what to do when your hard drive kicks the bucket.



"Get the 'Stats and Stay Informed!"