| | |
| --- | --- |
| Motherboards | |

... 3 news stories awaiting approval
ASUS ROG Strix X470-I Gaming (Mini-ITX) - Small is the new Sexy

ASUS is back, at 17cm for this round, yes we review the all new ROG Strix X470-I Gaming, optimized for Ryzen 2000 / Zen+ on a motherboard that is 17x17cm. It has everything you want, including a full X16 PCIe Gen 3.0 slot for graphics, two M2 slots and all that you can use with last or new-gen Ryzen 5 2600X or Ryzen 7 2700X processors.

ASRock H370M-ITX/ac

One of ASRock's H370-based motherboards has hit our test lab, ready for general compute use for Intel's latest mainstream Coffee Lake CPUs. The H370 chipset does not support overclocking, so we take a foray into stock settings and usage with the ASRock H370M-ITX/ac, which is just $100.

Asus ROG Crosshair VII Hero (Wi-Fi) Review

We received our sample of the Asus ROG Crosshair VII Hero Wi-Fi as part of the press kit that AMD delivered for the launch of Ryzen 7 2700X and Ryzen 5 2600X CPUs. As we expected, the Crosshair VII Hero is a high end motherboard that is loaded with overclocking features and while it looks and feels really solid, our initial testing suggested that performance was nothing special. This was pretty much the opposite of what we expected from the ROG brand, however it seemed unlikely Asus had made a fundamental error with the design so we decided to hold off with our review until Asus had the chance to update the BIOS as that can make a massive difference to the way a motherboard behaves. In the intervening period Asus has issued a steady stream of updates including a BIOS that supports a new version of AGESA, which is the sort of thing we expect, and then Asus sent over a Performance BIOS that looked very interesting.

Gigabyte X470 Aorus Ultra Gaming

Guru3D.com - the Guru of 3D -------------------------------------------------------------------------------- Review: Gigabyte X470 Aorus Ultra Gaming We review our second X470 board from Gigabyte, the X470 Aorus Gaming Ultra. You can consider this board as a very affordable one, priced in the €139,- (similar in USD) you get the benefits from the X470, and overall a very nicely built motherboard really. X470 offers a more fine-tuned experience for your Ryzen Gen2 processor.


Gigabyte X470 Aorus Gaming 7 WiFi Review

KitGuru used the Gigabyte X470 Aorus Gaming 7 WiFi in our launch reviews of the Ryzen 7 2700X and Ryzen 5 2600X as it proved to be stable and predictable, which is exactly what you want when you're testing CPUs. Those are also desirable features in a motherboard but of course we are also looking for connectivity, the quality of the hardware and decent cooling. You get all of those things with the Gigabyte X470 Aorus Gaming 7 WiFi and in addition you also get a huge amount of RGB lighting.

MSI B360 Gaming Plus

"The MSI B360 Gaming Plus has many of the features most would expect from modern motherboards: four memory slots, two PCI-Express x16 Gen 3.0 and four x1 slots, an M.2 slot and five SATA III ports, and four USB 3.1 ports on the rear panel. Processor support goes all the way up to the stout Intel i7-8700K! Sadly even K-series overclocking isn't supported here, though as mentioned earlier this chipset is not intended for that purpose anyway."

Top 5 AMD X470 Motherboards

There's already loads of great AMD X470 motherboards to choose from starting as low as $130. Asus, Asrock, MSI and Gigabyte have all done a great job with their boards and to be completely honest, for the most part you can't go wrong.


ASRock X370 Pro4 Review – is X370 still relevant?

ASRock sent us the X370 Pro4 just before the launch of AMD 2nd Gen Ryzen. This was unexpected because we knew full well the new Ryzens would be accompanied by the X470 chipset, which meant the X370 Pro4 felt old before its time.


Gigabyte X470 Aorus Gaming 7 WiFi @ LanOC Reviews

Okay, so last week was a crazy one, at least here at the office. Testing and writing about the Ryzen 2000 series took up a lot of time then not to mention they also launched the X470 chipset. Well, I published our first X470 review and I finished testing other boards including the Gigabyte X470 Aorus Gaming 7 WiFi that I'm going to take a look at today. We already know that the difference between X370 and X470 isn't huge but I am curious to see what some of the companies have changed in the year gap between the chipsets. So today I'm going to see what Gigabyte has gone with their flagship gaming branded board and then see how it compares to the MSI board that I already tested.

MSI X470 Gaming M7 AC @ LanOC Reviews

Well along with the new Ryzen CPUs AMD also introduced their new X470 chipset. That means new motherboards. While they are still AM4 boards so most of the original boards should be getting updates to support the new CPUs and don't worry the new X470 boards will also support the original Ryzen CPUs as well. But I'm excited to see what everyone is going to do different this generation, I'm not used to seeing new AMD boards on the regular like this, I could get used to it! So to start things off I'm going to check out the X470 Gaming M7 AC from MSI that MSI and AMD provided.



GIGABYTE AORUS X470 GAMING 7 WIFI Review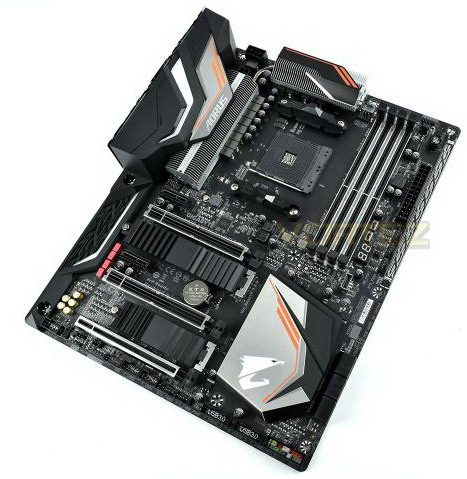 Power delivery and cooling are two aspects where effort has been particularly concentrated. The 10+2 all-digital power phase ensures that the CPU and DRAM receive a smooth current, while the extensive, direct-mounted cooling helps to dissipate the associated heat.