[>>]

[>>]

[>>]

[>>]

More>>

Search...

| | |
| --- | --- |
| Motherboards | |

... 9 news stories awaiting approval
ASUS Maximus VI Hero LGA 1150 Motherboard Review

The ASUS Republic of Gamers brand represents the best ASUS has to offer. Unfortunately the best usually comes with a high price tag placing such boards out of reach for many. Never fear for the ASUS Maximus VI Hero is here! OK with a name like that I couldn't resist. The Hero offers the core enthusiast features found in all ROG boards with less fluff.

Gigabyte launches AMD gaming motherboard

Gigabyte Technology has announced its new FM2+ motherboards including the newest addition to its G1-Killer range of gaming motherboards, the G1.Sniper A88X, which features Gigabyte USB DAC-UP, which is optimized for users employing a digital-to-analog converter, and Gain Boost, which provides high gain output for advanced headphones and speakers


ASUS Maximus VI Formula Review @ Vortez

So why is there so much hype surrounding the ASUS Maximus VI Formula? Well, this is the first time ASUS have implemented their CrossChill feature on a motherboard. With this feature water or air can be used to cool the MOSFETs - so regardless of whether you are an extreme overclocking or not the options are all there for whichever pathway you take. Furthermore, the Formula adopts a design which takes advantage of ROG Armor - a unique protective steel shield on the front and back side that helps with temperature control and longevity of components. Referencing these two particular features we are only scratching the surface, there are many more aspects of Formula to explore, so let`s begin our review!"

MSI Z87 - G45 GAMING Motherboard Review @ Madshrimps

Last time we had a look at MSI`s flagship of the Z87series, the Z87 XPOWER. Targeted at the overclocking and the enthusiast audience, the XPOWER also carries a hefty price tag. Gamers however are usually more budget minded and might prefer to invest a bit more in the Graphics Card or the Processor. MSI has got two Gaming boards on offer, the G45 and GD65, both carry tailor made specifications for gamers. Multi GPU support, improved Audio and LAN function, all integrated in a professional and stunning looking Dragon-themed PCB. That high end and performance does not always have to carry a hefty price tag might become more clear during the review of this Z87-G45 Gaming motherboard."

GIGABYTE G1.Sniper A88X Motherboard Packs in USB DAC-UP/Gain Boos

GIGABYTE TECHNOLOGY Co. Ltd., a leading manufacturer of motherboards and graphics cards, today announced its new FM2+ motherboards including the newest addition to its G1-Killer range of gaming motherboards, the GIGABYTE G1.Sniper A88X. Debuting two exclusive audio features including GIGABYTE USB DAC-UP, an exclusive feature optimized for users employing a Digital-to-Analog Converter, and Gain Boost which provides high gain output for advanced headphones and speakers, the GIGABYTE G1.Sniper A88X provides the highest caliber onboard audio experience for discerning audiophiles.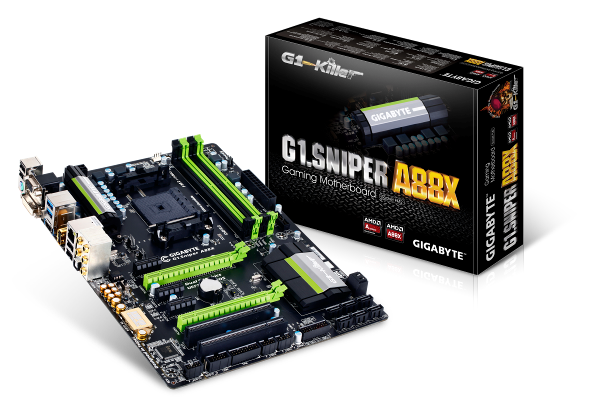 "We've had a lot of customer interest in expanding our G1-Killer gaming motherboard range to include an AMD platform model." commented Henry Kao, Vice President of GIGABYTE Motherboard Business Unit. "By also developing unique audio features that make a real difference to the overall experience, we're confident this board will be a real hit with gamers and audiophiles alike."
GIGABYTE AMP-UP Audio: Redefining Motherboard Audio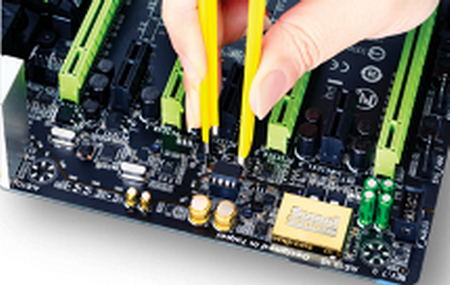 GIGABYTE AMP-UP Audio combines a range of unique features and technologies that are designed to give audio enthusiasts and PC gamers more control over their motherboard audio than ever before.
USB DAC-UP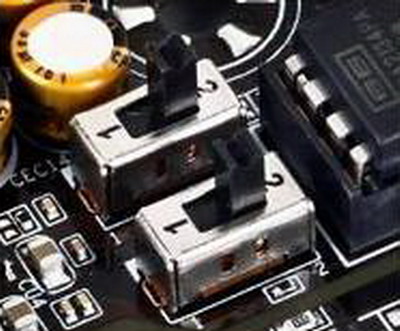 Featuring a gold plated USB 2.0 port, GIGABYTE USB DAC-UP provides clean, noise-free power delivery to your Digital-to-Analog Converter. DACs can be sensitive to fluctuations in power from the other USB ports, which is why GIGABYTE USB DAC-UP takes advantage of an isolated power source that minimizes potential fluctuations and ensures the best audio experience possible.
GIGABYTE USB DAC-UP also allows the port to be configured in BIOS for enthusiast system configurations which do not require USB power to the DAC. This makes it suitable for high-end audio enthusiasts building extreme fidelity audio systems.
Gain Boost

To further optimize the audio experience provided by the onboard OP-Amp, GIGABYTE motherboards also debut Gain Boost. Gain Boost provides onboard switches to select between 2.5x and 6x amplification modes depending on output device. Most OP-Amps are capable of providing a high-gain audio output that is ideal for high-end headphones and speakers that have higher impedance headroom. Gain Boost allows users to switch between 6x and x2.5 amplification modes depending on the speakers or headphones being used.
Upgradable Onboard OP-Amp
GIGABYTE motherboards are the world's first to feature an onboard operational amplifier (OP-Amp). OP-Amps are commonly found in high-end audio equipment and offer not only amplification of the audio signal, but a superior audio experience generally. The motherboard's OP-Amp is mounted on a socket which allows users to physically switch out and try different OP-Amps which offer distinct and nuanced properties that make the audio clearer, punchier and more life-like. Additional OP-Amps can be purchased separately to further expand audio capabilities.
Audio Noise Guard
To help protect and insulate the the Realtek ALC898 audio processor and onboard amplifiers from electrostatic interference (ESD), the GIGABYTE G1.Sniper A88X motherboard features an audio noise guard that essentially separates the board's sensitive analog audio components from potential ESD pollution at the PCB level. LED trace path lighting illuminates to show the separation of the PCB layers.
Nichicon Pro Audio Caps
The GIGABYTE G1.Sniper A88X motherboard uses the highest quality Nichicon
MUSE ES series audio capacitors at each channel layout. These professional audio capacitors deliver the highest quality sound resolution and sound expansion to create the most realistic sound effects for professional gamers.
Gold Audio Plated Hardware
The GIGABYTE G1.Sniper A88X motherboard uses top quality gold plated hardware for improved connectivity and long lasting durability for the USB DAC-UP port and audio connectors. Gold has superb signal conductivity and will not tarnish over extended periods of use. The Realtek ALC898 audio processor is also shielded by a gold-plated cover which eliminates electrostatic interference.
GIGABYTE G1.Sniper A88X: Ready for Kaveri on AMD Socket FM2+
The GIGABYTE G1.Sniper A88X motherboard features the new FM2+ APU socket, and is designed to get the most from forthcoming 'Kaveri' AMD APUs, while preserving compatibility for current AMD FM2 'Trinity' and 'Richland' APUs. Socket FM2+ AMD APUs offer native support for 8 GT/s PCI Express gen 3.0 as well as DX11.1 support, integrating the high performance 'Steamroller' core. AMD socket FM2+ APUs also offer native support for 4K resolution displays on HDMI and DisplayPort.

Asus Z87-K Mainboard Review or Practical Overview

This mainboard is fairly simple, but this is why it actually turned out relatively inexpensive. At the same time it features everything necessary for proper usage, which is its primary selling feature. As for the processors and chipsets comprising the new LGA1150 platform, the situation here is much more complicated.

Gigabyte GA-Z87X-D3H Mainboard Review

This is an entry-level mainboard, but not the most junior model in the family. It uses the features and functionality of the Intel Z87 chipset almost to the fullest, but has no numerous additional onboard controllers, thus staying reasonably priced. The new Gigabyte UEFI BIOS makes a terrific impression making this board stable and reliable in nominal mode and easy to work with during CPU overclocking.

GIGABYTE AMD A88X Series Motherboards for AMD Kaveri FM2+ CPUs

GIGABYTE has announced its new FM2+ motherboard lineup supporting the forthcoming 'Keveri' AMD APUs with support for existing socket FM2 Trinity and Richland APUs.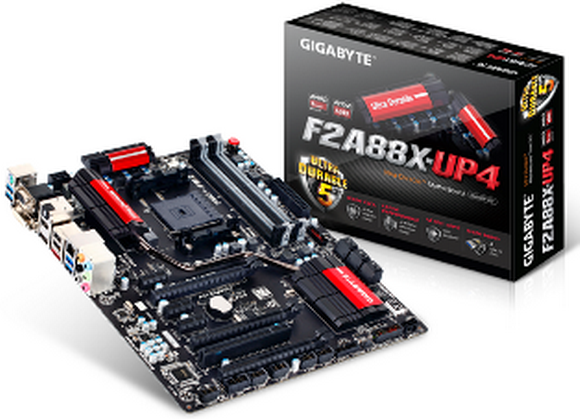 GIGABYTE A88X motherboards feature a number of features and technologies and also include the first AMD G1-Killer gaming motherboard, the G1.Sniper A88X which includes GIGABYTE AMP-Up Audio, a range of advanced audio technologies that are designed to give audio enthusiasts and PC gamers more control over their motherboard audio than ever before. GIGABYTE A88X series motherboards also offer unique GIGABYTE features, including UEFI DualBIOS™, Digital Power delivery, as well Triple Display support.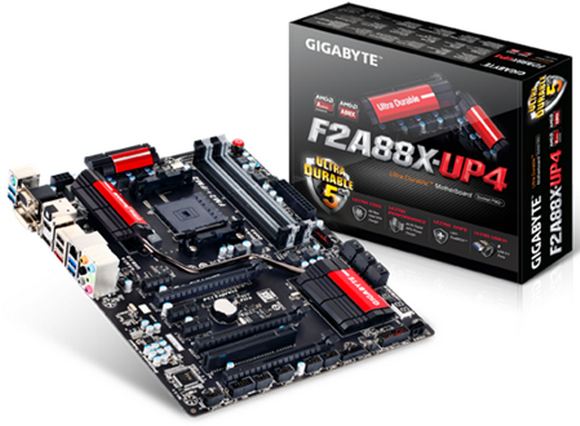 Ready for Kaveri on AMD Socket FM2+
GIGABYTE A88X series motherboards feature the new FM2+ APU socket, and are designed to get the most from forthcoming Kaveri AMD APUs, while preserving compatibility for current AMD FM2 APUs. FM2+ AMD APUs offer native support for 8 GT/s PCI Express gen 3.0 as well as DX11.1 support integrating the high performance 'Steamroller' core. AMD socket FM2+ APUs also offer native support for 4K resolution displays on HDMI and DisplayPort.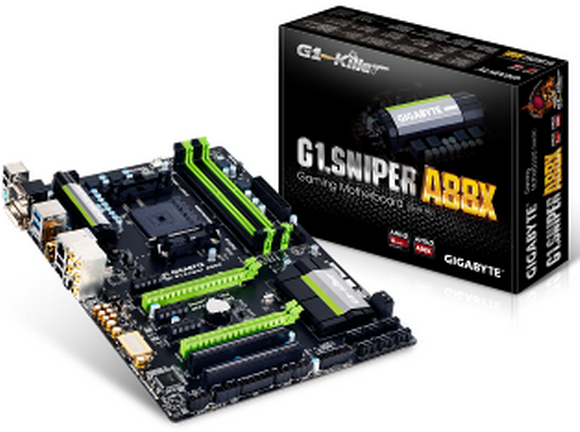 GIGABYTE A88X Series Motherboards
G1.Sniper A88X
F2A88X-UP4
F2A88X-D3H
F2A88X-HD3

F2A88XM-D3H
F2A85XM-DS2
F2A88XN-WIFI
About GIGABYTE
GIGABYTE, headquartered in Taipei, Taiwan, is known as a global leading brand in the IT industry, with employees and business channels in almost every country. Founded in 1986, GIGABYTE started as a research and development team and has since taken the lead in the world's motherboard and graphics card markets. On top of Motherboards and Graphics cards, GIGABYTE further expanded its product portfolio to include PC Components, PC Peripherals, Laptops, Desktop PCs, Network Communications, Servers and Mobile Phones to serve each facet of the digital life in the home and office. Everyday GIGABYTE aims to "Upgrade Your Life" with innovative technology, exceptional quality, and unmatched customer service. Visit www.gigabyte.us for more information.

ASUS Z87-Quad Mobo with Thunderbolt 2 Ports

ASUS is excited to announce the world's first motherboard certified by Intel® with Thunderbolt™ 2 technology, the Z87-Deluxe/Quad. Based on the new Intel Z87 chipset and ready for the latest 4th generation Intel Core™ processors, the ASUS Z87-Deluxe/Quad ATX motherboard has two Thunderbolt 2 ports which allow for up to 12 simultaneously connected devices. Each port is capable of up to a 20Gbit/s transfer rate and is backward compatible with first generation Thunderbolt.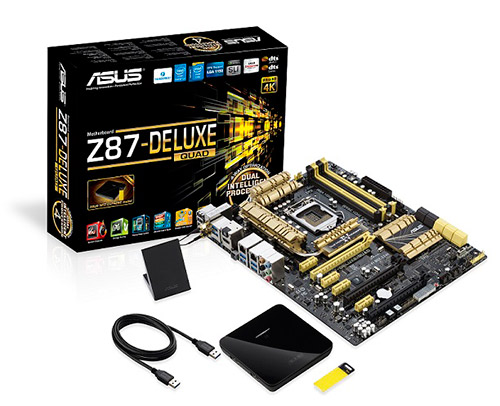 "Z87-Deluxe/Quad has been subjected to a tremendous amount of compatibility, BIOS, as well as video/audio and other tests to verify its quality and design," said Joe Hsieh, ASUS Corporate Vice President and General Manager of the Motherboard and Desktop System Business Unit. "Being the world's first certified motherboard for Thunderbolt 2 technology also means setting the standard for all of the upcoming products, which is something that ASUS has always done."

Twice the Thunderbolt Performance and Full4K Display Support
The first generation Thunderbolt standard has four separate transfer channels — two upstream and two downstream — with a maximum transfer rate of 10Gbit/s per channel. Thunderbolt 2 combines these four channels into two 20Gbit/s bi-directional channels, providing 4X the bandwidth of USB 3.0. Together with DisplayPort 1.2 support, Thunderbolt 2 enables simultaneous delivery of extremely high-resolution video to the latest 4K/2K (4096 x 2160 and 3840x2160) displays while still offering communication with other bandwidth-hungry devices such as hard drives. Additionally, the ASUS Z87-Deluxe/Quad's onboard HDMI port means that it can drive a total of three 4K UHD displays at once.
Thunderbolt 2 also supports daisy-chained connections with up to six devices on each port. With two Thunderbolt 2 ports, the ASUS Z87-Deluxe/Quad can connect to up to 12 devices at once, reducing the need for separate hubs and helping to maintain a clutter-free workspace.
Cutting Edge Accessories and Apps
The ASUS Z87-Deluxe/Quad includes a number of exclusive ASUS technologies. Dual Intelligent Processors 4 with 4-Way Optimization is an easy-to-use tuning tool that dynamically adjusts performance and cooling for reduced noise and increased efficiency with a single click. The UEFI BIOS presents a friendly graphical interface, making it easier than ever to set up shortcuts and favorites for quick access to the options that are used most often.
The ASUS Z87-Deluxe/Quad also includes the NFC Express accessory, which can automate common PC tasks simply by tapping the supplied NFC tag or NFC-compatible smart devices to the box. NFC Express can be used to securely login to your Windows user account without the need to type in a password, and also provides the ability to launch multiple applications to create a particular workflow. Using the free Wi-Fi GO! & NFC Remote companion apps for NFC-compatible smart devices, users can also wirelessly synchronize photos and videos with their PC and remotely control their system by tapping the NFC Express box.
SPECIFICATIONS*
ASUS Z87-Deluxe/Quad
2 x Intel Thunderbolt 2 ports
1 x HDMI port
4 x DIMM slots
3 x PCIe 3.0/2.0 x16 slots
10 x SATA 6Gbit/s ports
8 x USB 3.0 ports with USB 3.0 Boost
8 x USB 2.0 ports
ATX form factor

*Specifications and product availability are all subject to change without notice and may differ from country to country. Actual performance may vary depending on applications, usage, environment and other factors.
Full specifications are available at www.asus.com

ASUS Z87I-Pro Review @ Ocaholic

With the Z87I-Pro, ASUS has another, very interesting mini-ITX motherboard in its portfolio. This board is based on almost the same PCB as the Maximus VI Impact, but there are more SATA ports, whereas the worlds largest motherboard manufacturer has been saving on the additional sound module. Apart from that it`s almost a must for ASUS to equip this high-end offer with an armada of features."

ASUS Z87-PRO Motheboard

ASUS along with its ROG boards also released the more mainstream channel series of boards one of which we actually looked at already in the Z87-A. The color seems to be the big topic in the community and for good reason since ECS did a similar gold coloring on the heatsinks and components for Z77 and it did not go over well but ASUS decided to throw their hat into the ring with the god coloring in an apparent effort to symbolize the "Gold Standard" and while I've never been a big fan of gold I do think in the right system it could look nice or in a build where a window and appearance are not as important as the function. For me its all about performance but I think that also has to do with my inherent inability to make a pretty system so I just dont care. With that said we are looking at the Z87-Pro today which is the higher featured big brother to the Z87-A I had looked at before. With that lets take a look at what the PRo has to offer.


Asustek launches H81 series motherboards

Asustek Computer has announced six new entry-level motherboards based on the Intel H81 chipset in ATX, Micro-ATX and Mini-ITX form factors. Designed for fourth-generation Intel Core processors, the Asustek H81 series features Asus 5X Protection technology for reliability and is available in a range of specifications that cater for a variety of PC needs.

Z87 motherboard for your 4th generation Intel Haswell

Looking for a cheap Z87 motherboard for your 4th generation Intel Haswell CPU? The ASUS Z87-A is packed with features and is in many ways a copy of the more expensive ASUS Z87-Expert. But there are differences, even though the performance on the ASUS Z87-A Motherboard is pretty good.

ECS Z87H3-A2X Extreme

For those in the market for an Intel Z87 Haswell motherboard, the ECS Z87H3-A2X Extreme is a great candidate and sells for less than $250 while packing a plethora of features and is mostly compatible with Linux."



The best Guides by the best writers on the internet; PCSTATS Beginners Guides explain computers, software, and all those other wonderful things that cause you frustration.

Learn how to use your computer better, master the internet while protecting yourself, and know what to do when your hard drive kicks the bucket.



"Get the 'Stats and Stay Informed!"