[>>]

[>>]

[>>]

[>>]

More>>

Search...

| | |
| --- | --- |
| Motherboards | |

... 0 news stories awaiting approval
MSI Z87-G45 Gaming Motherboard @ Bjorn3D

Today I am looking at the second and more value oriented of the Z87 Gaming series boards the MSI Z87 G45 Gaming, and this very much like the GD65 I had looked at recently carries many of the same design philosophies here so lets take a look a little further at what this board holds in store."

Motherboard players turn to focus on H81-based products

Intel is ready to release its Haswell-based mid-range and entry-level Core i3 and Pentium processors in September and motherboard brand vendors started shipping motherboards using the entry-level H81 chipset earlier in August, according to sources from motherboard players.

ASUS Maximus VI Hero Z87 Motherboard Review

The Z87 series keeps on trucking along and with this ASUS offers yet another ROG piece to the game with the newly released Maximus VI HERO. The Hero looks very much like a Formula from the Z77 line but without the WiFi or the Liquid cooled VRM and knowing now all of the different models available through the ROG line I am very interested in the innovations included in this board and where exactly it falls into the stack in terms of ROG Z87s."

ASRock Z87 OC Formula Overclocking Motherboard

ASRock Z87 OC Formula Overclocking Motherboard Review In this review we will be looking at the new ASRock Z87 OC Formula motherboard. As the name suggests this is a Z87 enabled motherboard designed for overclocking, extreme overclocking.

Intel DZ87KLT-75K LGA1150 Desktop Motherboard Review

Until a few years ago, Intel motherboards were, well, boring: reliable, sure, and well-made, but without any really interesting features that would appeal to enthusiasts. That started changing around the time of the Z68 chipset, and although Intel has announced they?ll stop manufacturing desktop motherboards in the near future, the Z87-based DZ78KLT-75K makes a good swan song."

Intel DZ87KLT-75K Motherboard @ Hardware Secrets

The Intel DZ87KLT-75K is a high-end socket LGA1150 motherboard targeted for the Haswell processors (fourth-generation Core i3, Core i5, and Core i7 processors), coming with a Thunderbolt port, one Mini PCI Express/mSATA slot, a PLX switch chip, and more. Let`s see what this motherboard has to offer."

ASUS Maximus VI Extreme Review @ Ocaholic

The Maximus VI Extreme, is ASUS` new flagship overclocking and gaming motherboard regarding Intels latest Z87 chipset. Next to a never-ending feature list there is obviously the ROG design, which is an evergreen in the industry. Apart from that we`re curious to see how this thing performs, compared to 20 other boards."

GIGABYTE Launches Intel H81 Series Motherboards

GIGABYTE today announced a range of 8 series motherboards based on the new Intel® H81 Chipset (PCH) supporting the latest 4th generation Intel® Core™ processors. GIGABYTE Intel® H81 series motherboards include ATX and Micro-ATX models, bringing together a unique blend of features and technologies that offer the absolute best in terms of quality, durability and overall lifespan.
GIGABYTE H81 series motherboards stand out from the competition with signature features that guarantee the utmost in both performance and reliability. High quality components for key areas of the motherboard are joined by an updated and improved UEFI DualBIOS™ which offers a customizable, full HD BIOS environment, plus the new GIGABYTE App Center, which combines key GIGABYTE applications in a simple, unified interface. GIGABYTE H81 series motherboards also provide additional USB 3.0 ports and support the latest 4K resolution displays on both HDMI and DisplayPort.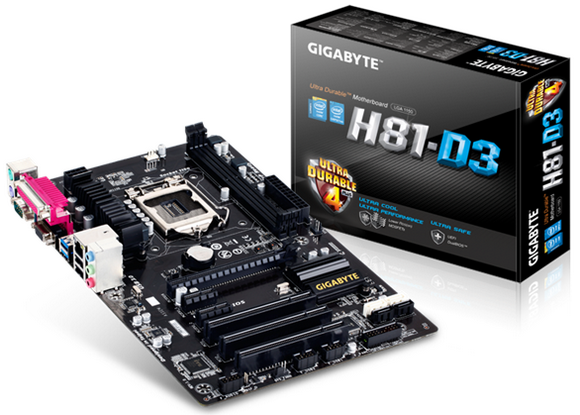 GIGABYTE Ultra Durable™ 4 Plus
GIGABYTE Ultra Durable™ 4 Plus focuses on "Ultra Performance" and "Ultra Safe", with a range of features and component choices that provide optimal performance, cool and efficient operation and extended motherboard lifespan.
Ultra Performance
GIGABYTE uses All Solid Caps (Capacitors) and Low RDS(on) MOSFETs which are rated to work at higher temperatures to provide a longer lifespan. specially designed to produce lower switching for faster electric current charging and discharging, Low RDS(on) MOSFETs have lower power consumption during the switching process, resulting in a faster switching process and less heat generation.
Ultra Safe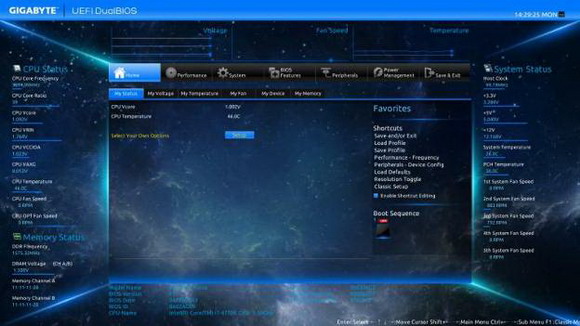 GIGABYTE motherboards feature GIGABYTE DualBIOS™, an exclusive technology from GIGABYTE that protects arguably one of your PC's most crucial components, the BIOS GIGABYTE DualBIOS™ means that your motherboard has both a 'Main BIOS' and a 'Backup BIOS', making users protected from BIOS failure due to virus attack, hardware malfunction, improper OC settings or power failure during the update process.
High ESD Protection for USB and LAN (USB 3.0 only)
GIGABYTE H81 Series motherboards raise the bar in terms of protecting your system, providing advanced electrostatic discharge (ESD) protection for both your Ethernet LAN and USB ports, both common sources of ESD-related failures. Each LAN and USB port is paired with a dedicated protection filter that can withstand high electrostatic discharges, protecting your system from common electrical surges and even direct lighting strikes.
Additional USB 3.0 Ports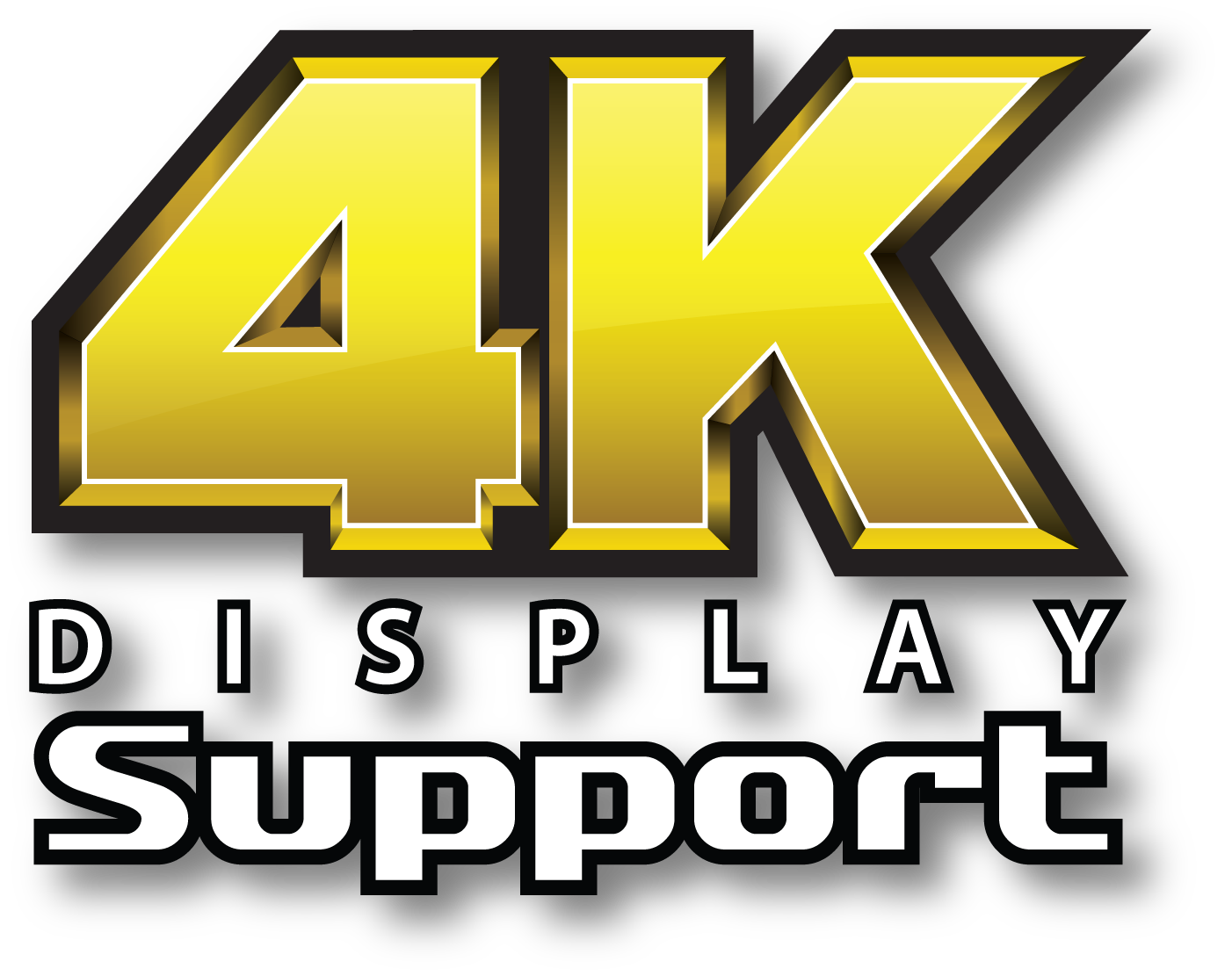 GIGABYTE H81 series motherboards feature an onboard USB 3.0 host controller that provides an additional four USB 3.0 ports. Together with USB 3.0 ports provided by the Intel® H81 chipset, users can enjoy SuperSpeed connectivity on a total of six USB 3.0 ports.
4K Ultra HD Support
GIGABYTE H81 series motherboards provide native 4K support with integrated Intel® HD Graphics via HDMI or DisplayPort. 4K resolution is the next technological milestone in high-definition content delivery, utilizing approximately 4,000 pixels on the horizontal axis, more than four times today's standard HD pixel density.
New GIGABYTE UEFI DualBIOS™ with Dashboard Mode
Take control of how your BIOS looks and feels with the new GIGABYTE UEFI DualBIOS™, a fully customizable user interface that allows you to adjust overclocking and performance settings in real-time. With smooth mouse control and shortcuts for fast navigation, the new and exclusive Dashboard Mode gives users complete access to all data related to your motherboard, including CPU, graphics and memory clocks, temperatures and voltages.
New GIGABYTE App Center
GIGABYTE App Center gives you easy access to a wealth of GIGABYTE apps that help you get the most from your GIGABYTE motherboard. Using a simple, unified user interface, GIGABYTE App Center allows you to launch all GIGABYTE apps installed on your system. The GIGABYTE App Center is also customizable with three attractive color schemes.
The GIGABYTE App Center Includes:
GIGABYTE Intel® H81 Series Motherboards*
GA-H81-D3
GA-H81M-S2PV
GA-H81M-S2PH
GA-H81M-DS2

GA-H81M-HD3
H81M-H
H81.AMP-UP

More information about GIGABYTE H81 Series motherboard can be found at the GIGABYTE website

MSI Z77A-GD65 GAMING Mainboard Review

The major but not the only distinguishing features of new Micro-Star gaming mainboards compared with the regular models is the replacement of the generic network controllers with Qualcomm Atheros Killer E2200, which allows assigning priorities with focus on gaming traffic, thus reducing the delays during online gaming.

ASUS Maximus VI Hero LGA 1150 Motherboard Review

The ASUS Republic of Gamers brand represents the best ASUS has to offer. Unfortunately the best usually comes with a high price tag placing such boards out of reach for many. Never fear for the ASUS Maximus VI Hero is here! OK with a name like that I couldn't resist. The Hero offers the core enthusiast features found in all ROG boards with less fluff.

Gigabyte launches AMD gaming motherboard

Gigabyte Technology has announced its new FM2+ motherboards including the newest addition to its G1-Killer range of gaming motherboards, the G1.Sniper A88X, which features Gigabyte USB DAC-UP, which is optimized for users employing a digital-to-analog converter, and Gain Boost, which provides high gain output for advanced headphones and speakers


ASUS Maximus VI Formula Review @ Vortez

So why is there so much hype surrounding the ASUS Maximus VI Formula? Well, this is the first time ASUS have implemented their CrossChill feature on a motherboard. With this feature water or air can be used to cool the MOSFETs - so regardless of whether you are an extreme overclocking or not the options are all there for whichever pathway you take. Furthermore, the Formula adopts a design which takes advantage of ROG Armor - a unique protective steel shield on the front and back side that helps with temperature control and longevity of components. Referencing these two particular features we are only scratching the surface, there are many more aspects of Formula to explore, so let`s begin our review!"

MSI Z87 - G45 GAMING Motherboard Review @ Madshrimps

Last time we had a look at MSI`s flagship of the Z87series, the Z87 XPOWER. Targeted at the overclocking and the enthusiast audience, the XPOWER also carries a hefty price tag. Gamers however are usually more budget minded and might prefer to invest a bit more in the Graphics Card or the Processor. MSI has got two Gaming boards on offer, the G45 and GD65, both carry tailor made specifications for gamers. Multi GPU support, improved Audio and LAN function, all integrated in a professional and stunning looking Dragon-themed PCB. That high end and performance does not always have to carry a hefty price tag might become more clear during the review of this Z87-G45 Gaming motherboard."

GIGABYTE G1.Sniper A88X Motherboard Packs in USB DAC-UP/Gain Boos

GIGABYTE TECHNOLOGY Co. Ltd., a leading manufacturer of motherboards and graphics cards, today announced its new FM2+ motherboards including the newest addition to its G1-Killer range of gaming motherboards, the GIGABYTE G1.Sniper A88X. Debuting two exclusive audio features including GIGABYTE USB DAC-UP, an exclusive feature optimized for users employing a Digital-to-Analog Converter, and Gain Boost which provides high gain output for advanced headphones and speakers, the GIGABYTE G1.Sniper A88X provides the highest caliber onboard audio experience for discerning audiophiles.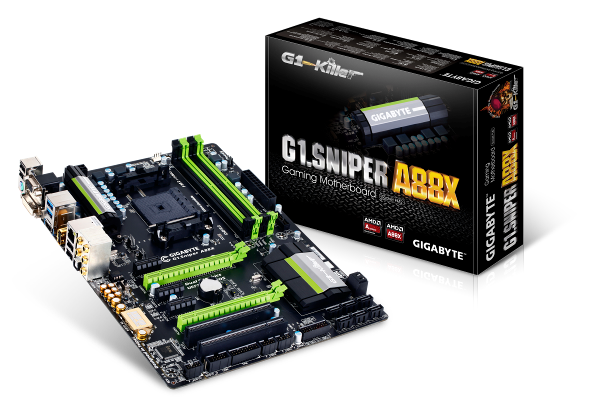 "We've had a lot of customer interest in expanding our G1-Killer gaming motherboard range to include an AMD platform model." commented Henry Kao, Vice President of GIGABYTE Motherboard Business Unit. "By also developing unique audio features that make a real difference to the overall experience, we're confident this board will be a real hit with gamers and audiophiles alike."
GIGABYTE AMP-UP Audio: Redefining Motherboard Audio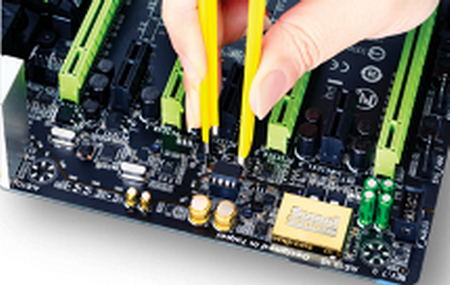 GIGABYTE AMP-UP Audio combines a range of unique features and technologies that are designed to give audio enthusiasts and PC gamers more control over their motherboard audio than ever before.
USB DAC-UP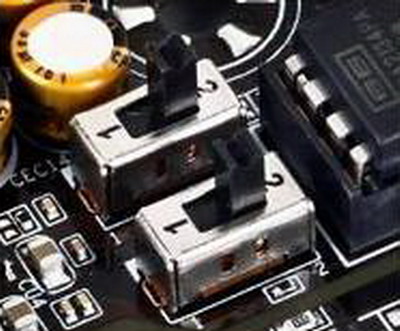 Featuring a gold plated USB 2.0 port, GIGABYTE USB DAC-UP provides clean, noise-free power delivery to your Digital-to-Analog Converter. DACs can be sensitive to fluctuations in power from the other USB ports, which is why GIGABYTE USB DAC-UP takes advantage of an isolated power source that minimizes potential fluctuations and ensures the best audio experience possible.
GIGABYTE USB DAC-UP also allows the port to be configured in BIOS for enthusiast system configurations which do not require USB power to the DAC. This makes it suitable for high-end audio enthusiasts building extreme fidelity audio systems.
Gain Boost

To further optimize the audio experience provided by the onboard OP-Amp, GIGABYTE motherboards also debut Gain Boost. Gain Boost provides onboard switches to select between 2.5x and 6x amplification modes depending on output device. Most OP-Amps are capable of providing a high-gain audio output that is ideal for high-end headphones and speakers that have higher impedance headroom. Gain Boost allows users to switch between 6x and x2.5 amplification modes depending on the speakers or headphones being used.
Upgradable Onboard OP-Amp
GIGABYTE motherboards are the world's first to feature an onboard operational amplifier (OP-Amp). OP-Amps are commonly found in high-end audio equipment and offer not only amplification of the audio signal, but a superior audio experience generally. The motherboard's OP-Amp is mounted on a socket which allows users to physically switch out and try different OP-Amps which offer distinct and nuanced properties that make the audio clearer, punchier and more life-like. Additional OP-Amps can be purchased separately to further expand audio capabilities.
Audio Noise Guard
To help protect and insulate the the Realtek ALC898 audio processor and onboard amplifiers from electrostatic interference (ESD), the GIGABYTE G1.Sniper A88X motherboard features an audio noise guard that essentially separates the board's sensitive analog audio components from potential ESD pollution at the PCB level. LED trace path lighting illuminates to show the separation of the PCB layers.
Nichicon Pro Audio Caps
The GIGABYTE G1.Sniper A88X motherboard uses the highest quality Nichicon
MUSE ES series audio capacitors at each channel layout. These professional audio capacitors deliver the highest quality sound resolution and sound expansion to create the most realistic sound effects for professional gamers.
Gold Audio Plated Hardware
The GIGABYTE G1.Sniper A88X motherboard uses top quality gold plated hardware for improved connectivity and long lasting durability for the USB DAC-UP port and audio connectors. Gold has superb signal conductivity and will not tarnish over extended periods of use. The Realtek ALC898 audio processor is also shielded by a gold-plated cover which eliminates electrostatic interference.
GIGABYTE G1.Sniper A88X: Ready for Kaveri on AMD Socket FM2+
The GIGABYTE G1.Sniper A88X motherboard features the new FM2+ APU socket, and is designed to get the most from forthcoming 'Kaveri' AMD APUs, while preserving compatibility for current AMD FM2 'Trinity' and 'Richland' APUs. Socket FM2+ AMD APUs offer native support for 8 GT/s PCI Express gen 3.0 as well as DX11.1 support, integrating the high performance 'Steamroller' core. AMD socket FM2+ APUs also offer native support for 4K resolution displays on HDMI and DisplayPort.

Asus Z87-K Mainboard Review or Practical Overview

This mainboard is fairly simple, but this is why it actually turned out relatively inexpensive. At the same time it features everything necessary for proper usage, which is its primary selling feature. As for the processors and chipsets comprising the new LGA1150 platform, the situation here is much more complicated.



The best Guides by the best writers on the internet; PCSTATS Beginners Guides explain computers, software, and all those other wonderful things that cause you frustration.

Learn how to use your computer better, master the internet while protecting yourself, and know what to do when your hard drive kicks the bucket.



"Get the 'Stats and Stay Informed!"