[>>]

[>>]

[>>]

[>>]

More>>

Search...

| | |
| --- | --- |
| Motherboards | |

... 3 news stories awaiting approval
GIGABYTE X58A-OC: World's First Overclocking Motherboard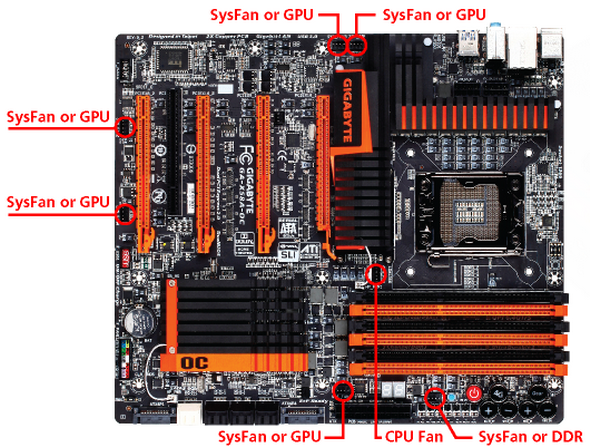 GIGABYTE TECHNOLOGY Co., Ltd, a leading manufacturer of motherboards, graphics cards and other computing hardware solutions today announced the launch of the world's first motherboard designed from the ground up for extreme overclockers, the GIGABYTE GA-X58A-OC. Its overclocking specific performance design defines a whole new category of enthusiast focused motherboards that introduces never-seen-before tweaking and insulating features.
"The GIGABYTE X58A-OC introduces some really exciting and unique overclocking technologies like the PWM frequency switcher, a full range of onboard hardware OC buttons, onboard SATA power connectors for stable multiple graphics configurations, and DualBIOS™ switcher that up until now have just been ideas discussed in private OC forums and messages," commented HiCookie, GIGABYTE In-house Overclocking Expert. "Tweaking features aside, we have also adopted high current components such as POScaps and MPFC (Max Power Ferrite Core) Chokes that allow overclockers to bench more reliably and with more power so they are able to smash more world records. As an avid overclocker myself, having the freedom to help design a board specifically for overclockers has been a dream come true, and I really hope that overclockers enjoy benching on this board as much as we enjoyed making it!"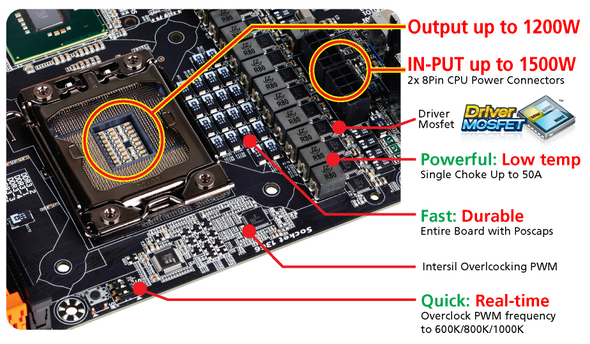 Based on the Intel® X58 chipset (Tylersburg) and supporting LGA 1366 socket CPUs such as Intel's new top of the range Core™ i7 990X Extreme Edition CPU, the GIGABYTE X58A-OC takes advantage of all the performance benefits that the X58 platform has to offer including triple channel DDR3 memory support, 6 core 12 thread CPU support, and enough PCIe Gen 2.0 bandwidth to support 4-way CrossFireX™ and 3-way SLI™ for the best graphics performance in the world.

GIGABYTE has listened closely to the overclocking community to make sure the X58A-OC has all of the overclocking features enthusiasts have been asking for, without some of the features that are unnecessary while overclocking, or can negatively impact performance - similar to a stripped down sports car where the aircon, radio, passenger seats, etc… have been removed to reduce weight. Layout was a critical aspect of the design, not only in choice of components used, but also spacing of the components so that insulation of the board is as easy as possible, while still maintaining the most efficient data pathways between the various components. GIGABYTE is also introducing 5 new main overclocking features on the X58A-OC that help to push the performance envelope of the X58A-OC even further including OC-VRM, OC-Touch, OC-PEG, OC-Cool and OC-DualBIOS™.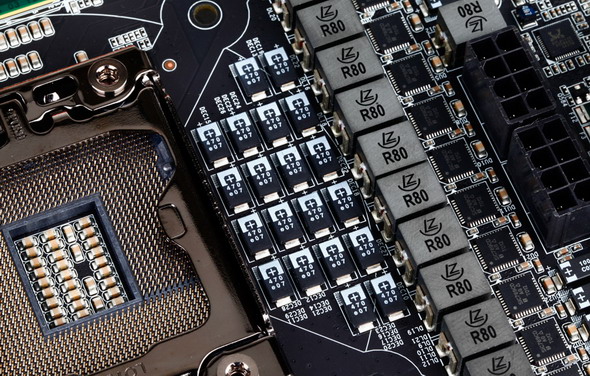 The GIGABYTE X58A-OC features a new VRM design called OC-VRM, which includes a combination of highly conductive POScaps, 50A rated MPFC (Max Power Ferrite Core) Chokes, and Driver-MOSFETs, which combined, are able to deliver higher current to the CPU, with better efficiency and lower temperature. OC-VRM also allows users to overclock the PWM frequency via an onboard switch, for real-time adjustment. When the CPU needs maximum power, users can raise the PWM frequency in order to deliver more current through this unique POScap and MPFC Choke design. In addition, GIGABYTE has specially chosen unobtrusive components and carefully designed their layout to make it easier and quicker than ever for extreme overclockers to insulate their boards.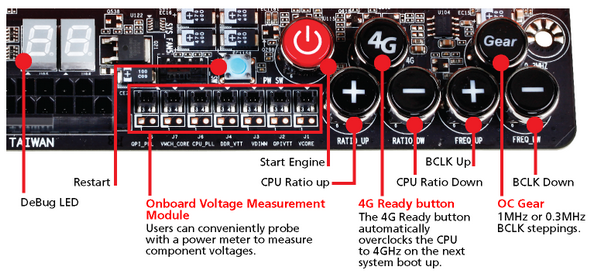 OC-Touch enables overclockers to quickly and easily get the best performance from their system. With onboard OC-Touch buttons, users are able to manually raise and lower the CPU ratio, change BCLK settings, and even change BCLK stepping to either 1MHz or 0.3MHz. These changes can be made at any time whether in the BIOS, DOS, or Windows and in real-time without the need for rebooting, so that users can quickly fine-tune to find their CPU's maximum frequency. The onboard 4G Ready button allows novice overclockers to automatically reach 4GHz, while advanced users can use it to get to 4GHz before continuing with OC-Touch to quickly find their CPU's best margin. Onboard voltage measurement modules are also included to help users to conveniently monitor component voltages.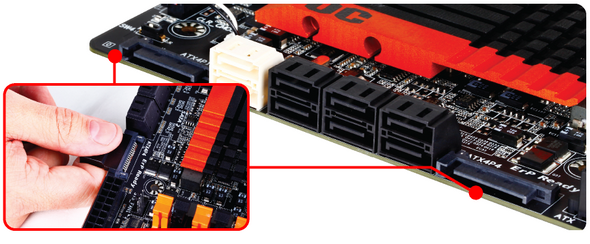 OC-PEG provides two onboard SATA power connectors for more stable PCIe power when using 3-way and 4-way graphics configurations. Each connector can get power from a different phase of the power supply, helping to provide a better, more stable graphics overclock. The independent power inputs for the PCIe slots helps to improve even single graphics card overclocking. For 4-way CrossFireX™, users must install OC-PEG to avoid over current in the 24pin ATX connector. The entire board also features POScaps, helping to simplify the insulation process so overclockers can quickly reach subzero readiness.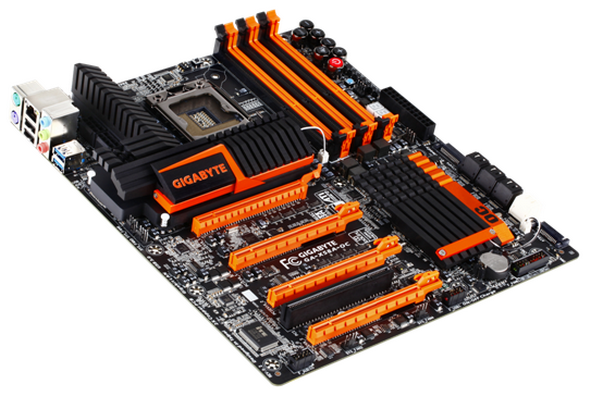 OC-Cool features a new LED lit thermal design and 7x 4-pin Smart Fan connectors to allow overclockers to easily control system-wide temperature. The OC-Cool heatpipe maximizes system convection to expel hot air out through the IO panel and optimizes passive cooling. OC-Cool LED lighting on the North and South Bridges further adds to the X58A-OC's coolness.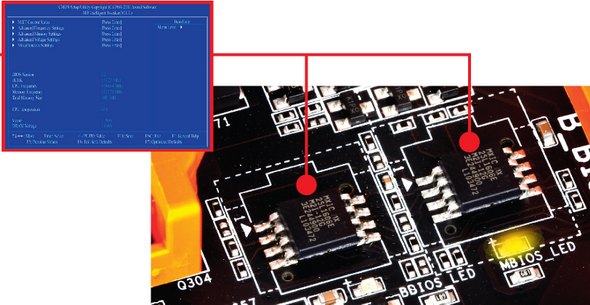 OC-DualBIOS™ features an onboard BIOS switcher and LED indicator, allowing users to select one BIOS for normal use, and another one for overclocking. It can also act as a backup BIOS in case of BIOS failure during overclocking. With two BIOSes, users are able to save up to 16 different overclocking profiles - a very useful feature when overclockers want to update to a new BIOS, but don't want to lose their original settings.
By being able to switch between 2 different BIOSes, OC-DualBIOS also allows users to test drive a new BIOS without having to update both BIOSes with the same update, helping to save time and unnecessary BIOS reflashes.
To download high resolution pictures or learn more about the GIGBYTE X58A-OC motherboard , please visit the official GIGABYTE microsite or keep an eye on the GIGABYTE Tech Daily blog. Visit www.gigabyte.us for more information.

ASUS Maximus IV Extreme Motherboard

"Even though the Intel Z68 chipset is out there, motherboards based on the Intel P67 continue to be attractive options for systems based on Intel socket 1155 CPUs. In fact, according to ASUS, the sales of P67-based motherboards are still outperforming those of Z68-based products. ASUS offers a wide range of motherboards based on this chipset, and today we are going to take a look at the most high-end model from this manufacturer, the Maximus IV Extreme, which offers four PCI Express x16 slots supporting high speeds and a myriad of advanced options for the extreme enthusiast."

GIGABYTE Rolls Out A75 Motherboards For AMD Llano A8 and A6 APUs

GIGABYTE TECHNOLGY Co. Ltd., a leading manufacturer of motherboards and graphics cards, today launched its latest series of motherboards supporting the new AMD A75 series chipsets, and the latest AMD A-Series APUs (codenamed Llano) that are set to take the world by storm with the best graphics performance ever seen on an onboard graphics processor. GIGABYTE A75 based motherboards offer DIY PC builders and integrators a new world of 3D and multimedia performance with the most scalable, and best value upgrade path imaginable.

"At GIGABYTE, we are delighted to bring to market this new and exciting motherboard range, delivering our renowned durability and exceptional feature support to AMD's ground breaking APU technology," commented Henry Kao, VP of Worldwide Service and Marketing at GIGABYTE. "As well as bringing AMD A-Series technology to DIY users who demand excellent gaming and multimedia performance on a budget, these motherboards also offer a compelling upgrade path that includes Dual Graphics configurations."

GIGABYTE A75 series boards features an AMD A75 'Hudson' chipset supporting the latest 32 nanometer AMD A-Series APUs or Accelerated Processor Units. These processors are the first ever to combine a DX11-capable, high performance graphics processor with a choice of a dual or quad core CPU in one silicon die, offering a 3D gaming and multimedia experience similar to a discrete graphics configuration.

Supporting Microsoft® DirectX® 11, OpenGL 4.1 and OpenCL 1.1 standards, AMD A-Series graphics deliver a 3D gaming experience similar to entry-level discrete graphics card solutions, with 3DMark Vantage (Performance setting) scores of around 4000 points. Using GIGABYTE's Easy Tune™ 6 utility, users can overclock the AMD A-Series APU to gain further performance enhancements over stock settings, offering 3DMark Vantage (Performance setting) scores of over 6000 points*.

The AMD A75 series platform showcases AMD Dual Graphics technology, allowing users to further boost 3D graphics performance by adding an additional discrete AMD Radeon™ HD 6000 series graphics card to the system. This unique Dual Graphics technology means users can enjoy higher frame rates on the latest gaming titles, utilizing the processing power of both discrete and onboard graphics processors.

All GIGABYTE A75 series motherboards are part of the GIGABYTE Super4™ motherboard range, and as such are equipped with the very best components and a comprehensive range of unique features that guarantee flawless system stability and extended product longevity without compromising on performance, features and device connectivity.

GIGABYTE Super Safe includes features that guard against system malfunction and ensure extended system longevity, including GIGABYTE DualBIOS™ to ensure that you never experience system failure due to BIOS corruption. Additionally, each USB port has its own dedicated power fuse that prevents unwanted USB port failure, helping to protect USB connected devices from malfunction and safe guard your important data during transfer. All Super4™ motherboards also use solid capacitors that guarantee system longevity with a minimum 50,000 hr lifespan.

GIGABYTE Super Speed ensures that you're always on the cusp of PC performance, data transfer and device charging speeds. GIGABYTE 3x USB power means better device compatibility and faster charging on USB connected devices like portable storage devices without needing to use two USB ports. The additional power provided by 3 x USB Power allows iPad, iPhone and iPod devices to charge up to 40% faster compared to standard USB implementations, while On/Off charge allows fast device charging even when your PC is on standby or turned off.

All GIGABYTE Super4™ motherboards are equipped with the very best quality components that ensure that you PC is running at maximum power efficiency. Lower RDS(on) MOSFETs reduce energy wastage through unnecessary residual heat dissipation. This amounts to tangible energy savings which are beneficial for both end-users and the environment without impacting system performance. High-end 108dB HD Audio (3.5x better audio quality than standard PC audio solutions)

As the HD multimedia revolution continues to gain momentum, so too must hardware standards in audio quality. All GIGABYTE Super4™ motherboards offer excellent 7.1 surround sound audio backed by a proprietary converter that is able to achieve 108dB noise ratio (SNR) playback quality. This means that users will enjoy a better audio experience with lower levels of noise and hiss when enjoying the latest HD content.

* Overclocking configuration: GIGABYTE A75M-UD2H - AMD APU A8-3850 at 3.77GHz (Aircooling) - DDR3 - 2320MHz/ FSB-145MHz/GPU-870MHz

For more information about GIGABYTE A75 series motherboards, watch the video on the GIGABYTE Mobo TV youtube channel, visit http://www.gigabyte.com/microsite/284/a-series.html, or keep an eye on the GIGABYTE Tech Daily Blog.

About GIGABYTE
GIGABYTE Technology Co. Ltd., headquartered in Taipei, Taiwan, is known as a leading brand in the IT industry with branch offices located in 24 countries around the world. Founded in 1986, GIGABYTE started as a small research and development team, quickly rising in prominence to become one of the world's top motherboard manufacturers. In addition to motherboards and graphics cards, GIGABYTE has further expanded its product portfolio to include notebook and desktop PCs, datacenter servers, networking products, mobile handsets and home entertainment devices - serving each facet of our digital life in the home and office. Everyday GIGABYTE aims to "Upgrade Your Life" with innovative technology, exceptional quality, and unmatched customer service. In 2011, GIGABYTE celebrates its 25th anniversary, and a quarter of a century committed to quality, excellence and serving our customers with the utmost enthusiasm and professionalism. We look forward to navigating the future at full sail. Visit www.gigabyte.us for more information.


ECS Introduces APU Supported A55 Series Motherboards

ECS Elitegroup Computer Systems (ECS), the world's leading motherboard, graphics card, barebone system, notebook and mobile device manufacturer delightedly introduces new family members of AMD APU supported motherboards-A55 series, providing users more options to enjoy entertainment life.
ECS A55 series-A55F-A, A55F-M2 and A55F-M3 support AMD A-series APUs for users to indulge in DirectX® 11 and UVD 3 graphics performance. That is to say, ECS A55 series fully supports AMD APU to present smooth and powerful gaming computing capability. With amazing overclocking power, ECS A55 series could support memory at least at 1866 MHz frequency. Furthermore, ECS A55 series also supports the Dual Graphics function to supply overwhelming graphics energy with one discrete graphics card.
ECS strongly insists on the quality of our products. ECS A55 series motherboards adopt solid capacitors around the CPU area to supply stable and safe power to the motherboards. In addition to high-quality solid capacitors, ECS A55 series motherboards are implanted with ESD protection components and pass the anti-static test, as well. Therefore, ECS motherboards are safer and have a longer life-span than others.
Model Chipset Supported CPU Specification Form Factor
A55F-A AMD
A55 AMD
A-Series APU 4xDDR3, 5xSATA 3Gb/s, 12xUSB 2.0, 1xPCIex16, HDMI/DVI/D-Sub ATX size
A55F-M2 2xDDR3, 6xSATA 3Gb/s, 12xUSB 2.0,
1xPCIex16, HDMI/DVI(Optional)/D-sub Micro-ATX size
A55F-M3 2xDDR3, 4xSATA3Gb/s, 8xUSB2.0
1xPCIex16, D-sub
For more information, please visit ECS website: http://www.ecs.com.tw or contact your local distributor.

Intel's Z68 Express reviews

Intel's Z68 Express has finally arrived. Join us as we explore the chipset's QuickSync transcoding support, accompanying GPU virtualization, new Smart Response SSD caching scheme, and motherbords from Asus, Gigabyte, and MSI.

GIGABYTE Announces Entire 6 Series Ready to Support Native PCIe Gen. 3

GIGABYTE TECHNOLOGY Co., Ltd, a leading manufacturer of motherboards, graphics cards and computing hardware solutions today announced their entire range of 6 series motherboards are ready to support the next generation Intel 22nm CPUs (LGA1155 Socket) as well as offer native support for PCI Express Gen. 3 technology, delivering maximum data bandwidth for future discrete graphics cards.
Wanting to provide maximum upgradeability to customers, GIGABYTE has enabled native support for PCI Express Gen. 3 across the entire range of GIGABYTE 6 series motherboards, including the recently launched G1.Sniper 2 motherboard, when paired with Intel's next generation 22nm CPUs. By installing the latest BIOS for their 6 series motherboards today, users can be assured they are ready to take advantage of all the performance enhancements tomorrow's technologies have to offer.
To future proof your GIGABYTE 6 series motherboard, please download and install the latest BIOS update for your motherboard model from the GIGABYTE website: www.gigabyte.com.
About GIGABYTE
GIGABYTE Technology Co. Ltd., headquartered in Taipei, Taiwan, is known as a leading brand in the IT industry with branch offices located in 24 countries around the world. Founded in 1986, GIGABYTE started as a small research and development team and has since taken a position as one of the in the world's top motherboard manufacturers. In addition to motherboards and graphics cards, GIGABYTE further expanded its product portfolio to include notebook and desktop PCs, datacenter servers, networking products, mobile handsets, and home entertainment devices to serve each facet of the digital life in the home and office. Everyday GIGABYTE aims to "Upgrade Your Life" with innovative technology, exceptional quality, and unmatched customer service. Visit www.gigabyte.com for more information.

ASRock A75 Pro4 Motherboard Review

Today we have the chance to look at one of the AMD Socket FM1 APU motherboards from ASRock. The ASRock A75 Pro4 supports the latest A series APU's from AMD. In past reviews of ASRock motherboards we have been impressed by their products. Will that trend continue, or will the ASRock A75 Pro4 be their first offering to let us down? Read on to find out how the ASRock A75 Pro4 stacks up against the competition! Quote: "Throughout the testing today the ASRock A75 Pro4 did not let us down. It was no real surprise that our gaming performance was right on par with our other A75 Llano motherboards. Considering that the main components of the system are all on the AMD A8-3850 Llano APU. One of the areas that I was happy with was the ease that we were able to overclock our AMD A8-3850 APU.."

ZOTAC Z68-ITX WiFi

ZOTAC recently announced their mini-ITX Z68 motherboard. Supporting standard desktop parts for expansion, the ZOTAC Z68-ITX WiFi offers all the features of the Intel Z68 chipset, including some decent overclocking. We put the Z68-ITX WiFi through the paces, and take this little roadster for a wild ZOTAC ride.

Zotac Z68-ITX WiFi Motherboard

"Zotac is establishing itself as one of the major Mini-ITX motherboard manufacturers. For the new Intel Z68 chipset, this manufacturer released two models, the Z68-ITX WiFi (a.k.a. Z68ITX-A-E, USD 170) and the Z68-ITX WiFi Supreme (a.k.a. Z68ITX-B-E, USD 210). Both come with integrated WiFi, but the latter also has an integrated GeForce GT 430 graphics chip. Let's take a look at the Z68-ITX WiFi model."

Zotac Z68-ITX WiFi Review

Today we're taking a look at the latest ITX board from Zotac, based around the Z68 chipset. Is it a pocket powerhouse?

AMD E3850 + GIGABYTE GA-A75M-UD2H Motherboard Review

The Llano APU (the desktop variety on test here is codenamed 'Lynx') contains the CPU, GPU and northbridge. As a consequence production costs and physical power costs are reduced greatly meaning cost to the consumer is lowered and a competitive performance level is maintained while providing a convenient and streamlined solution.

ASUS Maximus IV Extreme Review

We've seen the plethora of Intel P67 ASUS motherboards and experienced the mainstream segment of Sandy Bridge motherboards but the ASUS product line-up wouldn't be complete without their flagship Republic Of Gamers board. Avid Vortez viewers will be familiar with the range of ROG branded motherboards we have tested here so you will no doubt know that they represent the most premium ASUS motherboards in both price and performance. The board we will be taking a look at today is the Maximus IV Extreme, representing their flagship overclocker board within the P67 line-up.

EVGA P67 FTW motherboard

With the release of Intel's Z68, the P67 chipset may have become yesterday's news but no one seems to have told EVGA since they have recently introduced their flagship P67 FTW. This motherboard has some big shoes to fill considering its predecessor –the P55 FTW- was a genre defining product. But with a long list of features and EVGA's pedigree of creating overclocker friendly boards, this new FTW should have what it takes to compete.

ASUS M5A97 EVO and M5A99X EVO

"We're looking at two mainstream AMD motherboards from ASUS: the M5A97 EVO and the M5A99X EVO. They're very similar in their features and capabilities, but do have some distinct differences that can appeal to a good range of needs. Both come with fantastic prices and both come with deceptively strong overclocking abilities. How about 4.7GHz on a $120 board? Hellya."

Gigabyte G1.Assassin Gaming Motherboard Review

The XL-ATX size Gigabyte G1.Assassin lives up to its name not only thanks to its speed and native support for 3-Way SLI and 4-Way CrossfireX graphics cards configurations but also because of the integrated Sound Blaster X-Fi CA20K2 audio processor and the Killer E2100 Gaming Network Adapter.

MSI Z68A GD80 G3 PCIe Gen 3.0 motherboard review

A little while ago we tested the MSI Z68A-GD80 (B3) motherboard, a product with an absolutely gorgeous design. Merely weeks later another SKU based of this model has been released, the MSI Z68A-GD80 (G3). The G3 hints to something we have been hearing about for a while now, yes this is the debut of a PCI Express 3.0 compatible motherboard. A sincerely cool looking motherboard that is equipped with the latest gadgets, features and obviously that Z68 chipset.



The best Guides by the best writers on the internet; PCstats Beginners Guides explain computers, software, and all those other wonderful things that cause you frustration.

Learn how to use your computer better, master the internet while protecting yourself, and know what to do when your hard drive kicks the bucket.



"Get the 'Stats and Stay Informed!"