[>>]

[>>]

[>>]

[>>]

More>>

Search...

| | |
| --- | --- |
| Computer / SFF PCs | |

... 2 news stories awaiting approval
Alienware Alpha R2 First Looks

Alienware has over 20 years of history in the gaming arena. Since the release of their first Alpha machine at E3 in 2014, they have been focused on putting the gaming PC in the living room. The promise of the Alpha was that you could play all your games at affordable prices. This year a new generation of the Alpha …


Overclockers UK Titan Neutron Micro-ATX Gaming PC

The exponential evolution of gaming graphics shows no signs of abating. We have already seen a plethora of NVIDIA GeForce GTX 1080 cards (most recently from MSI), our first taste of the more modestly specified GTX 1060 comes installed in a complete system from Overclockers UK, the Titan Neutron Micro-ATX Gaming PC.

ECS LIVA Core Mini-PC

ECS has yet another LIVA iteration in stores now, ready to add basic compute functionality to all those home theatres without "smart" features. The tiny LIVA Core features faster HDD tech to make media playback features better, so it's not just ready for HT use; it's capable of more! Presenting the LIVA Core!

PC Specialist Hyperion Master Review

PC Specialist has broken a speed record to hustle a budget gaming PC out of the door that uses the latest AMD RX 480 graphics card based on the new Polaris GPU. When you spend £799 you generally get a Core i5 with GTX 960 4GB graphics so the prospect of an RX 480 8GB is highly appetising.

Intel Skull Canyon NUC6i7KYK Review

Intel's brand new NUC is targeting gamers with the Iris Pro Graphics 580. The NUC6i7KYK is said to be designed for intense game play but it's not meant as a cost effective gaming solution. The barebones NUC6i7KYK sells for $630 and requires you to bring your own storage, memory and OS, which could easily push the price beyond $1,000.

Guru3D Rig of the Month - June 2016

Ya'll meet the June edition of the Guru3D Rig of the Month 2016. This months build is is called "Project p5yche" by Guru3D familiar Darwin P. The man in reality is a scientist, but likes to modify PCs. Meet his latest creation.

iBuypower Revolt 2 Review: A Powerful, Portable Gaming Desktop

In addition to being lots of fun, LAN parties also afford hardcore gamers and enthusiasts a forum to show off their rigs. Dusty, ho-hum home systems are the norm, of course, but there are also some modded systems, decked out with custom cooling, lighting and paint jobs. And, of course, there are the high-end, boutique-built gaming systems as well. Sporting slick cases and the latest hardware, custom gaming PCs always stand out, but they are usually huge beasts that aren't meant to be carried around regularly. That's where iBuypower's Revolt 2 comes in. Designed to deliver head-turning looks and performance, it's also meant to make your next LAN party trip less of a back-breaker...

ASRock DeskMini 110 mini-STX PC Review

The Asrock DeskMini 110 mini-STX form factor PC certainly has an industrial look about it, and it looks a bit drab sitting next to the Cubi 2 Plus from MSI. What it lacks in aesthetics, however, it makes up for in ease of installation and flexibility, thanks to those very same design choices, including support for pretty much any Skylake desktop processor and high-speed NVMe SSDs.

UK Gaming Computers Styx Mini-ITX System Review

There is no doubt that the PC industry has set its sights on the living room. It is this trend which has brought us Steam Machines, the Steam Controller and lapboards such as the Roccat Sova and Corsair Lapdog. UK Gaming Computers aims to harness this drive for living room gaming with its Styx system, a small and stylish PC perfectly suited for being connected to a HDTV.


AMD FNATIC eSports SFF Gaming PC Hands On

PC enthusiasts and hardcore gamers are passionate about their hardware. We all lust after expensive, high-performance CPUs, GPUs, monstrous RAM kits, and ultra-fast solid state storage devices. But for many of us, top of the line PC components may be overkill, and in some situations, a more mainstream rig will do just fine. That's the crux of the message AMD has been trying to get across for quite some time with its mainstream APU line-up. Sure, you could build a high-performance rig with a top of the line processor and beefy discrete GPU, but why spend the money if you don't have to? To that end, the company has been reaching out to some eSports teams and pro gamers in an effort to show that for many games, high-end hardware isn't always necessary for a good gaming experience...

20 of the Worst PC Setups - May 2016

"I'm sure at some point you've had a bad PC setup. Maybe moving into a new place, waiting for a new desk to arrive or you just ran out of room. I can remember my horrible PC setups from when I was living at the dorms in college. If you have ever ventured over to the Shitty Battlestations sub-reddit you will find a lot of horrible PC setups. We will are going to pick 20 each month and feature them as 20 of the Worst PC setups for that month. Here are some of the bad ones from May!"

Intel NUC6i5SYK Skylake SFF HTPC kit

Intel just about perfected the small form factor (SFF) home theater PC (HTPC) over the last few iterations of NUC systems, so it is great to see that the Skylake based Intel NUC6i5SYK kit has stayed with this winning formula. Updated with an Intel Core i5-6260U with Intel Iris Graphics 540, support for NVMe SSD, and DDR4, the system has the opportunity to fix the shortcomings in the previous generation (cough, CSH). The sleek looks and features will not be as much of a bargain as the plug-in-and-go Intel Pentium based NUC5PGYH. Intel is asking $380/£335 for the barebones kit, but with quite a bit more performance, better networking, and features on tap, it could well be worth the extra dosh.

MAINGEAR Amps Up Performance with Intel Broadwell-E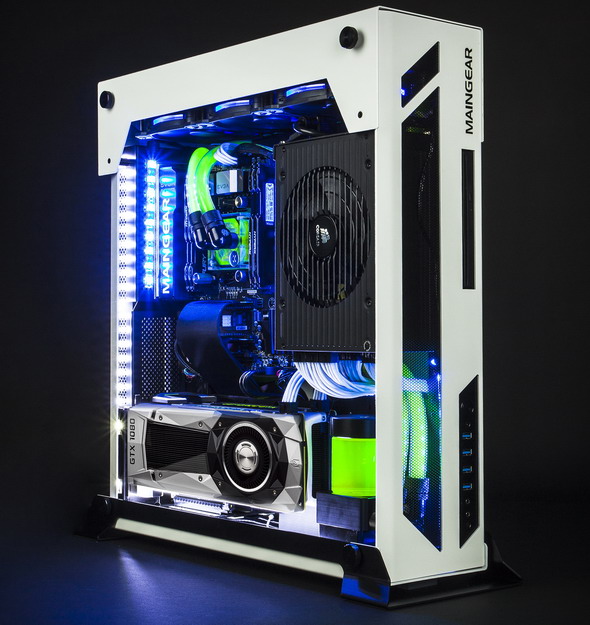 Supreme performance powered by Intel's first 10-core processor and NVIDIA's new Pascal architecture GPU now available in all desktops.
MAINGEAR, an award-winning PC system integrator of custom gaming solutions, invites gamers to experience the future of gaming with custom designed and built systems featuring Intel's newest i7-6950X Extreme Edition processors and NVIDIA's GeForce GTX 1080 GPU
Intel's first 10-core desktop processor and the most powerful solution for gaming and content creation, the Core i7-6950X features drop-in compatibility with Intel's X99 chipset and offers up to 88% more performance when compared to previous models. When optimized properly, the new processor provides excellent scalability with 40 PCIe 3.0 lanes, supports up to 4 discrete graphics cards and 4 channel DDR4-2400 memory, and Intel's 750 NVME PCIe based storage solutions.
"Intel has single-handedly set computer performance standards for decades and the new Core™ i7 processor Extreme Edition will raise that bar even higher," says Wallace Santos, CEO and Founder of MAINGEAR. "We are confident that the new processors will open the gaming world to new possibilities, especially when paired with our liquid cooling and REDLINE overclocking technologies."
Based on the new Pascal architecture, NVIDIA's GeForce GTX 1080 pumps out stunning visuals while staying cool and quiet with an astounding 2560 CUDA cores, an ultra-fast 8GB GDDR5x, and a radically redesigned vapor chamber cooler. The latest and absolute best option for VR, the new GTX 1080 can be used in 2-way SLI for the ultimate performance, and comes with an array of advanced gaming features, including support for DirectX 12 and VRWorks for smooth VR audio, physics, and haptics.
"NVIDIA's GTX 1080 delivers the best 4K and VR gaming experience, and is not an evolution but a revolution in graphics cards," adds Santos. "Our experience in crafting custom liquid cooled solutions really brings the overclocked GPU to life and takes its performance to new levels."
MAINGEAR's selection of cutting-edge gaming desktops featuring Intel's Core i7-6950X processors and NVIDIA's GeForce GTX 1080 GPU are now available for customization.

Guru3D Rig of the Month - May 2016

Right, we're a bit late with this one due to a busy and hectic week. But here is the May edition of the Guru3D Rig of the Month 2016. This months build is is called Project "Muscle" by a 34-year old dude that in his free time likes to modify hardware. Meet Sinda and his awesome PC.



The best Guides by the best writers on the internet; PCSTATS Beginners Guides explain computers, software, and all those other wonderful things that cause you frustration.

Learn how to use your computer better, master the internet while protecting yourself, and know what to do when your hard drive kicks the bucket.



"Get the 'Stats and Stay Informed!"