[>>]

[>>]

[>>]

[>>]

More>>

Search...

| | |
| --- | --- |
| Computer / SFF PCs | |

... 0 news stories awaiting approval
AMD FNATIC eSports SFF Gaming PC Hands On

PC enthusiasts and hardcore gamers are passionate about their hardware. We all lust after expensive, high-performance CPUs, GPUs, monstrous RAM kits, and ultra-fast solid state storage devices. But for many of us, top of the line PC components may be overkill, and in some situations, a more mainstream rig will do just fine. That's the crux of the message AMD has been trying to get across for quite some time with its mainstream APU line-up. Sure, you could build a high-performance rig with a top of the line processor and beefy discrete GPU, but why spend the money if you don't have to? To that end, the company has been reaching out to some eSports teams and pro gamers in an effort to show that for many games, high-end hardware isn't always necessary for a good gaming experience...

20 of the Worst PC Setups - May 2016

"I'm sure at some point you've had a bad PC setup. Maybe moving into a new place, waiting for a new desk to arrive or you just ran out of room. I can remember my horrible PC setups from when I was living at the dorms in college. If you have ever ventured over to the Shitty Battlestations sub-reddit you will find a lot of horrible PC setups. We will are going to pick 20 each month and feature them as 20 of the Worst PC setups for that month. Here are some of the bad ones from May!"

Intel NUC6i5SYK Skylake SFF HTPC kit

Intel just about perfected the small form factor (SFF) home theater PC (HTPC) over the last few iterations of NUC systems, so it is great to see that the Skylake based Intel NUC6i5SYK kit has stayed with this winning formula. Updated with an Intel Core i5-6260U with Intel Iris Graphics 540, support for NVMe SSD, and DDR4, the system has the opportunity to fix the shortcomings in the previous generation (cough, CSH). The sleek looks and features will not be as much of a bargain as the plug-in-and-go Intel Pentium based NUC5PGYH. Intel is asking $380/£335 for the barebones kit, but with quite a bit more performance, better networking, and features on tap, it could well be worth the extra dosh.

MAINGEAR Amps Up Performance with Intel Broadwell-E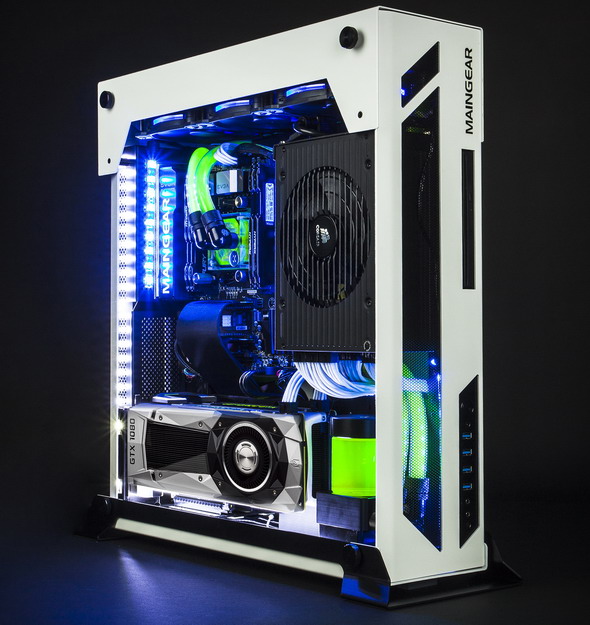 Supreme performance powered by Intel's first 10-core processor and NVIDIA's new Pascal architecture GPU now available in all desktops.
MAINGEAR, an award-winning PC system integrator of custom gaming solutions, invites gamers to experience the future of gaming with custom designed and built systems featuring Intel's newest i7-6950X Extreme Edition processors and NVIDIA's GeForce GTX 1080 GPU
Intel's first 10-core desktop processor and the most powerful solution for gaming and content creation, the Core i7-6950X features drop-in compatibility with Intel's X99 chipset and offers up to 88% more performance when compared to previous models. When optimized properly, the new processor provides excellent scalability with 40 PCIe 3.0 lanes, supports up to 4 discrete graphics cards and 4 channel DDR4-2400 memory, and Intel's 750 NVME PCIe based storage solutions.
"Intel has single-handedly set computer performance standards for decades and the new Core™ i7 processor Extreme Edition will raise that bar even higher," says Wallace Santos, CEO and Founder of MAINGEAR. "We are confident that the new processors will open the gaming world to new possibilities, especially when paired with our liquid cooling and REDLINE overclocking technologies."
Based on the new Pascal architecture, NVIDIA's GeForce GTX 1080 pumps out stunning visuals while staying cool and quiet with an astounding 2560 CUDA cores, an ultra-fast 8GB GDDR5x, and a radically redesigned vapor chamber cooler. The latest and absolute best option for VR, the new GTX 1080 can be used in 2-way SLI for the ultimate performance, and comes with an array of advanced gaming features, including support for DirectX 12 and VRWorks for smooth VR audio, physics, and haptics.
"NVIDIA's GTX 1080 delivers the best 4K and VR gaming experience, and is not an evolution but a revolution in graphics cards," adds Santos. "Our experience in crafting custom liquid cooled solutions really brings the overclocked GPU to life and takes its performance to new levels."
MAINGEAR's selection of cutting-edge gaming desktops featuring Intel's Core i7-6950X processors and NVIDIA's GeForce GTX 1080 GPU are now available for customization.

Guru3D Rig of the Month - May 2016

Right, we're a bit late with this one due to a busy and hectic week. But here is the May edition of the Guru3D Rig of the Month 2016. This months build is is called Project "Muscle" by a 34-year old dude that in his free time likes to modify hardware. Meet Sinda and his awesome PC.

MSI AEGIS, the World's Fiercest Mobile Gaming Barebone PC

MSI Computer Corp, a leading manufacturer of computer hardware products and solutions, announces the availability of the AEGIS and AEGIS X gaming desktop PC, the world's first compact gaming barebone PC series capable of delivering full-sized performance on the go.
MSI's AEGIS is equipped with a proprietary B150 motherboard and CPU Cooler that can support an Intel 6th Gen processor, while the AEGIS X comes with a Z170 motherboard capable of handling an Intel K-series processor. To push performance into new stratospheres, the flagship AEGIS X also showcases a Dragon OC button, which boosts speed by 15% with one touch.
Designed for gamers looking to maximize space and power, both AEGIS gaming barebone models features an ultra-aggressive and compact design that conceals a plethora of cutting-edge components, including support for up to full-sized NVIDIA® GeForce® GTX 1080 GPU, up to 32GB of DDR4 RAM, and dual NVMe PCI-E Gen3 x4 SSDs in Super RAID 4 with data speeds of up to 3300MB/s.
"The AEGIS series is a PC for warriors demanding easy upgradability and superb performance in a mobile system that reflects their aggressive gaming style," states Andy Tung, president of MSI Pan America. "We've captured the spirit of gaming not only with a fierce design, but also in its versatility and performance."
MSI's AEGIS series guarantees exceptional cooling and silence even under the most stressful battles with a patented Silent Storm Cooling 2 thermal design, which pulls cold air from two different chambers to individually cool components. It also features a unique internal structure that separates a 600 Watt power supply from the main chamber, increasing thermal efficiency and allowing gamers easy access to components. The MSI AEGIS X also incorporates built-in liquid cooling, to take overclocking to higher levels.
"AEGIS family lets you play AAA titles without breaking a sweat and the AEGIS X is even VR-ready with an easy access front HDMI port and USB 3.1 to plug in all your devices, including the HTC Vive," adds Tung.
Fully customizable in and out, the AEGIS barebone PCs showcase MSI's Mystic Light design, which allows the gamer to personalize it with 16 million colors in different modes to match any mood, Audio Boost 3 and Nahimic 2.0 Audio Enhancer for HD sound, as well as USB 3.1 Gen 2 Type C connectors. The Aegis X is also equipped with Killer Shield, a 15KV protection against power surges, as well as Killer DoubleShot Pro to play and stream games without any lag.
MSI's VR-ready AEGIS X gaming barebone with a Z170 chipset, liquid cooling and overclocking capabilities is now available starting at $499.99. The AEGIS gaming barebone with a B150 chipset is also available starting at $399.99.

Jide Technology Remix Mini

Last year, the Remix Mini was one of the most successful campaigns on Kickstarter, with 21,975 backers pledging $1,647,155 to fund the innovative mini-PC. Today, we look at the Remix Mini as it is now available for general purchase and assess whether it is worth the £50 asking price.

Thermaltake Suppressor F1 mITX Cube Review

Thermaltake released a new version of its case Core V1 now called Suppressor F1. This is a roomy mini-ITX cube. The front has been reworked completely, the dust-collecting mesh front with its big eye-catching logo has been replaced with a simple matt plastic front.

Overclockers UK 8Pack Asteroid System Review

The pre-built PC market is becoming increasingly populated with major OEMs and System Integrators, many of which are now targeting the high-end PC gaming and enthusiast audience. Yet very few of those brands offer something truly exciting or unique in this space – Overclocker UK's Ian '8Pack' Parry is one of the exceptions to that rule.

Intel Skull Canyon NUC6i7KYK Mini PC Review

We first got a glimpse of the Intel NUC, code named Skull Canyon, back at CES in January. To say this isn't your Daddy's NUC would be an understatement. Styled with a new thinner but longer, all black chassis design with digital grid markings and Intel's classic Skull branded logo, this NUC steps up and calls you out. Reminiscent of the original Skulltrail platform and Intel's countless enthusiast platforms with the mark of the skull thereafter, the Intel Skull Canyon NUC6i7KYK mini PC not only boasts a Skylake quad-core CPU that boosts to 3.5GHz, but also Intel's fastest Iris Pro Graphics 580 integrated graphics core, with 128MB of on-chip eDRAM (embedded DRAM) and the ability to boost to 1GHz. Take your average mainstream desktop PC, slice off some of its expansion slots, give it a generalized bandwidth shot in the arm and you've got the teeny-tiny little Skull Canyon NUC, ready to kick ass and take names. It's your basic Napoleon complex in a PC, but in a good way.

Shuttle XPC Cube Barebone SZ170R8 Review

With the SZ170R8, Shuttle has eliminated some of the compatibility with somewhat unused hardware nowadays like optical drives and made some serious space for installing no less than four 3.5'' drives inside the 14.2 litre chassis. A fan was also added in front in order to cool these but also for facilitating a more fluent airflow from the front to the back of the case; the case does support installation of up to 64GB of RAM (DDR4, 2133MHz), a dual-slot video card (which can be powered by one 6-pin and one 8-pin PSU connector), a M.2 SSD, an optional Wireless LAN card, a COM-port for special applications but also 2.5'' drives with an extra adapter."

Intel NUC NUC6i7KYK Skull Canyon Mini PC Review

If you are a big fan of the Intel NUC mini-PC series, but didn't think they had enough power for your needs, we have a special treat for you. We've spent the past week playing around with the Intel NUC code named 'Skull Canyon' that features the latest 6th Generation Intel Core i7-6770HQ 'SkyLake' quad-core processor and Intel Iris Pro Graphics 580 (GT4e). This is the first Intel NUC to feature a mighty Intel Core i7 processor and it also sports cutting edge technologies like Thunderbolt 3, two m.2 slots for running SSDs in RAID, support for six USB 3.0 ports, DDR4 memory and more. Read on to see how it performs!

MSI Vortex G65 6QF Gaming PC Review

Despite the huge number of system integrators on the market, very few creations really capture people's attention and instigate discussion about new form factors which could become more prevalent in the near future. The advent of overclocking ITX motherboards and stackable HBM memory means it's possible to acquire astonishing performance numbers in a compact design. Of course, it's still the case that increased volume allows for beefier cooling solutions and more airflow to heighten thermal dissipation. Saying that, some commentators argue that gaming PCs will become much smaller and full towers might be resigned to water cooling enthusiasts who enjoy creating a spectacular custom loop. Already, there's been a noticeable shift towards mid-tower cases and premium builds based on highly regarded designs like the Phanteks Enthoo Evolv ITX have made a noticeable impact.

Shuttle NC01U Series Nano Barebone PC Review

Shuttle is a very famous name in mini PC's. They literally made the barebones market their own about 15 years ago. For a long time, small wasn't beautiful, so for a long time Shuttle made barebones chassis with bespoke motherboards and PSU's integrated into them. They were, and still are excellent, but they had a market of their own, and only really played within their own market.

Macrium Reflect Workstation v6

After much sweat and tears, we sifted through all the great entries in our Macrium Data Disasters contest. Our contestants regaled us with excellent stories, and it was a tough job to choose the winners of the five copies of Macrium Reflect Workstation v6.

Ian '8PACK' Parry showcases new custom

KitGuru visited Ian '8Pack' Parry at Overclockers UK to answer the burning questions of the day; what exactly do you get when you spend between £3,000 and £12,000 on a gaming PC and why doesn't he use AMD graphics cards? The answer to the first question is 'Many, many GigaHertz' and to the second is 'Have you seen our new Meteoroid with Radeon R9 Fury X?'



The best Guides by the best writers on the internet; PCSTATS Beginners Guides explain computers, software, and all those other wonderful things that cause you frustration.

Learn how to use your computer better, master the internet while protecting yourself, and know what to do when your hard drive kicks the bucket.



"Get the 'Stats and Stay Informed!"