[>>]

[>>]

[>>]

[>>]

More>>

Search...

| | |
| --- | --- |
| Computer / SFF PCs | |

... 0 news stories awaiting approval
Gigabyte BRIX Gaming UHD Review With Teardown

The Gigabyte BRIX Gaming UHD is an exciting small form factor PC prospect, packing a surprising amount of muscle into a tiny frame. This little flyweight may not sound too beastly with its GeForce GTX 950, but Gigabyte reckons it is more than capable of streaming 4K UHD media and taking a few swings at 1080p gaming with good image quality. Its 4.3-inch square footprint should help it blend into many entertainment centers or find a home on a dorm room desk for work, play, business or pleasure. Most ultra small form-factor computers, by comparison, rely on integrated graphics to due to thermal constraints. Don't get us wrong, integrated graphics solutions from Intel and AMD have come a long ways, but there is still no substitution for a discrete GPU for respectable gaming performance in current gen titles...

Cybertron CLX Ra System Review

The CLX Ra is Cybertron's biggest and baddest (in a good way) Egyptian-themed, CLX full tower gaming system. Named after the Egyptian sun god, the Ra starts out at $1,400 for a modest configuration, though mortals with a heftier budget can summon exponentially more power. The configuration Cybertron sent us is a top-shelf build that showcases what the company can do when tossing just north of $5,500 at a setup, and it's impressive. Check any notion of bang-for-buck before reading further, that isn't what this system is about. This is an exercise in excess for those who are in a position to splurge, and not just on a powerful PC but a showpiece system...


Intel Compute Stick Core m3 Review: Skylake On A Thumbstick

Intel's first generation Compute Stick turned quite a few heads, including ours, as it was a remarkable thing to consider that a fully functioning PC could be crammed onto a device roughly the size of a bloated USB flash drive. It wasn't especially powerful—Intel pairing an Atom processor based on its Bay Trail-T platform with just 2GB of single-channel RAM and 32GB of onboard storage—but for $149 with Windows pre-installed it was an intriguing device... The latest version Intel Compute Stick (STK2m3W64CC) ups the ante in the pocket-sized PC product line significantly by swinging a Skylake-based Core m3-6Y30 processor and 4GB of RAM in a dual-channel configuration at general purpose computing tasks...

SeeMeCNC Rostock MAX v3 @ LanOC Reviews

Most of you know the saying "Give a man a fish and you feed him for a day, Teach a man to fish and you feed him for a lifetime". Well when it comes to trinkets and other cool stuff, 3d printers are the same. You Can buy small items or you can print your own cool stuff. Early this year I did just that. I covered SeeMeCNC's new at the time Eris and even well past my coverage I had one and then later two printers running all of the time in the office. I was having a blast but I really needed to go BIGGER. Well, a few months ago they sent over their new v3 model of their Rostock MAX, the big guy. With vacation and everything it took me a little while to get going, but I have been running the printer for a long time now and it's about time I sit down and tell everyone about my experience with SeeMeCNC's new printer. You might want to get comfortable, this might be a long one.

Acer Swift 7 Review

Acer has consistently expanded and refined its mobile product offerings, to include everything from affordable mainstream notebooks, to sleek ultrabooks that use premium materials. The veteran PC maker has developed a sense of style and is putting real effort into creating thin, functional laptops, that also happen to look good. The Swift 7 is one of the thinnest laptops on the market, and it has some interesting hardware squeezed inside, too. But going ultra-thin often results with performance or functionality compromises, so we were taken aback that Acer dubbed its thinnest laptop "Swift." We brought one in to see just how fast (and how fun) this Kaby Lake-powered laptop really is...

Inkubus 300µ mITX HTPC Personal Cube Chassis Review

We have had a couple of unusual components at Hardwareslave but this one takes first place for unique. The Inkubus 300µ, a handmade, wooden mITX chassis designed to be the finishing touch in a high-end AV room, digital living room or even a sleek modern office environment, is not normally a chassis you can buy.

Dream Machines DM 1 PRO S

A few months ago, we reviewed the Dream Machines DM1 PRO, and Dream Machines is now back with the DM1 PRO S. This version has an updated sensor, has been slimmed down to be even lighter, and has a rather nice glossy finish. Improvements, which could be a game changer.

Gigabyte Brix Gaming UHD Mini-PC Review

The Gigabyte Brix Gaming UDH is a vertically oriented gaming system that features an Intel Core i7 'Skylake' processor and an NVIDIA GeForce GTX 950 graphics card with pricing starting at $999. Gigabyte has two Brix Gaming UHD models; GB-BNi5HG4-950 with an Intel Core i5-5300HQ processor and then there is the GB-BNi7HG4-950 with the more powerful Intel Core i7-6700HQ processor. Only the GB-BNi7HG4-950 will be available in the United States and that is the model that we are focusing on today...

Fierce PC BlackFire Apex Review

Under our watchful eye today is the Blackfire Apex which is a low-to-mid range computer system based around Skylake architecture. So, at the heart of Apex is the Intel Core i5-6500, along with 16GB DDR4 and the AMD RX 470.

Cyberpower Infinity X55 VX System Review

Given the psychological effect of being priced under £1000, Cyberpower hopes their Infinity X55 VX will prove an enticing deal as we head towards Christmas. Packing a Core i5 and GTX 1060 6GB, it has the makings of a decent gaming PC. However, before coming to any conclusions we run the Infinity X55 VX through our intensive benchmarking suite, including some of the most demanding games you can play.

Freshtech Solutions Aerocool DS230 GTX 1050 Ti Gaming PC Review

Since the GTX 1080's release, we've been inundated with systems utilising this astounding piece of graphics hardware. Even though the performance is staggering, the asking price in the UK remains extremely high, especially for custom models with a substantial factory overclock. Unfortunately. the GTX 1080 can cost more than an entire budget gaming system and recent price hikes have cemented the card's position as a niche product. The overwhelming majority of people cannot justify spending so money on the GTX 1080 and opt for a less powerful solution. In the past, cheap graphics cards have struggled to provide an enjoyable gaming experience due to the consistent stutter, and jarring frame dips. Thankfully, the situation has improved and GPUs like the RX 460 and the GTX 1050Ti can cope with modern games at modest settings.

Intel Kaby Lake Linux Testing With MSI's Cubi 2 Mini PC

"Kaby Lake mobile processors began shipping last month and while we've seen a number of laptop designs using these processors that succeed Skylake, so far the Intel NUCs haven't surfaced nor many other SFF PCs making use of the next-generation hardware. That changed last week with MSI's Cubi 2 powered by Kaby Lake CPUs beginning to ship. I've been testing an MSI Cubi 2 with Core i5 Kaby Lake processor under Ubuntu Linux and so far the experience has been pleasant. In this article are our first Kaby Lake Linux benchmarks."

Shuttle XPC Nano NC02U Barebone Review

Shuttle has been hard at work upgrading the NC01U model and have released a revision with the next Intel generation of processors: NC02U. The barebone is easier to work with than before, has a more durable chassis design, pre-drilled holes for 3rd party wireless antennas, a full-sized DisplayPort 1.2 port with the ability to output 4K@60Hz, a more stable aluminum mounting stand, 2.5'' SSD/HDD installation support up to 15mm height and more. If the Celeron solution is not enough for you, then you can always go for the more powerful variants which include the i3-6100U, the i5-6200U or the i7-6500U processors."

Freshtech Solutions Project 7 GTX 1080 Gaming PC Review

Whenever a new piece of hardware is released, it provides systems integrators with the opportunity to conjure up innovative builds which have a unique sense of style. During the past few months, RGB lighting has become incredibly popular and allowed consumers to enjoy an attractive PC based on their favourite colour. While some critics argue the reliance on flamboyant RGB lighting is going to become tiresome after a while, this doesn't appear to be the case right now. Even if you're not an advocate of ostentatious colour combinations, the customisable lighting can be switched off to create a more understated appearance. I mention the importance of RGB illumination because Freshtech Solutions latest pre-configured system is built around an intriguing new chassis from Aerocool.

BIOSTAR RACING P1 Mini PC Released!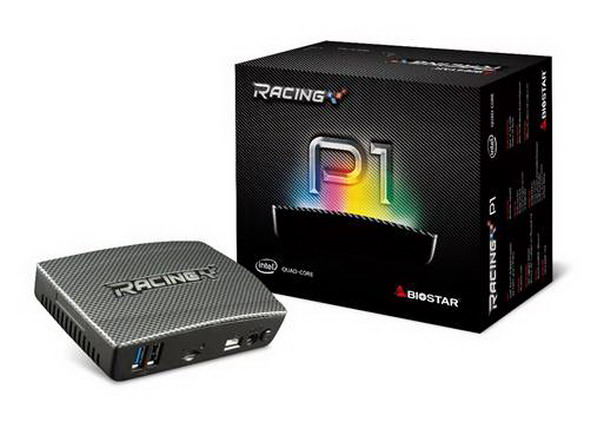 BIOSTAR is pleased to share the perfect life companion if you're looking for computing solution that goes with you wherever you go or you just need to maximize space. The BIOSTAR RACING P1 Mini-PC is unlike any laptop you've used before. Laptops tend to be heavy and have a consistent size and volume to them, offers no customization and most of all, are almost always expensive. Tablets on the other hand are just not useful for productivity and business tasks, have limited I/O ports, and aren't made for long-term usage not to mention that again, they're also expensive.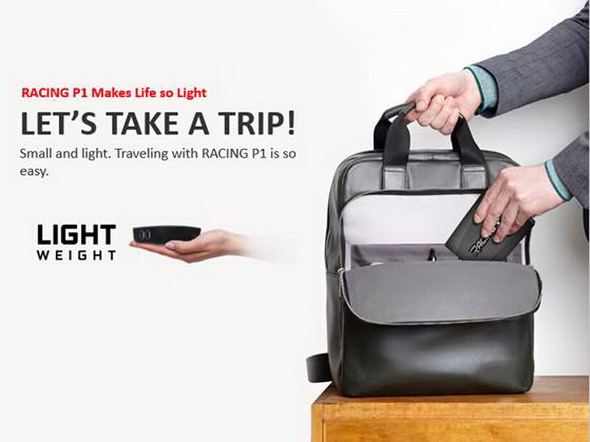 The BIOSTAR RACING P1 mini-PC beats both tablet and laptop by offering the complete PC experience in a small package. Students for example may need to share dorms with other students or may not be able to bring an entire desktop with them but they don't require a laptop in class, the BIOSTAR RACING P1 makes it easy to have a PC without taking up a lot of space.
Tablets may seem idle but they are heavily underpowered and are unfit for productivity work. The lack of connectivity, storage and actual applications make it also a challenge to work in a tablet environment which makes the BIOSTAR RACING P1 mini-PC an ideal alternative if you're a mobile professional that needs a portable workstation on different work sites. The BIOSTAR RACING P1 makes it easier to manage and maintain your personal workstation without worrying about shared data and information and since you can carry it with you, you don't need to worry about people sneaking around your workstation when you're not at your desk.
The BIOSTAR RACING P1 mini PC is also the perfect household PC, allowing a perfectly clean desktop. Store family photos, videos and watch them with the family or with a projector in your living room to share on special occassions. Relive special moments with the RACING P1. The BIOSTAR RACING P1 mini PC is so easy to use and removes the daunting big box that our grandparents can now focus on the screen without worrying about being intimidated.

BIOSTAR changes this with the BIOSTAR RACING P1 Mini PC which unlikes other brands' mini PCs offers a completely new way of thinking about the mini PC and breaks away from the ugly, router-like, oftentimes huge, heavy and pricey models that other brands offer for their mini-PC line up.
The BIOSTAR RACING P1 mini PC aims to improve the situation and it achieves all these by implementing a set of features that makes it a completely different product than any before it.'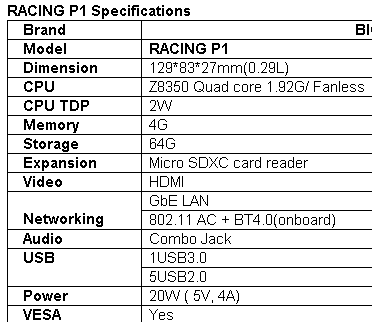 Featuring support for the BIOSTAR's signature VIVID LED DJ and 5050 LED FUN modding features that allow customization of BIOSTAR motherboards to feature customizable LED lighting, the RACING P1 also implements this feature and supports customizable LED lighting and LED strips via the 5050 header allowing a really personalized mini PC. To add to the personalized styling, the RACING P1 reflects its naming with a carbon fibre design top shell and RACING logo to bring out a unique sense of personal style.

Designed for maximum space-saving and portability, the BIOSTAR RACING P1 is VESA mount compatible allowing you to fix it to your monitor as desired creating extra space and leaving a clutter free desk. At 0.29L, its also lightweight and can fit in most bags letting you bring your computer everywhere.

Despite its size, the BIOSTAR RACING P1 packs plenty of power. The BIOSTAR RACING P1 mini-PC features an Intel Z8350 quad-core processor with clock-speeds up to 1.92G with a maximum TDP of only 2W allowing the BIOSTAR RACING P1 operate completely fanless hence completely silent operation.

Full 64GB of internal storage allows adequate space for operating system files and documents and 6-USB slots plus a microSD card reader allows complete expandability for storage.



The best Guides by the best writers on the internet; PCSTATS Beginners Guides explain computers, software, and all those other wonderful things that cause you frustration.

Learn how to use your computer better, master the internet while protecting yourself, and know what to do when your hard drive kicks the bucket.



"Get the 'Stats and Stay Informed!"