[>>]

[>>]

[>>]

[>>]

More>>

Search...

| | |
| --- | --- |
| Computer / SFF PCs | |

... 3 news stories awaiting approval
Freshtech Solutions Aerocool DS230 GTX 1050 Ti Gaming PC Review

Since the GTX 1080's release, we've been inundated with systems utilising this astounding piece of graphics hardware. Even though the performance is staggering, the asking price in the UK remains extremely high, especially for custom models with a substantial factory overclock. Unfortunately. the GTX 1080 can cost more than an entire budget gaming system and recent price hikes have cemented the card's position as a niche product. The overwhelming majority of people cannot justify spending so money on the GTX 1080 and opt for a less powerful solution. In the past, cheap graphics cards have struggled to provide an enjoyable gaming experience due to the consistent stutter, and jarring frame dips. Thankfully, the situation has improved and GPUs like the RX 460 and the GTX 1050Ti can cope with modern games at modest settings.

Intel Kaby Lake Linux Testing With MSI's Cubi 2 Mini PC

"Kaby Lake mobile processors began shipping last month and while we've seen a number of laptop designs using these processors that succeed Skylake, so far the Intel NUCs haven't surfaced nor many other SFF PCs making use of the next-generation hardware. That changed last week with MSI's Cubi 2 powered by Kaby Lake CPUs beginning to ship. I've been testing an MSI Cubi 2 with Core i5 Kaby Lake processor under Ubuntu Linux and so far the experience has been pleasant. In this article are our first Kaby Lake Linux benchmarks."

Shuttle XPC Nano NC02U Barebone Review

Shuttle has been hard at work upgrading the NC01U model and have released a revision with the next Intel generation of processors: NC02U. The barebone is easier to work with than before, has a more durable chassis design, pre-drilled holes for 3rd party wireless antennas, a full-sized DisplayPort 1.2 port with the ability to output 4K@60Hz, a more stable aluminum mounting stand, 2.5'' SSD/HDD installation support up to 15mm height and more. If the Celeron solution is not enough for you, then you can always go for the more powerful variants which include the i3-6100U, the i5-6200U or the i7-6500U processors."

Freshtech Solutions Project 7 GTX 1080 Gaming PC Review

Whenever a new piece of hardware is released, it provides systems integrators with the opportunity to conjure up innovative builds which have a unique sense of style. During the past few months, RGB lighting has become incredibly popular and allowed consumers to enjoy an attractive PC based on their favourite colour. While some critics argue the reliance on flamboyant RGB lighting is going to become tiresome after a while, this doesn't appear to be the case right now. Even if you're not an advocate of ostentatious colour combinations, the customisable lighting can be switched off to create a more understated appearance. I mention the importance of RGB illumination because Freshtech Solutions latest pre-configured system is built around an intriguing new chassis from Aerocool.

BIOSTAR RACING P1 Mini PC Released!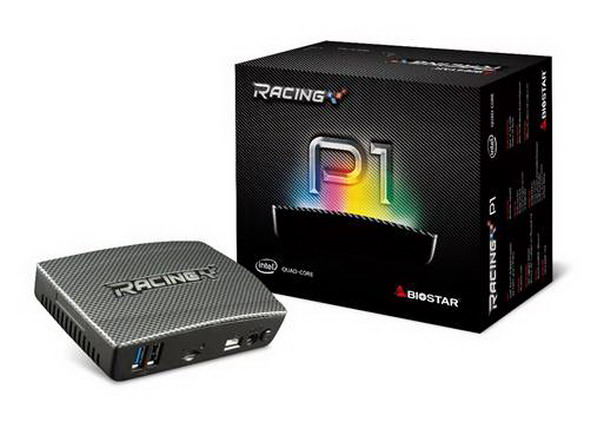 BIOSTAR is pleased to share the perfect life companion if you're looking for computing solution that goes with you wherever you go or you just need to maximize space. The BIOSTAR RACING P1 Mini-PC is unlike any laptop you've used before. Laptops tend to be heavy and have a consistent size and volume to them, offers no customization and most of all, are almost always expensive. Tablets on the other hand are just not useful for productivity and business tasks, have limited I/O ports, and aren't made for long-term usage not to mention that again, they're also expensive.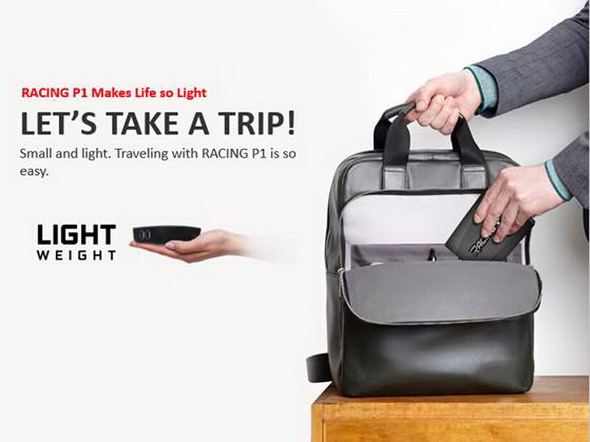 The BIOSTAR RACING P1 mini-PC beats both tablet and laptop by offering the complete PC experience in a small package. Students for example may need to share dorms with other students or may not be able to bring an entire desktop with them but they don't require a laptop in class, the BIOSTAR RACING P1 makes it easy to have a PC without taking up a lot of space.
Tablets may seem idle but they are heavily underpowered and are unfit for productivity work. The lack of connectivity, storage and actual applications make it also a challenge to work in a tablet environment which makes the BIOSTAR RACING P1 mini-PC an ideal alternative if you're a mobile professional that needs a portable workstation on different work sites. The BIOSTAR RACING P1 makes it easier to manage and maintain your personal workstation without worrying about shared data and information and since you can carry it with you, you don't need to worry about people sneaking around your workstation when you're not at your desk.
The BIOSTAR RACING P1 mini PC is also the perfect household PC, allowing a perfectly clean desktop. Store family photos, videos and watch them with the family or with a projector in your living room to share on special occassions. Relive special moments with the RACING P1. The BIOSTAR RACING P1 mini PC is so easy to use and removes the daunting big box that our grandparents can now focus on the screen without worrying about being intimidated.

BIOSTAR changes this with the BIOSTAR RACING P1 Mini PC which unlikes other brands' mini PCs offers a completely new way of thinking about the mini PC and breaks away from the ugly, router-like, oftentimes huge, heavy and pricey models that other brands offer for their mini-PC line up.
The BIOSTAR RACING P1 mini PC aims to improve the situation and it achieves all these by implementing a set of features that makes it a completely different product than any before it.'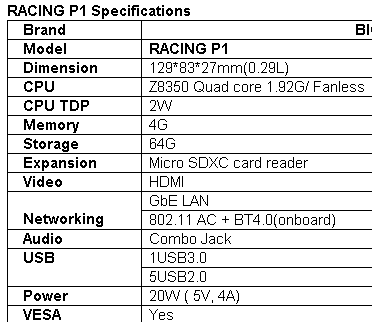 Featuring support for the BIOSTAR's signature VIVID LED DJ and 5050 LED FUN modding features that allow customization of BIOSTAR motherboards to feature customizable LED lighting, the RACING P1 also implements this feature and supports customizable LED lighting and LED strips via the 5050 header allowing a really personalized mini PC. To add to the personalized styling, the RACING P1 reflects its naming with a carbon fibre design top shell and RACING logo to bring out a unique sense of personal style.

Designed for maximum space-saving and portability, the BIOSTAR RACING P1 is VESA mount compatible allowing you to fix it to your monitor as desired creating extra space and leaving a clutter free desk. At 0.29L, its also lightweight and can fit in most bags letting you bring your computer everywhere.

Despite its size, the BIOSTAR RACING P1 packs plenty of power. The BIOSTAR RACING P1 mini-PC features an Intel Z8350 quad-core processor with clock-speeds up to 1.92G with a maximum TDP of only 2W allowing the BIOSTAR RACING P1 operate completely fanless hence completely silent operation.

Full 64GB of internal storage allows adequate space for operating system files and documents and 6-USB slots plus a microSD card reader allows complete expandability for storage.

Adventures With Dell's Rugged PC Line-Up

One of the many perks of working at a publication like HotHardware is that we get to attend a wide array of different technology-related events. GPU Tech Days, the Consumer Electronics Show, processor deep dives, smartphone launches -- you name it, and we're there. At many of these events we get hands-on time with the latest and greatest gadgets and components, sometimes in exotic locations, but there's typically a predictable cadence. Arrive, get situated, learn some new things, maybe have a bit of fun, and then head home. But every once in a long while, things get a little crazy. Like, trying to destroy a $5,000 laptop by throwing it off a boat kind of crazy. Don't believe us? Check this out...

Fierce PC Dragon Shield Review

In the spotlight today is the Dragon Shield from Fierce PC. This computer system is a high-end offering which is laden with features. This rig takes advantage of Intel's Z170 chipset and therefore makes use of the Intel Core i7-6700K. Accompanying this CPU there is 16GB DDR4, GTX 1070 and a trio of storage drives including M.2 NVMe technology. Not only has Fierce PC overclocked the CPU and GPU but they've also installed a custom water cooling configuration in order to achieve extremely low-temperatures.

Guru3D Rig of the Month - September 2016

Lets peek at the September edition of the Guru3D Rig of the Month 2016. This months build is fabbed by Randall Woody. The man in reality is manager for a parking company, and this actually is his first ever mod slash build. He named it Hi Lo Silver, we'll call it Hue.

Zoostorm EVOLVE Desktop PC Review

Here at eTeknix, we endeavour to critique a wide range of systems featuring different component choices which cater to contrasting target demographics. The overwhelming majority of these have some form of gaming credentials and designed to be used as a console replacement. Saying that, it's important to acknowledge that some users simply require an affordable and reliable pre-configured PC for basic tasks including web browsing, office work and media playback. Even though PC gaming is a wonderful hobby, the level of enthusiasm isn't shared by those who feel intimidated by technology or didn't grow up with a fondness for captivating video games. Whatever the reasoning, I'm fairly confident that the desktop form-factor shouldn't be disregarded for low-end usage scenarios and there's still a number of key benefits over a tablet or traditional laptop. For example, desktops are easy to repair and encourage a better posture while typing.

Gigabyte BRIX Gaming UHD Review

Gigabyte's BRIX line of barebones PCs are typically small and low-powered – at least, when compared with a mini-ITX desktop system, for example. However, the new BRIX Gaming UHD aims to change all of that. Gone are the integrated graphics and low-power processors, and in their place we find a desktop-grade 4GB GTX 950 and quad-core i7-6700HQ with Hyper-Threading. With that level of hardware in such a small package, it will be interesting to see how the BRIX Gaming UHD performs.

2016 Dell Vostro and Latitude Laptops Revealed

The 2016 Dell Vostro and Latitude laptops boast the latest 7th Generation Intel Core processors (codenamed Kaby Lake), as well as solid state drives and fingerprint sensors. Check out the videos and details of the three 2016 Dell Vostro and Latitude laptops.

Asrock Beebox-S

For potential buyers the real selling point of the Beebox-S is the price. You might expect a Skylake-U enabled Core i5 mini PC to cost a pretty penny, especially one of this caliber. I know I did which is why the current $320 US asking price over at Newegg really shocked me. The 6100U model is also selling for just $264, another amazing bargain right there.

ECS LIVA One Mini-PC (H110/Skylake)

Here's another $400 option for ultra-small PCs, this time based on Intel's 35W Skylake CPU, the Core i3-6100T. The ECS LIVA One ups the performance a notch compared to past LIVA units, but the ECS LIVA One also ups the size a fair bit.

Shuttle XPC Slim DS67U Barebone Review

"The new DS67U XPC Slim barebone from Shuttle is built on a chassis we have previously seen with the DS57U series quite some time ago and besides the updated platform we do also have some welcome modifications like the M.2 slot instead of mSATA or the external Wi-Fi antennas for extended storage instead of the internal ones which are more prone to interferences. While the model we have reviewed does feature the Skylake-U Celeron 3855U processor, there are also other versions to be taken into account which do feature the Core i3-6100U, Core i5-6200U or the Core i7-6500U processors for even higher performance needs."

20 of the Worst PC Setups

"I'm sure at some point you've had a bad PC setup. Maybe moving into a new place, waiting for a new desk to arrive or you just ran out of room. I can remember my horrible PC setups from when I was living at the dorms in college. If you have ever ventured over to the Shitty Battlestations sub-reddit you will find a lot of horrible PC setups. We will are going to pick 20 each month and feature them as 20 of the Worst PC setups for that month. Here are some of the bad ones from August!"

HP Pavilion x360 13t Review: A Quality Mainstream

Mainstream notebooks, laptops, and convertible devices have been significantly refined over the last few generations. The $500-$900 price range generally features laptops that are thin and light, built well, have decent battery life, and deliver solid multimedia experiences. Intel has a stranglehold on the CPUs and graphics in many of these mid-level systems, so PC makers seem to be emphasizing design differences lately. As important as performance is, you may well choose your next laptop because it converts into a mode that fits your needs, rather than because of its technical specifications. HP aims the Pavilion x360 series at buyers who are looking for a non-traditional laptop. All of the laptops in the series have hinges that let the display fold back into tablet mode, as well as some other handy modes in between...



The best Guides by the best writers on the internet; PCSTATS Beginners Guides explain computers, software, and all those other wonderful things that cause you frustration.

Learn how to use your computer better, master the internet while protecting yourself, and know what to do when your hard drive kicks the bucket.



"Get the 'Stats and Stay Informed!"